Why Cambodia Should Be Your Next Southeast Asia Destination
Why Cambodia should be your next Southeast Asia destinations: Incredible history under epic culture background, fantastic nature with friendly ecosystem and various wildlife species, delightful cuisines bringing out great Khmer traditions, memorable outdoor recreation and meaningful giving-back-to-community activities. Explore more with Sens Asia!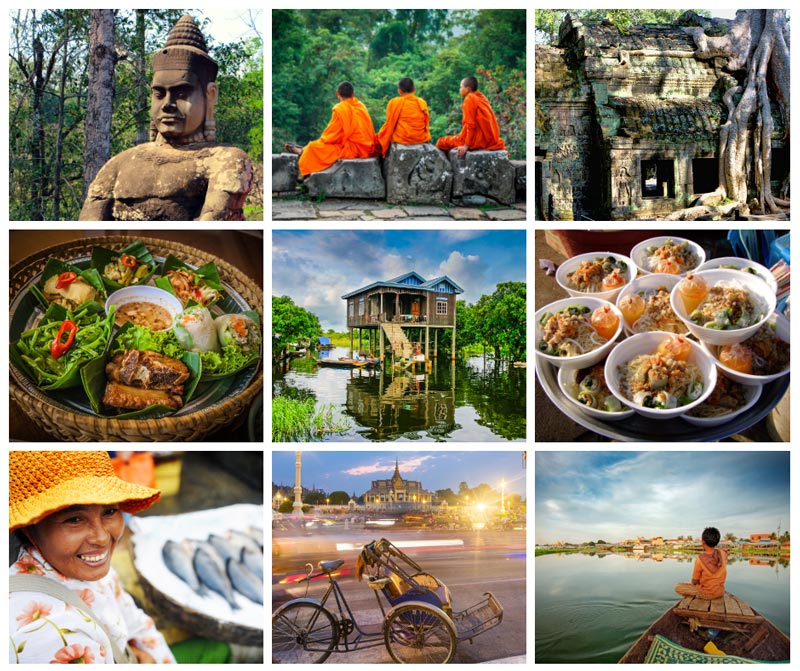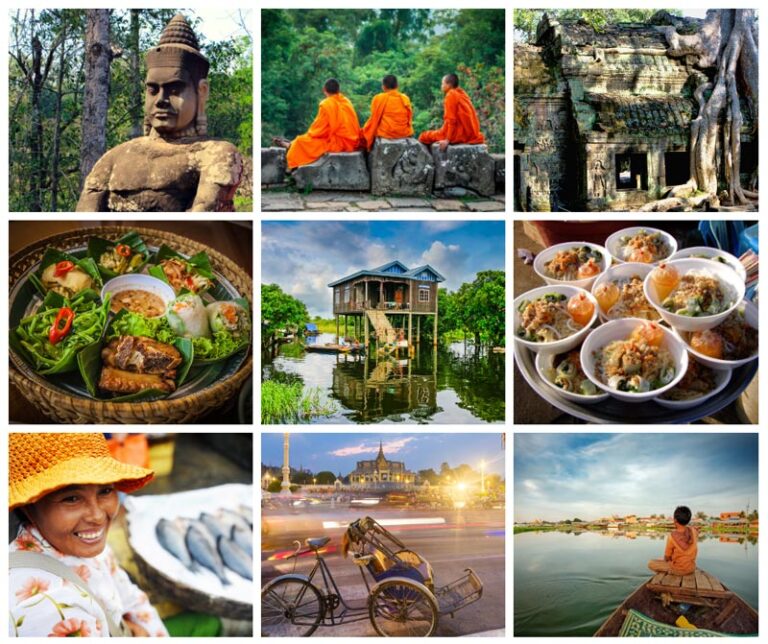 Angkor – The 'Wat' (Temples) & Glorious Sunset/ Sunrise
There are endless temples in Cambodia.
Besides the famous Angkor Wat – one of the greatest religious monuments both modern and past world, you can further your exploration to new horizons revolving Khmer properties without less spices added to culture notebook. However, for that glorious sunset or sunrise moments you have been longing for, Angkor complex truly give off precise, nearly perfect feels. The heart-melting glazed light beams over honey purplish sky in the dry season on top of the ancient temple, with wide eyes open furthering to old walled capital city Angkor Thom, latter built, striking red sandstone stretching on the ground, tropical greens in the time-worn forest beside. 'Magnificent!' – Our guests said.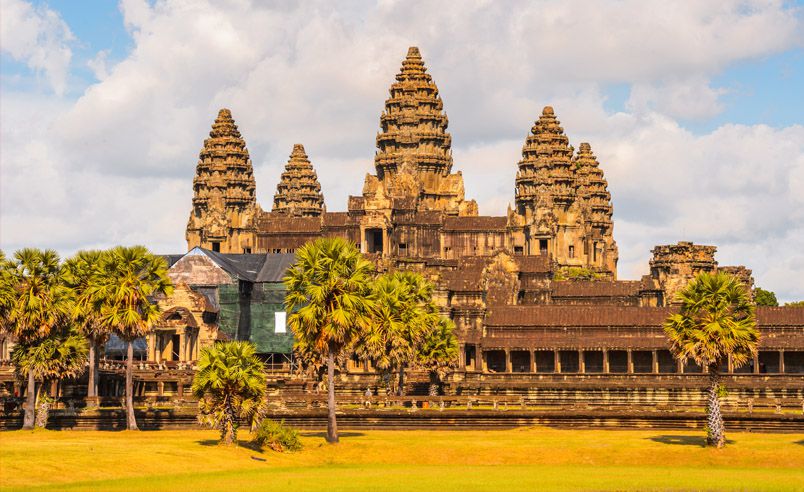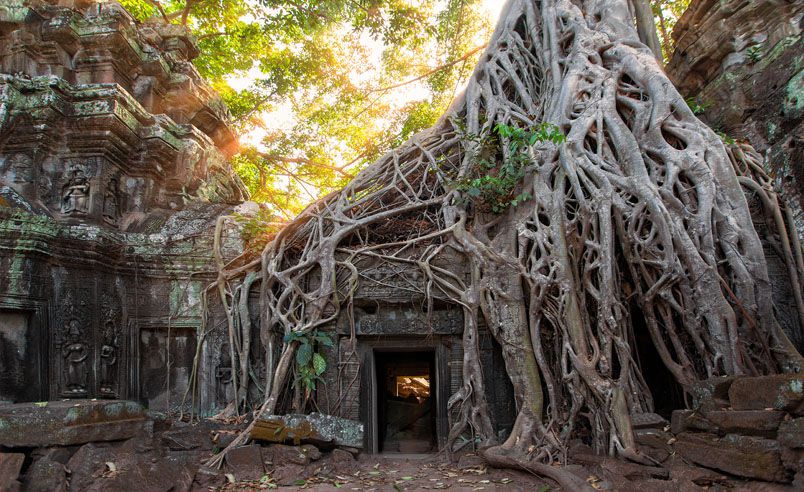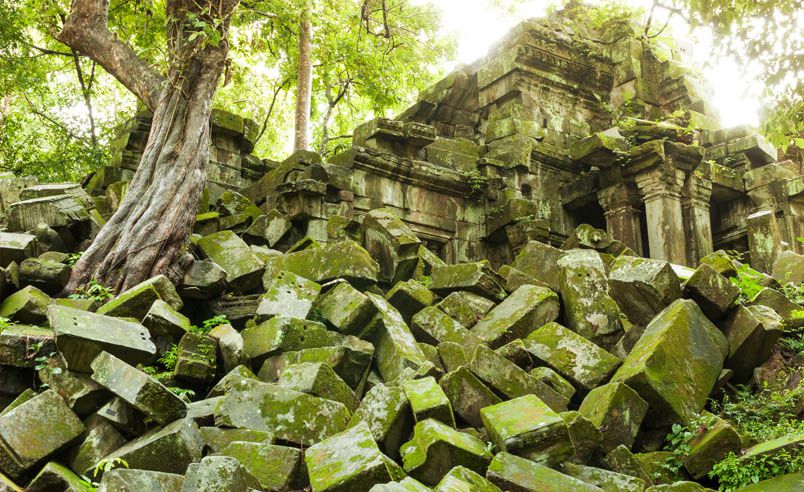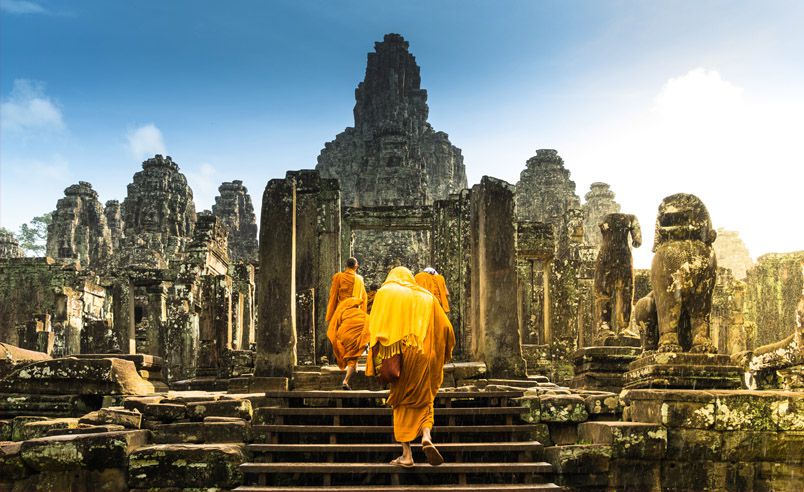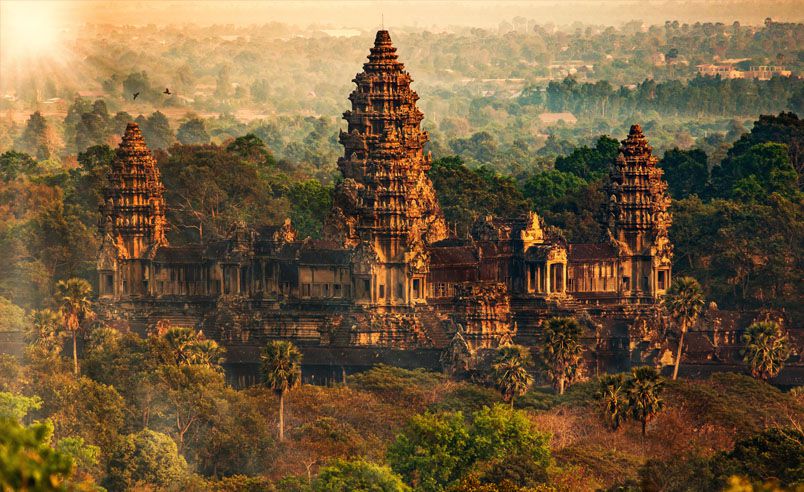 Do not miss those places while in Siem Reap:
Angkor Wat: Rising up through three rectangular terraces, the 'wat' remains grand, epic and memorable over the flow of time, with 699-feet high central tower – A refined ancient beauty, fantastic sunset-watching spot!
Bayon: Attached to the name of Royal City, with over 200 faces in all directions guarding the property
Ta Prohm: An abandoned temple complex once belonged to the Khmer Empire, embraces primitive ruins with trees growing out from the temples, creating a mythical powerful atmosphere
Angkor Thom: Built after the sacking of Angkor by the Chams, the temple is surrounded by massive walls representing ultimate power and protection. The four gates are similar to ancient Asian architecture, each one topped by huge stone faces – the great judgment
Friendly People & Rich Culture
Embracing the positive traits of hospitality as many Southeast Asian countries, Cambodia offers stunning level of kindness towards worldwide visitors. Locals here are incredibly friendly, supportive and welcoming even under public services.
Whether you arrive at the hotels, restaurants or walk along the street, Cambodian are excited to talk about their country, culture, travel experience and willing to help with directions. One tip is to stop by local markets, especially in the morning because you will find true colors of Cambodian life: crowded but pleasant, busy but tranquil, urban but antique. The food vendors, simple stalls selling fruits and goods, street bakeries, tea shops – all in the market, where you can shop, taste and see the whole authentic Cambodia besides its impressive temples. Do not hesitate to ask 'What' and 'How' questions with the odd-looking dishes or stuffs you might see – You will hear an hour fun-fact story behind them.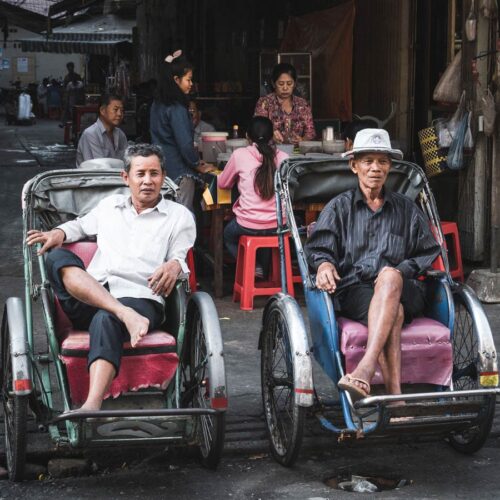 Morning in Cambodia is like:
Groups of saffron rob-clad monks follow the Alms Giving ceremony or blessing rituals
Exotic workers run around the market with numerous fresh products for daily consumption
Lots of scents from food, fruits (beware of the durian), coffee, tea or pastries
Traffic jams with weird flow of vehicles and animals (horses, dogs, ducks)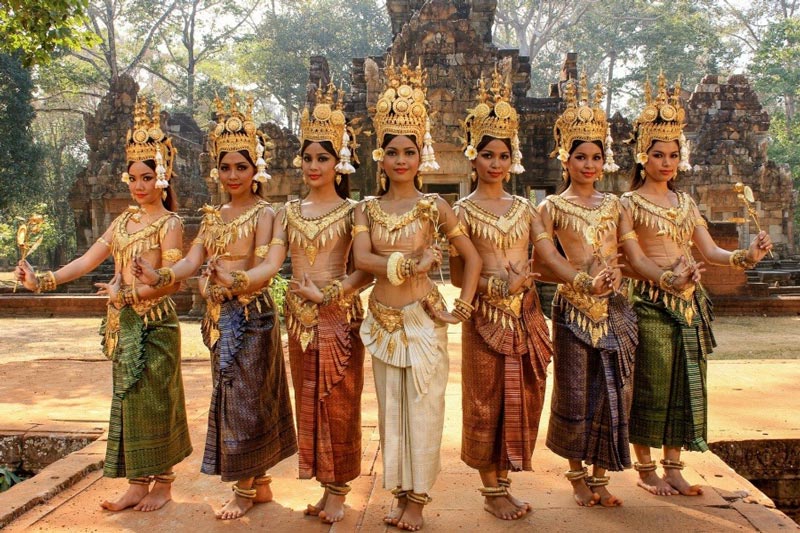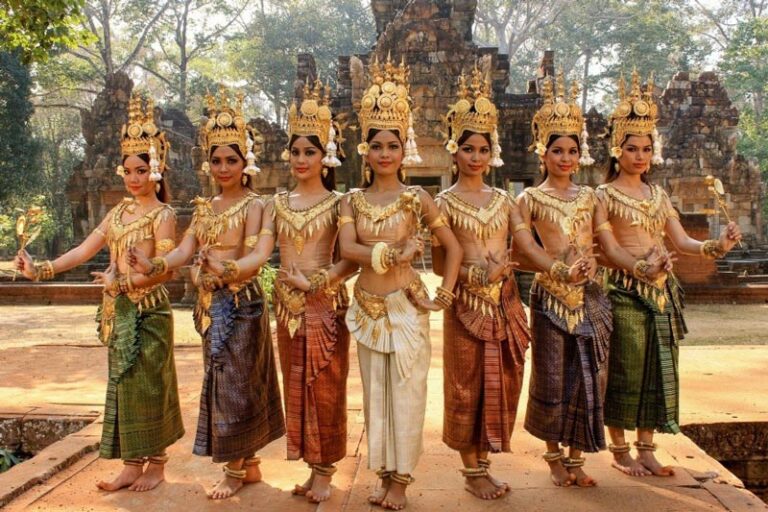 Must-see performances in Cambodia:
Dusk and dawn at different locations: Angkor Wat, Tonle Sap, Bagan – What the shows!
Phare Circus show in the street with fire, surprises and exotic body impressions
Apsara traditional dance (You can dine and enjoy the show at the same time at great restaurants in town)
Fantastic Food & Tropical Fruits
Being able to meet up with two essentials for a travel trip – eat and sleep, Cambodia has succeeded remarkably. Followed the impact of abundant spices, ingredients and herbs, Khmer dishes share great similarity to Southeast Asian neighbors' culinary: Mixed flavors, well-balanced between the sweet and the sour, more spiciness to the broth and dipping sauce. A huge leap is Cambodian food usually come with a bit of coconut milk like in Khmer noodles or soup. Pork and chicken are the most favorable meats, cooked and enjoyed in many street dishes. In coastal areas, you can find unbelievably fresh seafood, especially fish, squid and crab sold with reasonable price.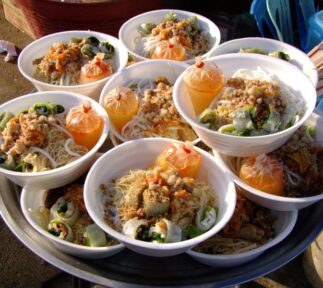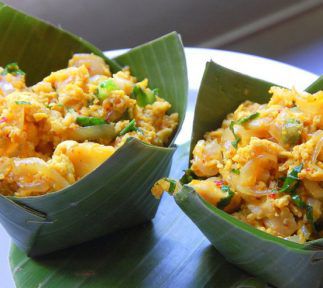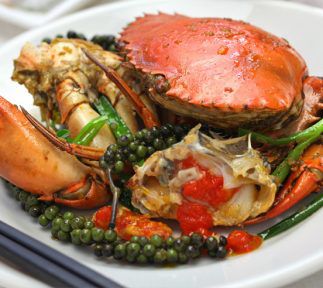 'Secret weapon' to Cambodia's signature flavors:
Coconut milk (for noodles, curry, desserts)
Sugar and vinegar (for sauces)
Lemongrass and shallots (for all purposes)
Chili, chili powder (for all purposes)
Roasted peanuts (for toppings)
Banana (for desserts, cakes or crepes)
Durian (red durian as well, yike or yay up to your likings)
Look for those dishes while in the country:
Fish amok (fish curry)
Bok svay (green mango salad served with dried fish)
Samlor karkoo (veggie and green fruit soup)
Khmer noodles
Khmer red curry
Grilled skewers (fish, squid)
Green mango salad
Fresh tropical fruits (durian, banana, jackfruit, papaya)
Tranquil Islands & Pristine Beaches
Vacation at Southeast Asian beaches – The term usually involves famous Vietnamese or Thai destinations as of Nha Trang, Danang, Phu Quoc (Vietnam) or Krabi, Phuket, Samui (Thailand). As a matter of fact, beach paradises in Cambodia have their own charms. To be specifics, Sihanoukville, the Southern town of Cambodia, runs along miles of lovely water world including the astonishing Song Saa, Koh Rong, Koh Rong Sanloem. The best part about these Cambodian islands: Utmost tranquility. If you are afraid of the scene with yourself lying on the sand, sunbathing and relaxing and the person next to you is way too close that you can have a share of his sunscreen through accidental skinship, book a ticket to Cambodia right away!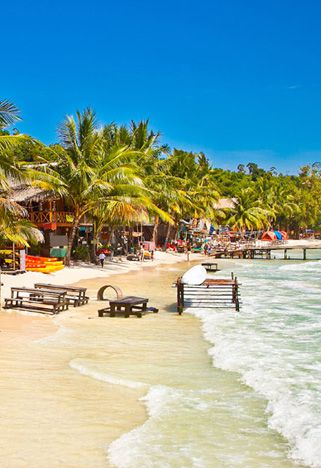 Sihanoukville seems pretty isolated to many but there is no boredom upon this destination. You remember the gorgeous tropical beaches 10 years ago – Koh Rong is under the good status and statement for you and your beloved's privacy. Of course there are still resorts, spas, lounges and convenient stays here for your leisure, just less of the city light and strong WIFI, good for technology detox by the way. Our personal reference, Song Saa and Koh Rong provide best forms for outdoor recreation among Southeast Asia: beach yoga, snorkeling, scuba diving, watersport, cave exploration or more – Fascinating!
Here are must-visit islands and beaches in Cambodia:
Song Saa: Vivid, exclusive with much tropical colors and fantastic recreation
Koh Rong: The most famous island in Cambodia, renowned for its luxury villas and resorts.
Koh Rong Samloem: Low impact of tourism, high level of privacy with small touch of luxury
Koh Thmei: Tropical land, home to more than 100 different species of birds, monkeys, lizards and rich ecosystem. Perfect for exploration favor
Koh Totang: Isolated, suitable for lone traveler with no internet and proper stays.
Unspoiled Jungles & Ecosystem
Phenomenal and diverse, those are so-so words to describe nature in Cambodia. With miles of intense jungle fauna, abundance of wild species living in, the land boasts an array of plenty, extensive ecosystems blending together under the lush green roofs.
Indeed, Cambodia is more or less facing the dangerous alert for poaching and illegal animal trade, yet, the country still strike hard towards the rehabilitation for wild animals, environment protection as well preservation activities. Outskirt of Phnom Penh, travelers can find the largest preservation in Cambodia, home to many kinds, the Phnom Tamao Rescue Center with rare beings of Asian tigers, elephants, sun bears and red-identified birds. A huge bond between human and wilderness can really be tightened in the land here, where you, your friends, your family members and kids are able to join hand pampering the elephants, camping among nature, seeing river dolphins in Kratie and participating in meaningful eco-friendly workshops.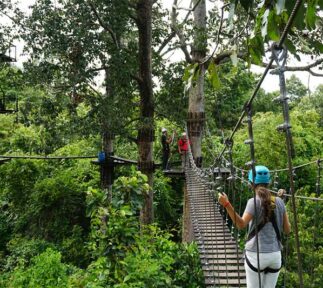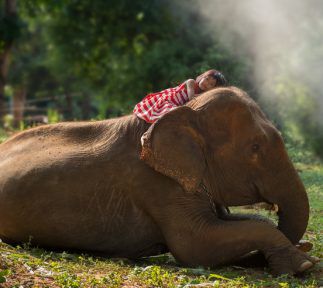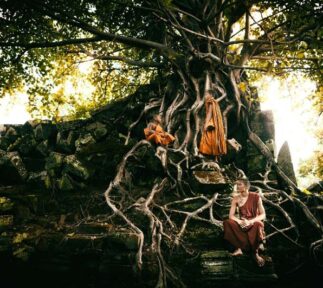 To those who urge for physical experiences, a soft-core challenge swinging off the trees, station to station in Siem Reap National Park on a zipline would satisfy your craving towards sunshine, sightseeing and muscle warming-up.
Accessible all-day go-green conservations and wildlife areas:
Phnom Tamao Center
Cambodia Wild Life Sanctuary
Mondulkiri Elephant and Wildlife Sanctuary
Siem Reap National Park
Best transportation for jungle expeditions:
Quad bike
Bicycle
Helicopter
Zipline
Horse cart
Family Friendly & Community Contribution
One question raised by many groups of travelers coming to Cambodia: 'Is the country friendly to our kids?'
And we answer 'Yes'. Besides all inclusive reasons indicated above, highlighted the wildlife protecting aspect, Cambodia brings out the nostalgic, safe, amazing ideas for family adventures at not only city streets but also countryside villages. The amenities in Siem Reap and Phnom Penh are standard, comfortable for families even with homestays or hosted houses, where kids or laid-back travelers may as well feel good. There are street culture, proper restaurants (food shops in the countryside), nice playgrounds and proper vehicles for big families to move around.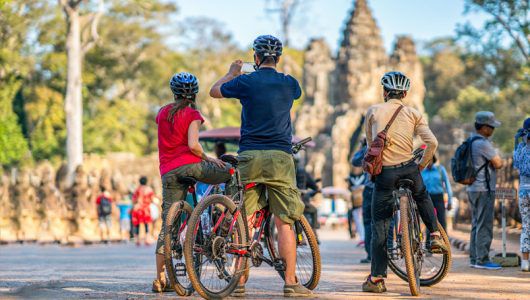 In Cambodia, the kids can learn a lot from friendly locals, with different culture background and language. Whether you are heading for the beach or countryside, your kids would be healthier with calm atmosphere, extra vitamin C from the sun and natural sweating. Besides the significant wonders crossing different territories, there are fun activities to fulfill in Cambodia. For instance, your family can help locals with planting a tree and harvesting crops in Siem Reap village or discover the art programs held by artists from different generations in Siem Reap. The more you go, the better you learn!
Top life-lessons in travel experiences:
Tree-planting program in Siem Reap – To love, give back and be responsible towards nature
Cooking class in Siem Reap – To be sharp on the ingredients and cooking skills (new dish, new technique, new taste)

Cycle around Angkor

– To be energetic and positive at any circumstances (because there is a chance you will get lost in the complex for some minutes)
Local boat in Tonle Sap – To explore different form of living: the floating life and balance on water surface
Bamboo train in Battambang – To be strong mind and partly overcome the fear for height

Ecolodge stay

in Siem Reap – To be with the greens and get used to life among nature
–
BY LE DOAN