Essential Cambodia Packing List
It's tough to decide which place to visit in Southeast Asia when it has so much to offer travelers. From temple to tropical rainforest, Cambodia should place first on your bucket list. Be it the most beautiful beaches or the most mysterious ancient temple, the kingdom of Cambodia has got it all. The astounding Cambodia has recently become a popular destination for many tourists and backpackers keen on discovering the history. There is no wrong time to visit Cambodia, so pack your bag and let's head to Cambodia for a ton of fun in the sun!
WONDERING WHAT TO PACK FOR CAMBODIA?
Cambodia is unique with serene landscapes and breathtaking World-Famous heritage site, Angkor Wat. Each aspect of Cambodia's nature and their culture contribute to making Cambodia a hidden beauty. The first essential approach to truly enjoy your adventure in Cambodia is to pack smart. It's vital to know how to pack lightly whether you are on tour with Sens Asia or being a backpacker. Anything can happen, so take the time for adequate preparation before you go on. Here are a few items you should have on your Cambodia packing list.
It's best to bring your own travel first aid kit since some destinations in Cambodia may not be easy to find a pharmacy. Most architecture masterpiece is located pretty far from the city, so consider to come to Cambodia packing with these must-have first aid kit items: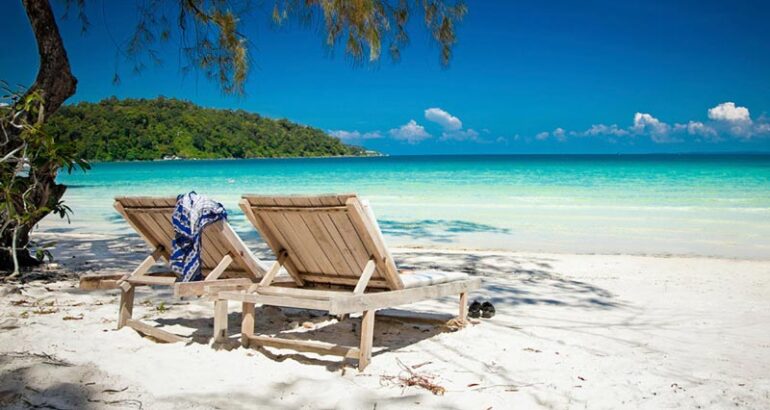 Bandages: Pack various size. It will come in handy when you have full-blown blisters, or insect bites.
Anti-diarrhea tablets: Take a trip to in Phnom Penh for a leisurely Food-Tour. Unusual change in diet and bacterial contamination can lead to diarrhea. That's why active charcoal is one of the packing essentials. Better be safe than sorry.
Bug spray: a tiny mosquito can potentially transmit malaria. Especially during the rainy season in Cambodia, the heat and humidity favor mosquito activity.
Sihanoukville is located in the southwest of Cambodia and has several serendipity beach areas and appealing offshore islands. It's the perfect place to swim in the clear, blue water and soak up the sun. don't let the heatstroke interrupt your day, make sure to tuck these stuff in your Cambodia packing list:
Sunscreen: to avoid getting sunburn from Cambodia intense sunlight, put on sunscreen with SPF higher than 50. You can also find sunscreen in Cambodia shops but if you have sensitive skin and want to make sure about the product quality, we suggest you to bring your product along. If you have a stopover in Bangkok, you can purchase high quality ones in there as well.
Hat: Some struggle to deal with the burning heat during the dry season in Cambodia when the temperature could easily reach 40 degrees Celsius.
Swimsuit cover-up or sarong: This beach cover-up is a multipurpose item. Not only perfect for the beach, you can also throw it on over shorts and a tank top when strolling around town or visiting sacred temple in Cambodia.
Flip-flop: Bring a pair of dependable flip-flops so you can walk on sand rather than pounding the pavements or burning your feet.
Wireless ear-buds: Invest in one for maximum comfort and music along the trip. The best way to absorb the majestic landscape of Cambodia is to block out unnecessary sights and sounds.
Portable Charger: Come in various sizes and prices for preference. Whether you are on a beach or an exotic jungle, you won't have to struggle with drained batteries any longer.
Power Adapter: You may encounter some hotels or restaurants that need an adapter, especially if you own a grounded plug. This gadget will save you the trouble.
WHICH IS BETTER FOR TRAVELLING?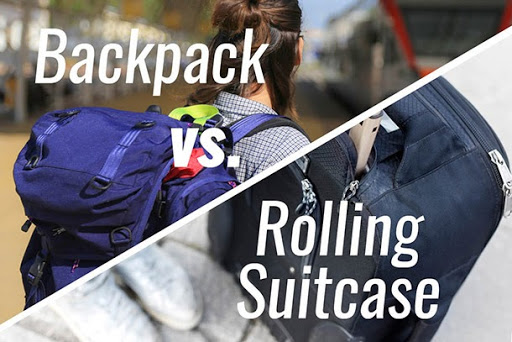 Choose the right luggage for your trip cause a half-hearted decision might ruin the whole thing. Since backpack is easy to carry anywhere, giving you access to trains, floating village, and fling yourself into a bus or back of a taxi. 
The small backpack is best suited for anyone who loves adventure and exploring around the city day and night. If you don't want to lug a suitcase around, opt for a large backpack. The backpack doesn't weigh as much as a suitcase, which saves you a fortune on the air ticket. It's simpler to keep an eye on your bag when you're traveling since Cambodia is not the most secure place on earth. 
The minute you leave the airport in Cambodia, you will encounter bumpy, rough, uneven roads condition and even potholes. Many obstacles along the road that will make you want to ditch the monstrous suitcase.
WHAT CLOTHES TO PACK FOR CAMBODIA?
Cambodia is much hotter than other parts in Southeast Asia so visitors should pack lightweight luggage. Only pack reasonable and necessary clothing for the trip.
Tops: Dri-fit, tank tops, or t-shirt is excellent for Cambodia because you will find yourself drenched in sweat during the day.
Bottoms: Leggings are perfect for a Cambodia escape adventure like hiking through dense jungle or kayaking down the river in Tatai. Pack a sarong or long skirt to show modesty if you plan to visit the sacred temples in India.
Cross-body bag: Keep your daily items such as phone, money, or lipstick for easy access.
Footwear: sport shoes, flip-flops or slippers are convenient for walking and saving space in the suitcase
Same as the ladies, keep your clothing to a minimum level but it should still be enough before you do your laundry. These are absolute must-haves for the man when packing for Cambodia:
Tops: Cotton T-shirt or dry-fit, avoid synthetics which can get sweaty during the day.
Bottoms: Casual shorts and linen pants. If you don't want to draw a lot of attention, don't wear skimpy clothing when visiting temples.
Footwear: a pair of Toms, light runners for hiking, sandals, or crocs.
BRING OR BUY? JUST SIMPLIFIED YOUR LUGGAGE
Pack your sunscreen and skincare items for Cambodia. Supermarkets or stores might not have your preferred brands. Furthermore, sunscreen is mostly imported and tends to be expensive here. Since the locals don't usually wear sunscreen, so the supply for sunscreen is low. It's better to pack your own.
Across Southeast Asia, convenience store has been growing steadfast, but in Cambodia, the development of retail has grown at a slower pace. It might cause a bit of trouble for you to find toiletries in the rural area. It's neat to have some basics to use on the go such as toothbrush, toothpaste, razors, deodorant, feminine hygiene products, etc.
Bring just a few fundamental items as mentioned above and buy the rest as needed. Over-packing is will only cause more troubles. Thanks to the natural resources, Cambodia produce lots of natural ingredients products like massage oil, soaps. Don't miss your chance to take this unique souvenir back home.
Shopping in Cambodia is incredibly taunting for those who love bargaining or hunting for a good deal. The price is quite low; hence you can easily buy handbags or outfits to restocking your backpack. Shopping local while you travel is the best way to get to know the people.
Keep in mind that less is more. You only need a few outfits to have a memorable adventure of a lifetime. Be an expert packer, and you will find packing is no longer a stressful process. Getting ready to explore a whole new culture so for some activities, travelers should think carefully about what to wear and bring. Backpacking through Cambodia is beautiful and it deserves some attention before embarking to get the most out of your trip.
Please share if you find the list is useful for other travelers: