Southeast Asia in December
The most beautiful time of the year is very soon to come. Unless you want to spend the entire Christmas holiday in the brisk and cold weather, why not head to Southeast Asia for a unique festive season. 
In Southeast Asia, every month of the year is a never-ending summer. Traveling to Southeast Asia in December is an excellent getaway for one of the biggest holidays of the year. After the sweltering heat and unbearable humidity fade away, this region is switching to the most pleasant weather of the year and perfect for a Winter break.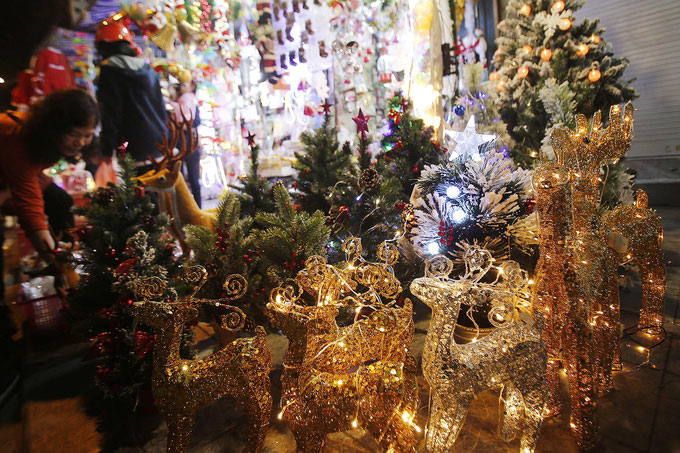 Is December the best time of year to visit Southeast Asia?
There are few places that can beat a Christmas holiday in Southeast Asia. The special thing about spending the holiday here is that travelers could expect to bask in the sunshine while the rest of the world is mostly freezing. December brings you the perfect weather with sunny blue skies and a refreshing cool breeze. Christmas decorations and light shows can be seen in major tourist hot spots so tourists won't miss the joyful spirit of Christmas back in their hometown.
There are so many destinations to fly away in Southeast Asia. If you are looking for somewhere with beautiful beaches or adventure in an exotic island, this region with more than 640 million friendly neighbors will give you a hard time to decide your next destination. Buddhist and Hindu are two of the most dominant religions in Southeast Asia which left Christian as a minority. Christmas is big in the Philippines because around 90 percent of the population is Christian, but it is not an official public holiday in many other countries like Vietnam or Thailand. Despite the differences in religion, Christmas spirit is now widely embraced and celebrated in every country that makes this region a wonderful destination for the most festive season of the year.
Climate and weather overview
Welcome to the tropical region with mainly two weather systems most of the year: The monsoon season and the dry season. This simply means the weather is hot and humid most of the year. The tropical rain belt runs along the equator and responsible for the tropical and subtropical climate during the monsoon season. The only two subtropical countries in Southeast Asia which have a cold winter is located in Northern Vietnam and Myanmar Himalayas.
Northern Vietnam and Myanmar Himalayas are the only regions in Southeast Asia that feature a subtropical climate, which has a cold winter with snow at higher altitude. December is a comfortable month to travel since you won't have to worry about the rain and high heat that will stop you from having fun. It is safe to say December has the most favorable weather conditions to enjoy any activity in the tropical jungle. If it's a day on the sunny beach or trekking experience you are searching for then you may consider Halong Bay in Vietnam or Phuket in Thailand. During December, these countries offer sunny days and cool weather at night. 
Thailand: Average temp: 31oC – 33oC / Sun: 11h per day / Rain: 8mm per month
Vietnam: Average Temp: 26oC – 29oC / Sun: 11h per day / Rain: 6mm per month
Laos: Average Temp: 29oC – 34oC / Sun: 8h per day / Rain: 3mm per month
Cambodia: Average Temp: 30oC – 33oC / Sun: 11h per day / Rain: 3mm per month
Indonesia: Average Temp: 27oC – 30oC / Sun: 9h per day / Rain 90mm per month
Myanmar: Average Temp: 24oC – 31oC / Sun: 11h per day / Rain: 10mm per month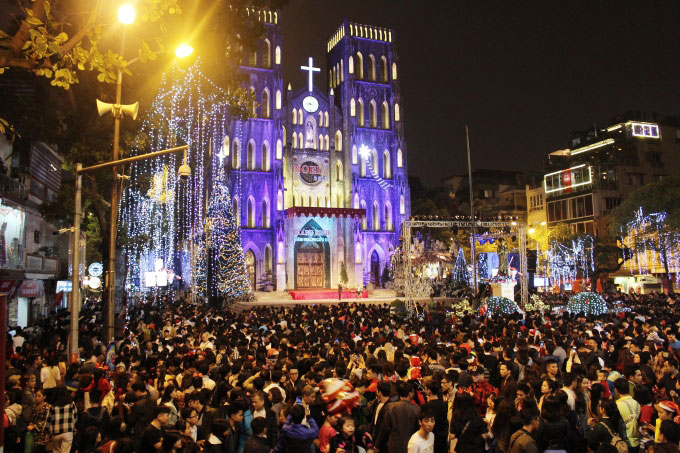 The best winter vacation in Southeast Asia
Why not giving your family a Christmas present as a trip to Southeast Asia? A holiday trip would be a fantastic gift for the whole family which included lots of fun activities. The holiday is also a perfect opportunity to take a break from the constant hustle and bustle routine. While the rest of the world is shivering from the cold, Southeast Asia will be full of sunshine for everyone to enjoy. 
There are so many amazing places to see in Southeast Asia this December that could make building your travel itinerary a relentless job. For a stress-free vacation, plan the kind of trip you want with Sens Asia. The below selections may include something that suits the entire family. Whichever destination you select, you're guaranteed to have one of a lifetime memory.
Vietnam:  Travelling through Ho Chi Minh City or Hanoi this December and you can feel the Christmas atmosphere in any major tourist hotspots with sparkling light decorations and glittering Christmas trees. If you want to spice up the holiday with the sun, join the Vietnam Along the Coastline tour. This 18-day tour will take you to all the famous beaches in Vietnam such as Mui Ne, Nha Trang, and Phu Quoc. The amazing yellow sand combining with the blue color of the sea promises to bring you the best place to stay. The primitive beauty of the beach will bring a tranquil and relaxing atmosphere for tourists.
Thailand: If you are too busy and prefer a shorter trip then a week tour in 2 popular city and island destinations: Bangkok and Krabi, should be perfect for your holiday. Sens Asia designs this trip for anyone with a busy schedule but is still able to experience all the essence and culture of Thailand. This tour program will take you to Ayutthaya (Bangkok), the capital city of Thai people with many famous temples built by the ancient Kings. Even though 95% of the population in Thailand is Buddhism but it doesn't keep the city away from the holiday spirit. In December, every shopping malls and buildings dazzle and delight visitors with gorgeous decorations and displays. After seeing the urban life of Bangkok, it's time to let down your hair, let loose and indulge in the beautiful scenery and beaches in Krabi.  
Laos: exotic Laos has two distinct seasons, the rainy season and dry season year-round. For anyone who can't withstand the high heat and humidity then December might be the best time to visit Laos. If you want to witness and experience the Splendors of Indochina, Luangprabang is one of the must-visit destinations. The town of Luang Prabang is exceptional for both its rich heritage and culture that reflect the traditional architecture. Discover some of the most sophisticated and complex structure of all temples in Southeast Asia which emphasize Laotian spiritual belief in Buddhist. Indonesia secret escape
Indonesia:  Among many popular islands, Bali always stands the most with amazing natural scenery and highlights beaches. December is characterized by light rain but it doesn't stop tourists from all over the world to gather on this island for Christmas. If you want to enjoy Indonesia secret escape then Bali is the perfect location for beach lovers, especially for those who enjoy surfing, swimming, or just sunbathing. Religion plays an important role in the Indonesian community which has enriched deeply in their culture and architecture. Located in central Java, the magnificent Borobudur Temple is the world's largest Buddhist temple built in the eighth century. The best time of day to visit Borobudur is very early in the morning to catch the sunrise over the ancient monument. 
Cool and breezy destinations in Southeast Asia
Sapa: Sapa is a distinctive small town that amidst deep in the Northwest mountains of Vietnam and home to many different ethnic tribal groups. Here in Sapa, tourists will have a chance to immerse in the tribe's unique heritage and culture. The whole area is blessed with subtropical weather unlike any other places in Vietnam which make this destination becoming more popular not only for domestic visitors but also for foreign tourists. If you are looking for some snowy destination surrounded by mountains and beautiful scenery in this December then Sapa is worth the trip.
Chiang Mai: If you are a big fan of cold temperature and the sun then don't hesitate to hop on a plane to the Northern Thai highlands, Chiang Mai. The city is famous for the historic center with beautiful ancient temples such as Doi Suthep. It is one of the most sacred temples in Chiang Mai that has picturesque view and splendid gold color. December is the most popular time to visit Chiangmai when you can simply exploring the old city on foot without worrying about getting sticky or sunburn. 
Travel notes
From island paradises to sensational bays, Southeast Asia is the perfect place to get away from the gloomy winter and warm up in the sun. Whether backpacking or visiting for a holiday, make sure you are prepared to deal with the weather, culture and travel conditions while exploring unique and off-the-beaten-track destinations. 
What to pack? The weather in December is quite warm during the day and chilly at night so bring lightweight clothing and jackets. One way to experience the local culture on your travels is walking and interacting with the locals. Exploring anywhere outside the main cities, you'll usually find dirt roads in remote places. A small backpack is best for moving around on a day-trip where you will only need to bring essential things like sunscreen, water bottle, and insect repellent. 
It is not likely to rain in December yet some locations in Southeast Asia might experience light rain. A few spots of rain won't ruin your trip, embrace it because it makes the whole landscape look refreshing, shiny, and glistening. So if Bali is next on your list, invest in a rain poncho and waterproof cover for your backpack to prevent the rain from wrecking any electronic devices. If you are on a bus tour then an umbrella is good protection against the rain. 
What to eat? Southeast Asia is an amazingly beautiful and multi-culture region of the world that will elevate all of your senses. Not only you get a chance to visit many natural wonders but you are also in for a feast. Truth be told, this part of the world cuisine is beyond your imagination. Food is such an important part of any travel experience that's why Sens Asia has designed many foodie tours to give you a remarkable culinary experience. The food listed below represents one of the signature dishes in each country:
Vietnam: Pho – rice noodle with delicious broth, served with a plate of basil leaves, bean sprout, and lime wedges.
Thailand: Pad Thai – Stir-fried rice noodle with egg, bean sprouts, and shrimps with some ground peanuts on top 
Indonesia: Nasi goreng – Fried rice with special sweet soy sauce and served with a sunny side up egg        
Southeast Asia customs: If you are a first-timer in Southeast Asia, it's best to pocket these tips with you to avoid culture shock. Public displays of affection like hugging or kissing are uncommon in most Southeast Asia culture so tourists should try to avoid it. Thai people pay the utmost respect if it involves their monarchy or religion. Remember not to show any kind of disrespect behavior to any portrait of the Royal family like drawing on the money. Always take off your shoes when visiting the temples and remember to wear proper attire unless you will not be allowed to get inside the monuments. 
–
Share your travel ideas: