Mix and Mingle: Christmas Dinner in Southeast Asia
Get ready for an epic Christmas celebration your family won't forget, trade in the gloomy skies and freezing weather for days of sun, sand, and sea. Feel the stress back home fade away as you chill on the beautiful beach and capture the stunning views. The holiday tradition is not only about family and sparkling decoration but also about food. Christmas dinner is an important part of the celebration anywhere in the world. Southeast Asian cuisine is a kingdom of pleasure for any foodie that will bring the most unique Christmas mix-and-mingle experience with an Asian-twist.
MIX
CELEBRATE THE SPECIAL NIGHT ONBOARD
If you are looking for a proper getaway and absolute tranquility this Christmas, Halong Bay is the perfect off the beaten path location with many private beaches and breathtaking scenery. This special destination is packed with adventures and romance that can make anyone fall in love instantly. Admire the majestic limestone karsts of Halong Bay while cruising through the crystal clear emerald water.
Sens Asia preserves only the most luxurious cruise for passengers to enjoy Christmas vacation with their loved one. With December in full swing, what better way to warm up the love than a private romantic dinner under the moonlight and twinkling candles on board. Halong Bay offers tranquility plus the picturesque view with a magical outdoor setting, your Christmas dinner celebration is surely monumental.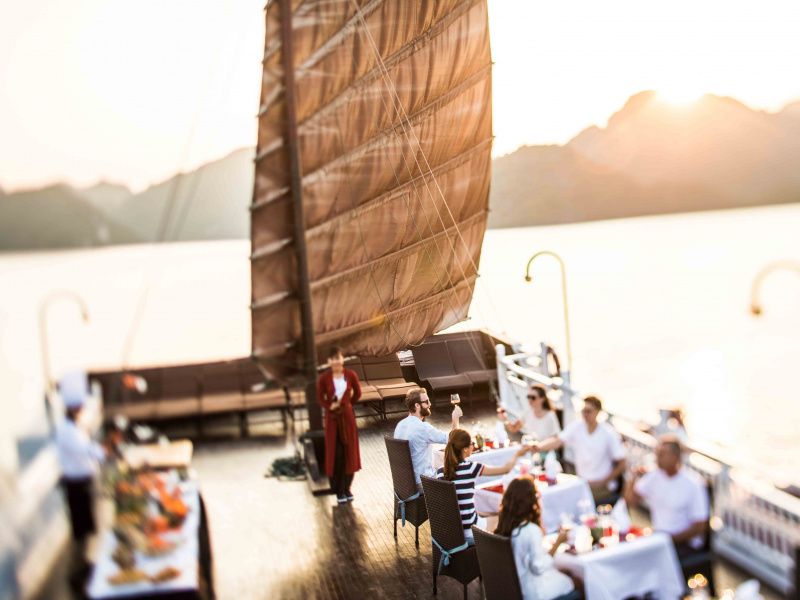 Sens Asia team pays attention to the smallest details including setting decoration. Candles light surround the table and create a romantic ambiance. The perfect time to start your dinner should be before sundown so that you can enjoy a vivid sunset. Basking in the cool breeze of the sea and wonderful sunset sight while drinking champagne with your beloved ones will be an unsurpassable memory. With elegance setting and impressive light decoration, having an intimate dinner in the middle of stunning nature sounded like heaven on earth. Indulge in the romantic ambiance with modern Vietnamese cuisine will give you the most memorable evening you have ever known. If you are looking for a truly unique and magical Christmas dining experience, Halong Bay is the perfect place for a romantic secret escape.
ADD SOME SOUTHEAST ASIAN SPICES TO YOUR PLATES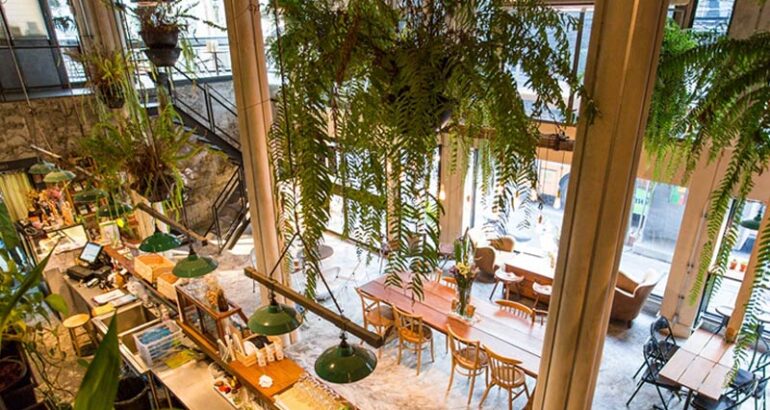 Vegetarian menus
Whether you are a vegetarian or just fancy a more healthy dining option this Christmas, you can always find the very best veggie restaurant in Southeast Asia. Skip the turkey this year and opt for an alternative vegan menu with an Asian twist that can transform your holiday.
 Thailand might not be the easiest place to order vegetarian dishes at a street stall but Bangkok still has many vegetarian-friendly restaurants for tourists to enjoy. These are Sens Asia pick of Bangkok's best vegetarian restaurants that offer their own twist of culinary in local food:
Broccoli Revolution: A modern and classy restaurant, located on Sukhumvit Road. Health-conscious restaurant which has a diverse menu spread from the neighboring country such as Myanmar and Vietnam to Italy and South America.
Location: 899, Sukhumvit Road, on the corner of Soi 49, Bangkok
Timings: 7:00 AM – 11:00 PM
May Veggie Home: The restaurant serves a wide variety of authentic Thai dishes with a cozy and relaxing ambiance. Fresh homemade and delicious gluten-free food for any vegans to indulge.
Location: 8 Ratchadapisek Road, Khwaeng Khlong Toei, Bangkok
Timings: 11:00 AM – 10:00 PM
Christmas is a day of sharing full of joy and laughter where everyone exchanges gifts and wishes. This most blessed day is also a chance to renew your mind and cleanse your heart. So take a trip to Dong Thien pagoda, located on top of a hill in Hue. The serene pagoda has a nice yard where the nuns grow their own vegetable supply. Travelers coming to the pagoda can stay for a simple yet tasty vegetarian meal prepared by the nuns. The sanctuary will bring visitors peace and comfort right from the heart and soul. Other veggie restaurants in Vietnam including:
Uu Dam: A vegetarian restaurant full of positive spirit that offers healthy cuisine in a
secure and relaxing environment. Located in the bustling city of Hanoi, Uu Dam blooms slowly and gracefully like an isolated island that attract travelers to come and explore
Location: 34 Hang Bai, Hoan Kiem District, Hanoi
Timings: 7:00 AM – 11:00 PM
Sente: Sente is perfect for diners who want to seek tranquility in the Old Quarter. The restaurant using Lotus, the symbolic flower of Vietnam as a star ingredient. Guests will be impressed with the decoration which will bring you back to the ancient Hanoi.
Location: 20 Nguyen Quang Bich, Hoan Kiem District, Hanoi
Timing: 9:00 AM – 10:00 PM
MINGLE
STAY AND DINE LIKE A LOCAL WITH HOSTED HOUSE EXPERIENCE
Another great way to connect with the traditional life and culture is through a homestay experience. Go on an adventure with Sens Asia and meet the friendly native in Southeast Asia. In parts of this tropical region, it might be hard to find a hotel instead there are plenty of homestays, where locals generously open their own homes for travelers to stay in. Here are some destinations that travelers looking for genuine local experience should definitely consider.
 Laos
Compared to the neighboring countries, Laos is usually overlooked but this destination brings together the best of Southeast Asia. The land is blessed with breathtaking natural landscape and dense jungle loaded with wildlife makes Laos an ideal adventure. Cruise down the Mekong River if you are a first-timer in Laos and spend the night in a traditional village. You might be surprised at the warm welcome from the locals and make you feel like a member of the family.  Upon arrival, tourists will have the chance to experience an age-old traditional Laos ceremony called Baci.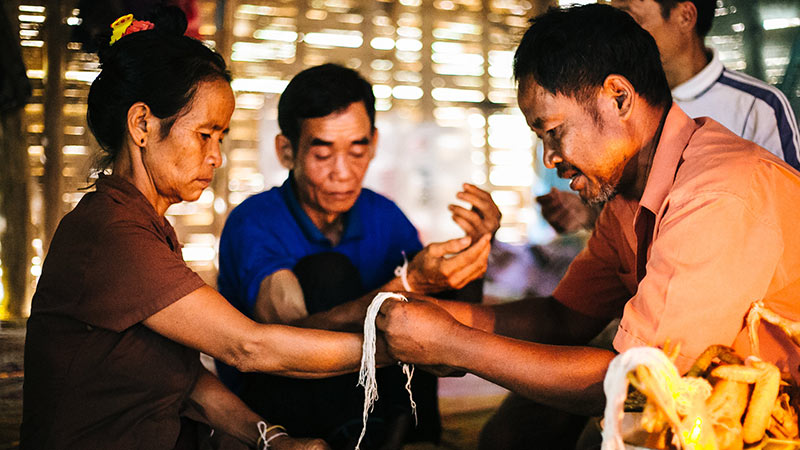 The ceremony is a spiritual blessing in which participations joins in to tie white threads around their wrists. The spiritual practice is believed to bring good fortune, love, and happiness. If you want your wishes to come true, be careful not to lose or break the threads for at least 3 days. This tradition has a deep meaning and played a major role in Laotian culture. After the ceremony, guests are invited to a savory feast and immerse themselves in the traditional music and dance. It's a spiritual Christmas full of blessings like nowhere else.
Cambodia
When traveling overseas, the fastest way to get acquainted with the local way of life is to spend some quality time with them. Compare with other countries in Southeast Asia, Cambodian's architecture reflect deeply with their religious. There is no doubt that the colossal Angkor Wat temple is one of the most iconic archaeological sites in the world. If visiting Angkor Temple will give you an impression about the Khmer Empire then dropping by Theam's House appears to be a good way to learn more details about Cambodian's culture and art.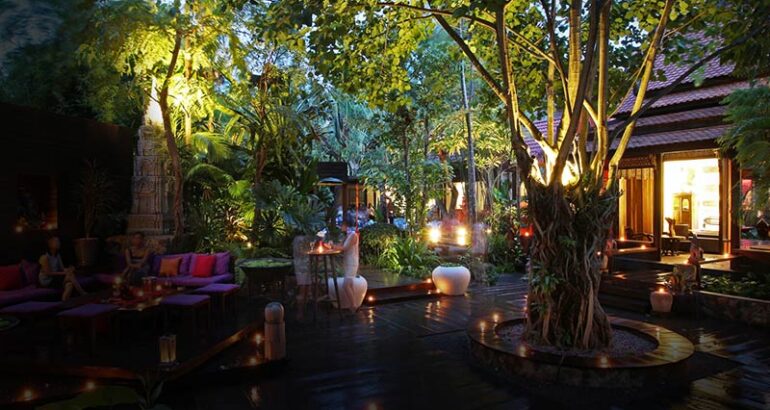 This charming atelier and private wooden house in Siem Reap belongs to Mr.Theam. He was a war survival and refugee in France. The former artisans decided to return to his hometown and help revive the nation's art. His lifelong mission is to reserve the same art technique and materials used by the ancestors such as bronze, silk or stone. Passing the entrance, visitors can see many divine art collections in the main room. Including his distinctive personal artworks composed of traditional Khmer handicrafts infused with modern art. Theam's house set in a lush tropical garden, giving the place a cool and pleasant atmosphere. The exterior charming garden is just the right place to relax and enjoy the artistic surroundings. 
 Vietnam
Hanoi has a compelling charm thus the capital still trying to retain its original and distinctive history and heritage. As much as life in the Old Quarter is always noisy and crowded, some places are unseen by casual visitors inside these cramped tube house. Unlike hotel properties, each hosted house you visit with Sens Asia has its characteristic and distinct vibe. Journey to the North of Vietnam and get to know the traditional house of Mr. Dung and Ms. Quy, located on Hang Bong Street.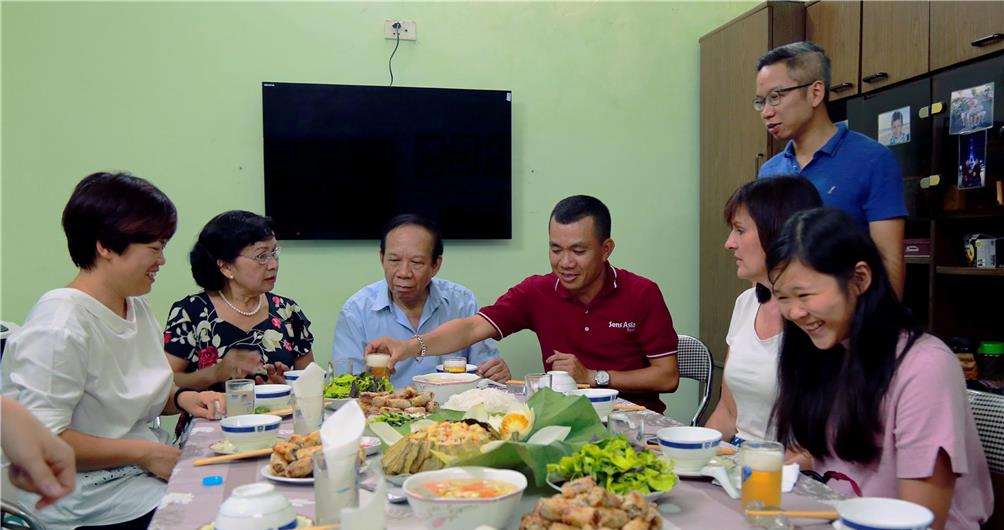 The extended family has lived under the same roof for seven generations. Have a cup of lotus tea and local snacks while the sweet hosts generously share their knowledge of their ancient home and culture.
When in Hue, the old royal capital of Vietnam, visitors can spend a day as a fisherman and discover their daily work. Not only that, you are invited to the family's kitchen to prepare dinner using the freshest fish that you have caught earlier, and traditional ingredients like coriander, fresh mint, and fish sauce. This is an interesting way to learn Vietnamese daily dishes and culinary culture. It's not a traditional Christmas dinner but this rustic meal still gives fantastic delight.
 If you want to see traditional Vietnam in the West, then an expedition to Vinh Long is worthwhile. Take a big turn to visit this tropical fruit heaven and visitors can taste all kinds of fruits inside. Most of the hosts in Vinh Long are local farmers, which mean you will be treated to a feast made with the freshest ingredients right from their farm. Sample some excellent authentic local cuisine such as spring rolls, Banh Xeo, and Canh Chua.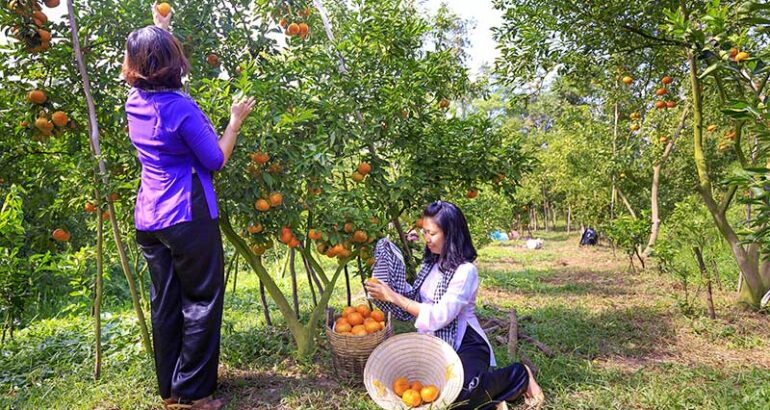 The best thing about hosted house is that visitors can mix and mingle with the locals in their daily life. Beyond giving you a place to rest, there's a great chance to experience the local culture and befriend with the residents of the community. A trip to Southeast Asia is perfect for anyone who wants to create memorable experiences in a new faraway land this Christmas.
TASTE THE ULTIMATE STREET FLAVORS LIKE NEVER BEFORE
The Vietnamese street cooks are very skillful and able to serve culinary masterpieces in a very small space. If you want a simple Christmas menu, there's so many colorful collection of street food vendors that you can choose from the Old quarter. Try a modern version of Pho – Pho roll (steamed rice sheets filled with a mixture of sliced lean beef, eggs, and some herbs) which creates a great taste of sweet and sour. Bun Cha is another famous dish that was loved by Anthony Bourdain and tourists cannot ignore it. The globetrotting celebrity chef shared a classic Hanoi meal of charcoal-grilled pork noodles, with the former President Barak Obama. So many savory dishes in the maze of small streets which guarantee you would never go hungry or get bored.
Travelers are in for a great gustatory adventure and flavorful surprises in every narrow street yet only the locals know where the best, authentic places are. If you want to have a genuine food experience, eat where the locals eat and Sens Asia is one of the best travel guides to fulfill it. Food tours at one of Hanoi's most energetic streets give you an exclusive insight into Vietnam food and culture. You can easily get lost in the little alleyways in the Old Quarter, the beating heart of Hanoi. The old maze is super busy and crowded at night where you can find many tiny stools had been set up on the pavement.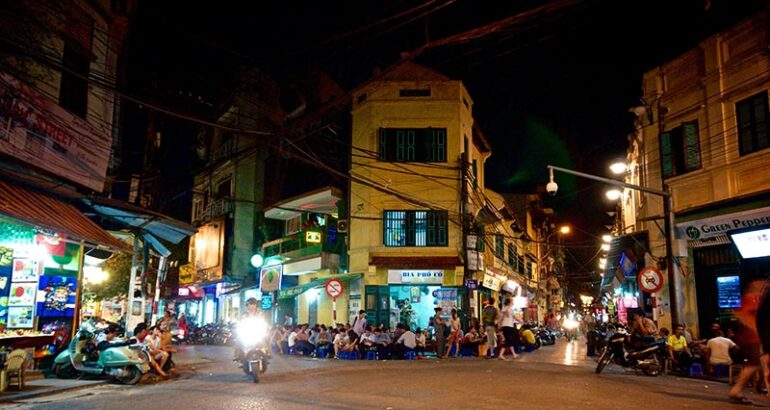 For Vietnamese, after a hard day at work instead of heading back home, they usually hang out and have some beer to relax and bond friendships. Beers are quite cheap here and many types of beer available. Vietnam is not a country with beer-making tradition but the local craft beer is worth trying. Bia Hoi is a must-try for any visitor and the soul of Hanoi street culture which only cost 12,000VND per glass, extremely refreshing and won't break the bank either. A fantastic way to reset yourself and cool off after a worn-out day is just sitting on your little stools with an ice-cold 'Bia hoi' and watch the world go by, it's a fantastic way
If you think only high class or fancy restaurant can achieve the Michelin star, come to Bangkok and meet Jay Fai, the 'Queen of street food'. The third street vendor in the world to achieve the prestigious award in 2017. Guests have flocked to this humble place to try Fai's famous signature dish, the crab omelett even if they have to wait for hours. The light and airy omelette wraps the fresh crab meat into a big lump. The best Thai's food and the best Christmas dinner you'll ever have. This has proved that street food has developed so much that even Michelin judges need to give greater attention.
The traditional Christmas dinner are always there but don't hestitate to try new foods and be adventurous! Pushing yourself out of your comfort zone will give you a pleasant surprise. A brand new experience in Southeast Asia guaranteed to make you feel better than home.  Redefine your ideas of holiday as you taste the most delicious food ever from one food stall to another.
Southeast Asia is full of history, wonder, and culinary artisans. Set out to explore and taste your way through the colorful street and eat like a local on this glorious season of the year. Food is one of the most fascinating parts of the experience but it also a way to understand their culinary traditions and customs. Let's create true friendship and make memorable memory with the warmhearted locals on a wonderful Christmas dinner.