Start Planning
Thailand Travel Information
The Thais have been welcoming guests to their friendly kingdom for centuries, and although this ancient civilisation has blossomed into a vibrant modern nation, hospitality remains firmly intact. Around half the people coming for a Thailand holiday are return visitors: people just can't get enough of the land of smiles.
From the glistening temples of Bangkok to the ancient ruins of Ayutthaya, the array of awe-inspiring religious architecture in Thailand is unsurpassed. Meanwhile, the northern mountains around Chiang Mai and Chiang Rai make up a lyrical landscape of rolling hills dotted with tea plantations, beautiful cloud gardens, fascinating ethnic minority villages, and majestic elephants.
Perhaps most appealing of all, Thai beaches are famous the world over for their clear blue azure waters and bright white sand lighter than snow. There is a beach for everyone in Thailand, with different areas – Krabi, Phuket, Koh Samui and Koh Chang to name just a few – for different personalities and personal interests.
No more tedious planning!
Explore Thailand
YOUR WAY
POPULAR HOLIDAYS TO THAILAND
Take a look at some of the best tour itineraries for traveling in Thailand - all highly recommended by our travelers.
Best of Thailand
Destinations: Ayutthaya - Bangkok - Chiang Mai - Kanchanaburi - Krabi - Sukhothai
THAILAND WEATHER AND WHEN TO GO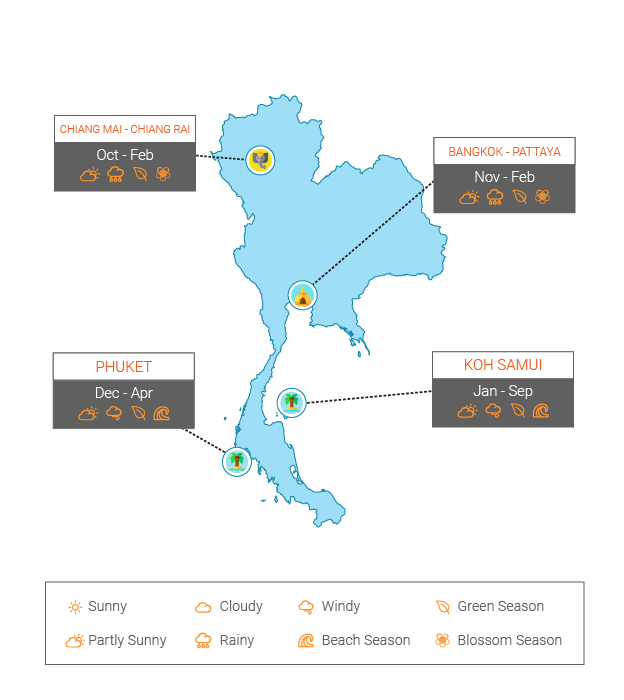 NORTHEASTERN (Chiang Mai, Chiang Rai)
Hot season (Mar – Jun): The temperature climaxes at 35°C, followed by extreme heat and occasional thunderstorms amongst the mountainous areas.
Rain season (Jul – Oct): The downpours happen irregularly with heaviest rainfall on July and August. The temperature ranges from 23 – 30°C within a day.
Cool season (Nov – Feb): In December and February, the weather is extremely dry, cold with strong wind and low temperature (~15°C).
CENTRAL (Bangkok, Pattaya, Koh Samui)
Hot season (Mar – Jun): The temperature remains at 30°C and peaks around 40°C in the last two months. Occasional rain and high humidity are normal, especially in Bangkok and Pattaya.
Rain season (Jul – Oct): The rainfalls are usually flash-flood downpours and the temperature fluctuates around 25 – 30°C between days. In this season, high humidity is a real concern.
Cool season (Jan – Feb): The cool season lasts for only few weeks in central cities. During this short period, pleasant sunlight, refreshing wind and cool temperature (~25°C) are best to enjoy.
SOUTHERN (Phuket, Krabi)
Hot season (Dec – Apr): During daytime, the temperature might peak at 40°C, followed by extreme heat and drizzling rain in the afternoon.
Rain season (May – Nov): The rainfalls are rough in May, September and October with occasional typhoons and high humidity. The temperature constantly drops to 25°C and even lower.
THINGS TO SEE IN THAILAND
The most frequently asked questions about traveling in Thailand & useful guide for planning your trip.
Do I need a visa to visit Thailand? If yes, how should I apply?
The visa exemption policy allows tourists from 55 countries to enter Thailand without a visa. They are granted to stay a maximum of 30 days if they are entering Thailand via an international airport or through a land border checkpoint from neighbor countries.

Otherwise, visitors can either have a visa on arrival or apply to a Thai embassy/ consulate for a tourist visa before travelling.

 Visa on arrival at the airport is available for 15 days. Upon arrival, you should carry a valid passport, returned ticket, portrait photos and hotel vouchers (address) to fill in the legal documents.

Tourist visa is valid for three months or six months (depending on your number of entries) after it has been issued.

Those who wish to stay longer or may wish to change their status of visa must file an application for extension permission at the immigration office.

For further information, please visit Ministry of Foreign Affairs, Kingdom of Thailand or contact our journey planners.
Which accommodations in Thailand are recommeded by Sens?
Luxury 5 – 6*: Thailand boasts an increasing number of stylish luxury hotels, ranging from US $400 – $600. Some of them are designed as intimate, small scale boutique hotels, with chic, minimalistic decor, exceptional services and excellent facilities that often include private plunge pools and spa. Many international luxury brands are well-presented at Thailand such as Four Seasons, Aman, Anantara, Six Senses, Rosewood, etc.

Deluxe 4*: This standard offers best values of deluxe accommodations. From US $150 – $350, you can already stay at the best comfort with great location and good facilities.

Boutique 3*: The 3* hotels in Thailand range from US $60 – $120 with easy access, warm atmosphere and standard stay. Swimming pools and outdoor lounges and bars are approachable at different locations.
Which transportations can be used for my Thailand trip?
Shongthew: Public transport is provided by sŏrng·tăa·ou ('two rows', a small pick-up truck outfitted with two facing benches for passengers). They sometimes operate on fixed routes, just like buses, but they may also run a share taxi service where they pick up passengers going in the same general direction.
Săhm·lór or Túk-túk: Săhm·lór are three-wheeled pedicabs that are typically found in small towns where traffic is light and old-fashioned ways persist. The modern era's version of the human powered săhm·lór is the motorised túk-túk. They're small utility vehicles, powered by screaming engines (usually LPG-powered) with a lot of flash and sparkle. With either form of transport the fare must be established by bargaining before departure. Hotel staffs are helpful in providing reasonable fare suggestions.
Domestic flights: Chances are you will land at Bangkok's Suvarnabhumi International Airport (BKK), but the country is home to several other international airports, with Phuket (HKT), Chiang Mai (CNX), Hat Yai (HDY) and Koh Samui (USM) also being popular for arrivals from outside Thailand. Airlines offering domestic services include: Air Asia, Bangkok Air, Nok Air, Thai Airways.
Is there anything I should take note on Thai food & drink?
Pad Thai (Phat Thai) is a signature dish in Thailand that can be found anywhere. This delicious plate of stir fried rice noodles garnished with peanuts contains full flavors and can be served with fresh prawns, chicken, tofu or vegetables.
People with peanut allergy should be extra careful as peanuts are used widely in Thai sauces, Pad Thai, salads, mixed dishes or for food toppings.
Tom Yum (Tom Yam) is a famous Thai soup, prepared with stock, lemongrass, kaffir lime leaves and chillis, this soup is widely available in Thailand and has been popularized around the world.
Massaman curry (Kaeng Matsaman): A dish with Muslim origins, this filling curry traditionally features coconut milk, potatoes, beef, bay leaves and peanuts
If staying on the coast or on one of the islands, be sure to make the most of the abundance of fresh seafood on offer. Seafood based stir fries and fragrant curries, crab cakes, grilled fish and prawns are all great choices.
Spirits and beers: Local spirits Mekhong (whisky) and Sang Som (rum) are popular, and an icy bottle of the local Singha or Chang beer are the best refreshments on a hot, humid day. Please note the legal drinking age in Thailand is 20.
Coconut milk: For a super fresh thirst quencher, try coconut milk straight from the husk.
Tropical fruit: Fruit shakes and fresh fruit juices are widely available from markets and restaurants, so make the most of all the tropical fruits of Thailand.
What are the healthcare practices for Thailand travel?
Although Thailand's climate, wildlife and cuisine present Western travellers with fewer health worries than in many Asian destinations.
For a start, there is no need to bring huge supplies of non-prescription medicines with you, as Thai pharmacies are well stocked with local and international branded medicaments, and they are generally much less expensive than at home.
Nearly all pharmacies are run by trained English speaking pharmacists, who are usually the best to talk to if your symptoms are not acute to warrant seeing a doctor.
What are the safety notes for my trip to Thailand?
In Thailand, pick-pocketing and bag snatching are two of the main problems, but the most common cause for concern is the number of con-artists who dupe gullible tourists into parting with their cash.
There are various Thai laws that tourists should consider, particularly regarding passports, the age of consent and public-smoking.
Are there any Thailand's local customs I should be aware of?
DOs:
Treat the monks with the highest respect.
Dress modestly when visiting temples or pagodas.
Lower your body slightly when passing between or in front of people.
Respect all Buddha images as sacrilegious acts are punished by imprisonment.
Remove your shoes before entering a temple, somebody's house and antique shops.
Avoid offensive questions about age, marital status or what others do for their living.
DON'Ts:
Place your feet on the table while sitting or touch anybody with feet.
Cross your legs when you are in the presence of a monk.
Show disrespect towards the Thai Royal Family.
Touch a Thai person's head or ruffle their hair.
Take Buddha images out of the country.
Touch a Thai woman without consent.
Why should I choose Sens Asia to help plan my Thailand trip?
Sens Asia Travel provides travelers with advanced, licensed tour services and curated options for accommodations as well as tour activities, which are regularly inspected & verified by our local experts.

We have our representative offices in Asia (Vietnam, Myanmar, Laos) as well as in European (Germany) which allow our team to coordinate well on the ground and react quickly if there should be any problems.

We have 100% positive feedback rate from customers since the day of launching. In addition, we have been featured on various trusted media platforms and publications.
Why shouldn't I book all services for Thailand trip on my own?
As we get favorable rates from hotels and accommodation partners, the total cost you pay will be more reasonable or just marginally a bit more expensive than if you booked directly yourself.

We have supportive local journey planners, who have been living or traveling extensively throughout Southeast Asia regions as they may help you create your own trip to match your schedule & choices of activities, accommodations and pace
What happens after I submit the inquiry for my Thailand trip?
A journey planner will work with all the details you provide and create the best options to suit what you are looking for. Within 24 to 48 working hours, you will receive details for travel itinerary options and quotation. These suggestions can be tweaked and changed until you are fully satisfied.

Upon confirmation, you will only need to make a deposit payment of 30% of the total trip cost for your journey planner to start making reservation of hotels, tour guides & other services.

A personal journey planner will take care of all the details for you from the start of creating the trip until your vacation is finished and you are safely back home.