Top 5 Glamping Experiences in Southeast Asia
If you love nature but do not really fall for roughing expeditions, try glamping (luxury camping) with Sens Asia. This new concept lets you camp outdoor but with pleasant comforts. Here we are listing out top 5 glamping experiences in Southeast Asia for you!
1.  ROSEWOOD LUANG PRABANG, LAOS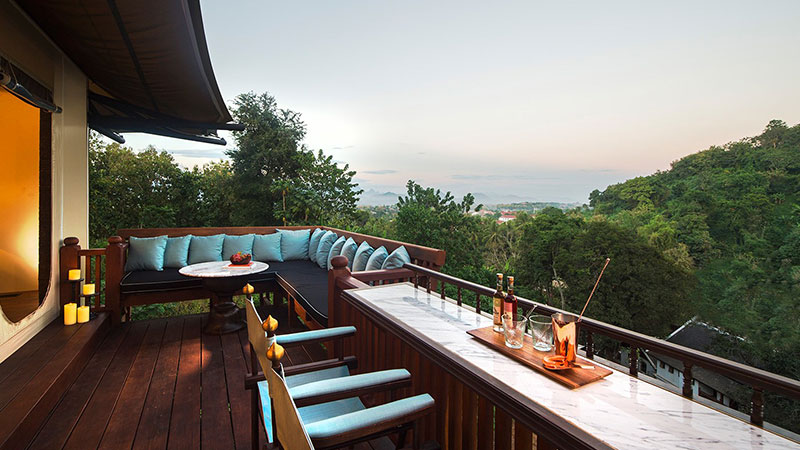 Hidden in a hillside outskirts of the old town, Rosewood Luang Prabang enchants visitors unwinding Laotian splendors and charming natural touch. If you are seeking a private journey with man-made, comfort, calm and leisure experience, Rosewood's property will be your perfect choice.
The resort offers 23 spacious accommodation options including four deluxe rooms, four specialty suites, three riverside villas, six pool villas and six luxury tents. Each of the resort's guest housings is bordered by a riverbank, where modern boldness, cultural medley and wildlife features blend together perfectly.  The 75-square-meter luxury tented villas include their own private dining areas and wrap-around decks. Inside the tent, Lao tradition and French colonial style are sensitively woven throughout the design and architecture, including the use of indigenous materials and locally inspired artwork. 
On the riverside suites overlooking Lao waterfall and treetop jungle, you can hear the sounds of Mother Earth that clearly and peacefully, with exotic birds waking you up in the morning and sun setting over moss-green mountains in late afternoon. At night, nothing beats the self-rewarded garden treatment and some wine session before falling asleep under the starry sky. Also, Rosewood does offer an incredible array of activities, from a heritage walk through the heart of the old town, to a trip to a traditional weaving village. You can, therefore, visit a local temple, go for a cruise on the river, or sign up for a culinary tour — you might find it all at Rosewood.
ACCOMMODATION STYLE: Haute station, 5-star property
GLAMPING FEATURES: Uphill, riverside, green garden, waterfall
OVERALL SETTING: Indochine & Laotian architecture, wooden suites
SPECIAL INTERESTS: Luxury encampment, river cruise, heritage walk
BEST FOR: Families (with kids), couples, leisure travelers, solo travelers
2.  SHINTA MANI WILD, SIEM REAP, CAMBODIA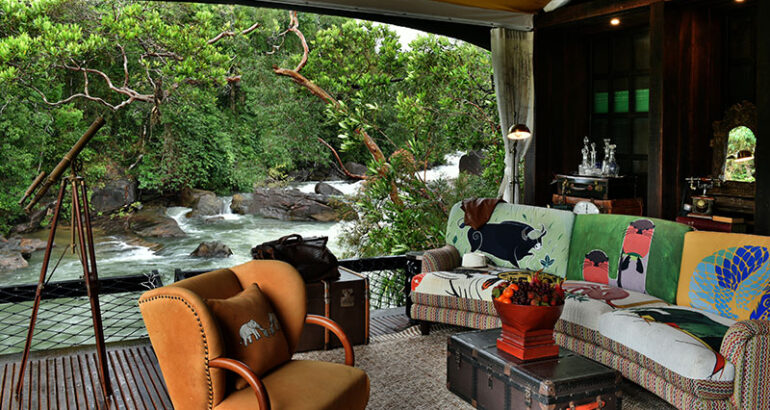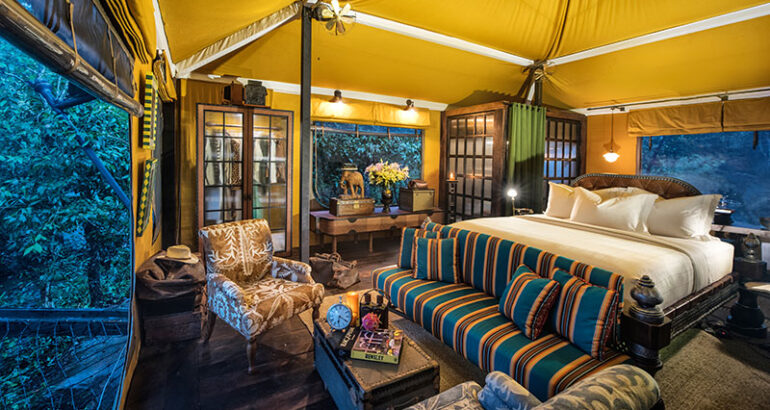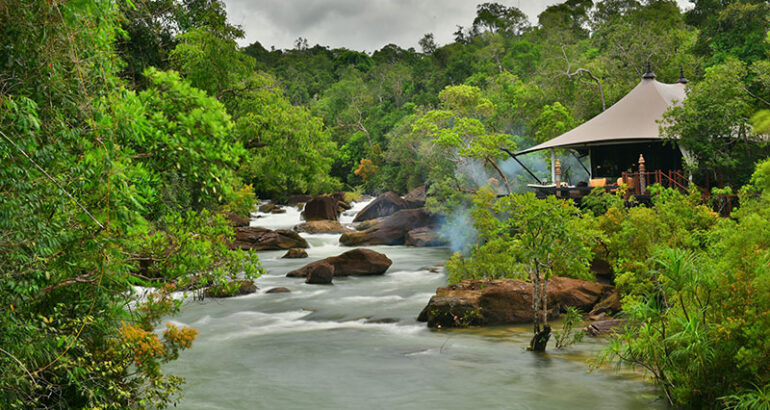 Nestled in the heart of the Cardamom Mountains, Shinta Mani Wild has soon to become the pioneer concept for luxury camp experience.  With merely fifteen custom-made tents perched on the edges of the rivers and waterfalls, the camp provides mesmerizing views and feels for travelers who love a touch of nature to their trip.
Each tent is luxuriously designed in France's 'la belle époque' (the Beautiful Age) style, composed of tasteful local colors and materials, a fascinating curios to recall the age of explorers. You can choose from a Wild Tent, a Waterfall Tent, or an expansive Two Bedroom Tent, and indulge in luxurious extras such as an outdoor freestanding bathtub. A Bensley Butler will be on hand to assist with all requests.
Since the area is home to wild elephants, bears, gibbons and tigers, many of the activities will focus on tracking these animals with dedicated rangers and conservation experts. There will also be an opportunity to take a day trip on the extensive waterways around camp, on one of the private Bensley designed luxury boats. Due to the wild setting, children under 12 are not permitted to stay at Shinta Mani Wild.
ACCOMMODATION STYLE: Radical, tremendous luxury elements
GLAMPING FEATURES: Riverside, waterfall, jungle view
OVERALL SETTING: Private, Bensley's luxury, French resemblance
SPECIAL INTERESTS: Daytrip, boat trip, waterways, jungle expedition
BEST FOR: Adventurers, nature lovers, conservation experts
3. 4 RIVERS FLOATING LODGE, KOH RONG, CAMBODIA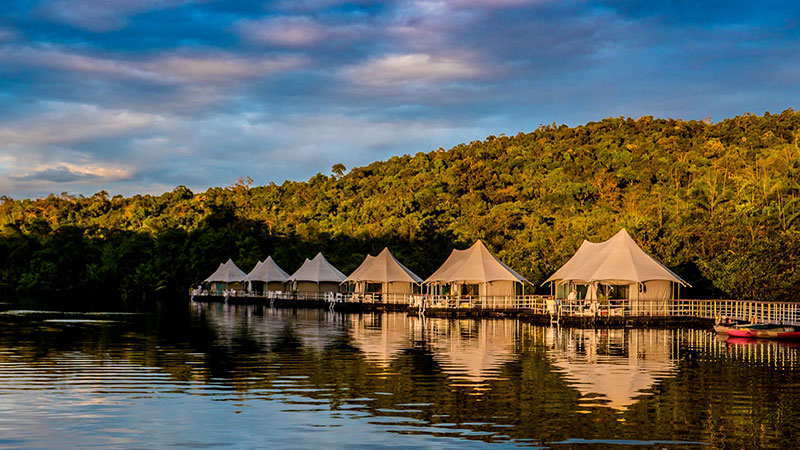 Situated along the Tatai River and overlooking the Cardamom Mountains, Cambodia's 4 River Floating Lodge is a private sanctuary with lots of nature miracles await. The four-star resort is characterized by traits of a grand hotel, but operates in an environmentally friendly manner.  
There are only 12 double and twin-bed tented villas, each owns a private terrace and cocoon comforts that capture utmost beauty from one of the world's largest rainforests. For the 'glamping' concept, 4 River is surrounded by top-quality furnishings and decoration, each tent has flat-screen television, DVD player, mini-bar and a bathroom with a wooden bath.
The central house is located in the heart of this ecolodge, providing a restaurant, library and communal terrace as at your hometown. Wide ranges of exciting outdoor activities are available in the program, including kayaking, trekking and boat trips to remote fishing communities.
ACCOMMODATION STYLE: Floating house, eco-friendly
GLAMPING FEATURES: Amidst river, mountain view
OVERALL SETTING: Cocoon comfort, camping vibe
SPECIAL INTERESTS: Kayaking, trekking, boat trip, local visit
BEST FOR: Families (with kids), nature lovers, solo travelers
4. ELEPHANT HILLS FLOATING LUXURY CAMP, KHAO SOK, THAILAND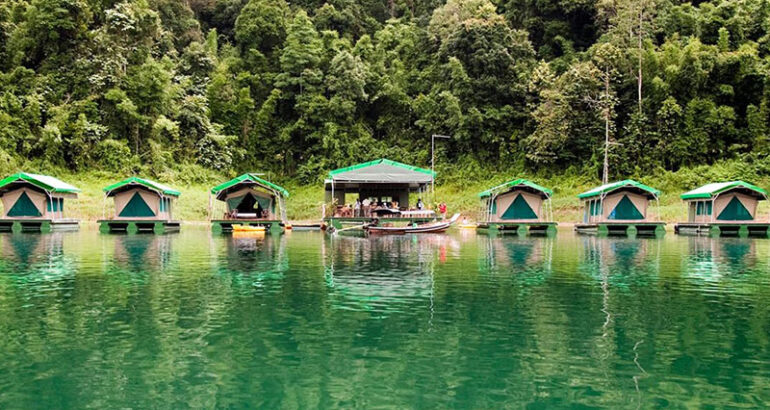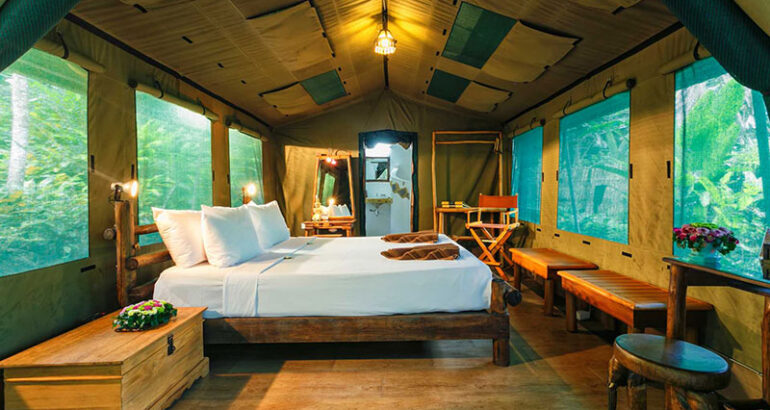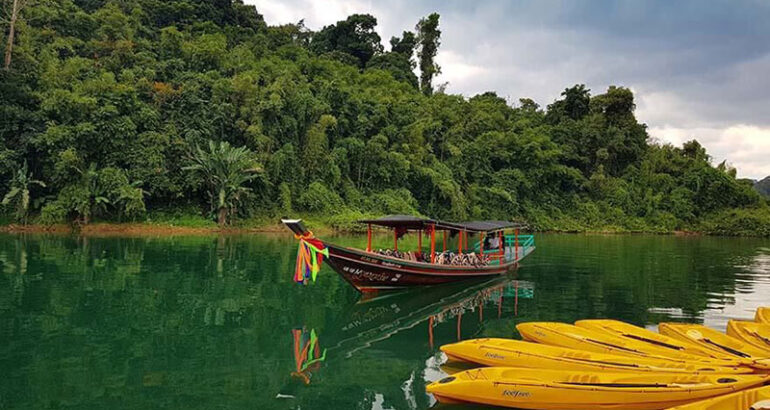 Located nearby Thailand's favorite tropical paradises as of Phuket, Krabi or Koh Samui, Elephants Hills Floating Luxury Camp is still a solid enchanting ground to many curious travel hearts. The floating camp offers an unwinding experience to reconnect with nature in most memorable way with lush green surroundings, towering limestone mountains and various wildlife existences, with great sumptuous base added by the accommodations.
Each out of 10 luxury tents is equipped with en-suite bathroom, Western-style toilets, fans, kettles and outdoor seating area, perfect for a sun-downer or a spot of stargazing. One advance point, the rainforest uses both solar power and wind energy, which admirably follows the sustainable effort towards conservation matter.  The main camp features the Jungle Bar – the location for included buffet meals, cooking demonstrations and dance performances by local schools, along with a swimming pool.  The floating camp has a more intimate feel and the added benefit of being able to swim in the warm clear waters of the lake.
A stay at Elephant Hills might add marvelous dimension to your holiday, which engages a fascinating natural experience deep in the jungles of Southern Thailand, observing and interacting with lovely elephants in the most ethical way possible.
ACCOMMODATION STYLE: Floating house, basic, comfy and local oriented
GLAMPING FEATURES: Amidst river, mountain view, rainforest view
OVERALL SETTING: Private, nature blender
SPECIAL INTERESTS: Elephant daycare, kayaking, trekking, jungle expedition
BEST FOR: Families (with kids), nature lovers, animal lovers, solo travelers
5. FOUR SEASONS TENTED CAMP GOLDEN TRIANGLE, CHIANG RAI, THAILAND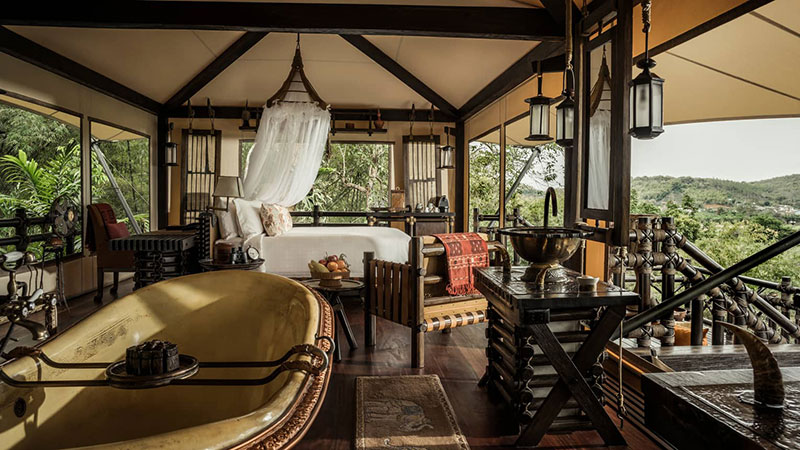 The Golden Triangle — where Thailand, Burma and Laos converge — is one of the most unique destinations in the world where the experience of 'borders' is not as rigid as it is on paper; as soon as you see the confluence of the Ruak River and the Mekong, with Laos to the east of the Mekong, Burma to the north of Ruak, and Thailand to the west of the Mekong, there's something magical about feeling all three countries at your fingertips.  Breathe in the natural wonders of Northern Thailand, surrounded by majestic mountains, in superb, luxury tented, the Four Season Tented Camp is an ultimate upgrade to emphasize nature beauty of this area.
For Seasons Camp is originally-themed and conceived by the celebrated interior designer Bill Bensley, with high-end wooden platforms connected by a verdant, fern-abundant pathway. Each Deluxe or Superior 'tent' is 54 square meters in size, featuring five-star amenities, uniquely decorated and furnished in individual color schemes with coordinated furnishings.
The all-inclusive resort offers activities such as elephant mahout training and an excursion down the Mekong to visit the local market and temple, as well as an open-air spa and daily scheduled dining.
ACCOMMODATION STYLE: 5-star luxury
GLAMPING FEATURES: Jungle view
OVERALL SETTING: Private, Bensley's luxury, French resemblance
SPECIAL INTERESTS: Mekong excursion, elephant training, local visit
BEST FOR: Families (with kids), nature lovers, local visitors, solo travelers
–
10 BEST FAMILY-FRIENDLY DESTINATIONS IN SOUTHEAST ASIA
6 WAYS TO BECOME A RESPONSIBLE TRAVELER IN SOUTHEAST ASIA
Connect with us at: