10 Best Family-Friendly Destinations in Southeast Asia
Southeast Asia with kids is fun, amazing and meaningful to all travel extensions. If you believe in that statement, take a look at our family-friendly suggestions for upcoming trip!
Hanoi, Vietnam
Situated in the Gulf of Tonkin and Red River Delta, Hanoi owns the perfect sensation to create a perfect family trip. This city, one of the most tourist-friendly destinations in Southeast Asia provides utmost captivating travel traits through culture, history, landscape and people. Whether parents and kids want urban trails, exploring the Old Quarter by street food, ultimate walking routes, sight-seeing or prefer the oddity of off-the-beaten-path, going into the villages to meet up with locals and traditions, Hanoi owns every win-win, fun, relaxing and discovery element.
Culture activities for your bucket list:
Traditional Vietnamese Water Puppet Show: One of the most ancient showcases in Hanoi performed by skillful artisans. Your family can take a glimpse into the past by stunning indication revolving local life, countryside villages and age-old customs
Bat Trang Ceramics Village: The origin of pottery art in Vietnam. Here you can learn the procedures and use your hands to make an impressive good/ gift from clay to bring home
Military of History Museum: Epic monuments to Vietnamese historical pages. The tanks, the airplanes, all can spark good understanding upon peace and wisdom (not the remembrance of war)
The Train Street: Recent hot-spot for local explorer, where citizens live and make a part of their life bloomed as a distinct culture
Local host visit: Your family will visit a local family, share meals with them on the homemade dishes and hear authentic stories about Vietnamese customs or traditions
Art tour: Take a look around best galleries in town and define how art impacts Vietnamese generations. We will show you good tips for buying home fine arts.
Mekong Delta, Vietnam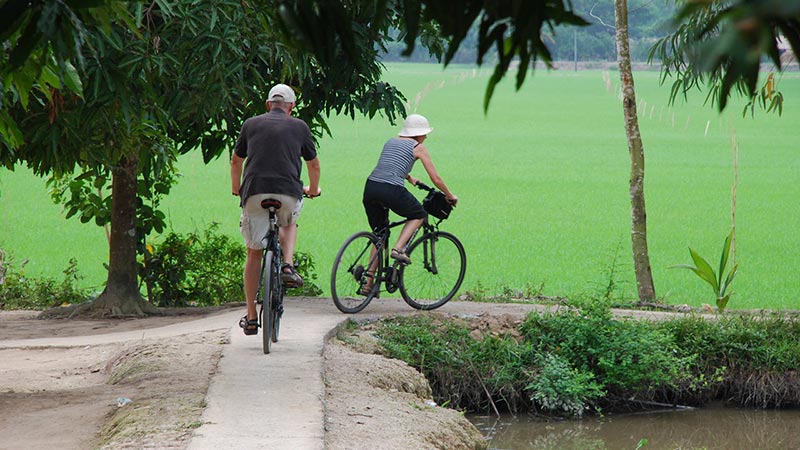 Different from the ancient vibe of Hanoi or Hoi An, Mekong Delta is more attached to wilderness pattern. Joining the floating trip to Southwestern Vietnam, your family would find another enchanted side to widen travel experiences with wide range of outdoor activities, from cruising over the morning markets, catching fish like a real fisherman, fruit-picking to cooking with local hosts. Here, feel the up-close remembrances to Vietnam culture and region diversity becoming a whole, taste wonderful tropical fruits as well as genuine local cuisines and get memorable resolution for a stay at garden house, homestay, ecolodge while making conversation with friendly, hospitable locals.
Mekong highlights:
Cai Rang Floating Market: Fresh fruit vendors, floating food stalls
Ninh Kieu Warf: Gorgeous waterfront, vivid fishing boats, riverside restaurants
Cai Be Fruit Orchard: Authentic garden house, tropical fruit cultivation process, fruit tasting
Tra Su Mangrove Forest: Magnificent flooded forests, local boats, bamboo boat experience
Tram Chim National Park: Vietnamese bird kingdom, bird-watching, local boat trip
Phu Quoc, Vietnam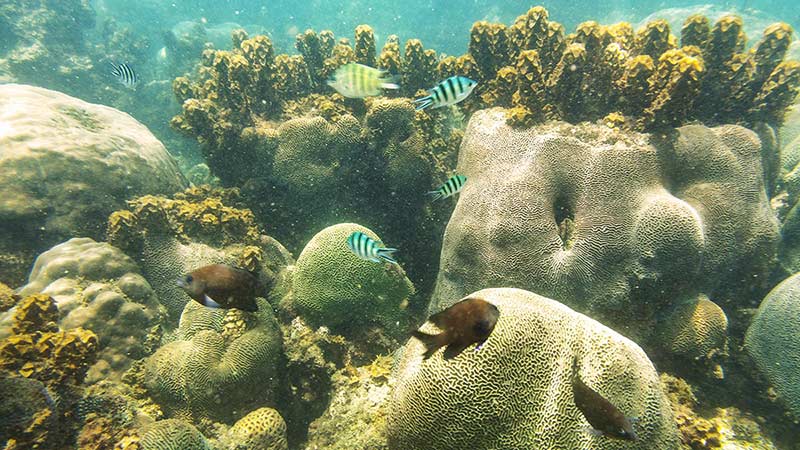 As one of Vietnam's most famous tropical paradises, Phu Quoc Island boasts idyllic beaches, long eye-pleasing sand dunes, memorable sunsets, endless lush green forests as well as utmost serene atmosphere, where families may find an ideal holiday vacation, getting away from casual idle city vibes. Although most beaches in Phu Quoc remain tranquil and untouched, there are plenty of luxury accommodations around the Southern coastline, 5-star resorts, boutique hotels, bars and lounges, quaint cafes, local restaurants which might allow parents to have better choices for their children. Phu Quoc is a funky travel-and-leisure combo, especially summer dream trip: a UNESCO listed national park for daytime exploration, traditional villages for local blend, proper services for catering or any budget level.
Your bucket list:
Beach paradise complex: Sao Beach, Thom Beach, Vung Bau Beach
Phu Quoc National Park: Hiking trails, traits of wildlife, local boat trips
Phu Quoc Night Market: Fresh seafood, tropical fruits, cheap souvenirs
An Thoi Island: Sunbathing, snorkeling, kayaking, trekking, pearl farm visit
Vinpearl Safari: Wildlife park, open zoo, animal care
Vinpearl Land Amusement Park: Water park, indoor and outdoor arcade centres, aquarium, shopping streets
Bangkok, Thailand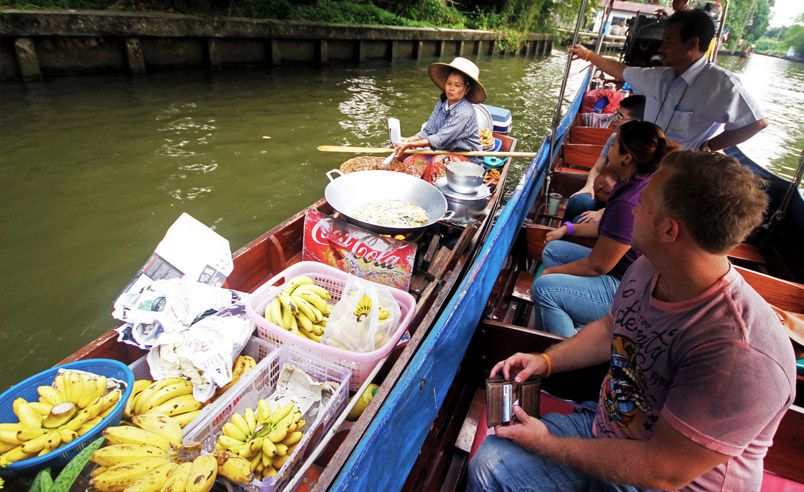 Bangkok, the mega concrete to Thailand's culture is an incredible destination in Southeast Asia, voted by our travelers. The capital city seems safe and sound, but sleepless with a hive of activities for your clockwise trip and the feel of home. For children, the hypes combine various outdoor visits at local, floating markets, aquariums, national parks to wide range of street desserts. For parents, the remarks are fantastic choices of malls, shopping places, restaurants, bars, spas and transportation forms. In addition, families can join hands on meaningful sessions contributing to the community and sustainable tourism focus.
Giving-back program:
Dialogue in the Dark: How would you react if you world were completely blackout? Join the exciting experiential activities during daylight to understand more about the life of blind and vision impaired community. Let your children try the unseen folds upon daily routines and further their inner senses in basic how-to lessons

Perception Massage

: Leisure time for the whole family. A sensory massage treatment from blind therapists, who own that wonderful technique from inner energy and mind perception
Cooking for a Good Cause: Get prepared for basic cooking lessons, where parents and kids can learn sweet little techniques to create delightful Thai cuisines. The special chef will be locals, ones who have much up-and-down moments in life to tell the story
Chiang Mai, Thailand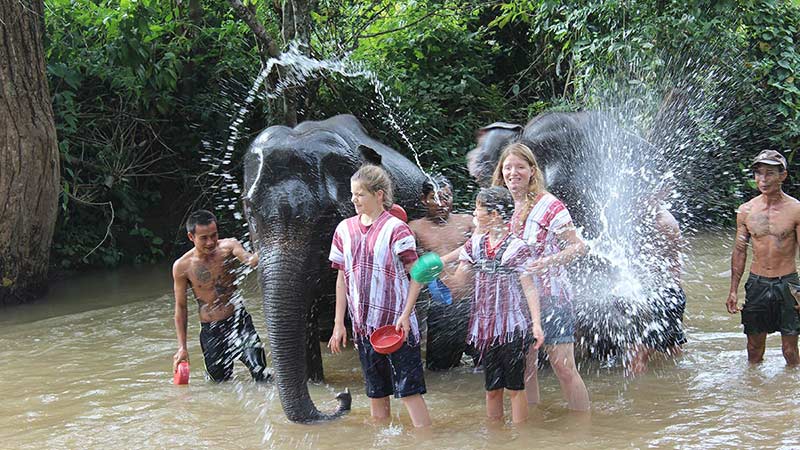 The ancient Northern city Chiang Mai is a smart, safe and joyful choice as much as Bangkok and Phuket for Thailand family trip. The city stands out calm, reserved and inspiring with less of the heavy outdoor packages but meaningful, charming and friendly activities. From daytime visits at conservation center, local museums to evening bliss at street mazes and local restaurants, both parents and children can have the time of their life, living between nature and lovely Thai culture.
Chiang Mai must-visit:
Chiang Mai Canyon: Boat trip, bamboo raft, floating restaurants for daytrip
Sunday Market: Outstanding local artworks, handicrafts and traditional dishes
Gibbon Flight: Zipline experience, crossing the nature with wildlife and jungle view
Maewang Elephant Camp: A meaningful elephant conservation project in Chiang Mai, where kids can see light part of the rescue and take care for these cute buddies
Doi Suthep: Temple and culture complex, where you can learn about Southeast Asian culture origin and see magnificent architectural wonder
Phuket, Thailand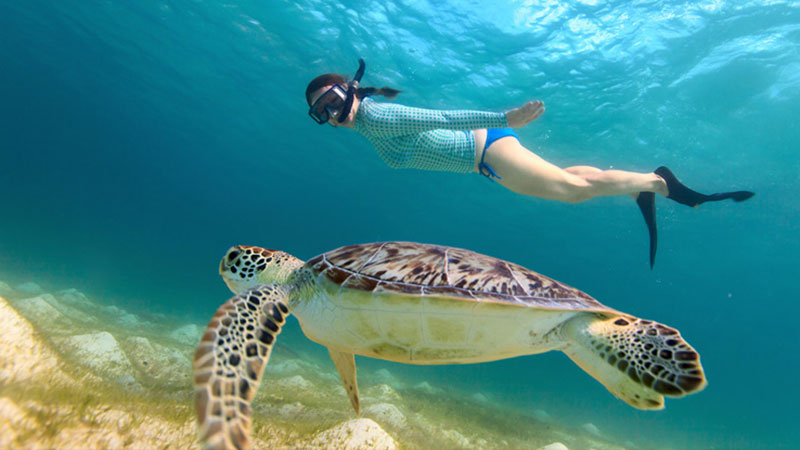 Along with Koh Samui or Krabi, Phuket is an impressive feature to Thailand's beach paradises. As the largest island in the area, Phuket is surrounded by immense rainforest and the grand Andaman Sea, which eventually add rich and charming tropical details to the nature spectacles. If you are finding a place to lift up the mood, Phuket has numerous beaches for your personal requirements: the lively stretches of sand and sea with top-notch resort amenities at Patong to a quiet place far away from the crowds, with extreme privacy level – Phuket sure can please. Insider tips for you: Parents should not miss the beach clubs and Phi Phi Island adventures, while children can join the park daytrip or exciting kid clubs.
Phuket nature list:
Phuket Bird Park: Rare species, bird-watching, trekking, daytrip camp
Phuket Aquarium: Water show, underwater lessons
Phuket Elephant Sanctuary: Elephant daycare
Kids Club Phuket: Entertainment centre, party venue, swimming pools
Siem Reap, Cambodia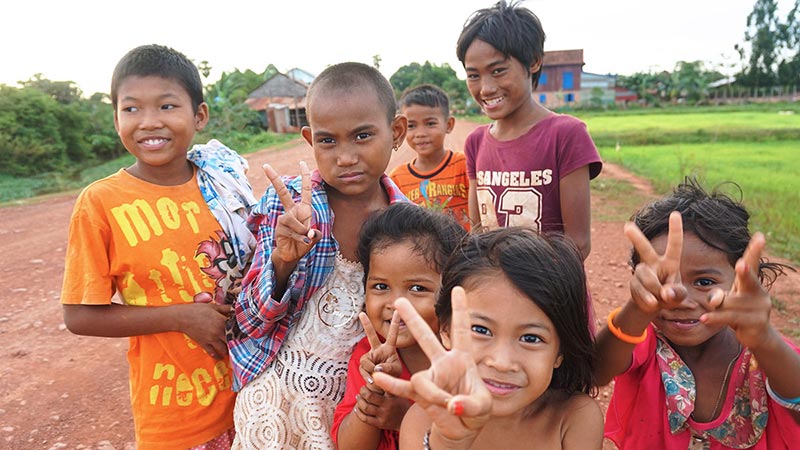 The mystical city, Siem Reap has more to offer than just UNESCO World's Heritage Angkor Wat. Here, parents and kids can see a wonderful culture complex – age-old temples, previous civilization ruins, ancient capitals that surrounded by great forest – Indiana Jones style and magnificent sunset/ sunrise views. From nature, landscapes to food and local life, your trip will be embraced and highlighted by very traditional colors, which belong to somewhat, Asian and Eastern harmony. The outdoor activities for Siem Reap daytrip are extremely interesting. You will visit authentic Cambodian architectures, sign up for the floating life on a boat trip around Tonle Sap, stop by working monastery to meet the monks and observe the sacred Buddhist rituals, ride safe-and-sound on a squad bike or bicycle over the rice paddies or eventually fall new fusion parts of urban Siem Reap with street food, markets and delightful multicultural platters. Siem Reap might also be a meaningful trip to children as your family will join hands with the Khmer community to plant tree, take part in conservation projects and have an easy-going picnic among the greens.
Siem Reap must-do:
Preah Dak Village: Tree planting, local meet-up, cycling
Siem Reap National Park: Zipline experience, nature connection
Tonle Sap: Floating markets, local boat trip, stilt house visit
Beng Mealea: Indiana Jones jungle experience
The city after dark: Phare Circus show, Apsara dance with dinner, tuk tuk ride
Kratie, Cambodia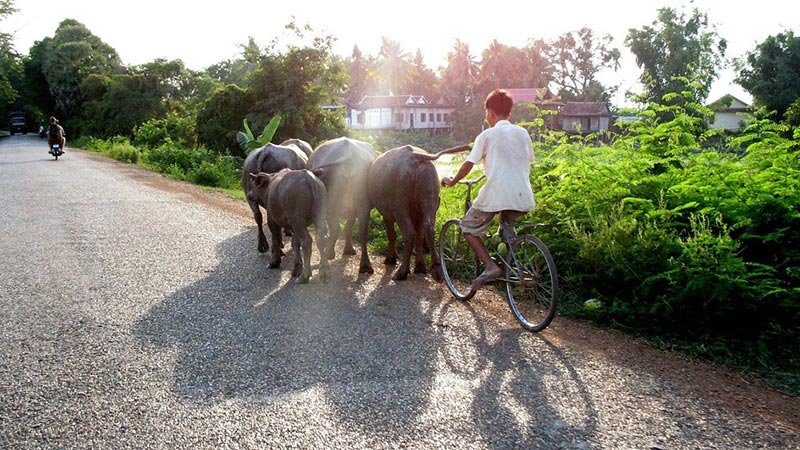 The charming riverside town Kratie is a big applause to Cambodia's local presence as well as nature offerings. This destination contours great parts of Mekong River by eye-catching rice fields, delicate lotus farms, sleepy wooden villages and sights of unique freshwater Irrawaddy dolphins. Take your lovely family time to fully relax and detox between the greens and spot the habitats of various species.
Kratie threads:
Dolphin show at the Kampi Rapids: A village, safe for family camping. The kids can spot freshwater Irrawaddy dolphins at Mekong River branch and parents can chill at a bamboo hut with hammocks and nature scenes
Mekong Turtle Conservation Centre: A conservation project in the heart of Kratie dedicated to saving the endangered freshwater Cantor giant soft-shell turtle. With more than 40 indoor tanks, the facility, which is run by a monk, helps to breed and nurture the rarest and largest freshwater turtle species over 10 months, before releasing them into the Mekong
Koh Trong: A perfect picture for ancient villages, rice paddies, homestay and good local dishes
Ubud and Bali, Indonesia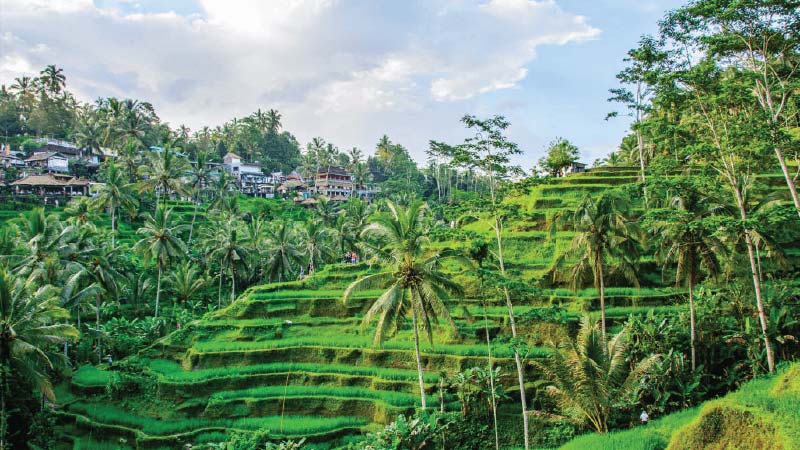 If you are a fan of Julia Roberts and her iconic movie – Eat, Pray, Love – search for the right balance and harmony in this beautiful green province Ubud. This place, the capital of Indonesia is not only recalling romance bits but also a heaven for any family trips. The magical scenes of Ubud combine many, the ancient township shades, breezy sun-blessed atmosphere and fantastic paddies to serene surroundings. If your kids love art, Ubud might be one of the best places to contemplate and learn, including non-religious art works displayed not in luxury galleries but from the very streets.
Far from the uplands, Bali and its mesmerizing beaches are additional reason for you to stay longer. The 'Island of the Gods' owns endless azure seas and edged with golden coastal line, a real paradise for outdoor recreation, especially surfing and sunbathing. With tropical backdrop behind, an off-track expedition to wake up travel senses and to learn about wildlife species are good suggestions for your curiosity.
Ubud and Bali's favorite:
Kuta Beach: Gorgeous sun, oceanic atmosphere. Parents would love a relaxing massage and cool beer there while the children can enjoy energetic activities; swimming, volleyball, surfing
Ubud Monkey Forest: Tropical rainforests and stunning mountainous views, where kids can feed and befriend with the monkeys. Suitable for trekking and sightseeing
Bali Safari & Marine Park: Minimal theme for waterpark. Your family can safely swim along with the dolphins or enjoy fascinating water rides
Turtle Island: Extra fun under island exploration trip. Besides the insights upon turtle species, kids can learn about conservation animals like rare fish, birds or even snakes. The water here is extremely tranquil so your family members can spend time on a glass bottom boat
Gili Islands, Indonesia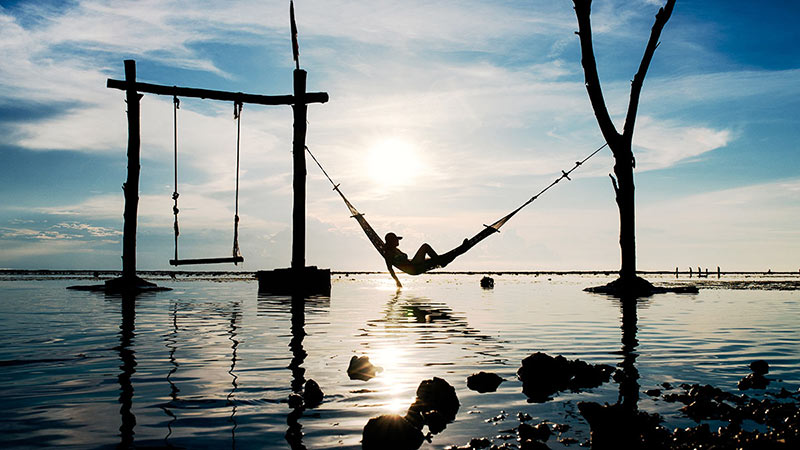 Unlike Bali, Gili Island is less popular and not much of a crowd for island exploration. But to families who seek privacy, this destination engages perfectly. The beaches here remain powdery white with clear turquoise water and glorious sunset over iconic Mount Agung. Various hotels, luxury resorts and even boutique bungalows can be found everywhere, enough to cater your children at a really decent value. One plus point to the island, they now offer baby-sitting services although a touch of isolation still resembles in the location. Parents can be worry-free from stressful situation and all members would be able to enjoy the tropical sun in brilliant ways!
Gili travel list:
Gili Beaches (Gili Trawangan, Gili Meno): Standup paddling, snorkeling, local boat trip
Gili Trawangan Night Market: Freshly caught seafood, Indonesian grills
Gili Meno: Turtle sanctuary, salt lake
Gili Swing: A swing between the sky and ocean, breezy way to enjoy the hammocks

By Le Doan