Start Planning
The Kingdom of Cambodia has made its way onto countless bucket lists for it is graced with the most spectacular ancient temple ever constructed: Angkor Wat in Siem Reap. Cambodia travel shouldn't be without a visit to this architectural masterpiece and the hidden temples that surround, but this country has so much more to offer than just ruins.
Phnom Penh, the capital, was once referred to as the pearl of the east and Battambang, Cambodia's 2nd city, has a laid-back atmosphere and is surrounded by gorgeous temples. There is a dreamlike countryside, with snaking rivers, brilliant-green rice paddies and dense jungles found around Banlung and Sen Monorom. An underdeveloped coastline around  Sihanoukville and Kep are also well worth exploring. Off the coast you'll find idyllic islands with few people such as Koh Rong Sanloem; other islands have no inhabitants at all such as Song Saa.
Cambodia is a truly delightful destination, but visitors often come away from this heart-shaped country charmed most by its people. After having experienced a harrowing history, Cambodians are still coming to terms with what happened. But as they admirably overcome a bloody recent history, everything is still done with a giggle and a smile. You would be hard-pressed to find a more inviting country in Asia than Cambodia.
No more tedious trip planning!
Explore Cambodia YOUR WAY
POPULAR HOLIDAYS TO CAMBODIA
Take a look at some of the best tour itineraries for traveling in Cambodia - all highly recommended by our travelers.
Cambodia Nature & Local Life
Designed specifically for curious travelers who love the authentic lifestyle of each destination they visit. Reveal the best of Cambodia tour.
Destinations: Kompong Cham - Kratie - Phnom Penh - Sen Monorom - Siem Reap
CAMBODIA WEATHER & WHEN TO GO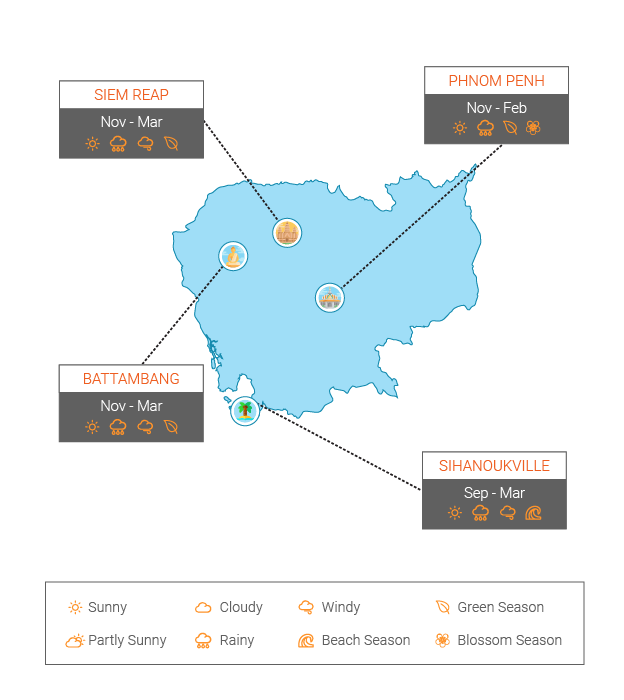 NORTHEASTERN (Siem Reap, Phnom Penh, Battambang)
Rain season (Apr – Oct): The temperature is around 30°C, followed by high humidity and strong wind. The rainfalls are usually in short downpour and infrequent form.
Dry season (Nov – Mar): The Northeastern monsoon brings dry wind, long sunny days to the areas. The temperature fluctuates (20 – 35°C) between cool months (Nov – Jan) and scorching month (Apr).
SOUTHERN & COASTAL (Sihanoukville, Kep)
Rain season (Apr – Aug): The temperature ranges from 25 – 30°C during this period, followed by high humidity and thunderstorms. In later months, rainfalls tend to be constant and heavy, especially for rural areas.
Dry season (Sep – Mar): During this time, the areas are blessed with brilliant sunshine, dry wind and stable sea level. The temperature is around 30°C, sometimes intensely peaks at 40°C.
THINGS TO SEE IN CAMBODIA
The most frequently asked questions about traveling in Cambodia & useful guide for planning your trip.
Do I need a visa to visit Cambodia? If yes, how should I apply?
For visitors from countries with visa exemption to the Kingdom, visa on arrival is available at Cambodia's International Airports and some land crossing checkpoints in Thailand. Upon arrival, you should carry a valid passport (must-have), flight tickets, portrait photos and hotel vouchers (if any) to fill in the legal documents.

Tourists also can apply for T class visa (visa in advance) at the closest Cambodian embassy in your home country or through the online e-visa.

 Most visas including T class and visa on arrival are valid for 30 days and extendable once for an additional month. Business (E class) visa can be extended for 1, 3, 6, or 12 months up to your purposes.

Regular checkpoints include airports (Siem Reap, Phnom Penh) & embassy. The land border crossing checkpoints are: Cambodia – Vietnam, Cambodia – Thailand, Cambodia – Laos.

For further details, please visit Cambodia's Ministry of Foreign Affairs and International Cooperation or contact our journey planners.
Which accommodations in Cambodia are recommended by us?
Luxury 5* – 6*: Luxury accommodations in Cambodia, including high-end resorts and hotels, range from US $250 – $500. Most of them, like Park Hyatt, Song Saa Private Island or Raffles, are in great locations and excellent amenities, with extreme sumptuous services, stylish facilities and standard comforts.
Deluxe 4*: Accommodations in this range include smart business-style hotels or lower-end retreats, Borei Resort and Angkor Village for example, with comfortable rooms and extra amenities of in-house restaurants, large swimming pools, even gym or spa. The prices are from US $150 – $250, which may positively exceeds general expectations of 4* standard.
Comfort Boutique 3*: Hotels in this standard range from US $60 – $100, with smart, reasonable offers, basic stays and comfortable amenities.
Which transportations can be used for my Cambodia trip?
When we step out on Cambodian roads, remember the dominant traffic rule in the country which is "the bigger gets the right of way".
When driving, anarchy rules, so take extra care when on the roads! In Phnom Penh, traveling by moto-romauks ('tuk-tuks') and cyclos (bicycle rickshaws) can be safer than motorcycle taxis, but not as safe as taxis.
If you wish to take a motorbike taxi, select your driver carefully. If the driver appears drunk or reckless, do not hesitate to get off (pay him a bit) and get another one.
Is there anything I should take note on Cambodian food & drink?
The foundation of any Khmer meal is rice, either sticky rice, or the fragrant jasmine rice grown in across the nation. Vietnamese influence manifests itself in the form of noodle soups such as kuy teav, while the French legacy is obvious from the popularity of coffee and the nom pang (baguette sandwiches with pork) served as snacks across the country.
A typical Cambodian meal consists of a light soup, salad, a fish dish, and of course rice. 'Must try' dishes include amok, a steamed fish dish accompanied by an array of herbs and spices bringing out the flavor of the fish without masking its taste.
Another is samlor korko, a mixed vegetable and fish soup and char kdao, meat stir fried with basil, lemongrass and galangal.
Cambodian pepper and cardamom join more familiar Southeast Asian ingredients such as curry pastes (kroeung in Khmer), lemongrass, chilli, kaffir lime leaves, Asian basil and galangal as flavourings for stir fries, stews and soups. Prahok, a pungent seasoning made from fermented fish is another much-loved seasoning.
What are the healthcare practices for Cambodia travel?
Food safety of course is an issue. Tap water is not safe in Cambodia and bottled water should be used at all times. Bring Imodium tablets in case.
Probably the most consistent health hazard is dehydration. Carry bottled water with you at all times and a good tip is to bring sachets of isotonic salts in order to replace all the salts that you lose through sweating.
What are the safety notes for my trip to Cambodia?
Safety in Cambodia is a major concern for travelers. This exotic destination has had a violent history, notably under the Khmer Rouge regime (1975 – 1979), bringing some fear to travelers. Fortunately, the Khmer Rouge regime has long since vanished and is no longer a concern.
While petty crime is unfortunately common, if one has their wits about them one will be safe. NEVER leave valuables unattended, not even locked in a bag inside hotel room. If someone wants to get in, they will find a way!
Are there any Cambodia's local customs I should be aware of?
DOs:
Sit while talking to a monk if he seats.
Ask for permission before taking photos of others.
Pass things using both hands, as a sign of respect.
Let elders start the conversation, walk first, and take the lead.
Bring a small gift (fruits, flowers) if invited to dine in a Khmer home.
Take off your hat and shoes when entering Khmer houses or a place of worship.
Wear proper clothes when entering a religious site (upper arm/ legs should be covered).
DON'Ts:
Display affection in public even small gestures (arms around shoulders).
Visit orphanages as it becomes an unpredictable tourism form.
Sit higher than the eldest person in the room.
Touch someone on the head (even children).
Talk about business or war at the table.
Give in to frustration or loose temper.
Give money to street children.
Why should I choose Sens Asia to help plan my Cambodia trip?
Sens Asia Travel provides travelers with advanced, licensed tour services and curated options for accommodations as well as tour activities, which are regularly inspected & verified by our local experts.

We have our representative offices in Asia (Vietnam, Myanmar, Laos) as well as in European (Germany) which allow our team to coordinate well on the ground and react quickly if there should be any problems.

We have 100% positive feedback rate from customers since the day of launching. In addition, we have been featured on various trusted media platforms and publications.
Why shouldn't I book all services for Cambodia trip on my own?
As we get favorable rates from hotels and accommodation partners, the total cost you pay will be more reasonable or just marginally a bit more expensive than if you booked directly yourself.

We have supportive local journey planners, who have been living or traveling extensively throughout Southeast Asia regions as they may help you create your own trip to match your schedule & choices of activities, accommodations and pace.
What happens after I submit the inquiry for my Cambodia trip?
A journey planner will work with all the details you provide and create the best options to suit what you are looking for. Within 24 to 48 working hours, you will receive details for travel itinerary options and quotation. These suggestions can be tweaked and changed until you are fully satisfied.

Upon confirmation, you will only need to make a deposit payment of 30% of the total trip cost for your journey planner to start making reservation of hotels, tour guides & other services.

A personal journey planner will take care of all the details for you from the start of creating the trip until your vacation is finished and you are safely back home.