Top 5 Things to Do at Inle Lake, Myanmar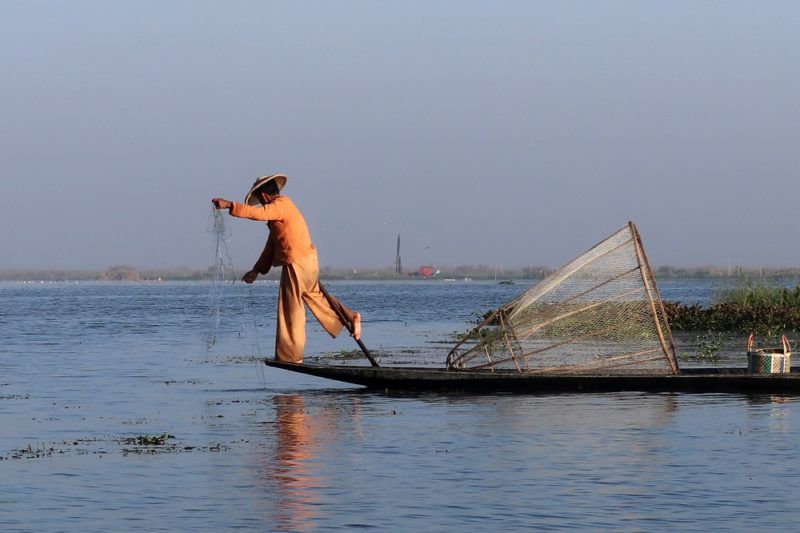 Credit: Geoff Godden
Inle Lake is one of Myanmar's top tourist destinations, and for good reason. The lake is large and beautiful, surrounded by mountains and bordered with stilt-house villages, pagodas and floating gardens.
The pace and mode of life on and around the lake seems little changed from how it must have been a century or two ago. People paddle around their floating gardens in shallow canoes, take their produce to lakeside markets which rotate around the various settlements on a five-day-cycle, and fish using a unique leg-rowing technique which leaves their hands free to handle their nets.
The difference is that these days, people going about their everyday activities are watched constantly by tourists who shoot around the lake in long wooden boats with large, loud, diesel motors on the back.
Inle Lake residents appear (from the outside at least) to have grown accustomed to ignoring the camera-in-your-face aspect of life. They look blankly through you, not malevolently at you.
To be fair, I suspect many local people's lives are easier because of the tourist trade, after 50 years of serious economic mismanagement, Myanmar is a very poor country, and tourist kyats are welcome.
Despite being hyper-aware of my tourist status, the gorgeous lake was definitely worth a visit. And without further ado, here are my top five things to do at Inle Lake (and its surrounds).
1. Lake boat trip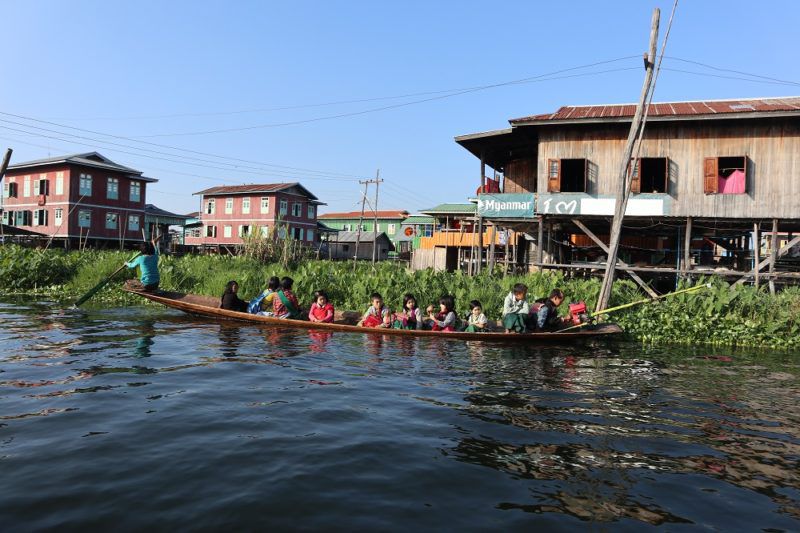 Credit: Geoff Godden
Despite any reservations above, taking a day boat trip out on Inle Lake is quite magical. Even in peak tourist season the lake is big enough for the place not to seem too busy, and apart from a couple of enterprising former fishermen who wait for tourists to pay them to demonstrate the leg rowing/basket fishing technique, much of what you see on the lake is local people going about their daily business.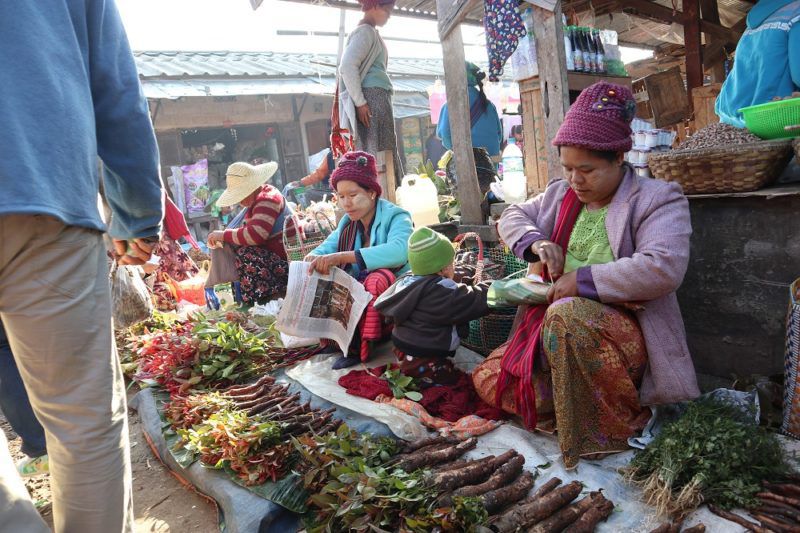 Credit: Geoff Godden
Most boat trips will gear the tour around wherever the rotating market is on that day, plus they will take you to the floating gardens, a lake pagoda, a couple of villages and (unless you resist) a handicraft workshop or two.
My tip: beat some of the crowds at the market by leaving at 7am, rather than 8am, when most boats set out.
2. Cycling around the lake
Credit: Geoff Godden
It's easy and cheap to hire bikes in Nyaung Shwe, the little town where most tourists stay and it's a great activity if you're looking for different things to do at Inle Lake. From there you can do a circuit of the northern part of the lake, taking in the villages of Khaung Daing to the west (where there are hot pools), and Maing Thauk to the east (where the land section of the village is connected to the stilt part with a narrow bridge, and there is also a forest temple with fine views).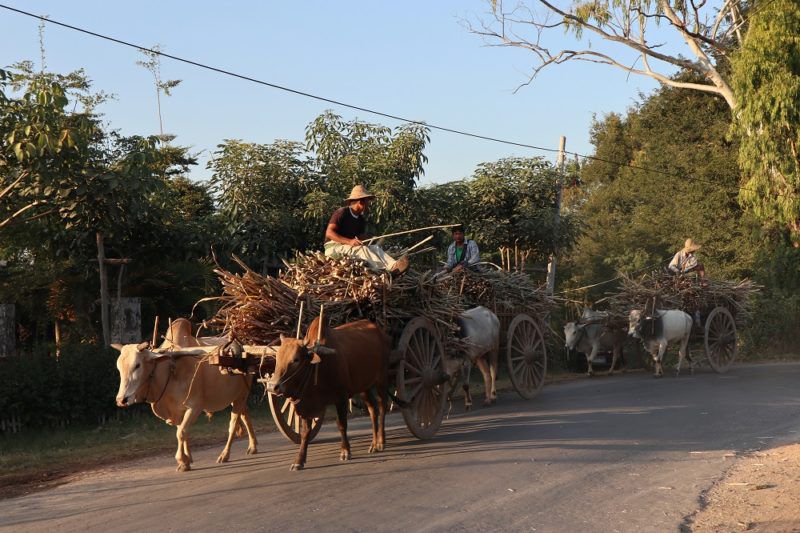 Oxen coming home, seen on the bike trip (Credit: Geoff Godden)
To get between the two villages you take a boat trip across the lake, with the boatmen carrying the bikes too. Close to Maing Thauk is the Red Mountain Estate Winery, which offers a great setting, and expensive, mediocre wines.
My tip for independent travellers:

The bike-carrying boatmen will try to charge you (for a 30-minute trip) about half what it costs to rent a boat for a full day. You

shouldn't

need to pay more than 7000 kyat.
3. Trekking
Credit: Geoff Godden
The most popular trek in the area is the two- or three-day walk between Inle Lake and Kalaw, a former British hill station west of the lake. Tourists get to see local villages and stay in a monastery and a homestay. All reviews of that walk I've seen make it sound fantastic, but busy. Far less touristy is the area to the east of the lake, where you can do similar length treks through the same sort of countryside and villages but without sharing it with dozens of other trekking parties.
My tip for independent travellers: If you are doing the trek in peak tourist season (December-January) it's surprisingly cold and a bit uncomfortable at night in the villages. We slept on unpadded mats on the floor and despite two blankets each, the mountain air came through the gaps in the walls/floor. Don't be put off – it's definitely worth doing – but be prepared.
4. Pindaya cave pagoda
Credit: Geoff Godden
There are more than 8,000 Buddha images in the extensive and impressive limestone cave complex at Pindaya. Unlike some of Myanmar's other cave temple complexes, this is well-lit and there's a glass-fronted lift to avoid some of the stairs. The earliest golden Buddha statues date from the 1700s, and believers are donating more all the time (you can even buy your own bit of gold leaf to add to a statue).
My tip: You can visit Pindaya as a picturesque day trip from Nyaung Shwe (1.5 hours each way) or Kalaw (1 hour), or you use it as a stop off between the two. A third option is to stay overnight – as well as the cave, there's tourist-avoiding trekking available in the area.
5. Inle Heritage centre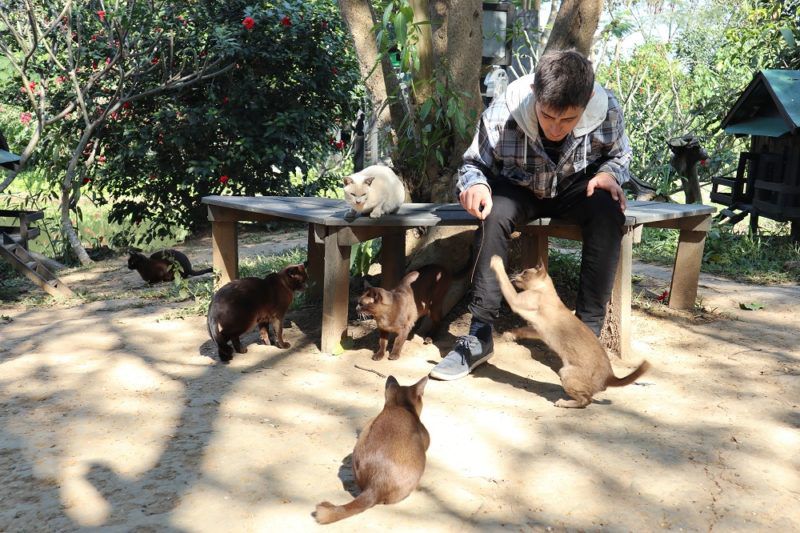 Credit: Geoff Godden
If you like cats, or even if you don't, the Inle Heritage centre at In Paw Khon in the southern part of Inle Lake, is worth a visit, either as part of a lake tour, or on a separate trip (you can even stay overnight). Inle Heritage is a not-for-profit set up by a local business woman from a prominent local family, who modelled the main building on her grandparents' beautiful traditional house in Nyaung Shwe, and uses the complex to try to preserve local culture and heritage.
The part that most entertained our family group was a project aiming to reintroduce Burmese cats to their original homeland. The Burmese breed were originally royal and temple cats, but interbreeding with local moggies during the British colonial period wiped out all pure-bred cats. Starting with US and Australian-born Burmese cats, Inle Heritage is trying to build up a local population. Whatever the eventual success, the 40 or so cats on lake islands and pavilions are super-friendly and very cute. Inle Heritage also runs a boutique hotel, an Inthar cooking school and restaurant, and a shop selling fair trade-style local handicrafts.
My tip: If you want the cats to yourself, go early, before the rest of the tourist boats. We got there around 10.30am and we had the place to ourselves. And don't miss the see-through fish (in the aquarium behind the cats), the ornate shrine upstairs, and the model of the grandparents' bedroom (also upstairs).
We hope you enjoyed these 'top 5 things to do at Inle Lake'. If you're interested in exploring this part of Myanmar or have any queries, then drop us a message.