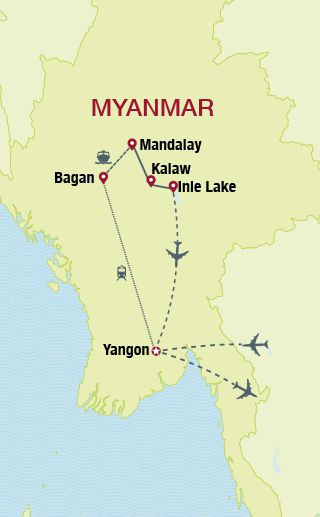 This 10-day discovery tour takes in many of Myanmar's truly magnificent attractions. Travel the big4 destinations that make Myanmar claim the name on traveler wish list, from Yangon to Bagan where temples stretching as far as the eye can see. Visit lively Mandalay and also Inle Lake, the most important religious and cultural sights in the nation.
This journey will take you beyond the classic to visit Kalaw hill station where you will meet the people of Shan State. Your sense will be constantly challenged as you take in the sights, sounds, smells and feel of a remarkable country!
Highlights
Be overwhelmed by the great golden Shwedagon Pagoda
Sojourn at the ancient temples of Bagan
See the world largest book in Mandalay
Experience the tranquility floating life on Inle Lake 
Get off the beaten track to walk the nature beauty of Kalaw
Show program in details Show brief program
Mingalaba! Welcome to Myanmar.
Upon arrival at Yangon International Airport, you will meet us and transfer to your hotel.
You are free at leisure for today to relax and get first glimpse of the lively city Yangon.
Meals: Nil
Accommodation: There are 3 hotel ranges for your selection, please scroll down.
day 2
VISIT YANGON CITY HIGHLIGHTS
Today, you will explore the city around Yangon, starting with a visit to Chauk Htat Gyi Paya to see a huge reclining Buddha image.
Then, you will head toward Botathaung Pagoda, located close to Yangon River and reckoned to contain Buddha relics.
In the late afternoon, enjoy the sunset over Shwedagon Pagoda, a gleaming bell dome structure that dominates the city's skyline. Legends state that the sacred hairs of the Buddha are enshrined here. The Shwedagon is an iconic symbol of the country, a sight not to be missed and something that should be seen by everyone at least once.
Meals: Breakfast
Accommodation: There are 3 hotel ranges for your selection, please scroll down.
day 3
EXPLORE YANGON COLONIAL ERA AND NIGHT TRAIN TO BAGAN
After breakfast at hotel, you will visit Yangon's old quarter, built during the British colonial era. Many charming historical buildings are still located here.
During your stroll through bustling market streets full of merchants and food stalls, you will stop by a local pharmacy and learn about Myanmar traditional medicine. Then, let's stop by a tea shop for some delicious tea and snack whereas the locals often gather, and enjoy the sights and sounds of Yangon.
Continue to walk around the streets, taking in the colorful local dishes and theirs wonderful scents as you go from Chinatown to the Indian quarter.
In the afternoon, you will check-out and transfer to Yangon Central Railway Station for a train to Bagan. The trains are old and facility-basic, but feature great characters and charms, giving an insight to local life and standards in Myanmar.
Meals: Breakfast
Accommodation: Overnight on Train
day 4
BAGAN AWAKEN ALL YOUR SENSES
While at Bagan, your day will start at the Shwezigon Pagoda, a prototype of the Burma style of stupas. Today is a true challenge for the senses! You may see the spectacular temples and pagodas that typify Myanmar, including remarkable artworks and monuments.
The local guide will provide you with the deep significance of the places you visit. All in all, you will be able to touch the ancient walls, step on the woods, appreciate the age-old texture of Myanmar and take in the unique aromas of local cooking wafting in the breeze.
In the afternoon, you will visit Ananda Temple, a masterpiece of Mon architecture with four standing Buddha statues, and an adjacent brick monastery with well-preserved murals. 
Your next destination is Thatbyinnyu Temple, the tallest building in the complex, measuring 61m and Dhammayangyi Temple, the largest of all of Bagan. Here, let's climb up one of the monuments to enjoy sunset above Bagan plain and Ayeyarwady River.
If you are interested in learning about local crafts, you may drop by the traditional manufacture of unique Bagan lacquer ware and watch a local artist doing sand painting.
Meals: Nil
Accommodation: There are 3 hotel ranges for your selection, please scroll down.
day 5
BAGAN - MANDALAY ON THE WATER
After breakfast, you will reach Bagan Jetty and board the Shwe Inn Keinnery for a full days cruise on the Ayeyarwaddy River – the most important waterway in Myanmar. Here, you may be able to watch the vivid daily life of locals on the river.
A full day on board also gives you a chance to completely relax and soak up in the peaceful atmosphere and hidden charm all along.
The boat will arrive to Mandalay jetty late afternoon. You will then head back to the hotel.
Meals: Breakfast
Accommodation: There are 3 hotel ranges for your selection, please scroll down.
day 6
MANDALAY HIGHLIGHTS
After breakfast at the hotel, you will start your day by a morning stroll through the lively Zegyo Market in the heart of the city.
Continue to the Artisan quarter, where exhibits some very old craftsmanship, you may be able to observe the process of pounding gold leaf, carving and embroidery.
Your day continues toward Mahamuni Pagoda, housing one of Myanmar's most sacred Buddha images and covered by thick layers of gold leaf. The journey extends to Shwenandaw Monastery, noted for its exquisite wood carvings which are mostly done on teak. Then, you will stand toward the renovated Atumashi Monastery, 'world's largest book' and Kuthodaw Pagoda, housing the Buddhist Scriptures inscribed on marble slabs.
As your day ends, let's take some time to watch the panoramic sunset views over city skyline on Mandalay Hill, the highest point of the city. Remember to bring your camera! There are so many spectacular things to see everywhere you travel.
When night falls, you will walk through the hilly streets of Mandalay, where lie the alluring ancient textures and warmth of the city as you pass by.
Meals: Breakfast
Accommodation: There are 3 hotel ranges for your selection, please scroll down.
day 7
MANDALAY TO KALAW HILL STATION
After breakfast, you will take a 5-hour drive to Kalaw, a former British colonial hill station where the ambassadors would spend whole summer enjoying the crisp mountain air and sipping on gin and tonics.
Upon arrival, you will check-in at the hotel and enjoy a few hours of resting.
In the afternoon, have your fill of fresh mountain air and even some hiking excursions around Kalaw's beautiful forests if you are in the mood for more active exercise. The local tour guides can adjust the duration and difficulty of these hikes according to your wishes.
Meals: Breakfast
Accommodation: There are 3 hotel ranges for your selection, please scroll down.
After breakfast, you will embark on a morning walk to the Kalaw Market, where ethnic minority groups gather for trading. At a local tea shop, you will be joining the ubiquitous tea culture of the Myanmar people with different choices of tea or sweet milk tea and sampling lovely pastry delicacies.
Then, you will take a drive to Inle Lake for around 2.5 hours, descending through a valley with views of the Shan mountains and rice fields. After checking-in at the hotel, enjoy the free time to leisurely relax and take in the refreshing air and the cool atmosphere blessed by this great body of water.
In Inle Lake, populated with floating islands and gardens made from the tangled roots of water hyacinth plants and reeds, you may indulge in the picturesque sights of fishermen who balance and row with one leg, a technique unique to the Inn Thar minority group on Inle Lake.
This is the time to relax and take in the peace and quietness the lake offers. In addition, you may try the local organic salad made from vegetables grown on Inle Lake, especially the tomato salad!
Meals: Breakfast
Accommodation: There are 3 hotel ranges for your selection, please scroll down.
day 9
INLE LAKE & INN THEIN - YANGON
After breakfast, you will travel by boat on a small river to reach the Inn Thein Pagoda, a site that represents the time portal. To access the complex, you must walk through walk through the bamboo groves, opened to a field and covered with ancient pagodas constructed over 1,000 years ago.
Then, your journey continues at Nyaung Shwe. Let's visit Phaungdaw OO Pagoda, home of some of the country's most sacred Buddha statues covered in gold leaf by devout followers.
In the afternoon, you will be transferring to Heho Airport for an afternoon flight to Yangon. Upon arrival, you will transfer to your hotel in downtown Yangon.
The rest of the day is free at your own leisure. Simply relaxing at your hotel or take a stroll through Chinatown or the Indian quarter to soak in the bustling life of local people.
Meals: Breakfast
Accommodation: There are 3 hotel ranges for your selection, please scroll down.
In the morning, you are free at leisure. Last minute shopping might be a great option before heading to the airport for your flight home or to your next destination.
Meals: Breakfast
Cities

Comfort

Superior

Deluxe

Yangon

Grand United Hotel-Ahlone

Superior Room

Green Hill Hotel

Deluxe Room

Green Hill Hotel

Deluxe Room

Bagan

Bawgatheiddhi Hotel

Superior Room

Thirpyitsaya Sanctuary Resort

Deluxe Garden View Room

Aureum Palace Hotel

Deluxe Room

Mandalay

Shweinngyin Hotel

Superior Room

Sedona Hotel

Deluxe Room

Mandalay Hill Resort

Superior Palace View Room

Kalaw

Hill Top Villa

Superior Room

Dream Mountain

Deluxe Room

The Kalaw Hill Lodge

Deluxe Villa

Inle

81 Hotel

Superior Room

Amata Inle

Deluxe Lake Room/Mountain View Room

Pristine Lotus Resort&Spa

Floating Duplex Room
Tour Price Includes:
8 nights' shared accommodation in twin/double room with daily breakfast (check in and check out around noontime)
1 night on Overnight train from Yangon to Bagan
Meals (Breakfast) as indicated in the program
All transfers with air-con vehicles and the mentioned boats
English speaking local guide
Entrance fees as mentioned on tour
Night Train Ticket from Yangon to Bagan
02 bottles of mineral water per person per day on bus on days of transfer and sightseeing only
Tour Price Excludes:
Airfares (international and domestic)
Food & Beverages (other than mentioned in the program)
Visas to Myanmar
Tips as good will
Early check in or late check out
Travel Insurances
Optional excursions and activities
Additional transfer required due to any emergency situation
Items of a personal nature (phone calls, laundry, beverages)
Peak season surcharges from Hotel
All not mentioned above