Breakfast in a Burmese Tea Shop (Myanmar)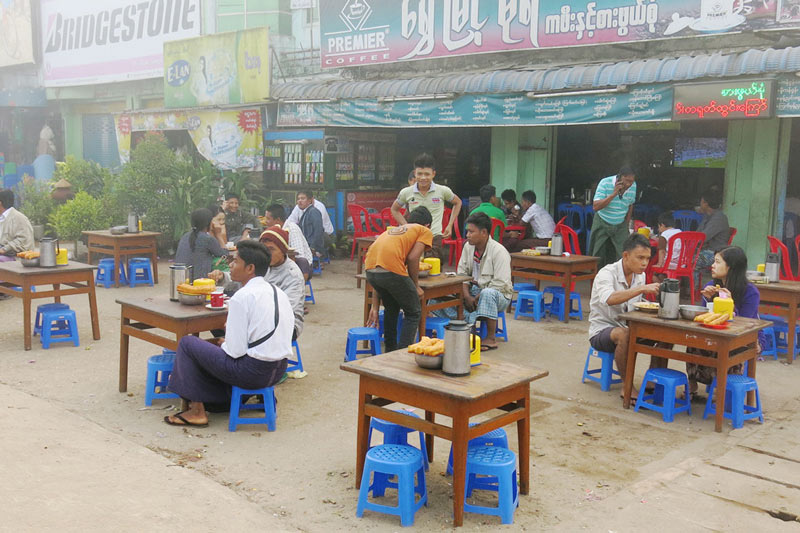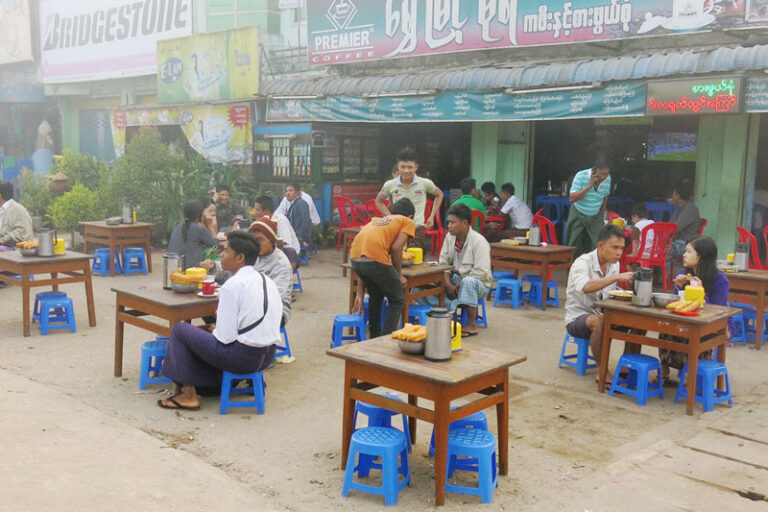 Wake up to the glorious dawn of Myanmar, you might find the true peace and joy of locals in a Burmese tea shop. Breakfast shops here seems simple, with little plastic stools and medium-sized tables conquering parts of sidewalks, always quick serving and busy-ongoing but not less interesting as of Asia street style.
MYANMAR'S TEA CULTURE
Daily life in Myanmar usually starts by tea and nothing can beat a round of delicious hot lah patyei (Burmese milk tea). In many Western countries, coffee plays essential role in the breakfast culture but in Asia, as of Burma, Taiwan, Hong Kong, milk tea has its ultimate glory of a perfect morning energizer. People taste the rich, sweet and milky flavor first and foremost, before or after enjoying the savory dishes.
Common recipe for a Burmese cup of tea usually combines black tea leaves and condensed milk. To acquire that simplistic yet memorable flavor, the tea-maker should have been daily trained with fastening hand movement, precise amount adjustment and somehow, barista skill set.
Of course, rather than just "laphet-yeh", you can find plentiful beverage options. Coffee and "coffee-mix" (powder coffee and sugar) are also available. Sitting down at random teahouse early, besides the milk and tea mixture, they have free plain green tea, a thermos put onto each table for your self-serving. Do not feel insulted if someone just pour the liquid into cups provided the immediately toss on the street, they might want to wash the cups for you, showing formal hospitality.  Furthermore, a plastic container looking like toilet paper roll would extra oddity to the display. It definitely plays the wipe down role for dishes, cups and your hands as things will be a bit greasy when you start with pastries.
Price range for Burmese milk tea: 150 – 250 kyat (~USD $0.1 – $0.2)
GENEROUS TREATS IN THE MORNING
Before 8.00 AM: Dough and fried pastries
At a glimpse, shop-owners and even vendors in Myanmar will set up large frying pans at their stalls out of nowhere. When you find a seat at Burmese teahouse, get used to the scene where these amazing chefs standing closely and performing their talents on the assortments. Pastries like naan (fried bun with shredded coconut fillings), puri (fried flatten bread), samosa, and char kway (Burmese breadstick) are flour-based or with stuffed fillings. 
There are various ways to eat Burmese fried dough. While the puri bread, similar to Asian/Indian roti, is a perfect side dish to traditional curry or soup, char kway can be served with condensed milk or dipped into milk tea. Samosa, on the other hand, comes with tamarind or mint sauce. To personal likings, locals here might let these fried triangle pillows float on their curry instead of steamed rice.
One tiny tip for bread-lovers: Get into the traditional tea shops before 8.00 AM. Most teahouse kitchens will stop frying due time as one of their unique unspoken rules. If you want to taste some of Myanmar's street culture, be an early-bird! In case you would miss the 8.00 AM rule, set off further to modern tea shops (those that much looking like a regular garden cafes) as they will serve the snacks round the clock.
Price range for Burmese breads and pastries: 100 – 500 kyat (> USD $0.5)
After 8.00 AM: Savory dishes
Indeed, the a-la-carte standard has no place to apply on the streets but with Burmese breakfast, you might sense it somewhere amongst the amusing "courses", between something sweet and savory.
Besides fascinating options of teas and pastries, the biggest foodie obsession for Burmese food calls the name of noodles. It is not exaggerated to say that Myanmar is a land of noodle as picking one in all noodle menus here might be easier than crossing your long-lasting acrophobia on Bagan's hot-air balloon!
Firstly, we should mention Myanmar's unofficial national dish, Mohinga. Basically, it is an alluring delicacy of pungent fish, credited by the lemongrass, turmeric and pepper seasoning. A right type of noodle would swirl every taste out of your mind. For mohinga, slipper thin noodle strings are just perfect! This selection can be applied for Shan noodles – another well-known morning delight in Burmese teahouse. Absolutely, its origin is from Shan State, where ingredients such as red pepper sauce and sweetness compose marvelous mainstream food trends. Either ground pork or chicken, authentic fragrance for Shan dish varies within the thin broth with must-have sentiments, garlic plus pepper. One similar sibling of mohinga is coconut noodles. The concept should be similar, boiled egg, herbs, meat and noodles; yet, the broth comes from another world to that of mohinga, heavier, saltier and greasier – a challenging worth-a-try combination.
If you have the salad concept in mind with green leaves, lots of herbs and fruits, think a bit different when in Myanmar. Burmese nan-gyi-thoke (rice noodle salads) takes noodles as its great base. The thick and flattened rice noodles, chicken or pork curry, sliced onions, chilies, lime juice are added to the mixture later on. Before serving, remember to mix all ingredients and feel the magic blooming in every taste bud. In hottest days, popularity of nan-gyi-thoke can never fall for grace. People enjoy the sweet and sour from this special salad!
Price range for savory dishes: 500 – 1000 kyat (~ USD $0.5 – $1)
BURMESE TEA SHOPS DICTIONARY
Beh lao jah leh – How much in total?
Sa low koun deh – Food is good!
Lah patyei – Tea in Burmese language but milk-tea in Burmese tea shops
Bone mahn – Extra evaporated milk, please!
FAVORITE TEA SHOPS IN MYANMAR
Traditional Tea Shops
Nyang U tea shop – Around Nyang U market, Bagan
Shwe Ya Minn – Nearby the market block, Kalaw, Shan State
Modern Tea Shops
Rangoon Tea House – 77-79 Pansodan Road , Yangon
Lucky Seven – 49th Street & Mahabandoola, Yangon
BY LE DOAN
——
SPECIAL THANKS TO FLICKR INSPIRATORS, YOUR PHOTO WORKS ARE BEYOND AMAZING!