15 Laos Travel Tips: Things You Need To Know
LAOS AT FIRST SIGHT
Nestled between Thailand and Vietnam in the heart of Southeast Asia, Laos is an charming oasis that is capable of overcoming the mutual conception for tourist attractions. With stunning stellar waterfalls and nature-blessed beauty, from North to South, travelers can explore utmost landscapes, profound culture and fantastic local life in a very Laotian way!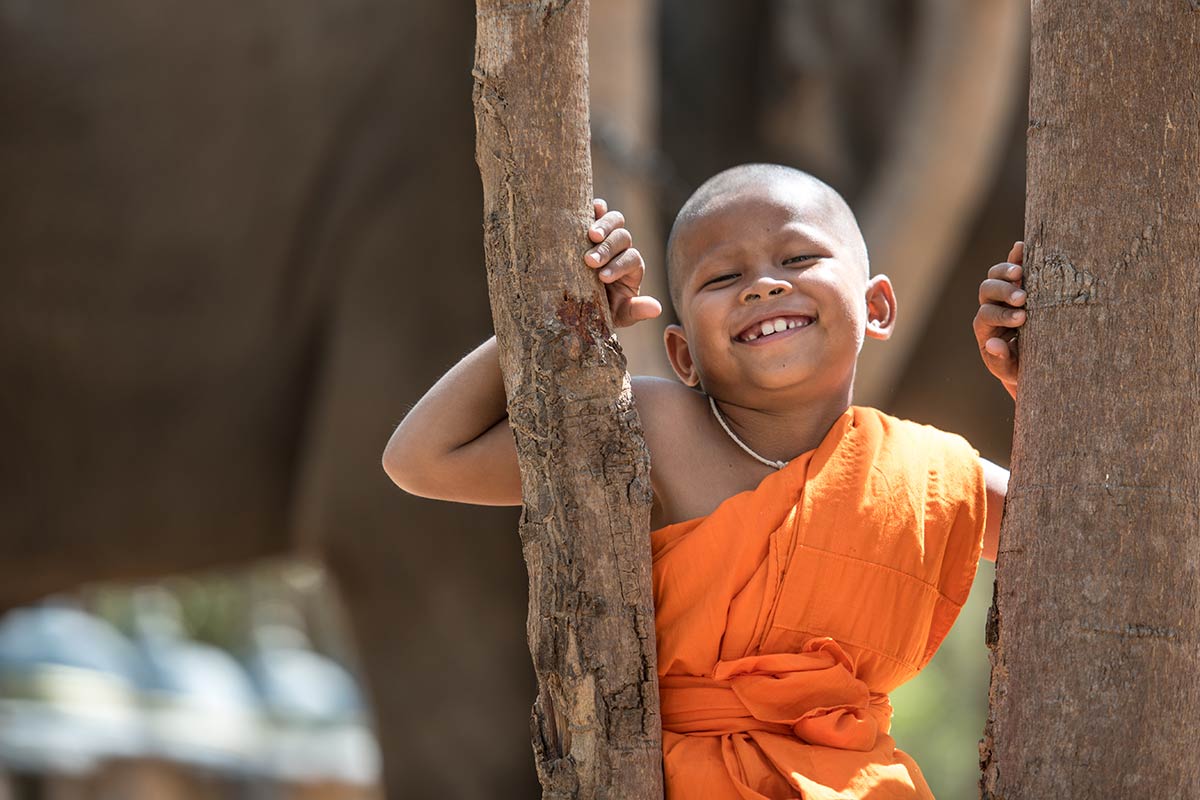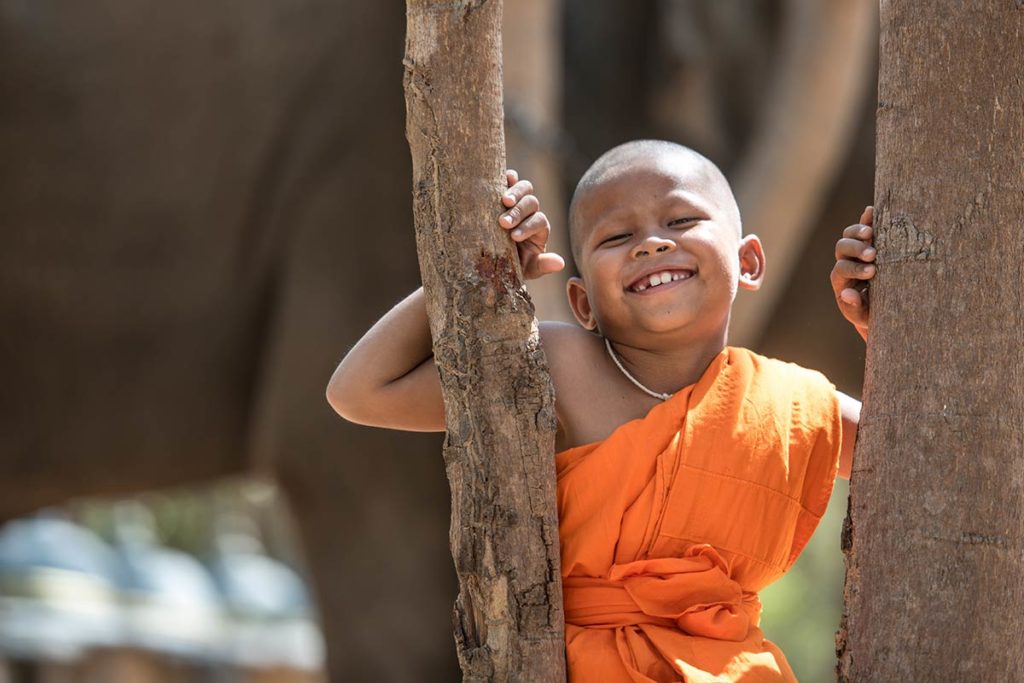 WHY I SHOULD VISIT LAOS IN MY NEXT TRIP TO SOUTH EAST ASIA?
An Extreme Asia among Southeast Asia
Among all Southeast Asia nations, Lao retains its age-old traditions while still maintains a stable speed of development in urban regions. There are still green lush paddy fields, ancient stilt houses, mythical Buddhism relics, colorful wooden bridges and morning markets over the corners that resemble timeless local quality to Laotian culture, as of major cities and provinces, Vientiane, Luang Prabang, Vang Vieng, etc. Adventure seekers can challenge themselves kayak through underground river caves, on jungle ziplines or while climbing karsts. Nature enthusiasts can take a walk on the wild side and spot exotic animals such as gibbons or elephants. Culture lovers can explore ancient temples and immerse themselves in Lao spiritual life. Foodies can spice up their lives with a Lao cooking class or go gourmand in the French-accented cities. 
A Great Reminder of Kindness
Speaking of diversity, Laos significantly reflects unique crossroad geographic between areas like a melting pot of Southeast Asia. Locals here have long been cultivating their Mother land at most of serene and traquil state. Generally, they love their life, their crops as much as how they show passion towards nature and culture values. A good thing is currently the country is in a glorious time for travel and tourism so that Laotian people who profoundly own that loving nature, also display fantastic hospitality towards foreign friends. 
From the H'mong people who spread over Northern land by an impressive population number to minority groups at remote areas along Southern Laos, the Kahu and Alak communities or Katang tribal villagers who maintain traditional face tattoos at Central Laos, they are open to daily interaction, tour visits and some even provide fantastic tour guide service!
A Pocketful of Sunshine to Nature and Wildlife
Along with the iconic green rice terraces emerging from highlands, Laotian landscapes, from brooding tropical jungles to mesmerizing tea and coffee plantations embrace a magical charm that remarkably promote nature wonders here. When it comes to travel traits, among few countries in Southeast Asia, is able to lead the way for environment preservation. Protected areas as well as national parks in Laos follow prompt, straightforward and innovative regulations, well enough for fascinating ecotourism activities such as moutain trekking, zipline experience and animal pampering, yet, protect natural habitats and ecosystems in an alarming, utmost and reliable level of conduction.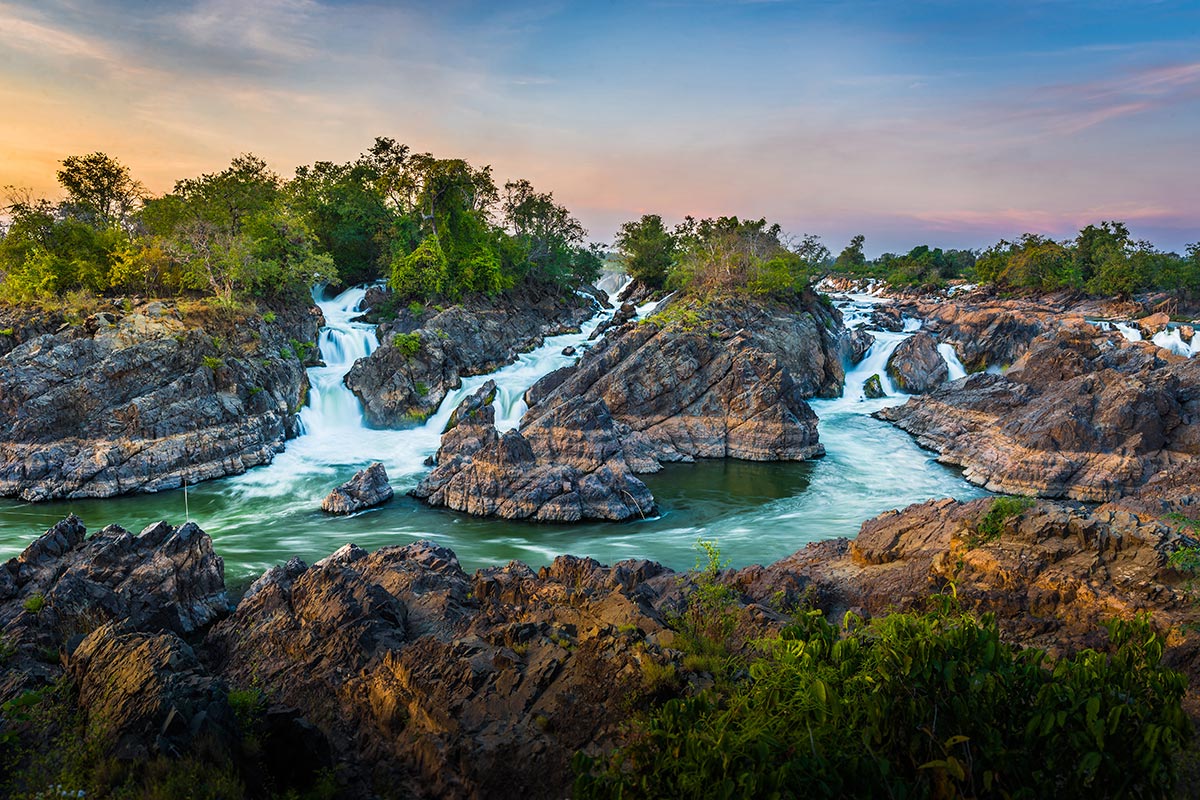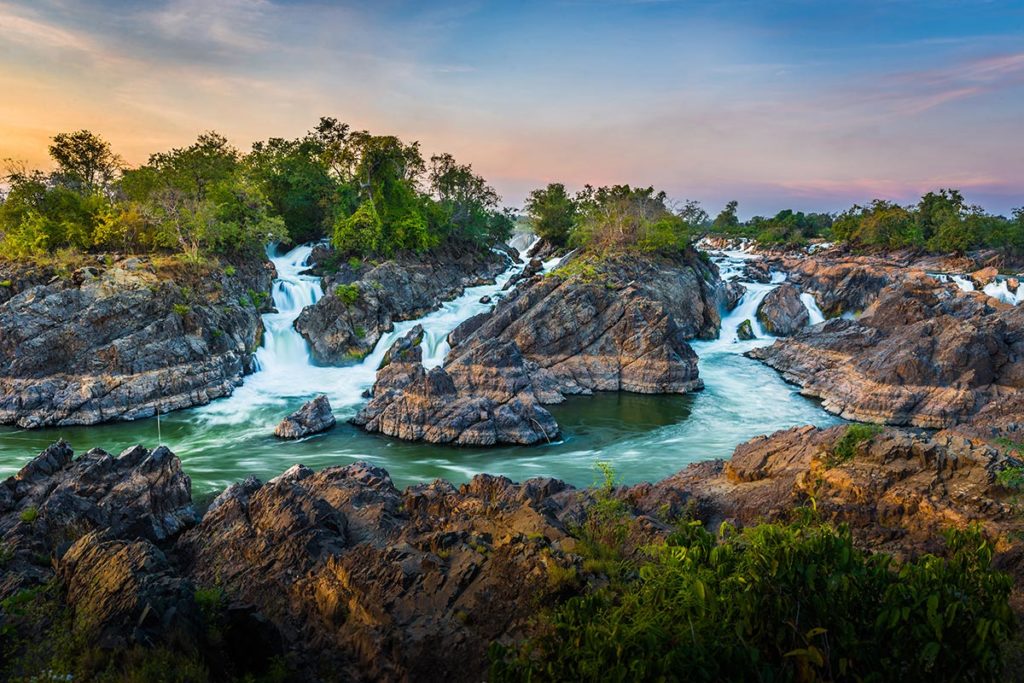 15 LAOS TRAVEL TIPS TO HELP YOU WELL-PREPARED
1. Fill up your visa for Laos 
Besides visa in advance which can be applied and obtained at Lao embassy/ consulate, the government issues a 30-day visa on arrival for most foreigners travelling Laos. Visa on arrival is valid for 30 days and available at international airports and most land borders). Upon arrival, you should carry a valid passport, flight tickets, portrait photos and hotel vouchers (if any) to fill in the legal documents. For those who are not eligible for a visa on arrival, Lao embassies and consulates abroad offer 30-day tourist visa for a fee and same documentation. The tourist visas usually take 2 days to 2 weeks to process. 
The price* for visa application in Laos:
| | | |
| --- | --- | --- |
|   Nation | US, UK and European countries | Australia and other countries |
|   Suggested Price |   $35 |   $30 |
 *The exact cost may vary according to the real situation
For further information and support, please visit The Department of Immigration, Lao PDR or contact Sens Asia journey planners.
Laos still have a strict Visa regulation towards some specific nationalities so please check the Restriction List. 
2. Cash is more reliable in remote areas
ATMs are available in Laos but only in main cities like Vientiane, Vang Vieng, Luang Prabang, Xieng Khuang and Pakse. Besides, ATMs and only hotel shops, high-end boutiques or fine-dining restaurants in Laos accept Visa and Master Card.
If you arrive to Laos from overland or going to remote areas, make sure you have some Cash (thaibath, US$, EUR) along to exhcange to local currency.
3. Book your hotels in advance, especially if you travel in high season (Sept – Mar)
There is wide range of hotel accommodations in Laos, from 6-star luxury hotels, villas and resorts to comfort stays. Since the demands increase dramatically during high season, make sure you sercure your hotels well in advance. For budget travelers, it is more easy to find a spot when you arrives but for people who go with 3 – 4* Hotels is quickly filled up. 
4. Wake up early, take things easy to fully enjoy the essences of Laos
Alm giving Luang Prabang Laos
Laotian people live a calm and reversed life, following by their daily activities. If you want to know about the best of Laos, always treasure little moment right after sunrise, especially in Luang Prabang.
Early in the morning, distinctive orange-robed monks leave the temples and walk the streets in single file collecting food donations in their alms bowls from locals. This morning ritual is to attract good karma. The anticipants should not speak or make eye contact with the monks as they are in a meditative state so everyone avoid disturbing them.
The crack of dawn also offers great chance to take in full day continuous out-door activities: from leisure walk around where you stay, riverside snacking or tea-house breakfast, comfortable massage session to fascinating bike ride through the green paddies, lunch-time picnic at local villages, cruise through Mekong River, top mountain climbing and daytime trekking to waterfall zipline experience. You will never regret becoming an early-bird in Laos!
5. Extend your trip to Pakse, Bolaven Plateau & 4000 Island

Travelers normally take the classic route from Vientiane to Vang Vieng and end up in Luang Prabang. But if you are willing to see the better part of Laos, we suggest an extension to Pakse. You can reach the area by a short flight.
From Pakse, take a day or 2 to Bolaven Plateau a flat elevated region (at 1000 to 1300m) known for its many coffee farms, stunning waterfalls, and traditional villages. You can drive around here in a small loop (minimum 2 days) or a big loop (minimum 3 days). The roads in accordance are not always charmingbut the stops along the way are fantastic and completely worth the drive. The waterfalls of Tad Tayicsua and Tad Fane are especially impressive.
6. Join the uncharted journey to 4000 Islands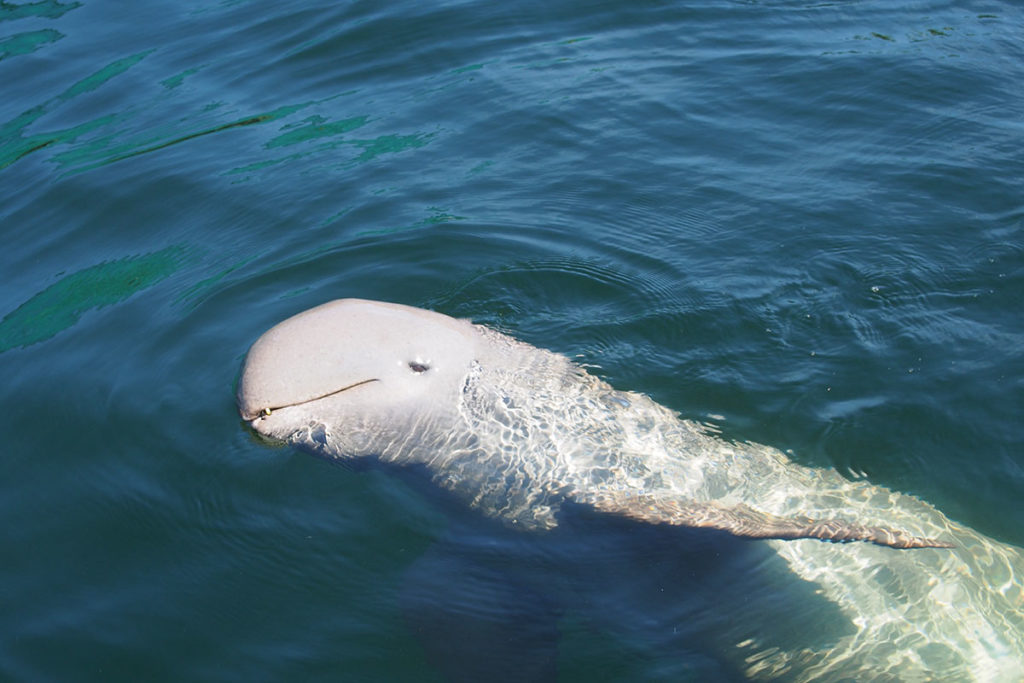 Freshwater Irrawaddy dolphin
Positioned faraway to the South, 4000 Islands (Si Phan Don) is Laos' unrenowned archipelago and nature complex, less recognized than Luang Prabang or Vang Vieng. This destination along with Pakse, are no-undertone experiences as you might actually live to the fullest with a touch of leisure and great part of adventure elements. Here is the list of exciting activities to fulfill your wanderlust wishes while taking a little detour from Laos' famous tourist attractions:
Visit Champasak's Wat Phou, the magic pre-Angkor temple and capture living moments within the ancient ruins leading straight to Angkor compound
Kayak from Pakse to Don Khone through Mekong River for 2 days long
Spend a leisurely day at Liphi Waterfall, have a chat with local fishermen and try your luck as if you would have a chance to see the freshwater dolphins
Taste the famous Lao beer while watching the sunset over Mekong River
7. Enjoy Laos beer, net filtered coffee and herbal tea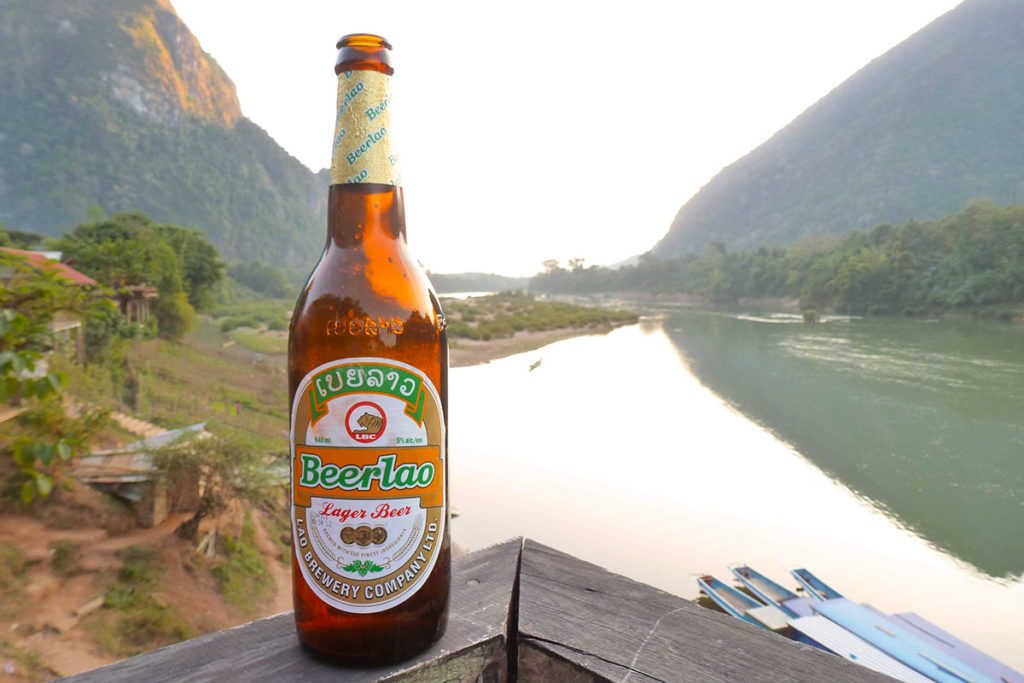 The famous Laos beer
When in Laos, you should try the national-pride products of Laos beer, Bolaven coffee & herb drinks.
The national drink of Laos is the ubiquitous and tasty Beer Lao, made with Laotian jasmine rice and one of the few Lao exports. It maintains a mythical status amongst travellers and world beer aficionados.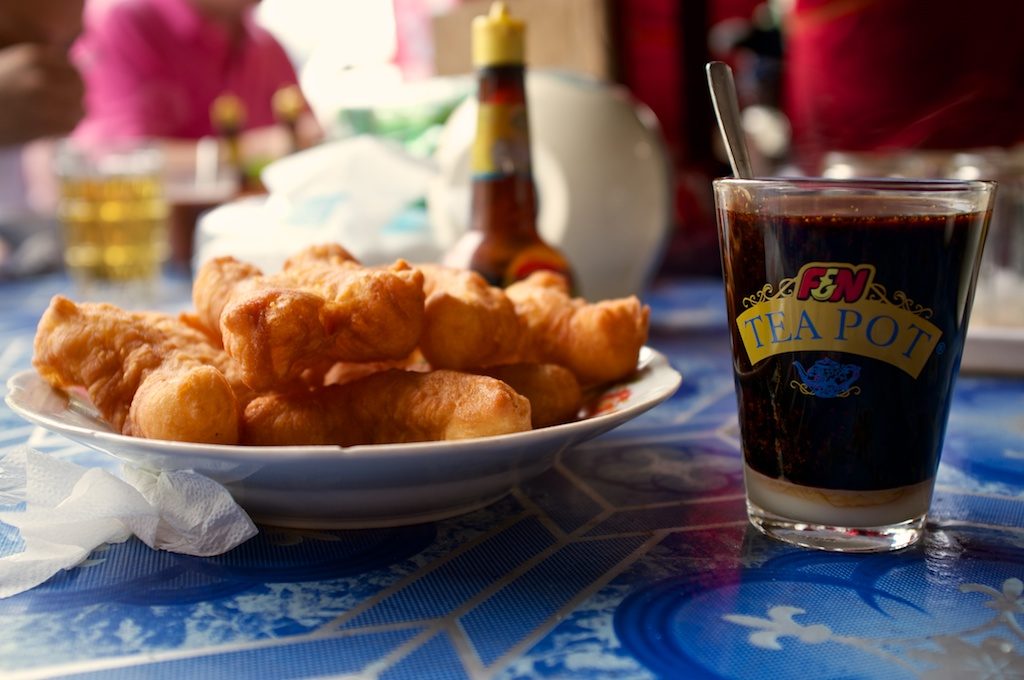 Breakfast with coffee and condensed milk
Laotian coffee, on the other hand, represents the nation's lifestyle, romantic, peaceful and harmonious, really well. The sprawling coffee plantations, mostly in Bolaven Plateau produce refining Arabica and classic Robusta coffee beans, with organic farming module, which allows travelers to come visit, enjoy the fresh coffee any time of the day. Get off the coffee machine pour sometime and enjoy the real local way of making coffee with coffe boil in a net, serve with condensed milk or ice.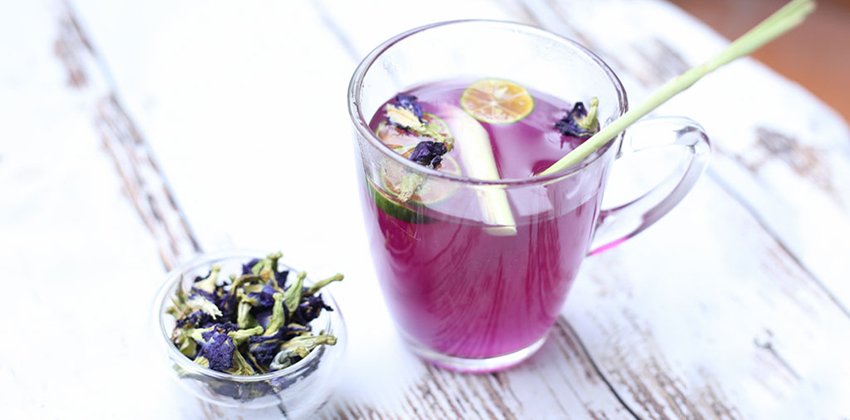 Blue elixir for tea lovers
For ladies, you will love to cool down from the heat with a glass of lemongrass tea, ice tamarind drink or the blue butterfly pea tea.
8. Try Laotian essential tastes
Lao cuisine gets one signature: extremely spicy. Most dishes contain a little bit more slight bitterness than sweetness as locals here use lots of fresh herbs and vegetables served raw.
Rice is the staple carbohydrate. The standard kind is sticky rice (khao niaow), eaten by hand from small baskets called tip khao. Using your right hand, pinch off a bit, roll into a ball, dip and munch away.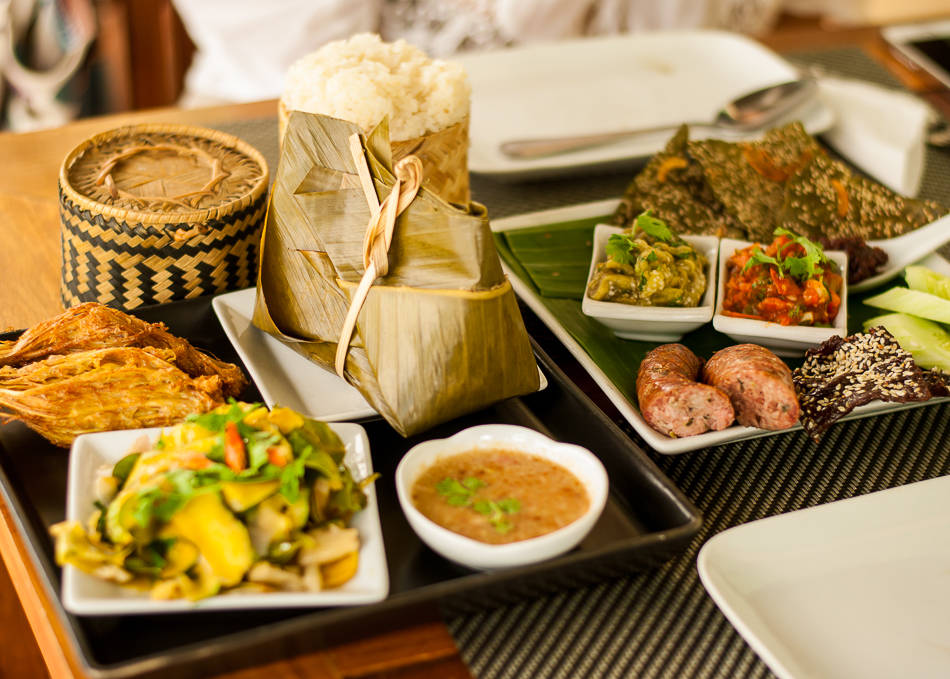 A basic set of Laos traditional food at Tammarind Restaurant, a great choice when you are in Luang Prabang
The national dish is laap, a "salad" of minced meat mixed with herbs, spices, lemon juice and, more often than not, blistering amounts of chili. Unlike Thai larb, the Lao version can use raw meat (dip) instead of cooked meat (suk), and if prepared with seafood makes a tasty, if spicy carpaccio. Another Lao invention is tam maak hung , the spicy green papaya salad known as som tam in Thailand, but which the Lao like to dress with fermented crab (pudem) and a chunky, intense fish sauce called pa daek , resulting in a stronger flavor than the milder, sweeter Thai style. Other popular dishes include ping kai, spicy grilled chicken, and mok pa, fish steamed in a banana leaf.
9. Know the seasons to go
Laos has a tropical climate with two distinct monsoon seasons. The wet southwest monsoon season runs from May to September while the northeast monsoon in the months of November to April brings drier weather. 
The best time to visit Laos is from Octorber to March with the coolest, driest days as well as some of the country's most vivid festivals to enjoy. It's also the tourist season when Hotel price go up and occupancy is high
Apirl is peak months of Holiday and Celebration month with  Song Kran, the water festival so it'll be a very busy month for tourist.
May and June are very hot and quiet months, everything slow down as well as the price.
July, August and September are the wet & green season with pour down every afternoon or random during the day. They are also the season of low Hotels price, very green season, manificient sunset.
Embrace the weather and make your decision of when to go is your personal choice, because of our work nature in tourism, we always travel in "low season" with the heat, rain and sunset and we love it.
Here is the brief information regarding Laos weather and best time to visit:
Northern Laos and Mekong River (Luang Prabang, Vientianne, Vang Vieng)
Rain season (Apr – Oct): The average temperature is 30°C with daytime brief and infrequent downpours. The humidity is high in midst months, followed by strong wind
Dry season (Nov – Mar): The temperature ranges from 20 – 30°C between days and nights, sometimes peak at 40°C and brilliant sky
 
Southern and Coastal Laos (Bolaven Plateau, Pakse and 4000 Islands)
Rain season (Apr – Oct): In June and early September, the regions are covered by heavy rain in days with high humidity and strong wind. Other time, the downpours seem less frequent, more refreshing with average temperature at around 30°C.
Dry season (Nov – Mar): The temperature fluctuates from 20 – 35°C, sometimes peak at 40°C with strong wind, long days, brilliant sunlight and balanced water level.
10. Respect the temple culture and follow some etiquettes
As one of the most culture-rich nations among all Southeast Asian countries, hosting over 49 different tribes and ethnic groups, mostly Buddhists, the monks and nuns here are highly regarded. Make sure you treat any you encounter respectfully:
Dress and behave modestly, especially in religious shrines or temples
Take your shoes off and leave them outside when entering a Lao's home
Follow local behavior when you enter temples
Do not point things with your foot, specially in local market where people present their products on the ground
Follow the Responsible travel guideline if you are going to join the morning alm giving
11. Protect yourself properly towards the rough weather
We totally understand that reaching a tropical land like Laos, who does not want a beautiful sun tan. However, the strength of high temperature, unpredictable rain and remarkable humidity along with the sun might affect negatively to foreigners' health, especially when you travel along the river. Take time and slowly adapt the heat her here by applying sunscreen regularly, drink sufficient water as well wear comfortable shoes and breathable clothes.
Suggested things to pack before Laos include:
Sun hat, sunglasses, sun lotion
quick dry clothes, comfortable slip on shoes since you have to take them on and off quite a lot when visit temple, a good sandals
Personal medicine, Active charlcoal incase you have sensitive stomach.
International adaptor
For ladies you may want to bring your sanitary before hand, tampon is not common product in Laos
12. Dink purified/ bottled water and eat well-cooked meat and fish
Tap water in Laos is undrinkable. Many hotels provide complimentary bottled water in rooms, and if not, it is very convenient to buy in a local store.
Red meat and undercooked dishes are infamous among Laos' cuisines, especially while tasting the street food. Let's eat well-cooked well-done meat or fish.
13. Do not delay your sourvenir shopping to last morning before departure
In Laos, life occurs peacefully and have a slowly start, If you intend to have a shopping tour or visit traditional handicraft boutiques to take something home with you, do not plan it on the very last morning since shop may not open until mid day.
14. Prepare for emergency situation
Over the last couple of decades Laos has earned a reputation among visitors as a remarkably safe place to travel, with little crime reported and few of the scams so often found in crowded places. Although petty crimes such as theft, pickpocketing are in low level at the moment, be careful with your belongings.
The emergency numbers:
Police: 119
Ambulance: 195
15. BONUS

We get a must-visit list, ecofriendly and hotspots for you to explore Laos' essences right here:
Luang Prabang: An entire World Heritage city with royal palace and Wat Xieng Thong monastery and famous Kuang Si Waterfall
Vang Vieng: Reborn adventure spot, hot-air balloons, tremendous local traits with colorful bridges
Bolaven Plateau: Coffee farms, spectacular waterfalls, breath-taking gibbon and traditional stilt houses
Pakse and 4000 Islands: Numerous islets, archipelago relics, great flow of Mekong River and freshwater Irrawaddy dolphins
Wat Pho: Off-the-beaten-track Khmer temple complex, utmost culture remainders, tranquil hilltop sanctuary
Phosavan and the Plain of Jars: Mysterious archaeological site, fantastic iron-age monolith, consisting of thousands of large stone jars which served some undiscovered purpose centuries ago – Laos' version of Stonehenge
If you looking for some suggestiong for a travel plan to Laos, please take a look at below link for the Best of Laos program:
Laos