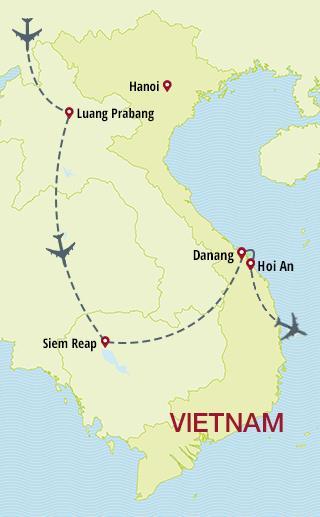 3 iconic heritage town of Southeast Asia are combine seamless together for you to experience in this unique 10 day trip. Thanks for the flight routes, you can now find peace of mind visiting genteel Luang Prabang in Laos, Siem Reap, activate your adventure mood when venture the home of the Angkor Temple complex in Cambodia. As the journey ends at wonderful ancient trading town of Hoi An, a historic trader port with rich culture heritage from the Japanese, Chinese and Vietnamese.
There are many fantastic sites to visit and this tour gives you the chance to learn a lot about the region and its remarkable history. At the end of the journey, you will have some free days to soak up the sun and the sand at the beautiful beach town of Hoi An.
Highlights
Marvel at the temples of Angkor in Siem Reap
Sense the tranquil atmosphere in Luang Prabang
Admire the beauty of Khuang Si waterfall
Feel the charm of ancient Hoi An
Show program in details Show brief program
day 1
LUANG PRABANG ARRIVAL
Sabaidee! Welcome to Luang Prabang, Laos.
Your guide will meet and greet you at the International airport for your transfer to the hotel. Luang Prabang peninsular old town is small with just 3 main streets running from the beginning to the end of town make it a perfect place to walk and get orientation of it.
Rest of the day is free at leisure.
Meals: Nil
Accommodation: There are 3 hotel ranges for your selection, please scroll down.
Note:
Dinner is recommended at Tamarind restaurant, best Laos restaurant in town. All the food are delicious so you can not make any wrong choice. Your guide or Hotel reception could assist you to book a table for tonight. Table on the terrace are best spot to enjoy food and look down at Nam Khan river.
Throughout this journey you may find meal are not included to make sure you can explore the most updated restaurant in town and also try to be more adventurous with food since contracted menu are tend to be fixed on the plate. If you want meals to be included, just let's us know so we can customize.
day 2
LUANG PRABANG - HIGHLIGHTS OF THE ARTISTIC TOWN
A shall not to miss place in Luang Prabang is the morning market, it's one of the most interesting market in the whole region and it's even not a decent market site. The locals just occupied 2 lanes and fill up local products from their home garden or villages. Everything are fresh and present nicely to "just enough to cook" portion. In a lucky day, you can also witness the giant Mekong fish up to 40 – 60kg being sell at fish corner.
After having a fun walk at the market, drive all the way to the tip of the peninsular where you visit Wat Xieng Thong, the largest and most splendid temple of Luang Prabang Royal City,  best known for its impressive Tree of Life mural depicting the Buddhist story.
If you have some time to spare, stop at Wat Sop where the young monks always gather under a nature umbrella shade by tree branches, they are ready with their English book and really happy if you can help them to practise some conversation.
Lunch at your own expenses but your guide will suggest one of many fine place to make sure you get best food, great value.
In the afternoon, visit National Museum which is housed in the former Royal Palace, uninhabited since the royal family was deposed in 1975, the museum showcases many treasures of Laos' royal past.
Visit Wat Visoun and from there, walk all the way to step up Mount Phousi which is a distinctive figure in the centre of Luang Prabang's skyline. The hill, with spectacular 360 degree views, is popular as a place to watch the sun rise or set. Get downhill from the other side of the Mountain and you can see a river of colour form by hundreds of umbrella at the Night Market. A great place for wandering about, offering a great variety of handmade textiles crafted by local and hill-tribe people, along with street food, knick-knacks and friendly banter.
Meals: Breakfast
Accommodation: There are 3 hotel ranges for your selection, please scroll down.
day 3
LUANG PRABANG – KUANG SI WATERFALL AND BOAT TRIP TO PAK OU
Option: An early wake-up call is possible to join the locals giving food to hundreds of Buddhist monks returning from morning prayers. Take a stroll through morning market and take part in this everyday ritual.
Drive 25km out of Luang Prabang through mountainous and winding road to Khuang Si Waterfall. A short walk brings you to the sheer waterfall where you have time for a swim or simply relax by the water's edge. The waterfall is more and more busy year by year with large group of tourist but the attraction still keep its special charm of blue water and very green surrounding. If you are not a big fan of mass tourism, an optional less known waterfall will be replace for the morning session.
Pak Ou Caves are a well-known Buddhist pilgrimage site with many statues and statuettes of the Buddha in the traditional Luang Prabang style. You go by boat and enjoy splendid scenery along the way, observing local fishermen and daily activities along the river. On return, we can stop at the local villages to capture the local life and chat with friendly locals.
Meals: Breakfast
Accommodation: There are 3 hotel ranges for your selection, please scroll down.
day 4
LUANG PRABANG – SIEM REAP – VISIT OF ANGKOR WAT
Say good bye to Luang Prabang and take a flight to Siem Reap, Cambodia. You are greeted at the airport for your transfer to the hotel.
Afternoon time, you will meet the famous Angkor Wat, the most impressive structure of the complex,  built for king Suryavarman II in the early 12th century as his state temple and capital city. The largest and best-preserved temple in the area, it is the only one to have remained a significant religious centre since its construction, firstly Hindu, then Buddhist.
Meals: Breakfast
 Accommodation: There are 3 hotel ranges for your selection, please scroll down.
Option:
Enjoy PHARE circus in the evening. The Cambodian Circus has long been famous for their performances, and this NGO teaching street kids to become circus artists is a regular at international circus conventions worldwide. Enjoy their interpretations of modern life and issues in Cambodian society.
day 5
FROM ANGKOR THOM TO BANTEAY SREI - SUNSET OVER ANGKOR TEMPLES
Today, we start at the South Gate of Angkor Thom, then make our way to the Bayon, made up of 54 towers decorated with more than 200 enigmatic smiling faces. At Angkor Thom you will also see the Baphuon, the Royal Enclosure, the Terraces of the Elephants and Terraces of the Leper King. Ta Prohm has been left just it was when rediscovered: a photogenic maze of trees growing out of temple ruins amidst jungle surroundings, making it one of Angkor's most popular temples with visitors. Banteay Srei is relatively small in size, and its red sandstone construction and ornate design give it a fairyland ambiance which stands out, even among Angkor's temples.
The trip to Pre Rup will reward you with a spectacular sunset over the Angkor Archaeological Park and its surroundings.
Meals: Breakfast
Accommodation: There are 3 hotel ranges for your selection, please scroll down.
day 6
SIEM REAP - THE UNTOUCHED FLOATING VILLAGE
In the morning, you will head out to Mechrey "floating village". Take a boat and cruise through this floating settlement seeing a floating school, farms, houses and many more curiosities. Greeted by waves of the friendly locals, here you can glimpse Cambodia's lakeside culture and traditional family lifestyle. Rest of the day is free at leisure.
Meals: Breakfast
Accommodation: There are 3 hotel ranges for your selection, please scroll down.
Note:
In dry season (Mar-Sep), when the water is low clients will visit Chong Kneas floating village instead.
day 7
SIEM REAP – HOI AN - FREE AT LEISURE
Transfer to the airport for a flight to Da Nang, Vietnam.
Xin Chao, welcome to Vietnam. Your Vietnam tour guide will help you with the luggage and give you a very first orientation about Vietnam and about Da Nang City and Hoi An Ancient town.
The old town, a UNESCO world heritage site, reflects the beauty of former times when Japanese and Chinese traders settled here. Follow the Vietnamese and burn some incense at the temple for your ancestors, and visit the many cultural highlights like the only roofed Japanese bridge outside of Japan.
Colourful lanterns and floating candles illuminate the night scene creating an incomparably romantic atmosphere.
Depend on your arrival time, your guide will suggest some activities for you to fill up the rest of the day or just relax and enjoy walking the old street of this town.
Meals: Breakfast
Accommodation: There are 3 hotel ranges for your selection, please scroll down.
day 8
HOI AN - THE ANCIENT TOWN - TRA QUE COOKING CLASS
Not only famous for its authentic ancient town, Hoi An also attracts visitors thanks to a longstanding culinary art. Today cooking class will guide you through a cuisine journey where you learn how to create the most delicious traditional dishes. It will be even more perfect as everything is taking place in an absolutely rural space like Tra Que village.
Breakfast and you start the day with a visit to Hoi An's colorful market and experience the amazing sights, sounds and aromas which fill the area. Take the opportunity to interact with the merchants as you purchase the ingredients you will use in the cooking lesson. Then cycle to a local farm in Tra Que Village which is well-known for supplying many restaurants and hotels in Hoi An area with fresh herbs and vegetables. Put your cooking ability into action and lunch is served with what you have prepared. Return to your hotel after lunch.
The afternoon is free at leisure. We recommend to pack swim gear with you in the morning and head to An Bang Beach after lunch to enjoy the sea and the sand, soak up some tropical sun before getting back to your Hotel.
Meals: Breakfast, Lunch
Accommodation: There are 3 hotel ranges for your selection, please scroll down.
day 9
HOI AN - FREE AT LEISURE
The day is free at leisure for optional activities, shopping or relaxing at Hoi An's nearby beaches.
Meals: Breakfast
Accommodation: There are 3 hotel ranges for your selection, please scroll down.
Breakfast and morning is free at leisure to enjoy the beach or shopping in Hoi An – a paradise for custom made silk, fashionable clothing and accessories.
This afternoon you will leave Hoi An for your next destination. 
Meals: Breakfast
Cities

Comfort

Superior

Deluxe

Luang Prabang

Sala Prabang

Classic Room

Villa Santi Hotel

Deluxe Room

Satri House

Deluxe Room

Siem Reap

New Riverside Hotel

Superior Room

Saem Siem Reap Hotel

Deluxe Room

Templation Angkor

Junior Suite Room

Hoi An

Kim An Hotel

Deluxe Room

Essence Hoi An Hotel & Spa Hoi An

Deluxe Room

Palm Garden Resort

Deluxe Garden Room
Tour Price Includes:
09 nights' shared Accommodation in twin/double room with daily breakfast at the below indicated room types (see hotel category list below) (check in and check out around noontime)
All transfers and transportation with air-con vehicles 
Local English speaking guides
All entrance fees as program
Daily breakfast and 1 lunch at the Hoi An cooking class
02 bottles of mineral water per person per day on days of transfer and sightseeing only
Tour Price Excludes:
Airfares (international and domestic)
F&B (other than mentioned in the program)
Visas to Laos, Cambodia and Vietnam
Tips at your goodwill
Early check in or late check out
Additional transfer required due to any emergency situation
All not mentioned above