The Colorful Journey of a Wanderlust Woman
A vibrant hideout lies between ground and sea of Gili Trawangan (Lombok, Indonesia) that brings lots of cozy and joyful memories. Bleu Verde Hotel, I am Colors is a perfect place to rest after a tiring day out spotting turtles, observing marine life and enjoying spectacular scenic views offered by the island.
When Linh (Sens Asia's Managing Director) met Natalie (part-time journey lover and full-time owner of the Bleu), she knew that she Nat would be true inspiration for other female travelers out there to go further and make their dreams come true. Today, Nat will share her astonishing stories upon the hotel-making, life-experience and round-the-world travel facts.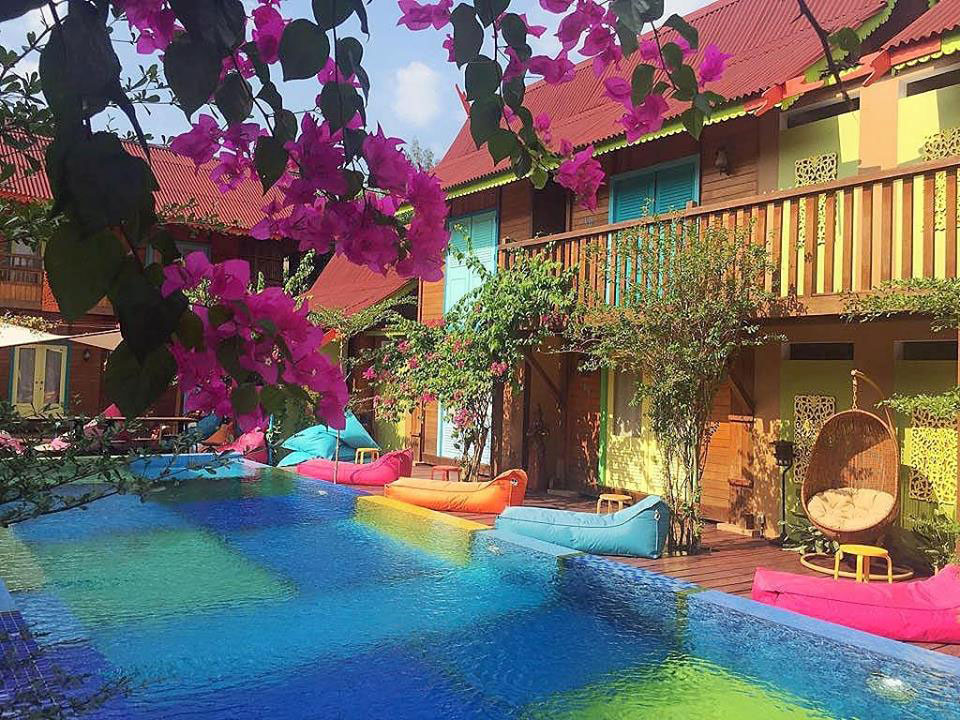 Can you please share with us your story? How did you start a Bleu Verde, I am Colors?
The memory of my paternal Grand Mother's huge house with so many staffs helping around, at gathering time with many family members, of having lovely meals, all resembles when I stay in a hotel every weekend in my own city or in another places/countries, checking-in on Friday and checking-out on Sunday.
Growing up, l always wanted to re-create those fond memories. I love having so many people surrounding me, being ready to help. I love the abundant food, the great scent of new bed sheets. I love the feeling of staying in a big service house. Since 16, l started to travel extensively and spontaneously. l usually stayed in best hotels, paying attention to the service quality rather than to tourist spots.
One day, my sister said: "If you like staying in hotel so much, why don't you live in one?". Just like that, l moved to Kempinski Private Residence in Jakarta, a 5-star Hotel and Apartment. However, during my travel days, I still encountered some unpleasant experiences that motivate me to change something. For example, in Japan, some hotels indicate precise breakfast time, the latest at 8.30 PM which was so difficult for a late riser for me. In other places, some hotels have strict policies to check-in at 5.00 PM and check-out at 10.00 AM. In rural areas, the poor resources leaving water with the stingy smell and some hotels take advantage of that. Some high-end hotels even have no comfortable sofa or proper butler services.
At these time, l wish to have an-almost-perfect hotel for myself, a lazy place which allows everyone to claim your breakfast at any time, where you are free from worrying whether you have spent too much money on overpriced beverages. More important, it should be a hotel where everybody is as friendly and supportive as my Grand Mother's that you would linger to stay longer. 
On a trip to Hong Kong, I found ICON hotel in Kowloon that matches every bit of my expectation. A mini bar in every room that is 3 times bigger than regular hotel fridge, all stock-up with free water, beverages and soft drinks. Plus, on the minibar table they give guests extra free snacks which are refilled daily. At 3.30 PM, free afternoon tea and fingers food are served. At 6.00 PM again, they serve free cocktails with alcohol drinks and more free hot food. I cannot be hungry or thirsty in this hotel and everything is FREE. Amazingly, the rate per night stay is lower than other hotel's in the same class and area.
The lCON has the same vision as mine and encouraged me greatly to build what you are seeing now. In 2014, l celebrated my birthday on this tiny Gili Terawangan Island and I was unhappy about the service here. Water was smelly, the operation was like "You come, you pay, you go" type of service, the food was terrible. Majority of hotel owners have not experienced international standard in running a stay.  But I found the island itself was a dream place for hospitality. What comes must goes around, I bought a land for myself 3 months after my first visit. Voila!! My hotel has opened since late December 2017. 
We have been working on the service step by step. Such a huge progress for the whole team! I hope l can achieve what so called, my dream – a laidback and relaxed hotel with good service.
Is there any myth or inspiration behind the name "Bleu Verde, I am Colors"?
Bleu is blue in French, Verde is green in Spanish. The idea was to create a business on the blue side: a hotel by the water, on the water (boat hotel), up to the sky (airlines) and on the green side: a hotel in the mountain, by the river, within the field.
Moreover, my hotel has various sides of I am Colors, each with different explanation. For instance, Bleu Verde is a statement for "I am sailing" – representing the boat hotel.  Or Blue Verde also means "I am flying" – a symbol of the sky open-to-the-air residence. You can understand it as "I am Green this for the farming", etc.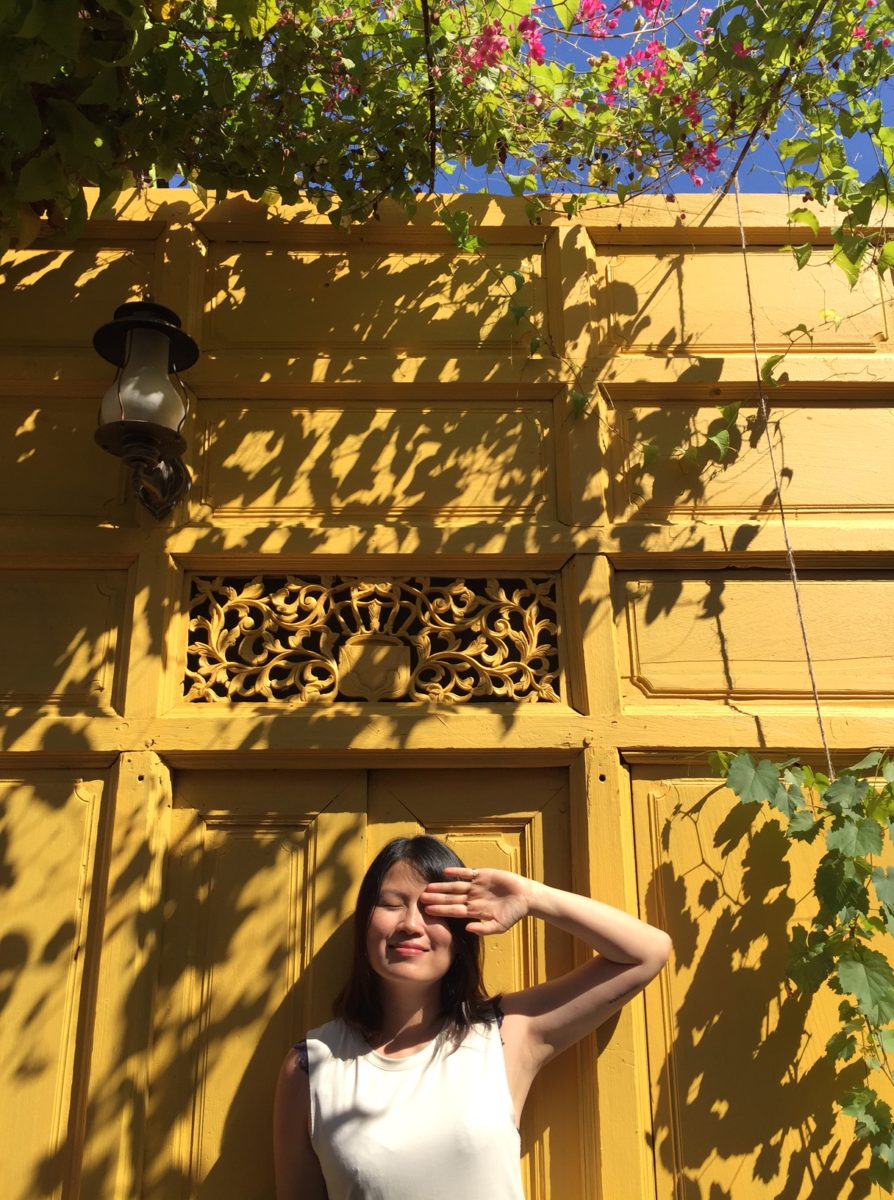 5 words to describe your hotel and its service?
Peaceful – Relaxing – Fun – Pampering – Freedom.
Leisure time at Bleu Verde (Photo: @eatprayloveplay @puterinj, @diinho.oliveira – Instagram)
What do you want travelers to remember after staying at Bleu Verde?
I want them to remember that once they have been treated royalty with all those pampering service, and fully recharged before going back to regular basis.
Unique design and great ambience for a stay
Where are you right now? Where will you be next?
I just returned from Japan. The trip was spontaneous. At first, after reading so many complaints from travellers about services in Japan, I decided to experience them myself starting from the expensive traditional Ryokan. I paid US $1.500/night to taste Japanese essence, but I had received many "No" attitudes. I understand that Japanese are extremely discipline, but the application in hotel and tourism industry is just too much. I personally reckon staying in Ryokan was just like staying in military camp. Service time for rest and relaxation was sharp, stiff and afterhours mean locked entrances. I was angry. Seems like the famous Japanese hospitality would have gone, replaced by commercial attitude.
Though, Japan still inspires me to build a Ryokan-like stay with more relaxing and friendly aspect, less price of course. Last week, I was keen on finding a suitable property for my next plan.
In August, l will take some staffs to Vietnam. Let's have a big dinner together, then fly to Chengdu in China to see Panda sanctuary, Sezhuan, Shangrilla town, from there go to Tibet. (How exciting!)
What is always packed in your regular travel suitcase?
I am easy-going in every way in my life, but somehow I am still organized as l am a Virgo (*smirk). 
Besides, the free-spirit part makes me live boundary-less. I often begin a trip in split seconds. That's why l always bring my passport along 24/7 and pack 3 suitcases in advance, 1 for autumn/winter travel, 1 for spring/ summer visit and 1 for beach journey.
Could you share a secret receive of being happy and stay full of energy to all the women out there?
I almost never worry about anything in life. I see people spend at least 80% of their time making inflexible plans.
Since we were little, we have been taught not to be late to school, not having under-average marks in class, not to fail graduate, not to be unsuccessful, etc. I am not at all religious but a very spiritual person. I believe the universe has its best way for us as everything in our life is going to be okay. In fact, my own process is all that way. No matter how much you force things to embrace a best plan, if it is not the right time, it is not meant to be. Just wait and keep preparing the best to come and take it as you are given a real chance.
My mom suddenly died when l was 13, at her 37. That traumatic experience taught me to cherish every single moment that life offer. When l am with someone, simply for a cup of coffee, l will enjoy that very moment. You never know, you might not see that person anymore. 
Life is too short to be filled with worries and disappointments. I see obstacles as challenging games only. So don't worry and enjoy your life, there are more beautiful things and beautiful people in the world than ugly things and bad people.
Now we will play the A-or-B-question game, let's choose 1 between 2 options that match your concept or idea that appears in your head first and explain why. The topic will revolve around your preferences on INDONESIA.
–       Street food or restaurant recipe? (Please example by 1 favorite Indonesia dish) 
Satay, street food. No restaurant recipe can ever match the original taste of street food satay.
–       Hot or cool weather (Please explain)
Definitely cool weather. Hot made my brain does not work well, just tiring.
–       Beach visit or inland trip? (Please give us 1 of your favorite trip in Indonesia)
Beach, beautiful sailing in Labuan Bajo on phinisi wooden boat.
–       Adventure or leisure travel? (Please explain)
Luxurious adventure because l am easy to get bored, but refused to be a back-packer. Traveling to Amazon or Iceland, do road trip on nice car and stay in luxury hotel. Or sailing on luxury floating hotel to visit pyramids along the Nile River, then camping on desert. All are adventures.
–      Luxurious or flexible budget?
Luxurious. Reasons as above.
–       Traditional entertainment or modern concert? (Please let us know 1 form of entertainment or show name that you like)
Modern concert, il Divo, Sarah Brightman, Cirque du Soleil.
Anything else you would like to share with our readers?
Travel the world with your loved ones. The world is full with beautiful people, beautiful cultures and beautiful food. Everything will enrich your heart.
Be generous, not only moneywise, but also your time, your knowledge, your heart.  Share what you have. Pay it forward so the world will all taste the goodness, not only anger and bitterness.
Don't worry too much, because at the end everything is going to be ok. Always!
——
ABOUT BLEU VERDE, I AM COLORS HOTEL:
A boutique hotel with vibrant palette of colors, Bleu Verde is certain to provide a sense of wonder for everyone. Bleu Verde is designed with more common area, perfect for the gathering of friend and family.
Location: Jalan Ikan Kakap, Gili Trawangan, Lombok, Indonesia. 2-minute walk from the island center.
Update after the earth quake in Lombok August 2018: The hotel and everyone are safe-and-sound. Visitors have been able to come home on Gilis Air by 16 August. The Bleu will soon clean up and get back to business.
Lombok local life
If you are visiting this gorgeous island, don't forget to stop by the Bleu oasis someday!
RECORDED BY LE DOAN