The Festival of Sound and Sight – That Luang Festival in Laos

The vibrant That Luang Festival, which is coming to a close in Laos, is one of the most celebrated and important in the country.
The festival takes place on the twelfth lunar month in November and is named after That Luang stupa, a gilded fortress flanked by two temples and located in Vientiane capital. In Laotian, the name means 'big stupa'. This year 2017, That Luang Festival starts from 2nd and finishes on the 4th of November.
The main part of the festival lasts three days, however, worship for the festival begins one week earlier, when Laotians pray for peace. It's such a unique experience for international travelers if your holiday happened in Vientiane these days.
The first day
The festival begins with a pre-dawn gathering of thousands of pilgrims from Laos and Thailand at That Luang. Participants listen to prayers and sermons chanted by hundreds of monks. If you would like to take part in this chanting ceremony, dressing properly is a must. For onlookers, this is a good chance to relax in the beautiful chanting sound.
The second day
The main part of the festival really starts when Phasat Pheung (wax castles) are taken in a giant procession from Si Muang temple to That Luang stupa. The castles are made from wax, gold paper, money and banana leaf and decorated with flowers.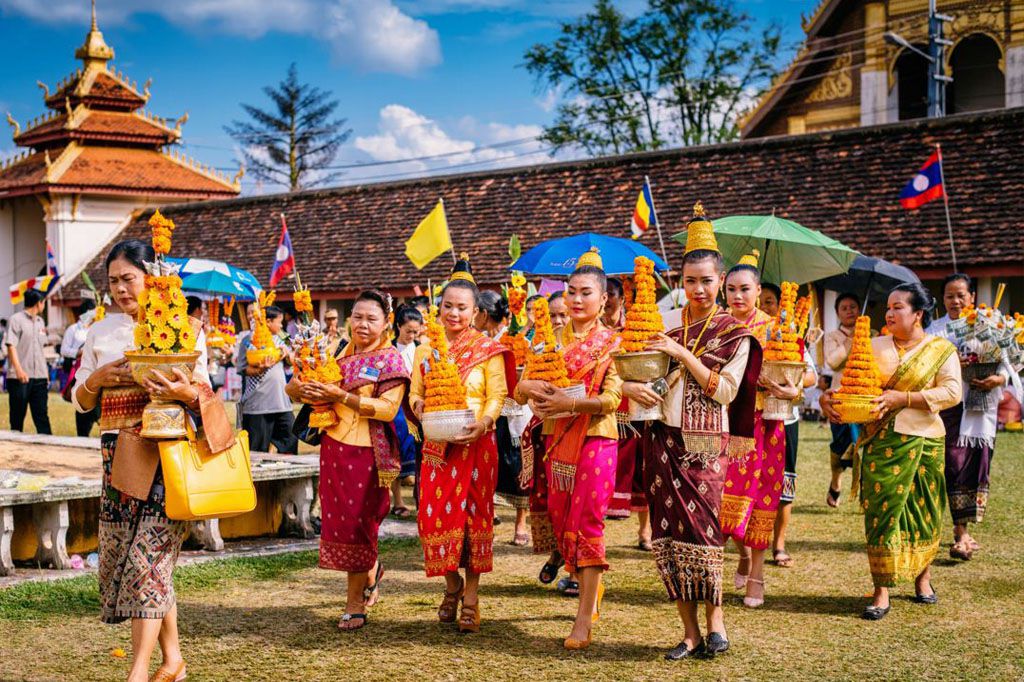 The parade starts at 13:00, in order to secure a great view, we suggest you stay at Patuxay park to get best photo shot.
The third day
The last day of the festival starts from 5 am as thousands of devotees gather in the cloister and around it. On the esplanade for the Takbat, the morning offering to the monks begins. This is such an amazing thing to watch or take part in and understand an ancient tradition of Laos culture.
You can ask the locals to join their mat for this ceremony. Prepare some sticky rice or rice cake to give to the monks and pray for peace or health.
Throughout the festival, parades of jovial Laotians walk the streets and enjoy traditional music, trade fairs, as well as display of fireworks.