Tips You Wish You Knew before Booking your Accommodations in Bali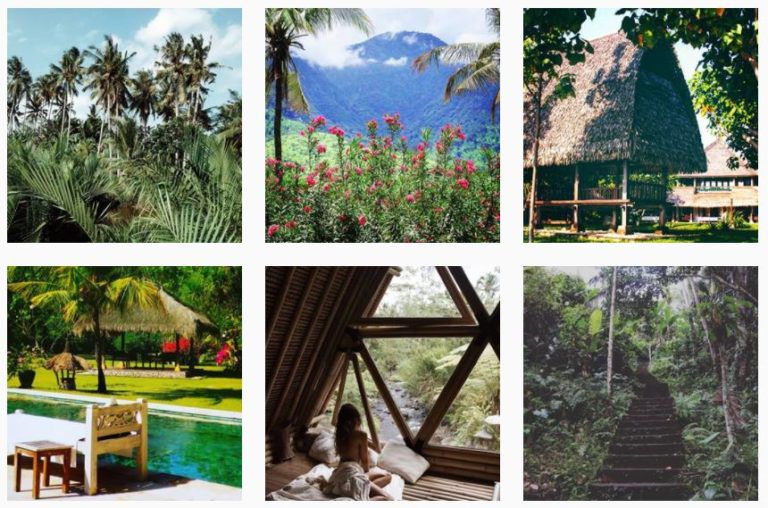 The best season to travel to Bali, Indonesia is close. May, June, and July are the three best months to spend time on the island. Let's soak up the sun and enjoy the sand, plus getting around and get lost among the green.
Your critical question is always come down to "Making my choice between staying in Kuta and Seminyak"?
"Which island should I get away for a few night, Nusa Penida or Gilis":
Bali might be a relatively small island but it is a multi-faceted place and planning your trip to Bali could take as effort as go to a country.
Since everybody is different and all tips and advises from other are just reference. We have put together this information table for you and it's extremely easy to use. You can quickly make up your mind on where is the best places to stay in Bali for you and where you should research further to click and confirm your Hotel reservation.
Information Graphs
1. Sanur: Best for families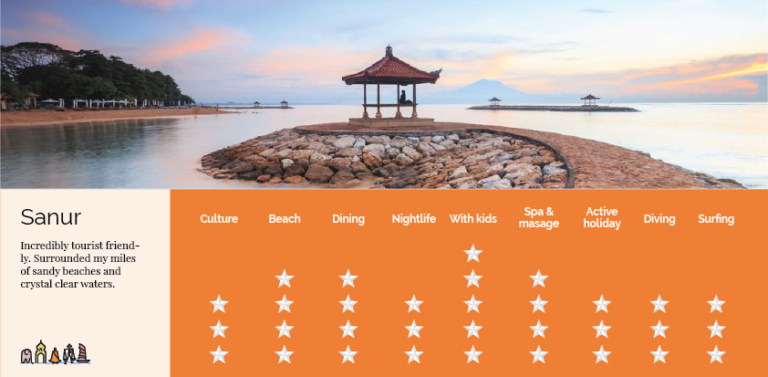 2. Seminyak: Young, Chic and relax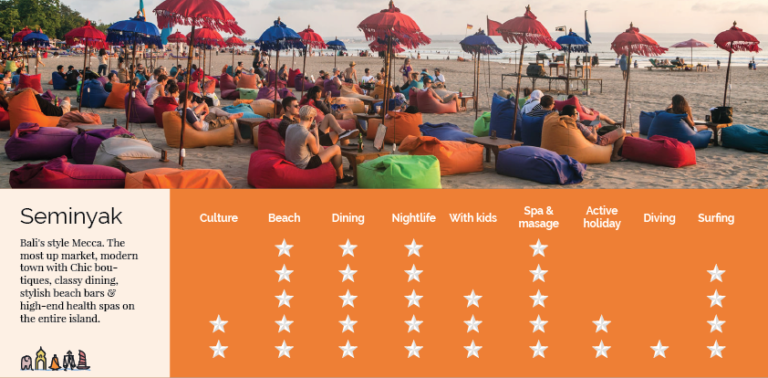 3. Kuta: Party, surf paradise & ready for the crowd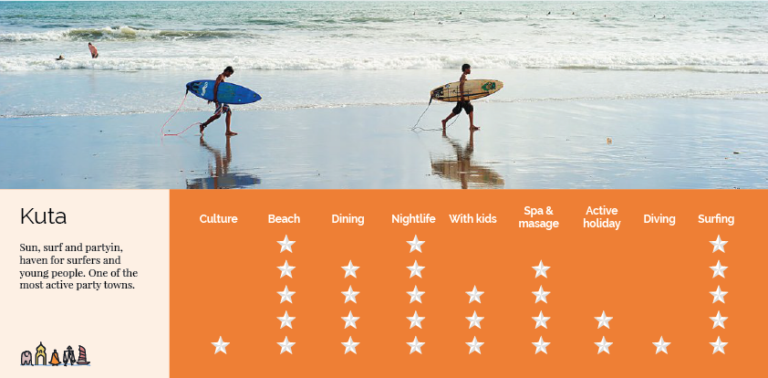 4. Ubud: Of course you will stay in Ubud, who don't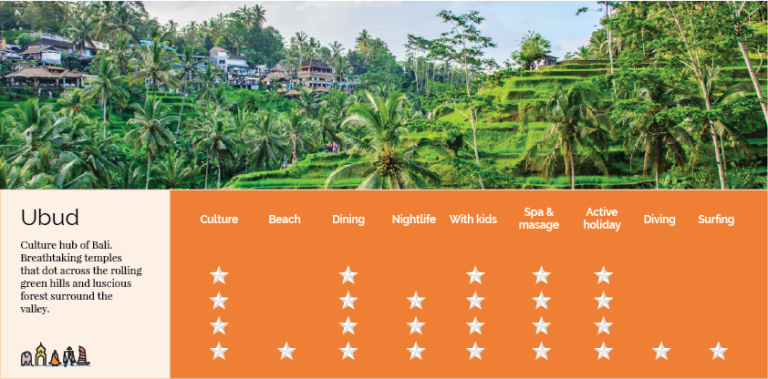 5. Gili Islands: NO cars ! NO motorbikes ! NO worries. Fit for all
Consist of 3 small islands with 2 hours boat trip away. Come for some "get away from Bali": Gili Trawangan, Gili Memo and Gili Air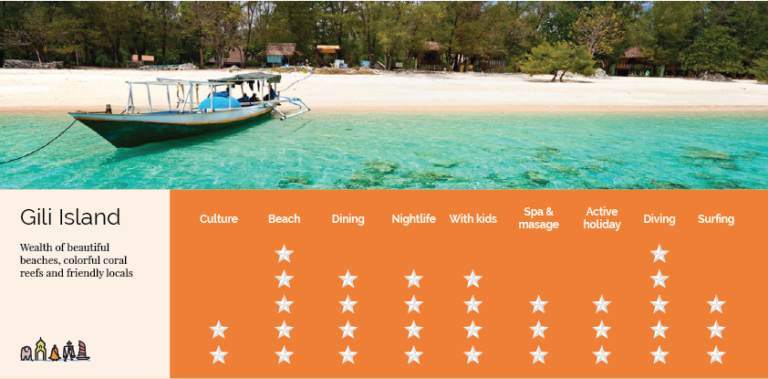 6. Jambaran: Follow the great taste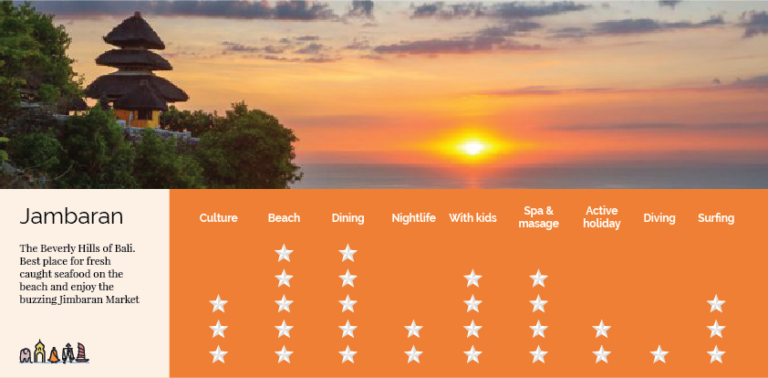 7. Amed: Gear up and Dive down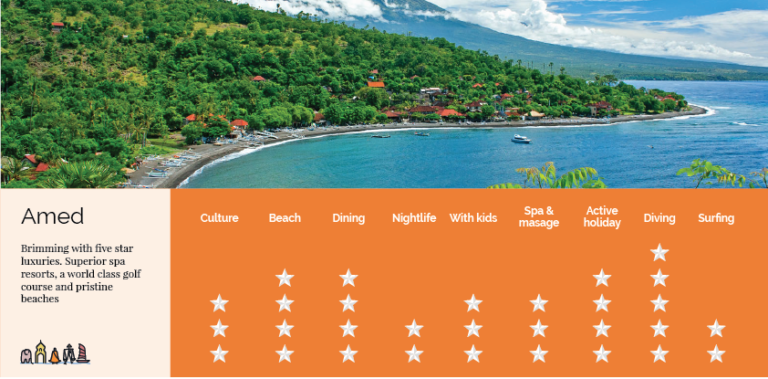 8. Lovina: A calm paradise for couples and friends
9. Nusa Lembogan: Raw nature for the young at heart
A short boat trip from Bali: Nusa Pendina, Nusa Ceningan and Nusa Lembogan are the 3 islands sharing great escape to a untouch and raw nature adventure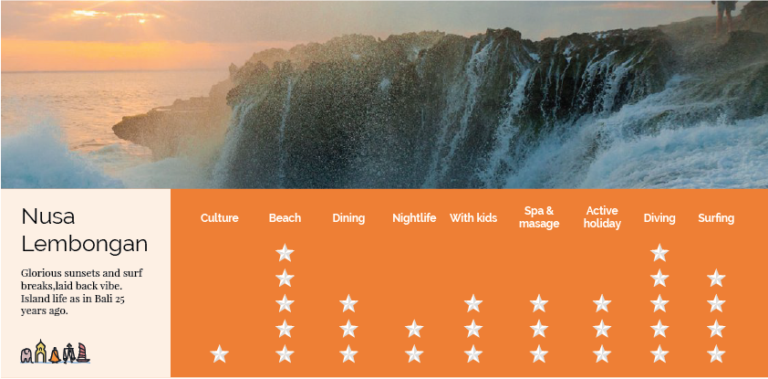 10. Canggu: Another quieter place to go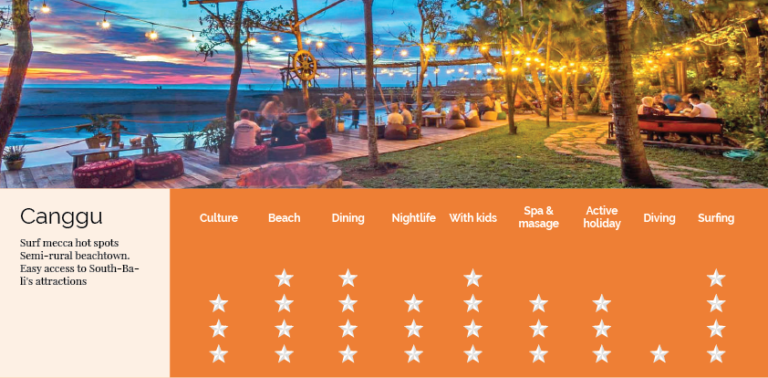 If you need any assistant on your coming trip to Bali and got lost among all the information, contact us at yourtrip@sensasia.com or visit www.sensasia.com for some suggest trip and free consultancy.