5 Wining & Dining Experiences in Bali in Stunning View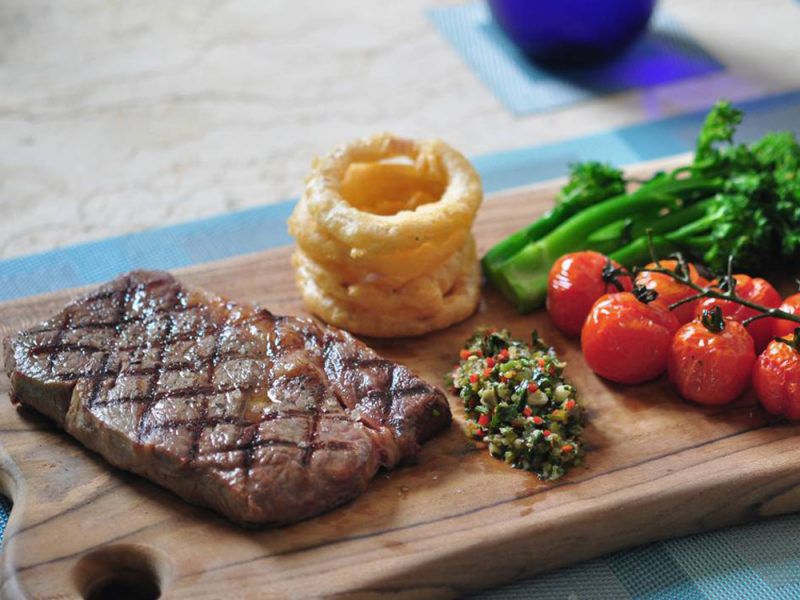 A meal seems to be more delicious with a magnificent view. In Bali, not only can you get to stay in amazing hotels with gorgeous views, but are also spoilt with a wide selection of restaurants overlooking to mesmerizing landscapes, from spectacular sunsets by the cliff's edge to the lush green valley.
River view at Riverside Café
You will love it from the moment you walk into the quiet place built mainly from wood and stone, enhancing the natural vibe that radiated from the nature itself. Watch the sacred Ayung River rush by as you feast on tasty dishes made from fresh ingredients thanks to the farm-to-table approach. The air smells like fresh rain and even the sound is beautiful with water flowing just meters away from you. Combine these with relaxing riverfront dining and the world-class touch of Four Seasons service, you are up for an extravagant experience.
Riverside Café at Four Seasons Resort Bali
Add: Jl. Raya Sayan, Ubud, Bali, Indonesia
Tel: +62 361 977 577
Opening Hours: Lunch: 11:00 – 18:00; Dinner: 19:00 – 22:00
Web: http://www.fourseasons.com/sayan/dining/restaurants/riverside_cafe/

Valley view at The Sayan House
This chic yet homey little restaurant is located just outside the bustling Ubud centre. Overlooking the green valley of Ayung River with sunset on the background, The Sayan House offers you a contemporary fusion between Indonesian, western, and Japanese cuisine, including a Teppanyaki menu. The semi-open air dining area with colorful cushions, chandeliers, and the sound of water from the Japanese Zen garden is a perfect spot for romantic dinner. On a day when you're supposed to feel like you're on top of the world, what could be better than literally being on top of the world by having a meal at The Sayan House?
The Sayan House
Add: Jalan Raya Sayan No. 70, Sayan, Ubud, Bali, Indonesia
Tel: +62 361 479 2592
Opening Hours: Lunch: 12:00 – 15:00; Dinner: 17:00 – 22:00; Café & Bar: 12:00 – 23:00
Web: http://www.thesayanhouse.com/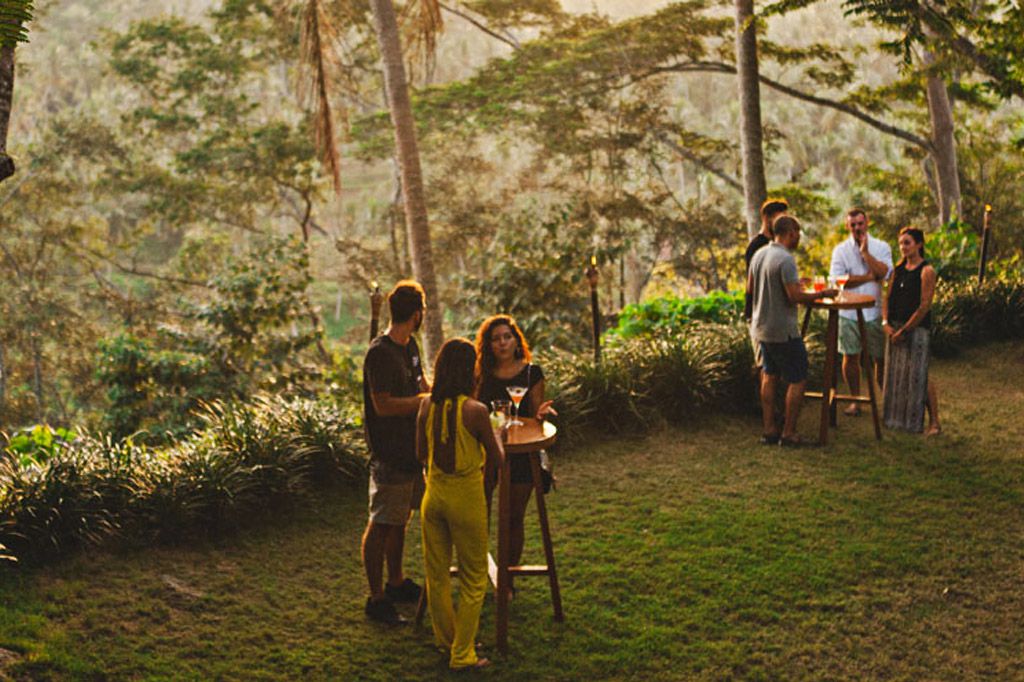 Sea view at Rock Bar
Perched atop distinctive rock formations along Jimbaran's pristine sunset coast, Rock Bar Bali is widely respected as one of the globe's most popular sunset, cocktail and entertainment venues. Taking a minimalist approach to the design, the bar is constructed from natural materials of local stone and timber, wrapped with a stainless steel capped, waist- high glass curtain wall, providing totally uninterrupted views across the sea. Notwithstanding the spectacular location and wonderful views, Rock Bar also distinguishes with its alluring cocktail list including over 40 cocktails, both classics and contemporary creations, with a special focus on martinis. Gazing out over the Indian Ocean as the sun slowly sets in a blaze of colour with refreshing beverage in hand, not many things can be much better than that.
Rock Bar at AYANA Resort and Spa Bali
Add: Ayana Resort, Jl. Karang Mas Sejahtera, Jimbaran, Badung, Bali, Indonesia
Tel: +62 361 702 222
Opening hours: Sunset & Dinner: 16:00 – 1:00 (02.00 on Friday & Saturday), Dinner: 19:00 – 23:00
Web: http://www.ayana.com/en/bali/ayana-resort-and-spa/eat-and-drink/venues/rockbar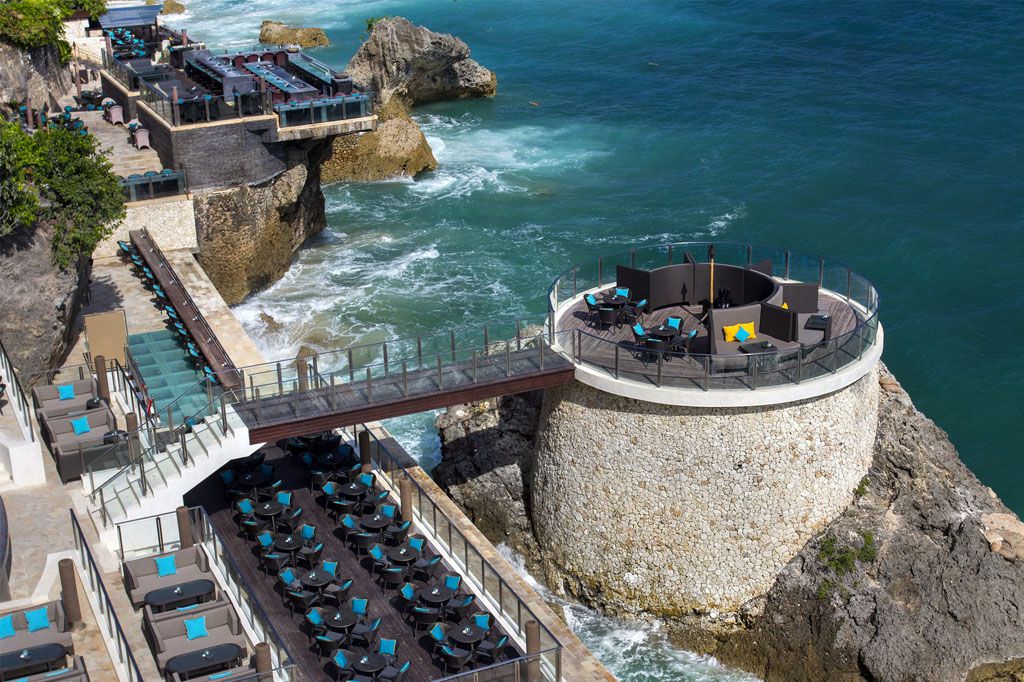 Volcano view at Bali Asli
When a restaurant's name literally translates to 'making something authentically Balinese' you know that you're going to have an amazing dining experience. And that is exactly the case with Bali Asli, a restaurant and cooking school located near the town of Amlapura, Karangasem regency, in the north east of Bali. Food here is served to you on communal platters, the way the King's soldiers of Karangasem would feast during the 17th century. The unique tapestry of flavours is sourced locally, and cooking is done via deliberate, traditional methods, such as using mortar and pestles, steaming baskets and wood-fire mud brick stoves. You won't find a single electrical cooking appliance on the premises. From the restaurant you have an amazing view over the valleys and Bali's highest and most sacred mountain, Mount Agung.
Bali Asli
Add: Jalan Raya Gelumpang, Gelumpang Village, RT.Amlapura, Bali.
Tel: +62 828 9703 0098
Opening hours: Daily 10:00 – 18:00
Web: http://www.baliasli.com.au/
Jungle view at Kepitu Restaurant
The restaurant is set in the center of The Kayon Resort with 180 degrees view over the pool and jungle landscape, offering an ambiance perfect for an iced cold beer or cocktail. The appearance of a cascading waterfall completes this tropical paradise. The lunch menu here is light and healthy, a mixture of sandwich and salads while the evening's menu is mixed Western, Asian and Signature KEPITU menu, served amidst a Balinese Royal setting.
Kepitu Restaurant at The Kayon Resort
Add: Banjur Kepitu, Desa Tagalalang, Ubud, Bali, Indonesia
Tel: +62 361 479 2553
Opening hours: 7:00 – 23:00
Web: http://www.thekayonresort.com/kepitu-restaurant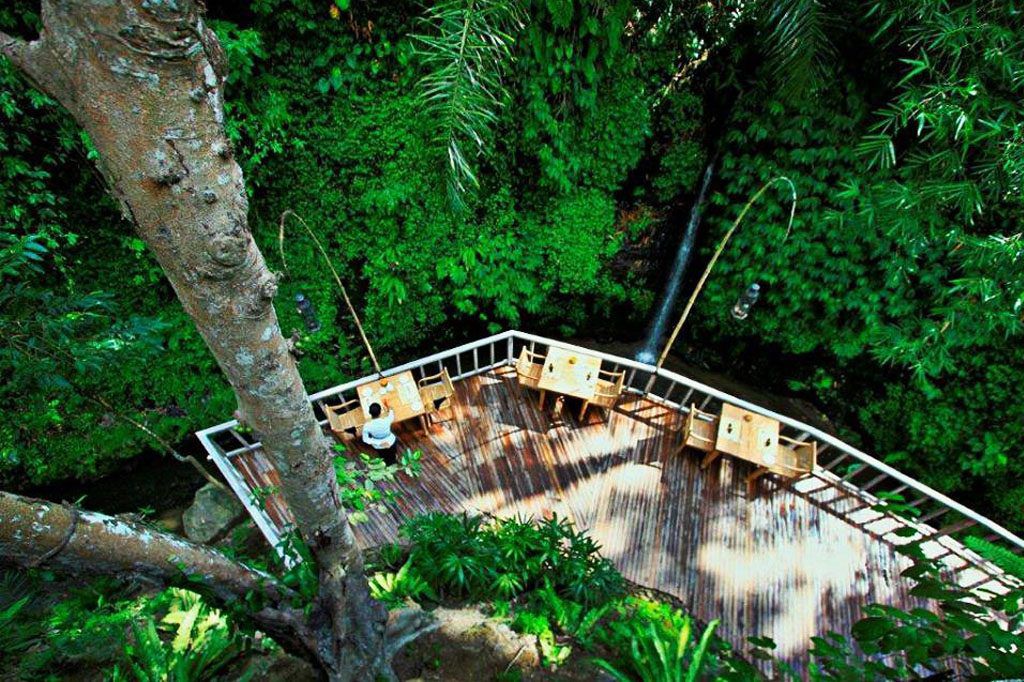 Feeling tempted? Check out our inspiring journeys to Phuket and more trips across 10 Asian countries.
Sens Asia
Read more
Top 5 Must-visit Coffee Shops in Hoi An