Southeast Asia Vespa Adventures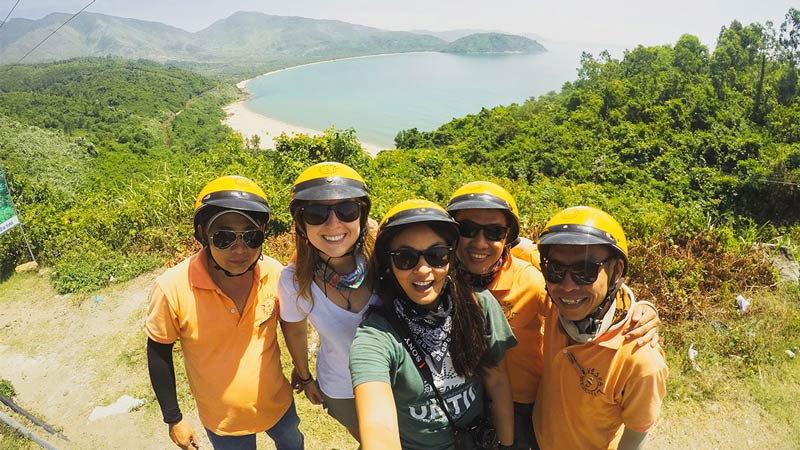 Just imagine yourself sitting behind, being open to the air, driving through the wonderful landscapes of city and countryside; Southeast Asia Vespa adventures are the quickest and loveliest way to boost up that travel passion inside you! Sens Asia Vespa tours operate around iconic Asian destinations, Hanoi, Hoi An, Ho Chi Minh, Mekong Delta, Chiang Mai and Siem Reap, where your trip can be enlightened by authentic local experiences, when you meet up with the people, see ancient and modern traits of a culture blending together, tantalize your taste buds with fantastic flavors of Vietnam, Thailand and Cambodia respectively. Get ready to take the ride of your life!
CAMBODIA: SIEM REAP ADVENTURE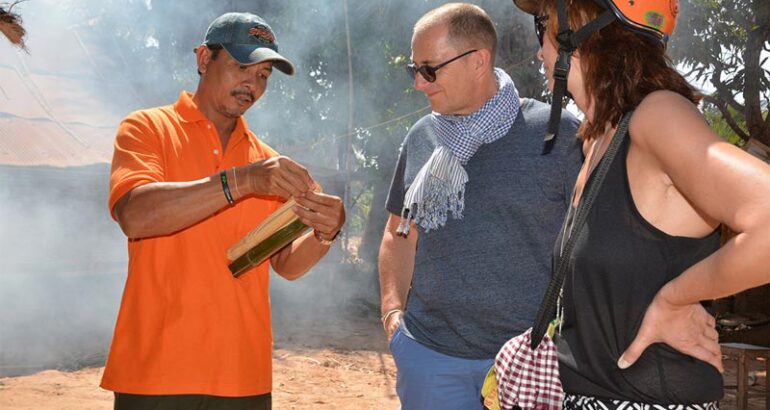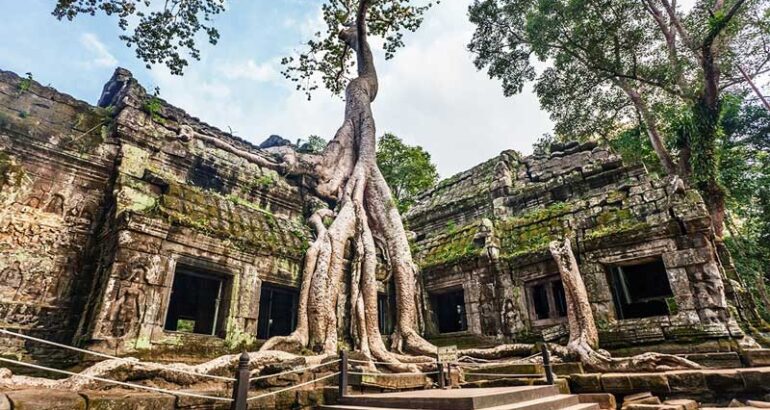 In the northern part of the Cambodia surrounding Siem Reap lie the beautiful ruins of the mighty Khmer empire, including awe-inspiring temple Angkor Wat – the jewel in the country's crown.
To fully explore the magic power of historical events, acclaim your trip during sunset or sunrise. Different from the walking tour, you will be partly separated from the tourist paths, drive through and upon the hidden to seldom used entrance, reaching the nature landscapes whereabouts clear sky, birds, greens and flowers make a warm welcome for your day. Set your camera firmly before getting up to the best photo spots and enjoy some peaceful moments at UNESCO World Heritage Site. When you get the glorified sun moment, let's venture into ancient buildings and hear interesting presentation about the great Khmer dynasty. Take a break with Cambodian dishes, a fusion of rocking Asian elements, where you can either go further to the countryside villages for home-cooked meals or simply, get coffee – morning breakfast or lunch combo at local restaurants. The Vespa adds extra jazzy, leisure vibe to your time as you will wheel by, through and at best of travel trails: the greens, a bit back roads, some uncharted paths and big adventure!
If you have lesser preference to the light, explore Siem Reap after dark is a good idea, getting private time to be a foodie and nightlife mingler. Rock the cocktails at heritage town, swipe into hustle bustle city vendors while accompanying sights, sounds and scents. We suggest 'the more people to join, the more fun to create' for Vespa evening tour.
Duration: From 4.5 hours to 8.5 hours
Best time to start:
In the morning – 4.30 AM
In the afternoon – 1.00 PM
In the evening – 6.00 PM
Insider tips:
Destination highlights include Angkor, Baksei Chamkrong, Angkor Thom, Bayon Temple, Ta Prohm, Tonle Sap Lake
Lesser-known destinations include Phum O village, Kompong Phluk Village, Boat Trip, ancient temples
The Khmer villages are breath-taking even in wet season but followed by lots of boat trip and walking (where Vespa cannot reach). Plan your countryside visits based on seasons and health conditions
We do offer a Vespa tour beyond Angkor reaching off-the-beaten-path destinations and involving some hardcore walking and bumpy rides at the jungle. If you have reasonable level of fitness or health issues, consider whether to join the trip or otherwise
VIETNAM: HANOI, SAIGON & MEKONG DELTA ADVENTURES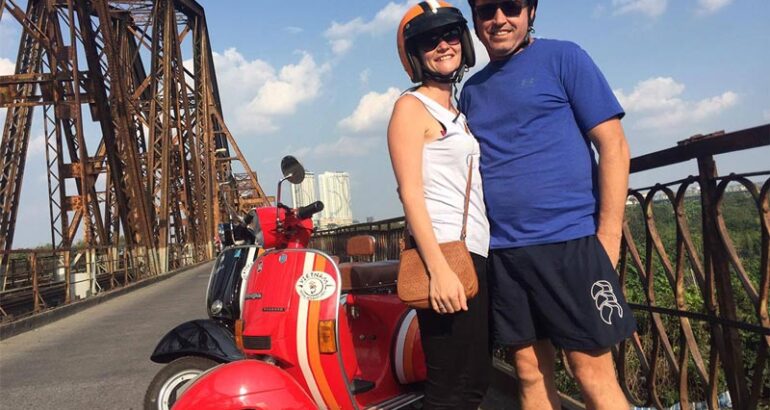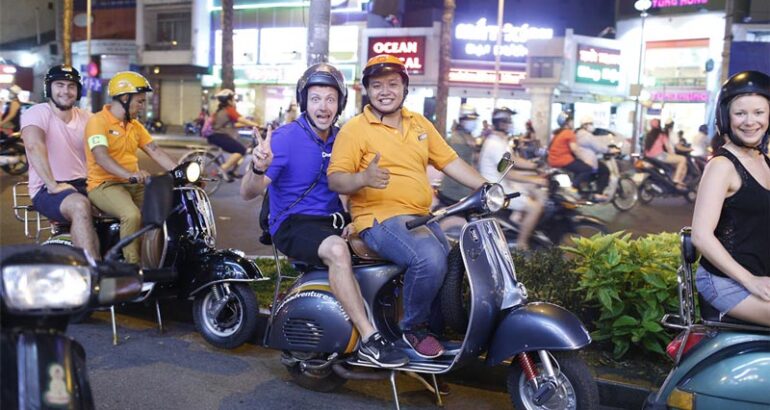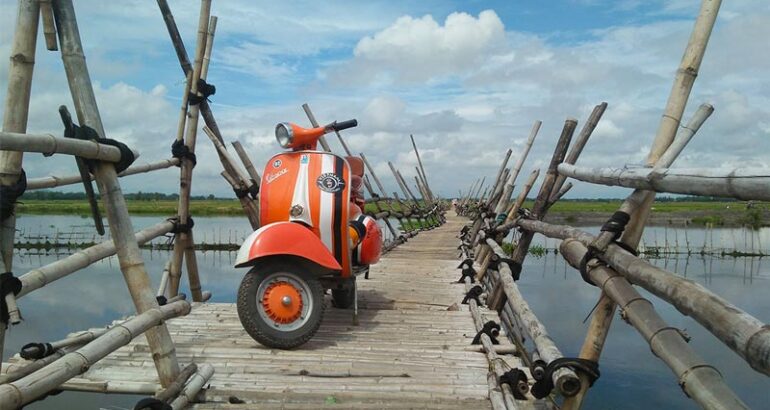 Vietnam is a magical country that has a lot to offer for holiday travelers and adventurers alike. What visitors love when planning a vacation to Vietnam is that they can enjoy the beautiful chaos of cities like Hanoi Saigon (Ho Chi Minh) but the next day can snake through the countryside on the Mekong Delta.
HANOI
If you are off to a beautiful heart, where timeless culture traits meet modern urban life, Hanoi will become your favorite spot touring on the Vespa. The spectacular city spans well from the green villages hidden next to the Red River, stretching to last fascinating bits of the Old Quarters and local residences built from after wars. In Hanoi, at best, start at the morning to watch sunset at Long Bien Bridge – the historical symbol of the city then swing back nature as visiting Co Loa quiet countryside, breeze down to local villages and farms, learning things in rural style, passing numerous valley and discovering the craftsmen's ancient techniques for wooden carving.
Otherwise, stay in capital city line and track down iconic settings as of antique coffee shops, narrow streets, hidden houses and temples, museums, the rising-star Train Street under urban life right on the seam of rustic tracks. One must-see element that creates Hanoi gorgeous painting: the local markets. Whether you are into the greens or city, remember to sample the street food and authentic life happened in these busy places. If early birds are not who you are, try the after dark experience with much amount of Hanoi but less sunlight and intense heat. You will mostly join foodie, sight-seeing as well as showcase performance during the evening time. A fine snacks (actually full meals) of 'bun cha' or 'pho', light wandering ride around the streets then end up with 'A O Show' would be perfect for night owls.
Duration: From 4 to 8 hours
Best time to start:
In the morning – 6.00 AM
In the evening – 6.00 PM
Insider tips:
Countryside highlights include ancient capital of Co Loa, local farm, rice paddies, wood carving village, bamboo artisans' houses
City highlights include Long Bien Bridge and market, the Old Quarter, hidden houses and temples, Train Street
Coffee and local cigarettes are stronger than the regular. Please consider before trying out anything
Sunset/sunrise time in Hanoi can be different between 1 – 2 hours. Please contact us for precise timing
Parking lots in Hanoi can be quite troublesome and traffic is complicated at rush hours so if you are not too confident about your driving skills, partner up with our guide
The Train Street is rocky and unfamiliar routes. Be careful on your feet and dodge as local's signal for incoming trains
SAIGON
Different from Hanoi, Saigon is merely young, refreshing and inspirational in a straightforward way. From the must-see land-marks to off-the-tourist trails, you will take a glimpse into the history and evolution of this city through each street, each sight and each pattern such as the great Asian creation of Gustave Eiffel – Saigon Cathedral and Post Office, the Reunification Palace where peace becomes eternal desire and reality for all Vietnamese people, Chinese District where you find the melting pot and salad bowl of Vietnam. Depending on the time of day you wish to take the tour, enjoy your café time or lunch and wrap up at the local markets.
Vespa does the good vintage feels to Saigon trip as much as it does for nightlife here. Indeed the evening in Ho Chi Minh City seems sleepless, fascinating with lots of scents and colors, especially at entertaining spots. Yet, you will see everything gets a bit of retro and old veil adding to the joy and landscapes. First, warm up at the themed café and local restaurants, where you can have couples glasses of beer before joining the whole city on bustling traffic. Live music, unwinding bars at center districts are up to your options.
Duration: From 4 hours
Best time to start:
In the morning – 8.00 AM
In the evening – 6.30 PM
Insider tips:
Must-see destinations include Saigon Post Office and Cathedral, Reunification Palace, Bird Club in the park (morning tour only), famous historic statue, flower Market, Chinese District, Chinese Temple, Pagoda of 10,000 Buddha's, View of Saigon from District 2
Parking lots in Ho Chi Minh City can be quite troublesome and traffic is complicated at rush hours so if you are not too confident about your driving skills, partner up with our guide
MEKONG DELTA
While in Saigon, detour for a scenic adventure that goes far beyond the concrete jungle of the city and into back roads and red dirt trails of the delta countryside – Mekong Delta.
You will cross dozens of bridges over many river tributaries, ride onto a river ferryboat, cruise through a vibrant riverside market, tour local cottage industries and sample some Vietnamese food and drink specialties. You will feel a world away from the city on this off-road ride.
Experienced and skilled riders can drive their own Vespa or automatic scooter, or you can enjoy the beautiful countryside scenery from the back of a restored classic Vespa.
Duration: From 6 hours
Best time to start: 8.00 AM
Insider tips:
Highlight of Mekong Delta is the local market. Cruising and tasting the vendor food as you want
Bring comfortable shoes as you will walk, go up and down more than in city destinations
Sunglasses and sunscreen are preferable as the weather here is rough
THAILAND: CHIANG MAI ADVENTURE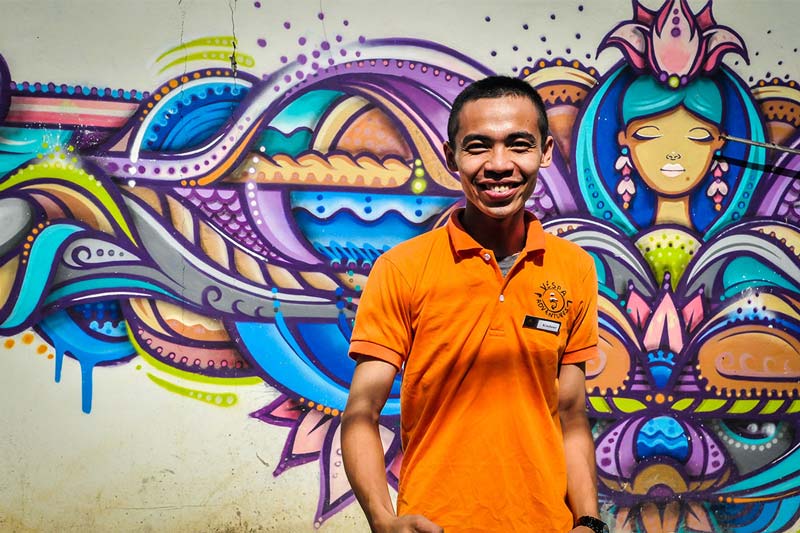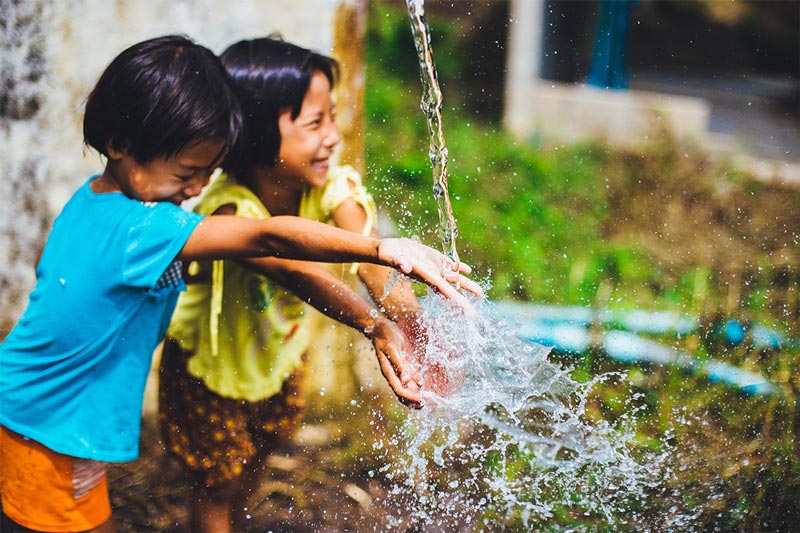 Situated in the North of Thailand, Chiang Mai, is the nation's second most-visited city and travelers' choice newly township paradise, although much smaller size than Bangkok. Surrounded on all 4 sides by an ancient defensive wall and moats, the town center is packed with exotic temple architectures, excellent local restaurants and Asian oriental shopping markets. By Vespa ride, you can easily access to most amazing parts of Thai local life with more rustic, tranquil and age-old colors that belong to Northern Thailand culture.
For an enjoyable Chiang Mai day, you might want to commence early, when morning markets are at peak and forage for some Thai styled Chinese Crullers, locally known as 'Pa Tong Kho'. Remember to pass by street vendors who sell fresh herbs, fruits, flowers for a random photo shoot and sample various street food stalls along the way before continuing on two wheels. Take time with the city icons, the Three Kings Monument, Lanna Folk Art Museum and Huai Tueng Thao Lake, where you can join locals on great historical and memorable stories about this land. Have a typical picnic lunch at a small bamboo boat hut restaurant like a Thai people before heading back in the afternoon.
Duration: From 4 hours
Best time to start:
In the morning – 8.00 AM
In the afternoon (less preferred) – 1.00 PM
Insider tips:
Many Chiang Mai dishes embrace the spicy flavor, fresh herb and peanut toppings. Ask the seller what is in yours, skip the ingredient if you cannot take some and bring up active charcoal
There are hundred wats (temples in Thailand). Ask your guide (if you decide on having one) about their stories
Along the way, you can find some 'hidden gardens' at countryside villages, where interesting craftsmen and artisans live
Sudden rainfall is common in Chiang Mai. Check the forecast in advance if you want to have some sunlight by your side
 –
NOTES FOR FIRST-TIME VESPA TRAVELERS:
All drivers must be aged 18 and over
A valid manual driver's license is a must
If you do not want to drive yourself, there will be a guide available
FOR TOUR EXTENSION OR CUSTOMIZED IDEAS, PLEASE CONTACT SENS ASIA JOURNEY PLANNERS: yourtrip@sensasia.com 
–
BY LE DOAN
Follow us on Social Media