Honeymoon Plans for Newlyweds in Thailand
Honeymoon in Thailand is the latest trend amongst travelers. The land captivates many by its magnificent nature wonders, heavenly pristine beaches, heart-melting cuisines and amazing hospitality. For just-married couples, a fusion journey with relaxation and adventure elements seems rather attractive, fun and fascinating than a laid-back resort-all-along-the-way vacation.
What to do in this tropical paradise? Sens Asia would like to offer you 5 charming activities to fill-in your newlywed bucket list!
STAY RELAXED AND FEEL THE UNWIND ATMOSPHERE IN THE KOHS (THAI ISLANDS)
Away from the hustle and bustle cities, let's head to the Andaman Islands to indulge in the tranquil world of Thai beaches, take part in outdoor activities from dusk till dawn and embrace that post-wedding memories of you two. If you and your partner are interested in something daring and exotic, accept a challenging bungee-jumping session or sky-diving between scenic island views. Or more private and uncharted, take a deep breath and snorkel under the sea to see wonderful marine life blooming inside turquoise water habita­t. After sunset, enjoy a glass of wine and walk on the white sand to fall in the limelight and lay down with stunning breezy atmosphere at night.
BEST TIME TO VISIT: January to September
THINGS TO DO:
Sunbathe and chill at Koh Samui's beaches all day
Tour the famous Ang Thong Marine Park (near Koh Samui) on a traditional boat
Discover ancient caves and famous film-set locations along Koh Phi Phi
Snorkel in the pristine waters of Koh Lipe
Wake up early and experience the life of a fisherman in Koh Tao
CHASE THE SUN AT WAT ARUN IN BANGKOK
For honeymooners, Wat Arun might be great witness for the love of you two. Although under name Temple of the Dawn, Wat Arun display its marvelous beauty during sunset, as visitors usually come here on board, floating along the Chao Phraya River or in other words, chasing after the sun falling over the wat. It is a myth that couples staying together from the moment of dawn (as referred to this temple) till dusk and make a wish atop will stay at peace and together forever.
After the visit, many choose to stay later, having a drink and dinner at a local place nearby to observe the night beauty of Wat Arun before ending their day in Bangkok.
TIPS:
From Sapphan Taksin boat pier, you can take a river boat that stops at pier 8. From here, you can hire a shuttle boat transiting between two sides of the river for 3 baht
Take at least 2 hours for this visit, 1 hour for cruising and sunset watching, 1 hour for Wat Arun. This is one of the most scenic destinations in Bangkok
Dress properly before entering the sacred place (no see-through, short or sleeveless pieces or mini-skirts)
WAT ARUN:
Opening Hours: 08.00 AM – 5.30 PM
Location: West side of Chao Praya River (opposite Tha Thien Pier)
Entrance fee: Around 100 Baht
DINE UNDER THE MOONLIGHT OF HUAHIN
From a quiet fishing village, Hua Hin has recently been acknowledged as an alluring destination in Thailand and a favorable honeymoon retreat for couples. Resided nearby the vast seashores and tropical jungles, the town gives out a perfect nature vibe, yet somehow the exhilarating man-made attraction feeling can be sensed with. Here, nature lovers and explorers might seek out one of the largest waterfalls in Thailand – the Pala-U waterfall and explore the mystical Phraya Nakhon cave, while urban commoners can experience an Asian Venice within Hua Hin. One of the best experiences in Hua Hin that newlyweds have referred to when in Hua Hin must definitely be dining under the moonlight. A lovely is neatly set up near the beach, decorated by romantic lanterns, roses and scented candles, waiting for the love-birds to dwell in and marvel the fantastic night of Hua Hin.
BEST TIME TO VISIT: March – May
THINGS TO DO:
Hike along Pala-U Waterfall
Have a fun-filled day at Vana Nava Hua Hin Water Jungle
Visit Plearn Wan Shopping Village
See the mystical Phraya Nakhon Cave
Buy handmade crafts for so souvenirs at Cicada Market
PAMPER THE ELEPHANT BUDDIES IN CHIANG RAI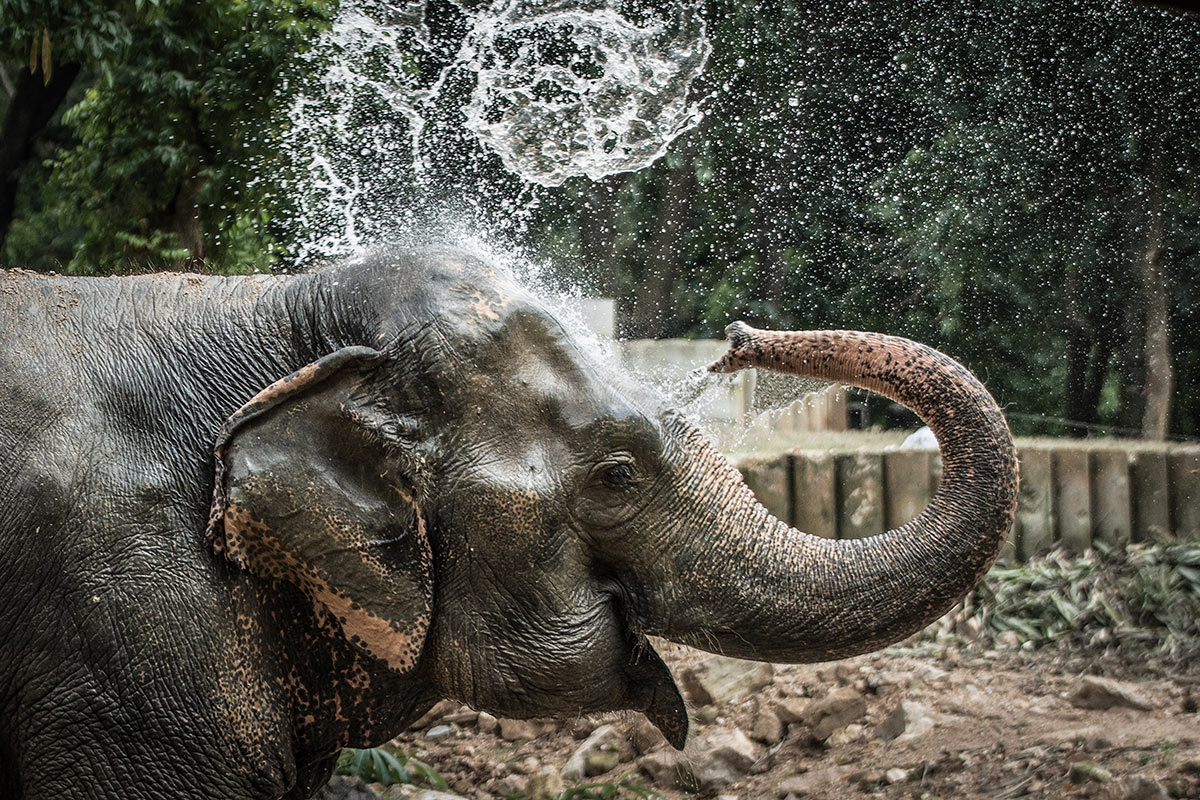 Departing from Chiang Mai on a local truck, you and your partner will pass by the most ancient villages of Thailand, where temples and local life blend as one picturesque view. For a day long, honeymooners will actually do some good deeds to the environment and wildlife, taking care of these little buddies and trees in the nature preservation center. Who would not like to see parental moments of your partner at pampering, petting and caring for other species?
On the way back, a little privacy with off-the-beaten-track trekking through forest trail can add some adventurous and romantic to couple's itinerary. No wifi, no internet, no bustling city noises, just you and your husband and wife for a day.
TRANSPORATION: Bus, on foot
TIPS:
Lunch in the forest can be nice for a married date
Baby elephants are actually sensitive, just ask your guide carefully before caring for them
Do not feed them with weird food/substance as it will result in digestion matters
Wear comfortable shoes and bring along sunscreen, sunglasses, anti-mosquito spray just in case
JOIN YIPENG, THE LANTERN FESTIVAL AND LOY KRATHONG, THE LIGHT FESTIVAL IN THAILAND (EXCLUSIVELY IN NOVEMBER)
Yipeng – The Lantern Festival in Chiang Mai, Thailand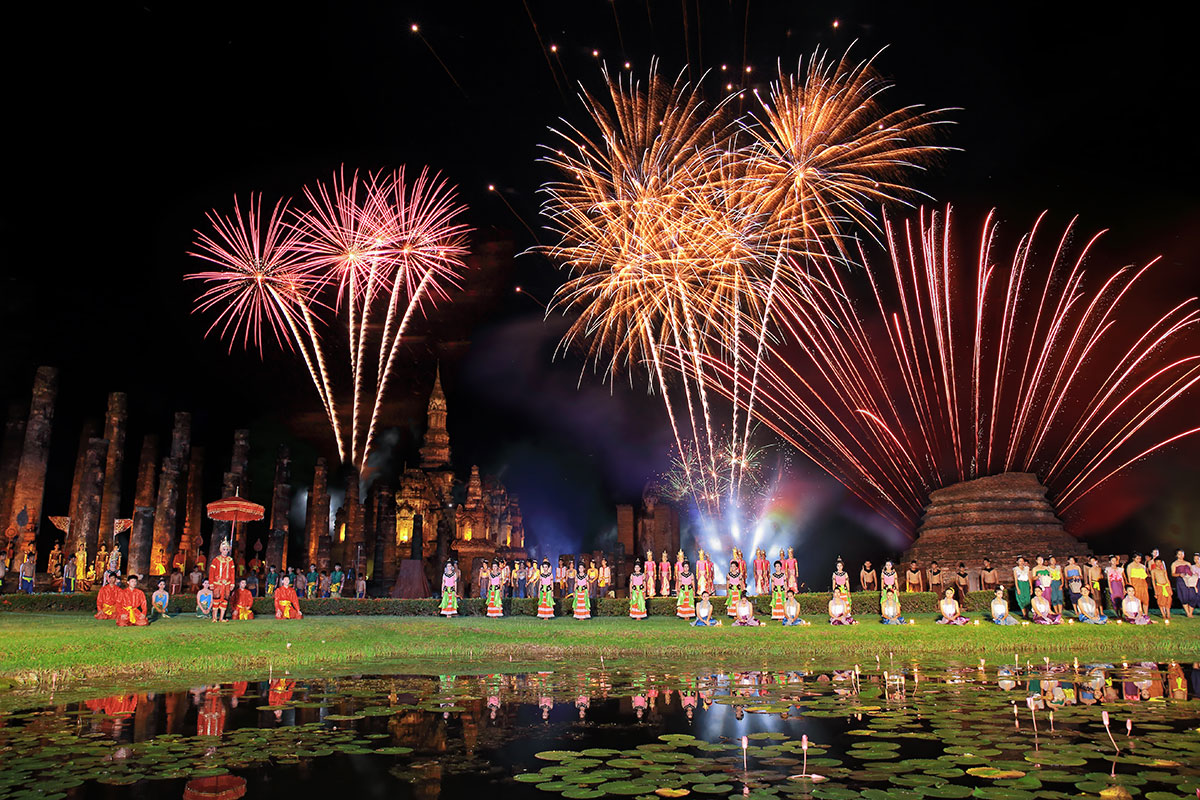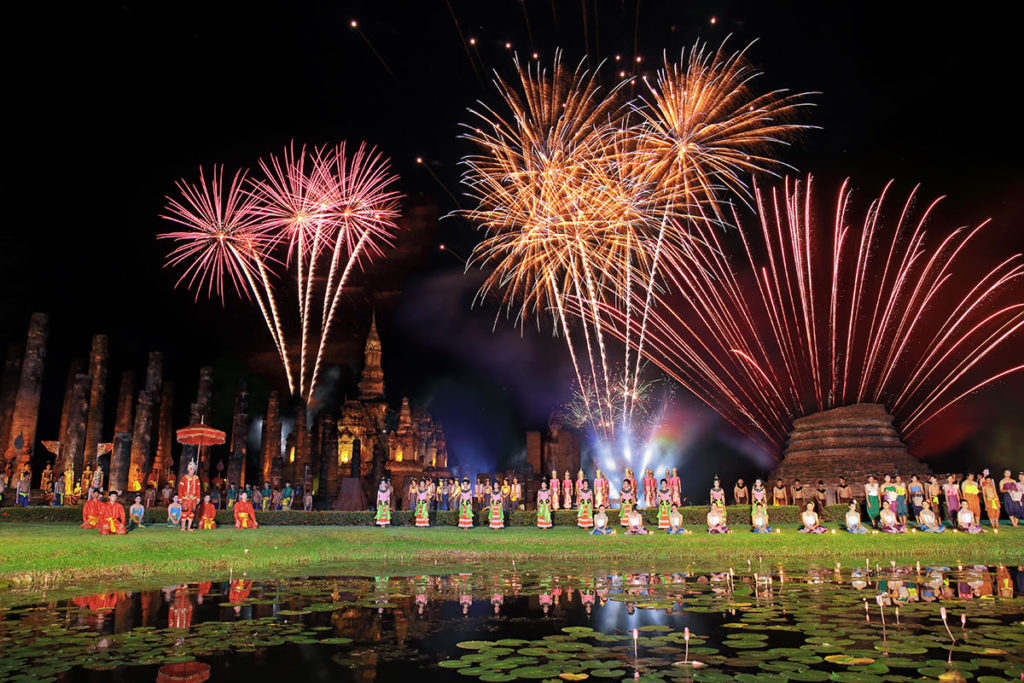 Loy Krathong firework in Wat Mahathat, Sukhothai Historical Park
Yipeng, a divine local festival is held yearly, when swarms of candle-lit paper lanterns are released into the sky. Each lantern holds a different meaning, decorate with good luck wishes and mindful prays enfolded by the prayers. Married couples from all over the country or from foreign nations also visit Chiang Mai during this time to join the festival, treasure their wonderful time with partner and send out some aspirations for future.
The Chiang Mai Lantern Festival plays spectacular role trubuting to Loy Krathong, the Floating Lantern Festival in Thailand, where small pieces of banana-tree trunk filled with candles, incense and flowers are put onto Ping River water surface. The "krathong" will float along the river as a symbol of forgiveness and letting go in Buddhism.
WHEN AND WHERE TO JOIN YIPENG AND LOY KRATHONG:
While Yipeng is held in Chiang Mai only, Loy Krathong is held in all over Thailand
The festivals are usually celebrated on full-moon evening, 12th month in the traditional Thai Lunar calendar. Annually, the time being varies from November 1 to around 28. The festival time for Yipeng and Loy Krathong this year is from November 21 – 23, 2018
FESTIVAL TIPS:
Best time to arrive: Around 3.00 – 4.00 PM. Later on, there is a chance that you will be out of sight from your partner amongst a flux of people
Upon arrival, GET A CANDLE/LANTERN as soon as possible
Bring a lighter to lit the candle and a pen/marker to write down your wishes
Do not buy lanterns from outside vendors. The official one costs around 100 baht (around US $3)
BY LE DOAN