Enchanting Escape in the Jungles at Keemala, Phuket, Thailand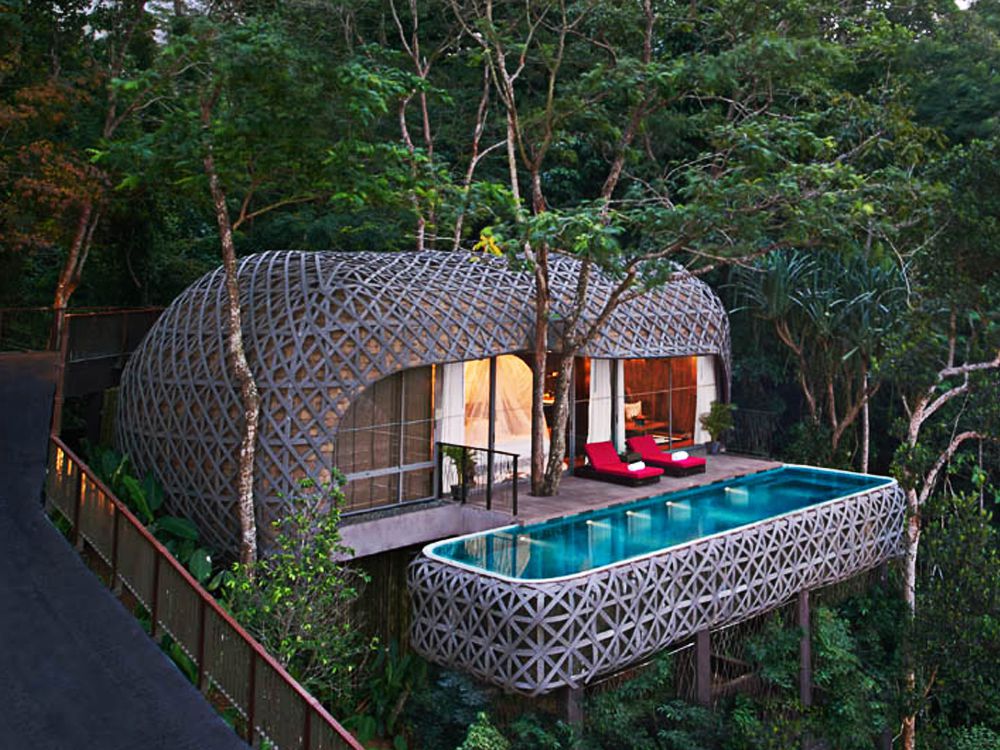 Phuket is more than just a desirable destination in Thailand; it's a world famous, international hot spot with mass appeal. But this also is a downside for people who prefer to stay away from the crowd. Keemala Resort, then, is a satisfactory answer for those who are looking for the best of both worlds: staying in Phuket and staying in tranquility.
Hidden amongst the dense trees of Phuket, Keemala is not too far away from the bustling life, the parties and the hordes of Patong beach, yet far enough for a serene, relaxing getaway. Unlike your typical Phuket hotel, Keemala is not a seaside resort but a uniquely designed rainforest retreat built which allows its guests to step into a fantastical world, with sea views, streams, waterfalls and indigenous trees.
The realization of a legend
Keemala's design concept is based on the indigenous legend of four ancient Phuket clans, the 'Pa-ta-Pea' (Earth), 'Khon-Jorn' (Wanderers), 'We-Ha' (Sky), and 'Rung-Nok' (Nest) clans. Each aspect of the property – from the architecture, décor, cuisine, activities to spa treatments link back to the key attributes of these four clans.
The resort is a surreal mixture of cottages, villas and houses (private pools included) with a very contemporary design scattered amongst the trees. Each level, from the ground to the treetops, takes after a clan from the legend. Ground-level Clay Cottages belong to the people of the Earth Clan: fishermen, farmers and carpenters who believed in living close to the earth, while Tent Villas covered with breezy white tarps were inspired by the adventurous spirit of the traders and explorers of the Wanderers Clan.
Further up are the two most impressive structures: the Sky Clan's Tree Houses and the Bird's Nest Villas. The Sky Clan's Tree Houses are teardrop-shaped baubles made out of rattan with a very light design that includes suspended seating, a semi-circular plunge pool and an airy staircase connecting the bedroom to the main level. Bird's Nest villas are the most luxurious available at Keemala and are made out of a material woven into an abstracted interpretation of a nest.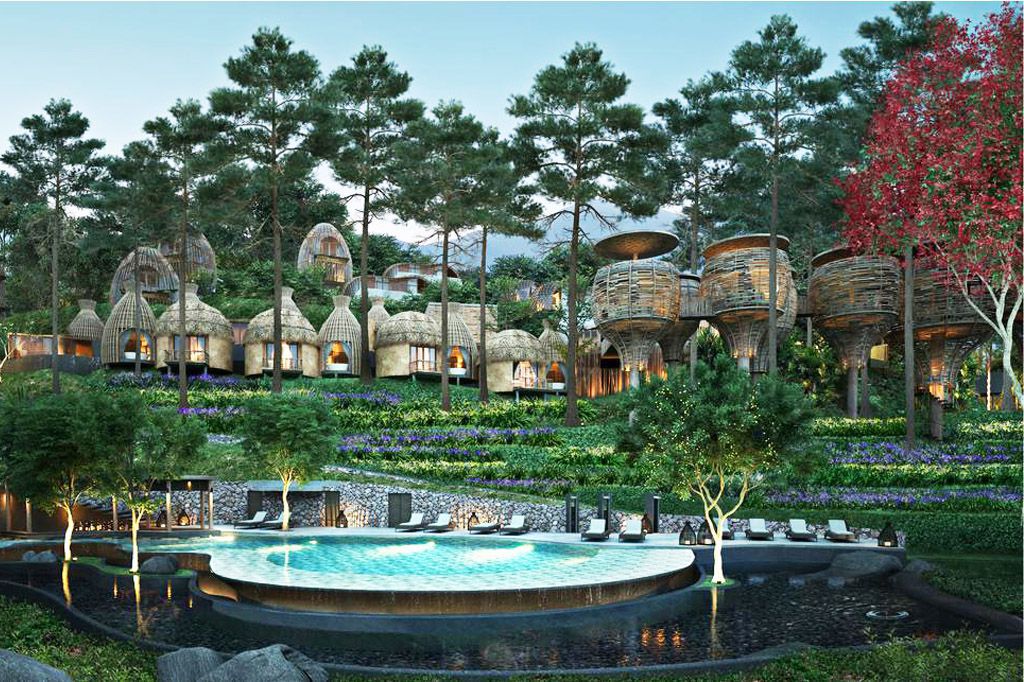 A Focus on Wellness
With a strong focus on nature and wellness, the resort is ideal for guests who appreciate nature and relaxation. Depending on what you are looking to achieve, the hotel offers personalized retreat packages for purifying, energizing, unwinding or rejuvenating through a series of spa treatments, fitness routines, meditation sessions and take-home wellness plans.
Its Mala Spa has eight treatment rooms in the shape of pods raised above the forest floor with private bathrooms, steam rooms, treatment rooms and beautiful outdoor stone bathtubs. The products used are all made from organic ingredients.
A fitness gym and comprehensive schedule of activities are offered, including Yoga, Muay Thai, meditation, movement therapy, nature walks, outdoor TRX, aqua fitness, forest Tai Chi and special classes/talks by visiting wellness consultants.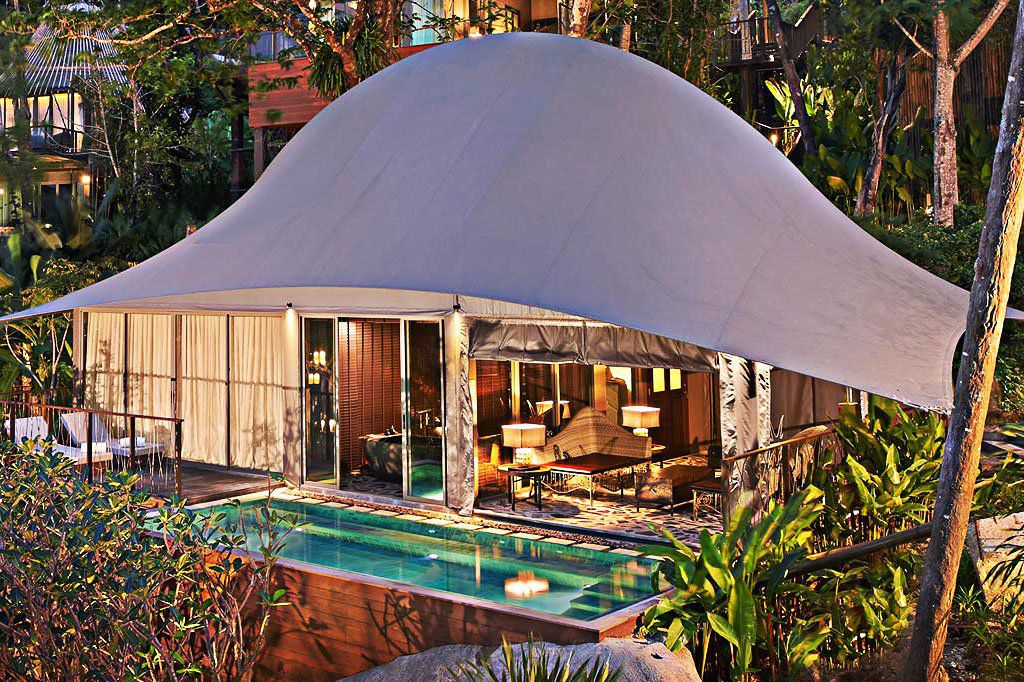 Dining at Keemala
The food at Keemala is not traditional Thai, but a modern blend of eastern and western influences. The 'Healthy Living' menu emphasis on eating low-calorie food that is prepared out of organic, farm-grown ingredients, using slow cooking methods. The culinary creations are truly a feast for your senses.
Address: Keemala Phuket, 10/88 Moo 6, Nakasud Road, Kamala, Kathu District, Phuket, Thailand
Contact: +66 (0) 76 358 777
Website: www.keemala.com
Feeling tempted? Check out our inspiring journeys to Phuket and more trips across 10 Asian countries.
Sens Asia
Read more