Travel Guide: What Should I Pack for Thailand Trip?
Here is an essential packing list for what to pack, what not to pack, required vaccines and locals tips for Thailand trip, inspired by Sens Asia's travel gurus. Ready? Set. Go!
What should I pack for Thailand trip? 5 MUST HAVE LIST
1. Active charcoal
Indeed, Thailand is a real foodie paradise, with lots of yummy dishes and unique beverages. After few food tours around Thai hotspots, your stomach might start getting upset, taking in all delicious specialties. Then, active charcoal, famous around exotic Asia destinations in general and Thailand in particular, will help you ease the situation by absorbing whatever toxins in your system and stopping the dreaded diarrhea as a consequence of eating contaminated food. Active charcoal can purchase in Pharmacy in Thailand as well look for Watson, Boots, Bangkok Pharmacy.
2. International adapter
The international adapter would be really handy if you usually travel abroad. In Thailand, the outlets are a bit different and might not fit for your charger. If you do not want your device batteries to get exhausted or gone dead after landing, bring along an international adapter.
3. Comfy slip-on shoes
Great suggestion for 30+ lady
Thailand, the Southeast Asia's tropical spotlight, is of course, extremely hot and humid, especially during summer. Joining the tour, you will definitely walk around a lot under the heat and brilliant sunlight, not to mention taking them on and off when entering temples. To avoid getting that annoying blister from the strong sun or long tiresome walk, bring along a pair of comfy slip-on. If you are a light traveler, at least have an extra pair of sandals for the beach time or buy some flip-flops at destination shopping area.
4. Quick dry clothes and waterproof items
In Thailand, you can easily buy affordable pieces fitting to the weather changes upon arrival so at best, just pack light as you wish. Here are some basic items you should bring along from home:
A rain jacket or portable umbrella 
3 – 4 t-shirts or tank tops
A long sleeved shirt
1 scarf or sarong (beach cloth)
2 – 3 pairs of thigh-length shorts or loose pants
2 skirts + 1 dress
a hat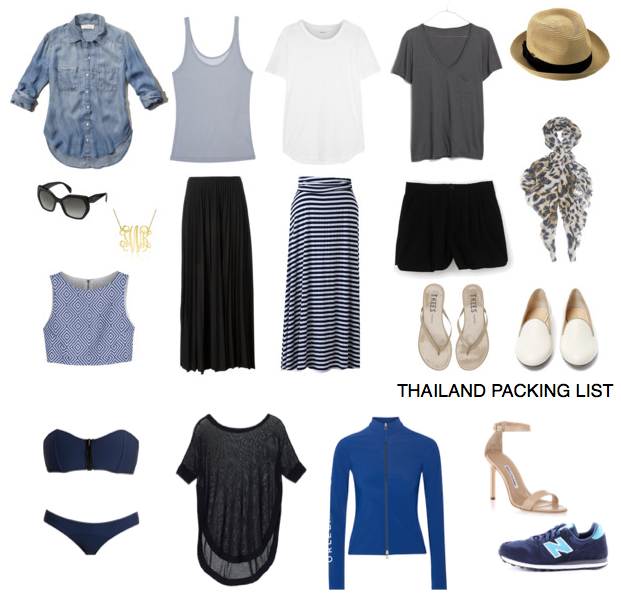 The handy one in your luggage should be the Sarong, a large beach cloth to cover your lower part when visiting sacred temples, where usually request long sleeves and long pants and to protect your skin from the sun when you are at the beach (or sensitive cases).
If you travel with kids, buy uniform elephant pants in Thailand market! They are really cheap, comfortable, easy to dry and capable of preventing mosquito and harsh sunlight.
5. A good daypack
In Thailand, you will be out, travel between destinations a lot. A roomy daypack to bring along all essentials should do the magic trick. Besides, you might need extra space for the shopping goods after visiting the local markets, traditional villages or handicraft boutiques. Make sure to keep sharp eyes on your belongings and at crowded places or public transportations, move the daypack to your front as holding a baby. For beach time, a foldable bag or tote is perfect!
What should I pack for Thailand trip? 4 NICE TO HAVE LIST
Not as assential as Must have, but here arer 4 things are nice to have when you travel to Thailand
6. A dry bag for your phone and camera
The humid weather, sudden rain and huge splash from the sea in Thailand are unfriendly to digital items.  Bring along a dry bag, maybe with dividers for separate space to protect the electric inputs. There are transparent waterproof bag and phone case selling around the market but the quality is random so do not risk your valued stuffs by purchasing those.
7. Passport and money belt
Passport is a must so carry it safely even going around the town. The money belt is one of the best ways to keep all must-haves along, including passport. Always remember to zip the belt bag closed and put it aside, where you can see and hold it well.
Taxi and tuktuk in Bangkok and other towns in Thailand require proper bargain skills as you will need to request the meter go on and pay meter by meter (not many taxi drivers are happy abour that). So Grab should be a more decent solution – Remember to set up everything on your phone beforehand. Sky train is another great trip engagement as you can stay away from daily traffic hustle, especially at rush hours.
9. Anti-insect spray or cream
If mosquitos favor you and your kids, prepare an anti-insect spray or cream to apply in advance. Prepare well for the first stay at new place, at night walk or when enjoying street food stalls. Ofcourse you can also buy this upon arrival.
* MUST HAVE: TRAVEL INSURANCE
It is not a thing to pack but Travel Insurance is essential for your trip to Thailand. Most of you may already purchase one along with airline tickets but it will not cover the whole trip. In fact, it will help you to get immediate support for luggage missing, have some serious health emergency or unexpected circumstances. World Nomads insurance is quite a common choice and easy to buy.
What should I NOT pack when travel to Thailand?
If you are a traditional book reader, then bring something you almost finish and be ready for some good exchanges in Thailand, in hotels and at cafés. Also, you can buy all the best books and freshly released publications here so save your space.
Expensive jewelries or loads of cash
Leave your heavy accessories home and expose your skin to the warm sun instead of expensive jewelries for robbers. ATMs are everywhere and paying with cards is a common practice so you do not need to cash up regularly when in Thailand.
Your thick Levis jeans and skinny tights can stay home. They are surely heavy and inconvenient as you might have to suffer from the extreme heat and the humidity of Thailand's tropical weather. We get the love for jeans (all our team wear jeans so often but we only suggest light denim, shorts or skirts here!)
Sun lotion and toiletries (shampoo, soap, shaving cream, tooth paste, etc)
The service in Thailand is upgrading and decent in quality, even with homestays and hosted houses so worry not upon those personal items. The supply at hotel bathrooms would provide you well. Otherwise, you can always find any at a convenience store or supermarket as of Family Mart, Boots and Watsons, 7eleven and so on. For the skincare, we suggest you to try the nature products from local suppliers, for instance, coconut oil suntan, herbal toothpaste, fruity scented soap and honey body cream.
What vaccines do I need to take when travelling to Thailand?
Travelers coming to Thailand, especially parents and children, should be updated upon the vaccination list. Here are the basic shots required for a safe and healthy journey:
Hepatitis A
Hepatitis B. MMR (measles-mumps-rubella)
Tdap (tetanus-diphtheria-pertussis)
Polio
Chicken pox
Most Westerners have already had the shots above but for significant outdoor activities, extensive trips to remote areas or direct contact with wildlife animals, we suggest taking typhoid and rabies vaccines as well. The Centers for Disease Control (CDC) have frequent update list so you can check in advance before you go.
What should I keep on top of my mind when travel to Thailand?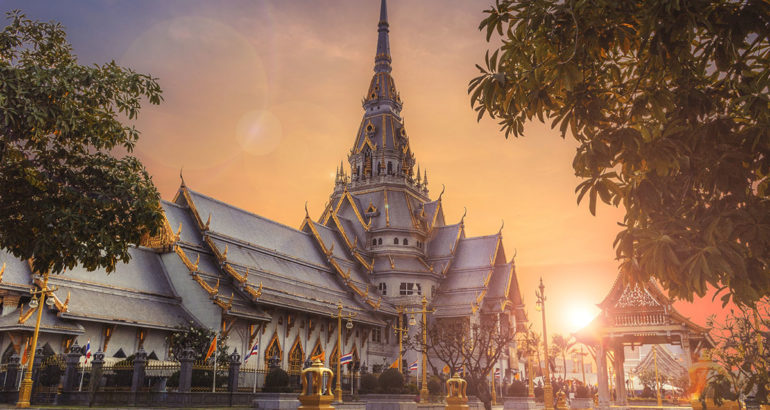 Do not drink tap water
Do not leave your belongings un attended
Respect Thai local culture and follow local practices when entering religious sites (temples, pagodas, Grand Palace, etc)
Take gentle approach to street food and local restaurant even it blow your mind at first bite – Do not eat a lot on your first meal
Please share if you find the list is useful for other travelers: