5 Unconventional Must-See Temples in Thailand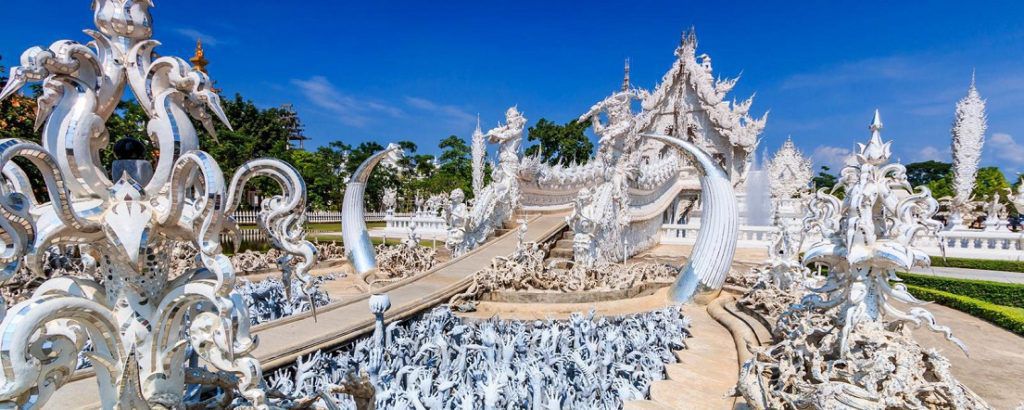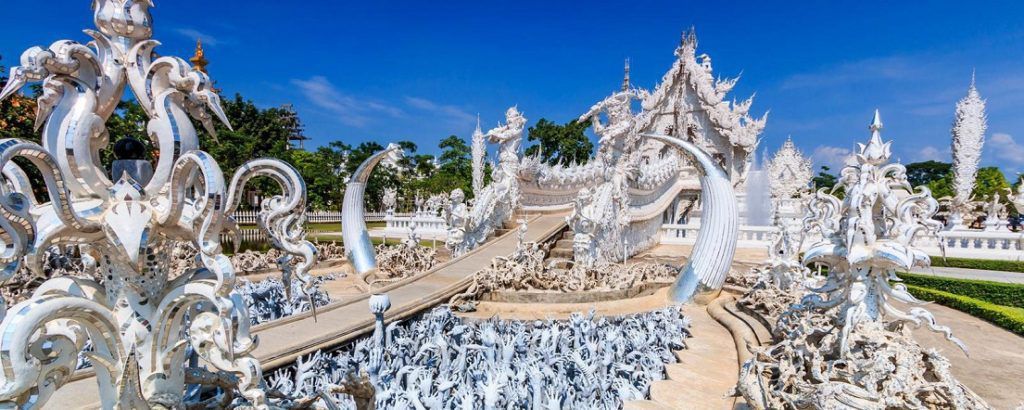 Temples in Southeast Asia are stunning, it can't be denied. When I first flew into Bangkok, Thailand at the tender age of 13, I was in awe of the glittering stupas dotted all over the city. When stepping foot into my first one my eyes were wide and my jaw was nearly on the floor. I was absolutely spellbound. Monks chanted, the smell of sandalwood incense entered my nostrils and the incredible reliefs and paintings on the walls documenting Buddha's life were unlike anything I'd ever seen. But, after visiting about, which were all fairly similar (though of course still magical), I must admit I started to develop the so-called 'temple fever'.
A few years on (13 to be exact) and now working in the travel industry, I've figured out how to find a balance when visiting temples in Asia. The trick is to seek out a variety, which isn't difficult. In Thailand there are myriad options (there are thought to be 40,700 Buddhist temples!).
I think it's important to visit at least a few famous temples of a country to understand more about the region and its people. But, for those suffering from a bit of temple fever who want to see something a little off-beat, then check out our list of '5 unconventional must-see temples in Thailand' below:
1. Wat Pha Sorn Kaew (Phetchabun)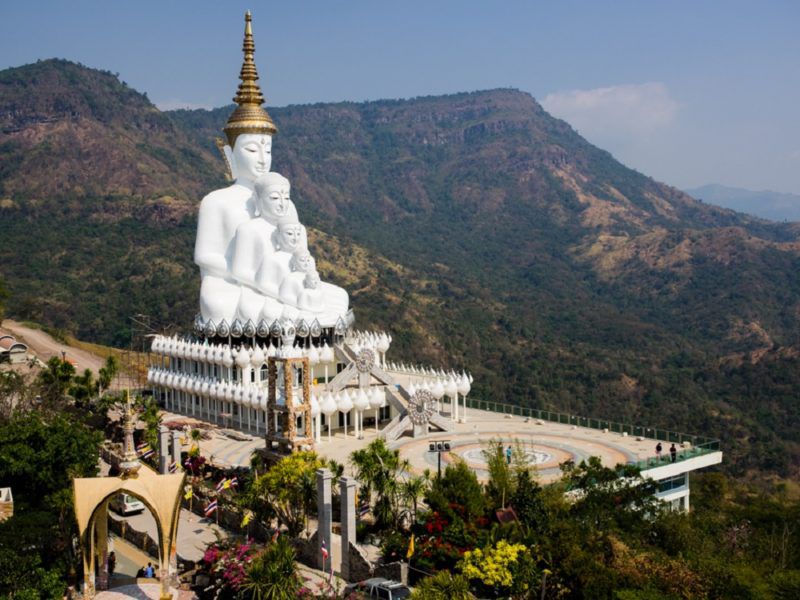 Located five hours north of Bangkok, Thailand and hidden high away in the hills on an 830m peak lies Wat Pha Sorn Kaew, otherwise known as 'Temple on the Glass Cliff'. The temple (which is also a monastery) is striking because of the contrast between its towering stark-white 'five-sitting Buddha' statue, and the rest of the complex which is colourfully adorned with over 5 million mosaic tiles. The temple is splendid, but even if the temple doesn't impress, the incredible mountainous landscape will. It's worth the trip simply for the breathtaking views out over the valley.  
It should be noted that as this is a relatively new temple by Thai standards (built in 2004) and despite its dramatic appearance, it's not widely recognized as a tourist attraction (even more of a reason to go!) so, it can be a bit difficult to reach. The must-see temple is located in Khao Kor in the province Phetchabun. It's easiest to go via your own transport (moto, moto taxi or taxi cab) or with a private tour.
2. Wang Saen Suk Hell Garden (Saen Suk)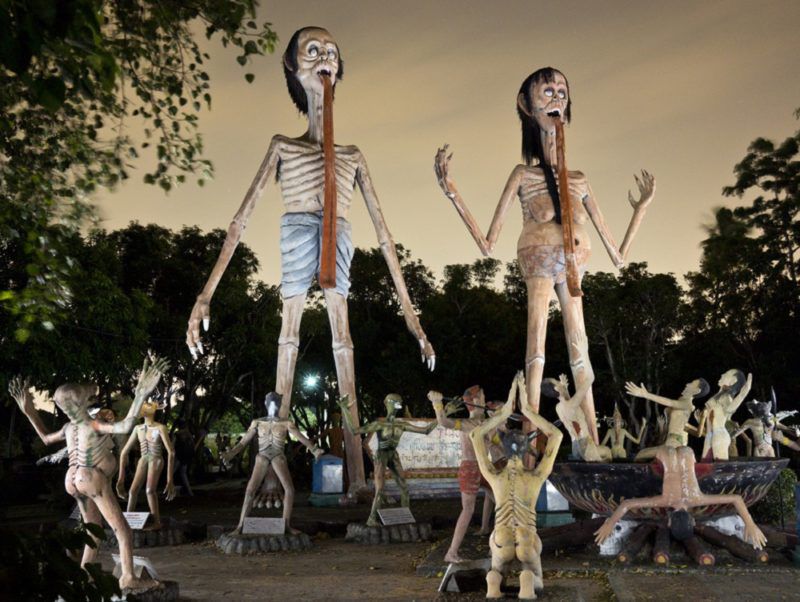 While most Buddhist temples evoke a feeling of peace and tranquility, this temple site in Thailand depicts quite the opposite – it illustrates the torturous sufferings of hell. Opposite the temple lies a 'hell garden' where grotesque sculptures of sinners are punished in awful ways for their bad deeds. The most standout sight is two, towering figures of a man and a woman (representations of ghosts from Thai folklore) with protruding eyes and tongues that stretch down past their waists.
There are many of these hell gardens in Thailand but this is the largest. In Buddhism, hell is referred to as 'Naraka' and in this hell sinners need not stay forever but will endure punishments until their negative karma is spent.
This temple site is located in the village of Saen Suk about 100km Southeast of Bangkok. The address is Sai 2, Soi 19, Saen Suk but it can still be tricky to find, especially since it can be easily confused with another temple, Wat Saen Suk. You can hop on a bus to Bang Saen from Bangkok and then travel the rest of the way by moto taxi.
If traveling from Bangkok be prepared for the journey there and back to take up the better part of a day. Think carefully about bringing children to this temple in Thailand, many of the figures are gruesome and may frighten little ones.  
3. Wat Rong Khun (Chiang Rai)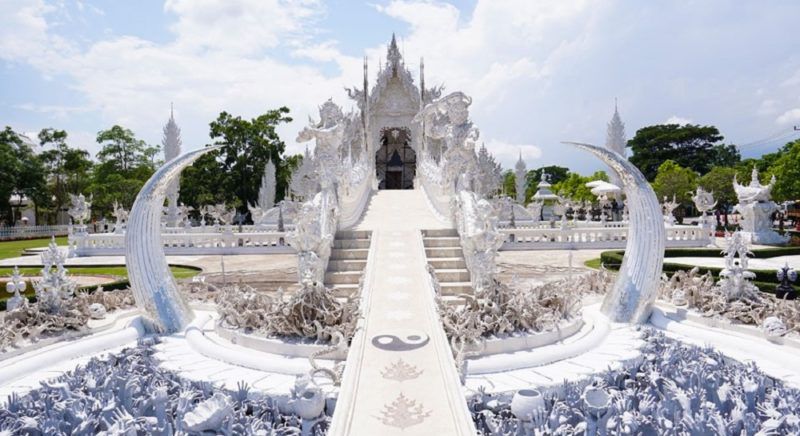 Wat Rong Khun, also known as the 'White Temple' (for obvious reasons) is not at all what comes to mind when picturing a Buddhist temple. Situated in Chiang Rai, Northern Thailand, the temple looks like something you might stumble upon in Narnia. The pale structure is inlaid with glass that sparkles under the sun and has a range of unusual features, like hundreds of sculpted outstretched hands beneath the bridge to the main building symbolizing unrestrained desire. It also has murals inside with demon faces and Western pop culture figures like Michael Jackson, Freddy Krueger, Harry Potter and Superman.
The temple was built and privately funded by local artist Chalermchai Kositpipat who is still working to expand the site, and has said when it's finished there will be nine buildings including an Ubosot, a hall to enshrine relics, a meditation hall, monks living quarters and an art gallery.
This is a must-see temple in Thailand and is located in San Sai, Mueang Chiang Rai District, Chiang Rai. It's opening hours are: 6.30am – 6pm daily (temple); 8am – 5.30pm Mon-Fri (museum of paintings). 
Note: the temple was damaged in an earthquake in 2014 so you can't enter all parts of the temple complex.
4. Baan Dam / Black House (Chiang Rai)
While you're in Chiang Rai visiting the White Temple, why not also pay a visit to Baan Dam, otherwise known as the 'Black Temple', the antithesis of the White Temple. Like the White Temple, Baan Dam is also the handy work of a local artist, named Thawan Duchanee who is the student of the creator of the White Temple.
The site is made up of 15 houses embellished and furnished with animal remains including skin, bones, teeth and preserved animals (which apparently all died of natural causes). The temple is Duchanee's portrayal of hell and among the objects you'll find at this temple are chairs made of buffalo horns, snake-skin table runners, skulls, an assortment of shells arranged in all sorts of interesting compositions and animal skin rugs.
The complex is situated among tranquil gardens where you'll also find small statues and quirky objects.
To get there you can hop on a bus for 18 Baht that leaves from platform 5 adjacent to the night market in the middle of Chiang Rai. The bus goes to Mae Sai and leaves regularly. Make sure you tell the conductor you're going to Baan Dam. Alternatively, you can hire a motorbike or take a taxi there.
Baan Dam is open every day (including weekends and holidays) from 9am until 5pm but closes for lunch between 12 and 1pm. While it used to be free to enter, it now cost 80 Baht for all visitors.
5. Wat Pa Maha Chedi Kaew (Sisaket)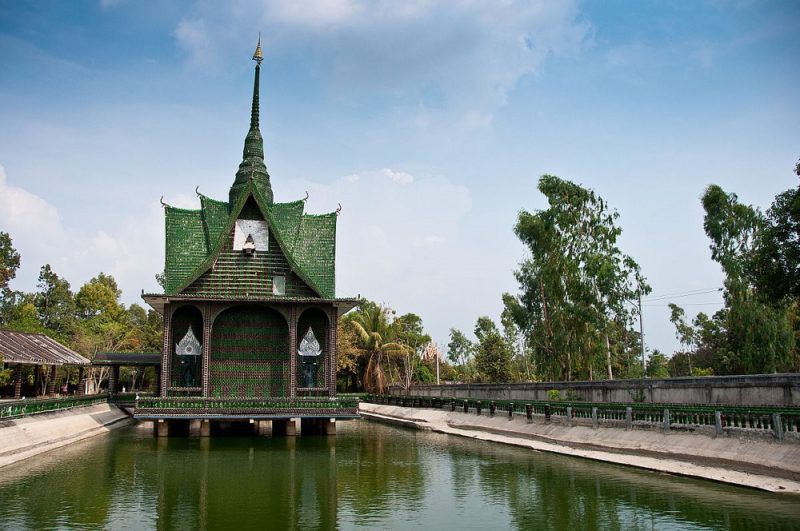 Who ever thought a temple would provide a good lesson on recycling? This creative temple, also known as the 'Temple of a Million Bottles' or 'Beer Bottle Temple' is a Buddhist structure in the Khum Han district of Sisaket province.
The temple is made up of over 1.5 million used Heineken and Chang beer bottles. Construction for the temple began in 1984 when a group of monks had grown tired of seeing an increasing amount of litter in the Sisaket area. So, to lessen the waste the monks asked people in Sisaket to bring them used beer bottles and began the temple complex.
The main temple, which is a brilliant green colour due to the Heineken bottles, took two years to complete. Since then, the monks have created a crematorium, water towers, sleeping quarters and toilets. They even used bottle caps to create beautiful Buddhist designs inside the temple.
Despite its appearance, the unconventional temple doesn't seem to get a lot of visits from tourists, probably due to its more obscure location.
The nearest city to the temple is Sisaket and the temple is based near the small village of Khun Han. You can train or bus to Sisaket from Bangkok (takes between 8 and 11 hours) and then hire a driver to take you to the temple once you're based in the city.  
We hope you enjoyed our list of '5 unconventional must-see temples in Thailand'. If you are planning your trip to Thailand and have any questions, drop us a message for direct support from local experts!