Green Ideas for your 2020 Travel in Vietnam
Eco-friendly and slow travel have long been Sens Asia's remark and many travelers' choice for Southeast Asia journeys. To add up some good refreshments for New Year 2020, let's start offbeat and follow the green pins when travel in Vietnam!
CAO BANG & BAN GIOC WATERFALL
Not Ninh Binh or Sapa, today we would like to take you a little bit further to the North, reaching the far Cao Bang Province. Here is where famous Ban Gioc Waterfall – one of the country's most impressive landscapes, a remarkable Vietnam – China nature border, resides. The fall is 30-meter high a 300-meter across, making it the widest waterfall in Vietnam. While in Cao Bang, you can discover the true beauty of Northern local life with mountainous villages, day-time markets and lesser-known Vietnamese dishes, Ban Gioc Waterfall offers splendid nature-connection experience with its flow embodies 360o view of pastoral bamboo groves, majestic pinnacles and magnificent paddy fields.
Green traits: 5 out of 5 (with softcore off-the-beaten-path trekking, mountain climbing/ sight-seeing)
Things to do:
Capture the peaceful countryside landscape and epic Ban Gioc Waterfall.
Trek up to higher levels of the falls then go downstream the river by bamboo raft.
Explore the legendary Nguom Ngao Cave – the cave of tigers, created by an underground river, where villagers once sheltered here during the 1979 war with China (3km from the fall).
Take a boat trip around Thang Hen Mountain Lake (20km from Cao Bang, on the way to Ban Gioc Waterfall).
Visit ethnic handicraft villages in Quang Uyen District (42km from Cao Bang) and join local workshops such as Ban paper-making, incense-making, blacksmith, hip tile making
Fill up your stomach various colorful dishes in Cao Bang (seven-flavor Cao Bang roasted duck, Trung Khanh chestnuts, chestnut braised in chestnuts
Visit the Khuoi Khon Village, where all houses, roads, stream borders are made from stone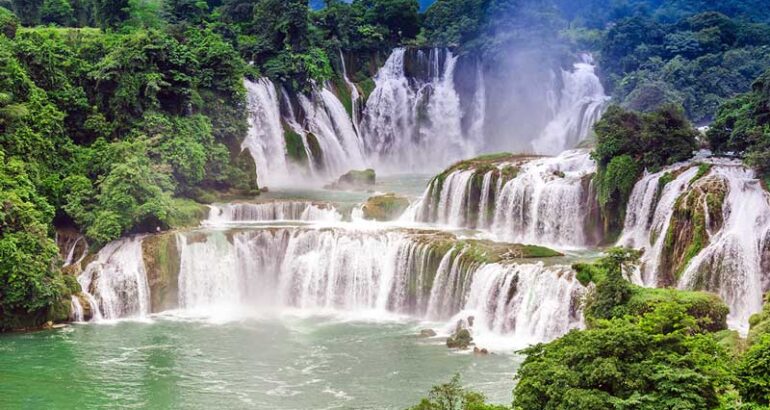 Best time to visit:
The ideal time is from September to January. October to June brings cooler and more pleasant weather. This time is perfect for your green track. You can even combine a Cao Bang loop to Ha Giang, Ba Be Lake then Halong Bay.
Avoid Vietnam's federal holidays (Reunification Day on May 30, Labor day May 1, National Holiday on September 2). Although the place is not overwhelmed by massive tourism, domestic visitors adore Ban Gioc Waterfall, creating a flux of people on national day-offs.
How to get there:
From Hanoi to Cao Bang: 8 hours – by bus or private transfer.
From Cao Bang to Ban Gioc Waterfall: 2 hours – by bus, motorcycle or private transfer.
Featured tours:
Private tour program. Please contact our journey planners via yourtrip@sensasia.com for more details.
CAM THANH WATER COCONUT VILLAGE & HOI AN
Located just 3km from the Centre of Hoi An Ancient Town, Cam Thanh coconut village hosts thousand visitors coming to visit the destination yearly. The place is considered the green lung of Hoi An and a miniature of the Mekong Delta, usually traveled using basket boat. To reach the famous coconut forest, visitors will sit still in a basket boat and paddle along the waterway and beautiful tropical scenery on both sides, following the thin flow of Thu Bon River branch.
Green traits: 3 out of 5 (bamboo raft, boat trip, mangrove visit, floating houses, local markets, home BBQ)
Things to do:
Ride a bike along the picturesque paddy roads and capture the countryside landscapes.
Be a local farmer to do the farming, pick vegetables or plow in the eco village.
Meet up with the local fishermen and experience the net fishing.
Take a wooden boat around Cam Thanh water coconut forest.
Learn to paddle the unique Vietnamese bamboo basket boat and challenge the gravity.
Enjoy the BBQ lunch or home meal in the Central style.
Relax with a brief fishing session on the floating house.
Participate in the traditional folk games (tug of war, breaking the pot, etc).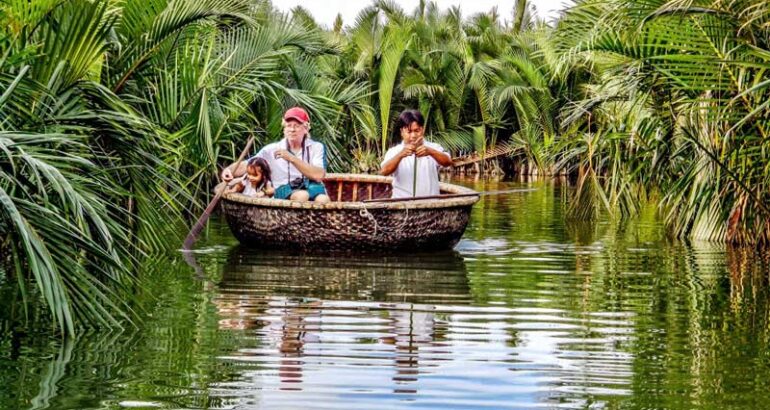 Best time to visit: May to July as this is nearly the end of the dry season in Hoi An
Other season:
January to June: At this time the weather in Cam Thanh is cool, slightly chilly like in Dalat. Very suitable for the exploration and tourism activities in the river region. According to the travel experience. If you want to experience the river region in the best way. So you should go early in the morning, at this time the weather is cool and not very sunny. Also you will be free to have fun, discover. Or you can go in the afternoon about 4pm to avoid the sun! Visiting in the afternoon is the advantage of rising water, the river water is clear, the wind is blowing gently.
August to November: During this time the weather is cool in Cam Thanh coconut village, sometimes with rain, but not significantly. If you want to escape from the heat in the city, so Cam Thanh is a great choice, it is close to Hoi An Ancient Town, convenient for traveling. To not miss any attractions we suggest you should visit the following locations: Visiting Hoi An Ancient Town at night is the most beautiful next to Cam Thanh coconut forest – Cu Lao Cham – Da Nang beach.
How to get there:
By boat: You can reach the village taking a boat trip along the Thu Bon River from Bach Dang Wharf or little wharfs from Hoai River.
By taxi/ private transfer: Grab is not common in Hoi An so just take a taxi of Mai Linh Group (green cab). We recommend booking private transfer with us for safe and convenient Hoi An – Cam Thanh – Hoi An trip in case you stay up in the village late.
By bike/ motorbike: Round trip village by bike or motorbike is fun and easy-going. For sustainable tourism, we suggest renting a bike to discover the countryside life. Do not be afraid to ask locals for directions or help because they do know English nowadays and very friendly towards foreign travelers.
Featured tours:
See All Eat Well Vietnam – 10 Days
BEN TRE – CHAU DOC & MEKONG DELTA
If you are into slow travel, Mekong Delta is a fantastic choice for you. Located just 100km from the hustle-bustle Ho Chi Minh City and within the large area of Mekong Delta, Ben Tre is one of the entrance destination to Mekong, life here comes in opposite ways with relatively inert, sometimes languid pace even though the busy floating markets and tourism trades keep growing strongly. Follow the trail to Chau Doc, you will immerse in the endless green of rice fields, forests and villages nested under the fruit farm. Chau Doc is a place so rich of Khmer culture in blend with Vietnamese traditional and bring out a great charm for the travelers who wander that far end.
Green traits: 4 out of 5 (garden houses + fruit gardens, sampan boat, tiny islets, bird-watching, floating markets, boat trip), Tra Su forest
Things to do:
Enjoy the fresh fruits and Vietnamese traditional folk music in a local garden house.
Visit orchards and fruit gardens on foot or by bike.
Take a sampan boat trip to Turtle Islet in Ben Tre.
Drop by one of the coconut candy factories in the area and sample some delightful sweets.
Take a detour to Vam Ho Bird Garden Tickle your taste buds with famous traditional dishes based on coconut water (rice, banh trang, floppy cracker) and seafood.
Boat trip in Tra Su Forest at sunrise or sunset.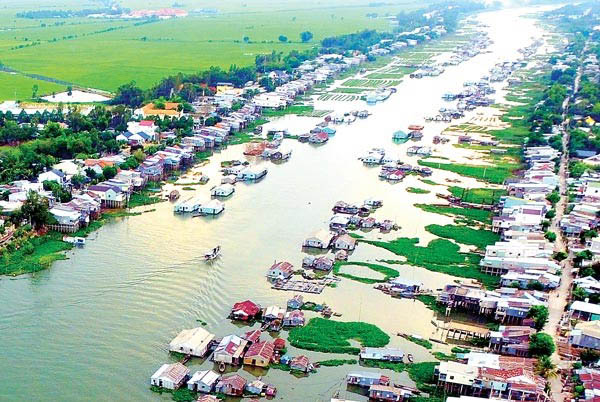 Best time to visit:
Summer (June – August) is the best time to visit Ben Tre, when most tropical fruits turn ripe and ready to be harvested. Plus, there will be many exciting tourism activities and local festivals occur. You can join the events, cruise along Mekong Delta, taste authentic Southern flavors and experience the countryside culture under good weather and average temperature (26 to 27oC) these days.
How to get there: (From Ho Chi Minh City, Chau Doc or Can Tho)
By car: Private transfer is a good option, especially if you go into groups. We do not recommend public bus for this trip
By motorbike: Vespa all the way! Join the fantastic Vespa group to let your hair down towards Southern Vietnam wind. The road is straight, safe and calm.
Featured tours:
Mekong Delta Local Life – 5 Days