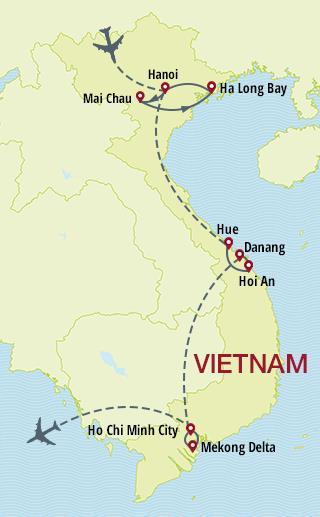 From North to South, away from mass tourism routes, the "Best of Vietnam" tour covers all iconic destinations in the country with a tweak of both extreme leisure and relaxation. During 14 days long, being free from stress, worries and rush travel, you may find yourself pursuits of true refreshment, to completely indulge in the panoramic views off the beaten track, the memorable tastes from local delicacies and especially, the life as well as traditions from regional trails. Plus, the program compels as a compatible option for short to medium vacation as it is totally family-friendly for parents, children and even lone travelers.
Highlights
Visit all the iconic destinations of Vietnam
Discover the colorful hill tribe villages of Mai Chau
Cruise through the unique Karst bay in Ha Long
Explore the magical ancient town of Hoi An
Explore the historical Imperial Citadel in Hue
Be a fisher man in Hue
Explore the maze of small canals and floating market in the Mekong Delta
Show program in details Show brief program
Xin chao! Welcome to Hanoi, Vietnam. Your guide and driver will greet you from Noi Bai international airport & transfer to the hotel.
The rest of day will be free at your own leisure to recover from the jetlag. Your Hotel located just in the heart of the old quarter and one step out you will be surrounded by local speed of light, amazing local food and many charming coffee shop.
For Dinner, explore MK Hotel restaurant or feel free to venture to Ta Hien Street, where you can enjoy a local food at a fine restaurant name Little Hanoi, 14 Ta Hien.
Meals: Nil
Accommodation: MK Premier Boutique Hotel – Balcony Deluxe Room
day 2
HANOI SENSES AND THE CITY
Today's tour begins at 5:30, it's an early start but one that is well-worth it, however if you are not keen on waking up early, you can skip this and have breakfast at hotel then start tour at 8 am.
Catch the first rays of the sun and to see Hanoi waking up. Head to Long Bien market, the biggest fruit and vegetable wholesale market in North Vietnam. Witness buyers crowding around open-back trucks, money counters holding court over their stalls, motorbikes weaving down aisles and other mind-boggling scenes of daily life. You will then continue to walk up to the historic Long Bien Bridge and take this chance to watch over the sunrise over Red River.
It's time to activate your SCENT and TASTE with one of the most yummy breakfast in the world – "Phở" ( Vietnamese noodle) ! Hop in a local Phở restaurant in the Old Quarter and take a big bowl with beef or chicken, herbs and lemon. Then moving to a local shop to sample Vietnamese coffee like the way local do while overlooking the streets, try a sweet iced coffee or a typical egg coffee.
Explore the Old Quarter, a place you must see to experience Hanoi, where you will find shopping/ economical/ commercial and cultural/ historical sites all wrapped into one. The final stop for the morning tour is an ancient house hidden in the middle of the Old Quarter. Hardly anybody can find it, except few those who truly understand Hanoi. The host will introduce you to their cozy home as everyone chatting and enjoying local Lotus tea. Surely you would never expect such a morning to end in any other way.
Mid-morning, free time to lay down and recharge your energy or chill in a tea shop before heading to another side of the city in the afternoon.
This afternoon, you will visit a museum dedicated to educating the public about Vietnam's 53 ethnic minority groups, the Ethnology Museum is far and away Hanoi's most impressive museum. Don't miss the exterior section where the architectural styles of the various tribes are reproduced in life-size houses. You'll be scrambling up ladders and ducking through tiny doorways in no time.
The goals of the museum are to preserve the culture and history of Vietnam's diverse ethnic groups. Artefacts on display include knives, baskets, garments, fishing instruments, weapons, household utensils and clothing.
Your tour will end at Tran Quoc Pagoda, you will enjoy the spectacular sunset at West Lake before transferring back to hotel.
Meals: Breakfast, Lunch
Accommodation: MK Premier Boutique Hotel – Balcony Deluxe Room
Leaving the hustle and bustle of Hanoi, head out to Mai Chau.
On arrival, take some time to refresh yourself, relax and enjoy lunch with a local family in Mai Hich. The food is prepared by a woman of Thai people – a minority ethnic with many curious legends of Vietnam. Their spices and herbs will make a boom of flavors and aromas in your mouth.
After lunch time, you will do some hiking on flat roads over a suspended wooden bridge and along endless vegetable gardens, get to meet people of another village before reaching to your lodge where you stay overnight.
Meals: Breakfast, Lunch
Accommodation: Mai Chau Ecolodge – Superior Room
Morning breakfast at the lodge.
Start exploring the hill-tribal villages by bicycle. The beautiful green valley offers you the ideal journey on bike. You will pass through huge rice fields, see the people do farm works, and visit some small villages hidden behind mountains. Sometimes, you can stop on the way to talk to friendly farmers here, they will be more than happy to take a photo with you with a big smile.
Check out the lodge by noon and transferred drive back to Hanoi; drop off at your hotel.
Rest of day free at your own leisure.
Meals: Breakfast, Lunch
Accommodation: MK Premier Boutique Hotel – Balcony Deluxe Room
After breakfast, depart for Halong Bay, one of the most stunning natural wonders of the world, a picturesque blend of harmonious transition between the mountains and the sea.
On arrival, board a traditional junk and head out into the Gulf of Tonkin amongst the huge limestone outcrops and emerald waters. You spend the rest of the day cruising the myriad of tiny islands and many grottoes created by wind and the waves over the centuries.
You will get to visit a cave and participates several activities on board such as "Master Chef Competition" and fruit carving demonstration.
Meals: Breakfast, Lunch, Dinner
Accommodation: Bhaya Premium Cruise – Premium Balcony Cabin
Start off your day with a Tai Chi lesson on the sundeck with complimentary tea and coffee being served. Rejuvenate your body and mind with the slow movement of Tai Chi and enjoy the dawn on the bay.
Light breakfast is served onboard. The boat weighs anchor to sail to Cua Van floating village, you will take your time to visit the village which is voted as one of the 11 insanely beautiful small towns around the world by huffingtonpost.com. You can choose either kayak or traditional rowing boat to go around discovering local life on the waters.
Return to your boat and relax. Enjoy the brunch before checking out.
Back at the dock at around 11 am, you will be met and transferred to a village where you will enjoy the water puppet show by local artirst, a traditional art form springing from rural society of the Red River Delta. Performed in a pool of water, the water surface is the stage, while the puppeteers stand behind a screen and manipulate the lacquered wooden puppets using bamboo rods and strings beneath the water surface. Enjoy the show, straight your legs and get to know the local life.
After the show, you will straight transfer to Noi Bai airport where you will take a flight and continue your trip to Hue.
Upon arrival, you are greeted at the airport and transferred to your hotel.
Meals: Breakfast, Brunch

Accommodation: Moonlight Hue Hotel – Deluxe City View Room
Breakfast at hotel.
Start your journey with the visit of The Imperial City, the remnant of a vast citadel. Here you can see the ravages of time and war on what was the carefully designed capital of the Nguyen Dynasty.
Next is Thien Mu Pagoda. This 7-storey octagonal tower is a symbol of Hue, here the guide of Sens Asia will explain you the reason why Thien Mu is one of the most important pagoda of Vietnam. Behind the pagoda are peaceful gardens and, somewhat incongruously, the old Austin car which transported Thich Quang Duc to Saigon in 1963 for his self-immolation.
Enjoy lunch with Hue specialties at local restaurant.
This afternoon, you take a boat ride up the romantic Perfume River to reach to the quite Thuy Bieu village – famous for growing Thanh Tra fruit (a kind of small pomelo). You will visit many garden houses, a unique feature of the Hue countryside, and enjoy relaxed walking and biking around the village. Visit an old communal house, pass by several ancient ancestral temples and chat with local people. You can join them in gardening, or simply enjoy a cup of tea.
Visit an incense making family and discover the daily life of locals, who working strenuously but with joy and enthusiasm.
Continue to visit King Tu Duc's Tomb is a sprawling compound centered on a lake and including numerous separate memorials connected by pleasant walkways. The major portions of the tomb complex were completed from 1864-67, along with future temple buildings that served as a retreat for Tu Duc and his many wives during his lifetime.
Close the day with a hike up hill and enjoy the breathtaking view over Vong Canh before transfer back to your hotel.
Meals: Breakfast, Lunch
Accommodation: Moonlight Hue Hotel – Deluxe City View Room
Have breakfast at your hotel.
Mid-morning, check out your hotel and transfer south to Hoi An.
When you come to Lang Co, you will visit a fisherman's family living between sea and mountains, in a wonderful tropical lagoon rarely seen by tourists. You will discover their daily life and enjoy their friendliness in this spectacular environment.
Embark on their local boat and enjoy the idyllic panorama of crystal clear water overlooked by the Annamite Cordillera covered by jungle, the heaven's door.
In the surrounding area, there are no factories, the lagoon is very clean and is home to a lot of crabs, snappers, red mullets, grouper, shrimp, squid etc…
First stop to discover their fishing post, demonstration of the local fishing technique, then continue by boat to visit the oyster and mold farm of the family. With your guide, you will learn everything about the local life which depends of the lagoon.
Have lunch in an authentic stilt house above the water. Try the delicious fresh seafood prepared by the family and enjoy an unforgettable moment with them, in the middle of the lagoon and surrounded by amazing landscape of clear water and mountains.
After lunch, you will continue your journey to Hoi An over Hai Van (Cloud & Sea) Pass which offers the most fantastic places to take photos with the view of the ocean and pass.
Arrive at hotel in Hoi An, check in hotel.
Later this afternoon, a guided walk through Hoi An's ancient streets lined with old wooden houses reincarnated as restaurants, cafés and outlets. Hoi An's unique architecture is well displayed in what is arguably Vietnam's most tourist-friendly town. You will visit Japanese bridge, Hoi An market, Phung Hung Ancient House and other corners of the town.
Meals: Breakfast, Lunch
Accommodation: Little Hoi An Central Boutique Hotel and Spa – Deluxe Room
The day is free at leisure to enjoy the shopping in Hoi An – a paradise for silk & fashionable clothing and accessories.
Enjoy the pool or take a spa treatment (at your own expenses) to reload your energy before another leg of the trip.
Meals: Breakfast
Accommodation: Little Hoi An Central Boutique Hotel and Spa – Deluxe Room
day 10
HOI AN – DA NANG – FLY TO HO CHI MINH CITY
The morning is free at leisure. Later, you'll picked up by the driver and transferred to Danang airport. Take your flight to Ho Chi Minh City, formerly Saigon. Ho Chi Minh City is the largest city of Vietnam. It is the bustling economic capital and cultural trendsetter of the country, yet holds the timeless traditions of an ancient culture.
Upon arrival, you will head out to the Cu Chi Tunnels; after an introductory video, viewing various mantraps, the remains of an American tank and numerous bomb craters, you will spend the next hour exploring the maze of tunnels to see how the Viet Cong survived in this underground network. You will have the option to try out war-era guns at a shooting range.
Then go to downtown and check in the hotel.
Rest of day free at your own leisure.
Meals: Breakfast
Accommodation: Silverland Yen Hotel – Premium Deluxe Room
day 11
HO CHI MINH CITY TOUR
Today you will drive out of the down town and visit Giac Lam Pagoda – Saigon's oldest pagoda. Dates back to 1744 and its architecture, layout, and ornamentation remain largely unaltered. The elderly and infirm flock here as the pagoda houses a bronze bell that pilgrims ring after posting their prayers, said to ensure an answer to prayer.
In 1788, a group of Chinese from Pho and My Tho Islands came to Ben Nghe River Dike and founded a market which developed into the existent Cholon Market, offering a wide array of products. This is Vietnam's Chinatown market. It is an attractive site for visitors to observe that lively atmosphere.
Then visit FITO Museum of Traditional Vietnamese Medicine. Its collection of 3,000 items, including traditional tools and ancient documents, traces the development of traditional medicine in Vietnam.
Back to the downtown, you will visit the Reunification Palace, the home and workplace of the President of South Vietnam during the Vietnam War.
Pass by Notre Dame Cathedral, built between 1877 and 1883, most materials for Saigon's Notre Dame Cathedral were imported from France, and one of the city's major landmarks and head to visit Saigon Post Office, a classic French colonial structure, is still a functioning post office today and features huge ceilings, a giant portrait of Uncle Ho, and many beautiful details.
Top off the day with a visit to Ben Thanh Market, packed to the rafters with everything from fruits to nuts, from tourist kitsch to true bargains, it is a definite must-see.
Tour ends, transfer back to your hotel.
Meals: Breakfast, Lunch
Accommodation: Silverland Yen Hotel – Premium Deluxe Room
day 12
HO CHI MINH CITY - MEKONG DELTA
At 8.00am, depart for a 1.5 hour drive from Saigon to Ben Tre, one of the country's southern provinces, situated in the Delta of the Mekong River.
Upon arrival, get on a tri-motor cycle (xe loi) ride to enjoy the lush surroundings of rice paddies and fruit farms alongside the narrow village roads.
Arrive at the waterfront; board the charming cruise for a glimpse at the Delta scenery while sipping out from your young coconut juice.
First stop for a visit at the coconut processing and brick making work shop, where the locals still use centuries-old traditional methods to make the bricks by hand. Continue on your bicycle around Phong Nam village through gardens and stop at the a rice noodles factory "hu tieu", one of most popular breakfast dishes in the region.
One off the local you will meet today is Mrs. Huong's , her family live on fishing, shrimp and farming. Enjoy the tropical fruits and honey tea in her garden before taking the rowing sampan; be paddled by a personalized rower trip to discover the maze of small canals.
Then rowing you back to your boat and head to restaurant for a lunch with local food and freshen up before switch to a short ride on village roads past green gardens and local houses, and stop at another local house of Mr Sau Tuong, a former Vietcong soldier who survived two years fighting the Khmer Rouge in Phnom Penh. Now he and his wife live on making rice paper which is the most famous specialty of My Long village. Have a chat with him and enjoy the crispy rice paper made by his wife, and see how it is made.
Back to your Homestay and dip yourself in the swimming pool and later join the cooking demonstration with your guide to prepare for dinner.
Meals: Breakfast, Lunch, Dinner
Accommodation: Mango Home Riverside
day 13
MEKONG DELTA - HO CHI MINH CITY
After breakfast, take a boat trip 30 minutes then get off the boat to ride the bicycle to a local market of My Long, stroll around the market, then continue the cycling tour to Phong Nam village stop for a Cao Dai religious temple visit, after that you will go biking back to accommodation.
Check out and you will be transferred back to Ho Chi Minh city.
Meals: Breakfast, Lunch
Accommodation: Silverland Yen Hotel – Premium Deluxe Room
day 14
HO CHI MINH CITY DEPARTURE
The morning is free at leisure in Ho Chi Minh City for some last minute shopping before transfer to the airport for your departure flight. We wish you a pleasant flight!
Meals: Breakfast
Tour Price Includes:
12 nights' Accommodation in twin/double room with daily breakfast at indicated hotels and room types (check in and check out around noontime)
9 lunches; 2 dinners
2Days/1Night cruise on boat in Halong Bay (twin/double en-suite cabin on shared boat)
All private transfers with air-con vehicles
Local English speaking guides
All entrance fees as program
02 bottles of mineral water per person per day on bus on days of transfer and sightseeing only
Tour Price Excludes:
Airfares (international and domestic)
Food and Beverages (other than mentioned in the program)
Visa to Vietnam (If required)
Tipping
Early check in or late check out
Optional excursions and activities
Additional transfer required due to any emergency situation
All not mentioned above
Peak season surcharges