Hanoi in my Heart: "Chè" (Vietnamese Sweet Soup)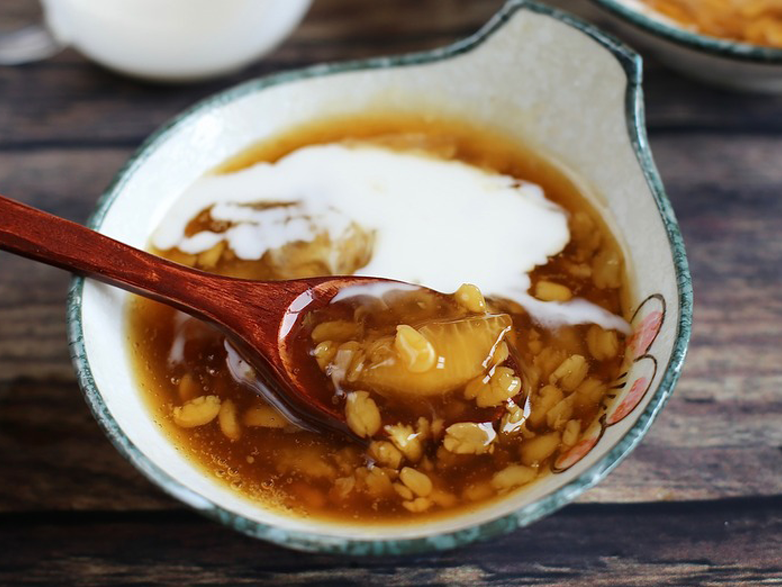 "There is no better way to bring people together than with desserts."

                                                                   – Gail Simmons –
Indeed, who can resist a little bit of heavenly sweetness from street vendor cakes in a random summer morning, or a glass of "chè" – Vietnamese sweet soup in the hungry tiresome afternoon, when you live in Hanoi, the city of best local specialties for snack-addicts? Since childhood, dessert has been my little intrigue to make friends and it is not exaggerating to say that it was a perfect motif plan to gain some real buddies. No one, literally no one would refuse a kind invitation of a friendly classmate to have some "chè" afterschool (as you are secretly in love with the food as your friend).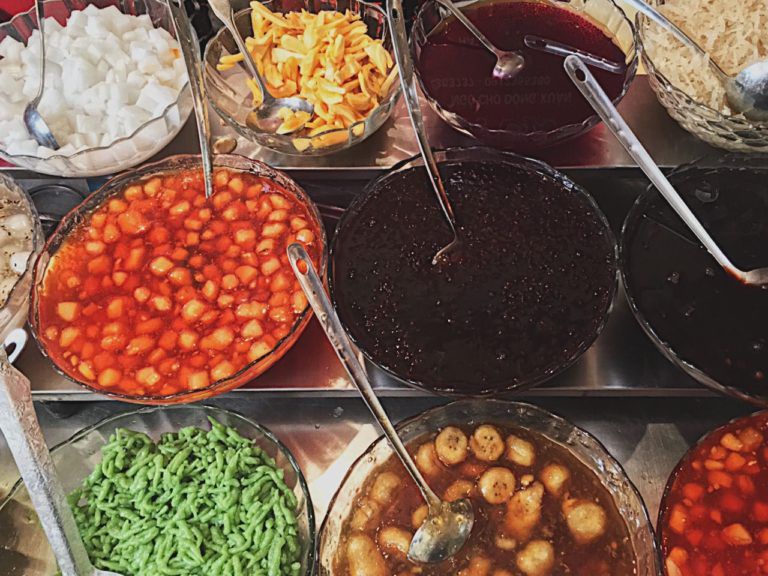 Different styles and flavors of Vietnamese sweet soup
Despite the belief that Saigon is the true hometown for all luscious sweet soups, "chè" in the capital city seems more alluring and wonderful to me. At a random shop at a market or through a bicycle-vendor on the downtown streets, you can buy yourself some sugary and tasty treat, either in the form of paste or drink. Commonly, "chè" mixture contains beans, seeds, glutinous rice and tapioca powder with vanilla extract and some ice-cubes to reduce the sharp sweet taste. The recipes for "chè" are various and different between regions, however, the essence may lie in one special ingredient: coconut milk.
Special ingredient for "chè": The coconut milk (Photo: Internet)
There are "chè" that its existence is knowingly plain and liquid-like without coconut milk as chè sen (lotus-seed sweet soup) or chè thạch đen (black jelly sweep soup) as they contain the delicate, bland and refreshing flavor of sugar syrup, seeds or beans, perhaps, some additional jasmine pieces for aroma enhancement. During the cruel heat of summer 2016, my mere favorite beverage was chè đỗ đen (black bean sweet soup), not only because I can find the sweet soup at any street vendors, but also the beany treat is an effective natural cooler to my poor ready-to-explode body. In comparison to the mild and delightful gusto of lotus-seed or longan, that of steamed black bean is thick and unique, even from a small portion. The black bean sweet soup at its best, the longer you chew the beans, the tastier flavor it may linger, methinks.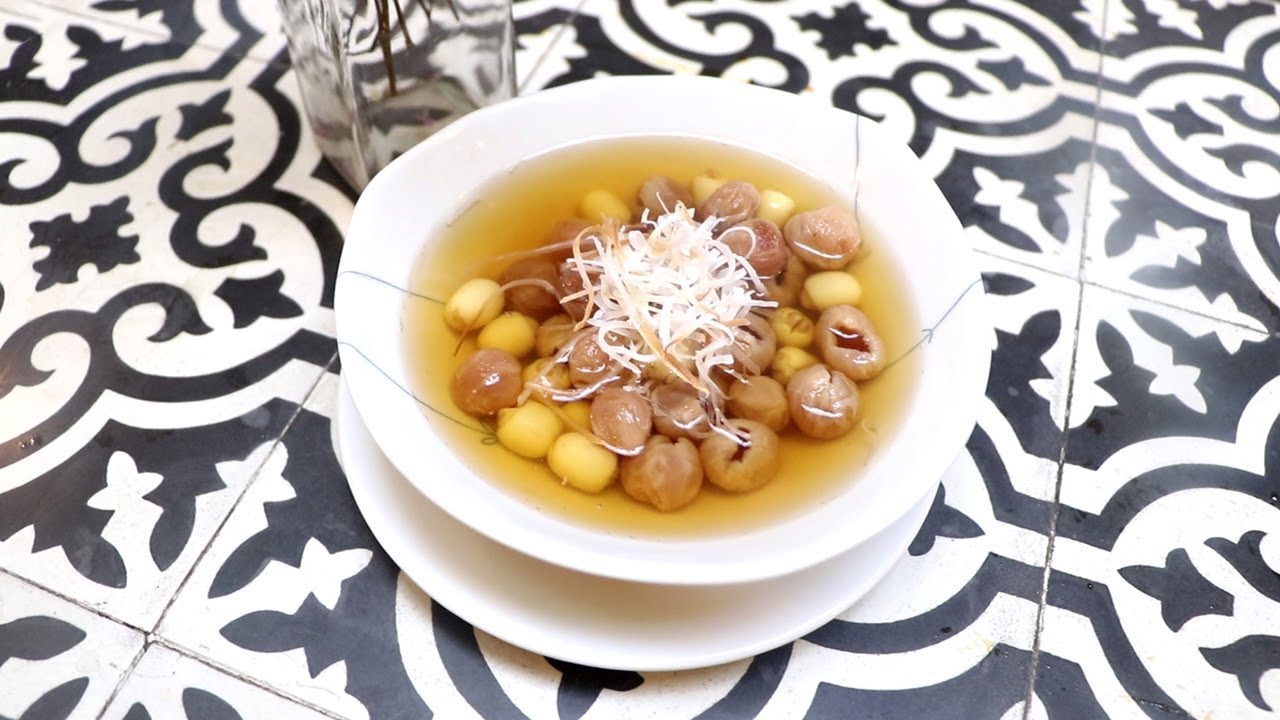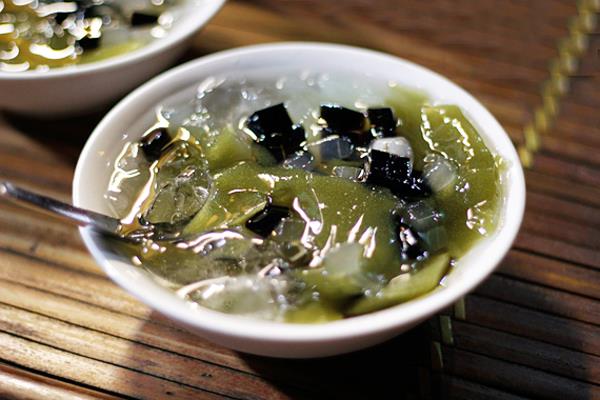 No-coconut milk sweet soups – Chè sen, chè đỗ đen, chè thạch (Photos: Pinterest)
Other half of the dessert world fascinates paste-based relish with a real touch of coconut milk, for example, chè ngô (corn sweet soup), chè bưởi (grapefruit-rind sweet soup), chè chuối (banana sweet soup). When my stomach signals me in an annoying selfish manner sometimes during late noon break, I eventually crave for a large bowl of white and yellowish porridge, mostly chè khoai môn (taro sweet soup), for the smooth and tender feels surrounding from one potato bite. Different from syrup-based one, sweet soup coated coconut milk highlights rich and dashing appetite as in winter, its warm and cozy version is more or less a popular twist to all who easily become worn-out and peckish at 3.00 P.M in regular working days as well as those who are frozen after a while riding motorbike midst 46oF (8oC) evening like myself. Instead of enjoying a hot coffee cup at a random café, my winter weekend begins with a food street showdown in the Old Quarter, usually savory dishes, bún ốc (snail noodles) or bánh xèo (sizzling pancake) and finishes at somewhere selling steamy sweet soup.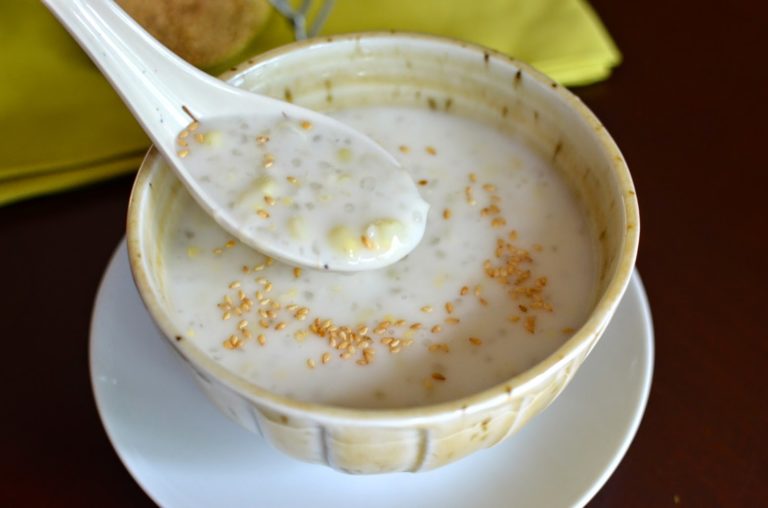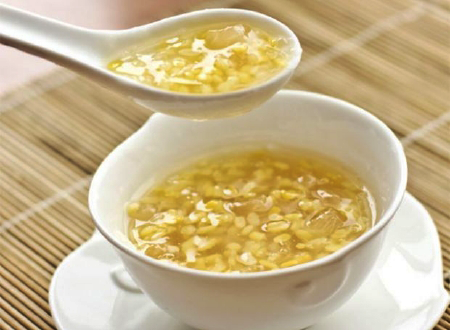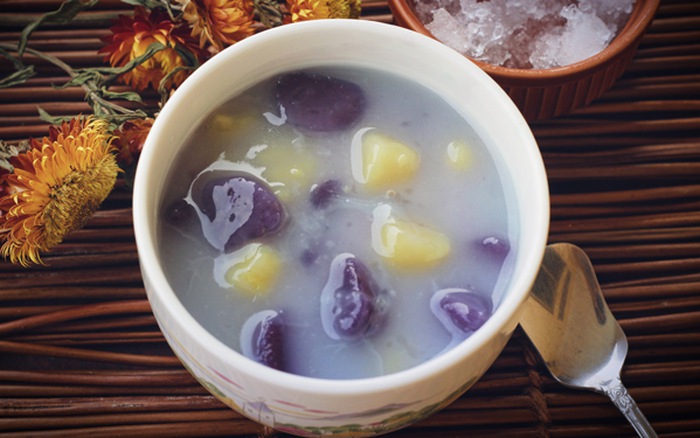 Coconut mik coated sweet soups: Chè ngô, chè bưởi, chè khoai (Photos: Myfoodlist)
For "chè", my guilty pleasure should be the ambiguous flavor that I have gotten from "chè thập cẩm" (all-in-all sweet soup mixture). I fathom many others would find my solution for this addiction reasonable and acceptable when you fail at ranking your favorite sweet soup, instead, to eat all together at once. Surprisingly, the mixed porridge between the potatoes, mung beans, seeds, peanuts and jellies is rather composing and well-combined as it creates a fascinating memorable bliss for your taste buds.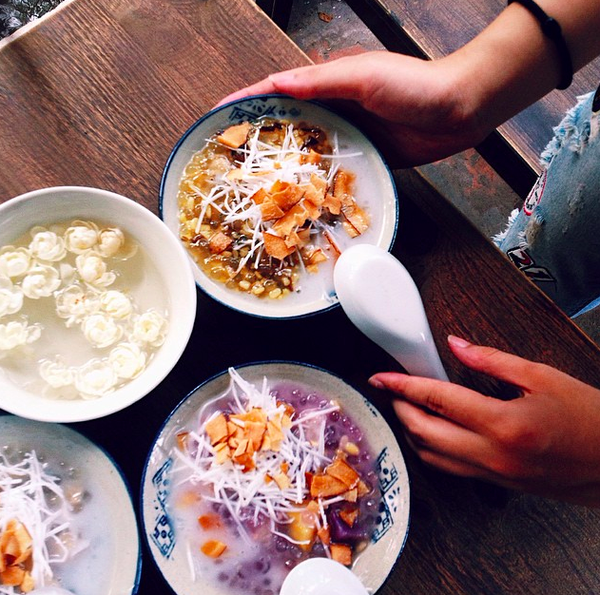 The art of ingredient combination (Photo: Instagram)
In Hanoi, visitors are charmed by the unique settings of ancient houses, alluring destinations of Gươm Lake, narrow maze-resemble streets, magnificent pagodas and temples or luxurious boutique art buildings. Yet, somehow, to citizen fellows like me, the soul of Hanoi reflects in a more familiar side, the street culture in which local specialty must have been playing a dearest and sincerest part for long.
By Le Doan