Trump-Kim Summit 2019: Special Facts to Enjoy
Vietnam has become the main avenue for Trump-Kim summit 2019. The country is now able to show the world an image of a peaceful, safe and beautiful destination. The most interesting part is how local people react to the summit. We would like to share some highlights on the friendly, creative and humorous Vietnamese.
Many small ordinary businesses and travel traits have shined upon the Trump-Kim Summit 2019. Tourists visit Hanoi and Vietnam during this time can enjoy the special products, for example, signature haircuts, new cocktail recipes, inspiring dishes, visual art forms and extra services from locals and operations.
TRENDY HAIRCUTS FOR FREE
The two signature haircuts of Trump and Kim have soon become hot-hit for all men and youngsters in the area. The local barber shop in De La Thanh Street eventually offers these for free. Those who join the contest with such haircuts, will be given free haircuts for three years as grand prizes.
OUTSOLD OF PEACE T-SHIRTS
Inspired by a local manufacturer named Đinh Văn Hiếu, the "PEACE" T-shirts are now being copied and sold elsewhere in the city. Definitely, these kinds of T-shirts bring lots of joy to souvenir shop owners.
INSPIRING BON-APPETIT MEALS
Durty Bird Restaurant in Hanoi Old Quarter has developed new hamburger recipes named after the two leaders – "Durty Donald" and "Kim Jong Yum," served with U.S. and North Korean flags. (Photo by FARAS GHANI/AL JAZEERA)
FREE SERVICE FOR TRUMP-KIM
Free pizza orders are offered for Mr. Đỗ Nam Trung (sounds similar to Donald Trump) and Mr. Kim Trọng Ân (sounds similar to Kim Jong Un) at a pizza shop near Hoan Kiem Lake.
FRESH AND EXPERIENTIAL RECIPE
The "Rock It Man" cocktail is one of the most significant best-sellers at Unicorn Bar these days. Comprised from over 10 ingredients, a glass of this lovely beverage costs around US $8 (VND 160,000). (Photo by FARAS GHANI/AL JAZEERA)
ART CONTRIBIUTION
Art does bloom remarkably for this Trump-Kim event. These wonderful creations belong to artist Trần Lâm Bình and his cafe. Previously, he had an exhibition outside the White House. He really wants to meet the two leaders and present them his works!
STAMP COLLECTORS' NEW GUILTY PLEASURE
Vietnam Post also starts distributing this newest stamp in their post offices around the country.
CATCHY MARKETING CONTENT
Cheers to Kim and Trump – Latest campaign from a local beer brand. The Marketing and PR activities in Vietnam can never be this good-timing, culture oriented and fascinating! (Photo by Saigon Special)
BONUS:
THE FIRST DINNER AT SOFITEL LEGEND METROPOLE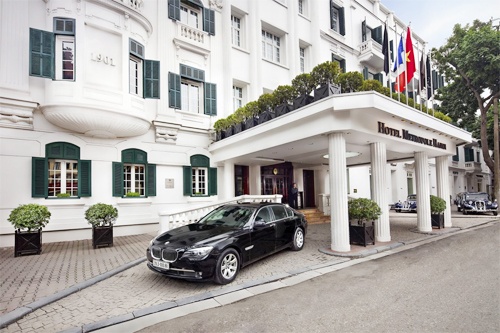 This evening (February 27), the two leaders will meet one-on-one and have a "social dinner" together at Sofitel Legend Metropole. Built since 1901, the 5-star hotel is a luxury icon of Hanoi. Many heads of state, ambassadors, playwrights and celebrities chose Metropole to reside in for their working and leisure time, for example, the British Royal family, the Comedy King Charlie Chaplin, "The Quiet American" author Graham Greene, Actress Angelina Jolie, etc.
–
For Trump-Kim city tour, please contact us via yourtrip@sensasia.com!