Vietnam Holiday: Tết Đoan Ngọ (Doan Ngo Festival)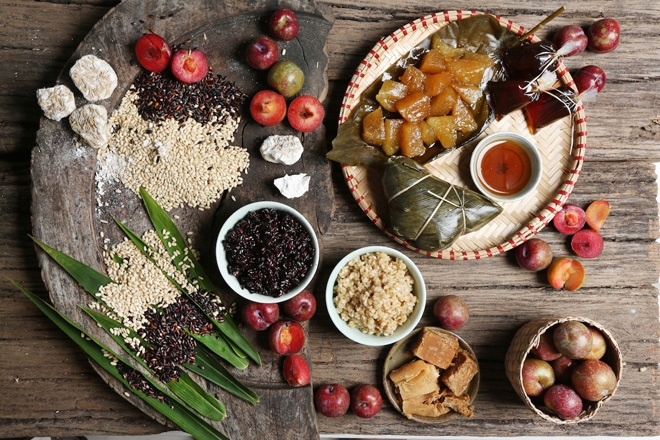 A traditional food/fruit tray for Tet Doan Ngo
Culture Introduction
If you have a chance to visit Vietnam this lovely summer month, do not feel annoyed by the hush-and-rush atmosphere around the local markets or get surprised by the appealing delicious as summer lychees and odd-looking purple rice that a random local/ shopper offer you while visiting their houses/shops. At mid-June, Vietnamese people usually celebrate "Tet Doan Ngo" (Doan Ngo Festival) as one the most essential holidays along with "Tet Nguyen Dan" and "Trung Thu" (Mid-Autumn Festival) but without dynamic village activities or festive rites usually seen in agricultural countries. 
On this day, farmers remove insects and pests from crops and greens while families prepare special kinds of food and unique ceremonies. In spite of common tradition, the diversity in celebration approach is well-reflected within each region of Vietnam.
Holiday Customs
Based on its name, "Doan Ngo" represents the season peak, from 11.00 am till 01.00 pm, at the Horse hour in accordance to zodiac time reference. Besides farming preservation, the event embraces sacred meanings as a great time for family gathering and ancestor remembrance.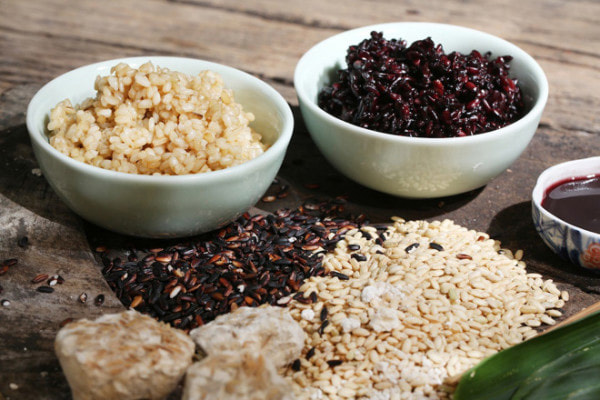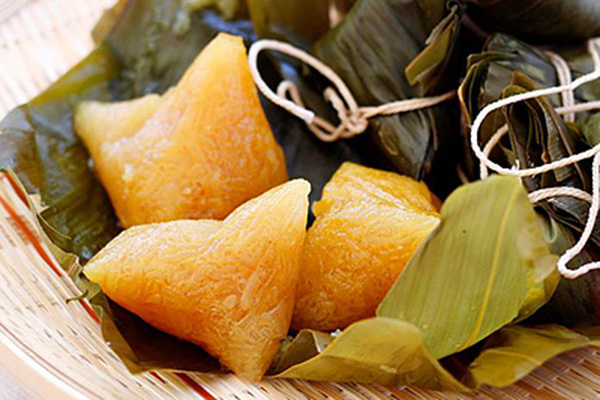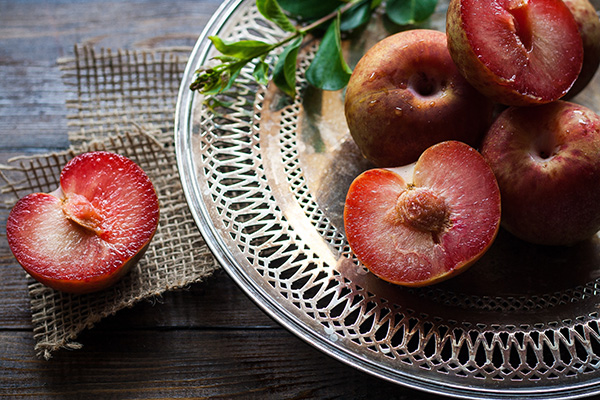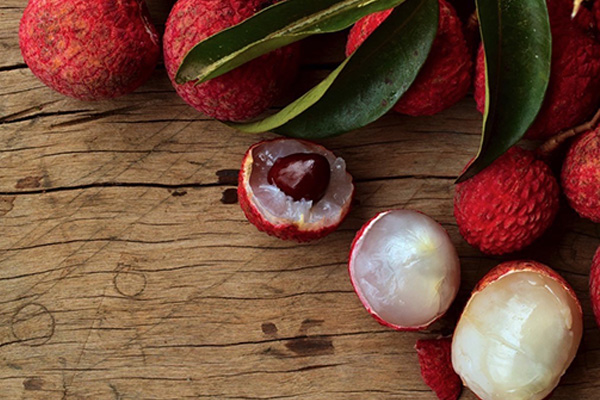 Vietnamese common summer specialties for Tet Doan Ngo
From early morning, a worshipping tray including multi-colored "ruou nep" (golden brown and glazed purple fermented rice bathed in rice wine), sweet treats, summer fruits (plum, lychee or banana), fresh flowers, water and joss paper are well-prepared for ceremonial dedication; then, family members may wash themselves with herbs in warm water (river-bathing in Vietnam Central) to refresh their minds and bodies. Afterwards, Vietnamese people will enjoy their time together in a sweet feast with homemade delights. While in the North, "banh gio" (triangle steamed cakes served dipped in sugar liquid) are served, the Central homes prefer their millet sweet soups and in the South, the "che troi nuoc" (sticky rice balls with green bean paste fillings bathed in coconut milk) are much in every one's favor.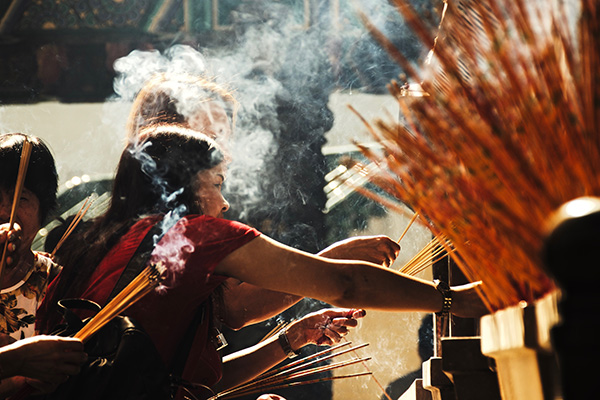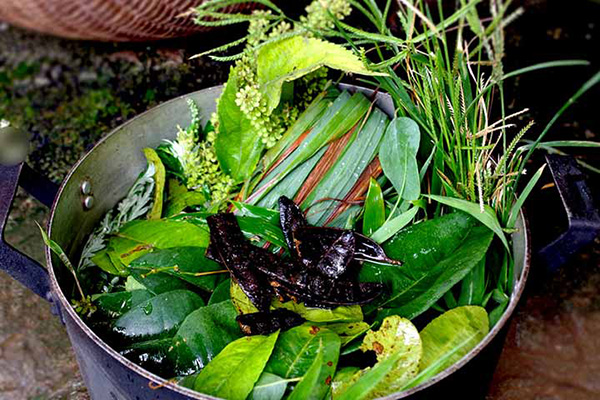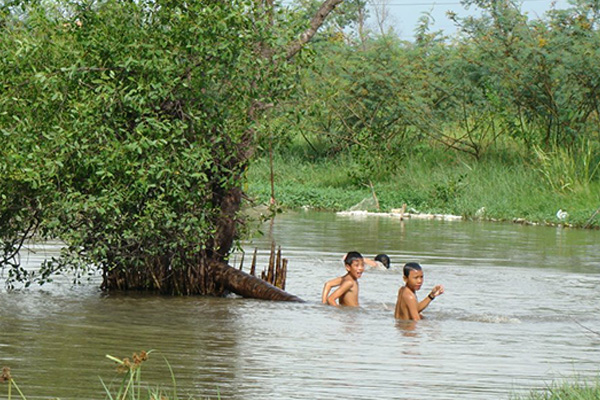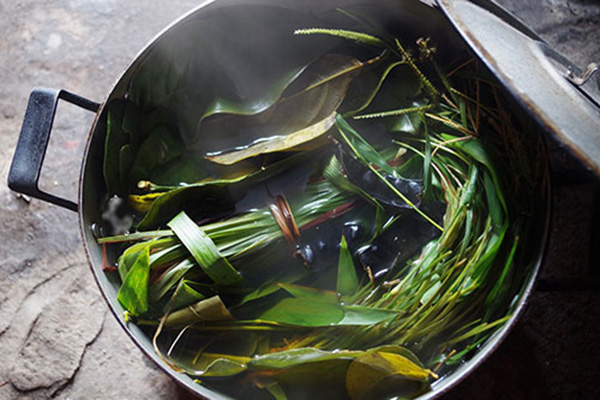 Vietnamese ceremonies for Tet Doan Ngo
 Vietnam Categories
 Northern
 Central
 Southern
 Date (Lunar Calendar)

 May 5 (mid-June in Gregorian Calendar) Time

 Time (Zodiac Time)

Ngo" – The Horse Hour (11.00 am – 01.00 pm)

 Ceremonies

 x

 x

 x

 Ancestor remembrance

 x

 x

 x

 Family gathering

 x

 x

 x

 Body refreshment

 Herb-bathing

 River-bathing

 Herb-bathing

 Specialties
 
 
 

 "Ruou nep"

 x

 x

 x

 Seasonal fruits 

 x

 x

 x

Traditional desserts 

 "Banh gio" (Steamed triangle rice cakes served with Vietnamese molasses)

 Millet sweet soup (served with crispy sesame rice cake)

 "Che troi nuoc" (sticky rice balls with green bean paste bathed in coconut milk)
Tet Doan Ngo – Sens Asia Travel's Holiday Insight
Useful notes
The banquet for ancestor worship usually consists of fresh flowers, joss papers, water and sweet treats including "ruou nep", "banh gio" or "troi nuoc", summer fruits. If you intend to try some, just remember to try the sour fruits before having the sweet dishes.
"Ruou nep" is made into 2 colors (golden-brown, glazed purple) representing the abundance of soils and natural resources in Vietnam. If you are offered some in a random morning coffee round in Hanoi, please kindly accept and try because the shop-owner just wants to share his luck and prosperity to you in a very generous way.
Children are allowed to have some "ruou nep" due to the light base in rice liquid or they may eat boiled eggs and sweets instead. If you coincidently see one little fellow eating "ruou nep", do not talk against their parents as letting children have alcoholic treats, the rice liquid is surely safe, healthy and tradition-oriented.
By Le Doan
PHOTO CREDIT:  Internet, Blogspot