Feb 2018 – Update on Bagan Sunrise & Sunset view points
Bagan is the mecca for travelers & photographers, most of the visitors had traveled thousands of miles to come and witness the sunrise/sunset, which is regularly ranked as one of the world's "must do" experiences. The land is the home of more than 3,000 temples that stretch out as far as the eye can see. As a traveler, you may as well spend so many time reading and finding where the best locations you can get that perfect shot at sunset? The lesser known temples that allow you to have the best view, away from the crowd and enjoy a quiet time by yourself.
However after the earthquake hit Bagan in 2016, a serious question about protecting the thousand years old temples vs attracting tourist by viral shots of sunrise/sunset from temple top had been raised.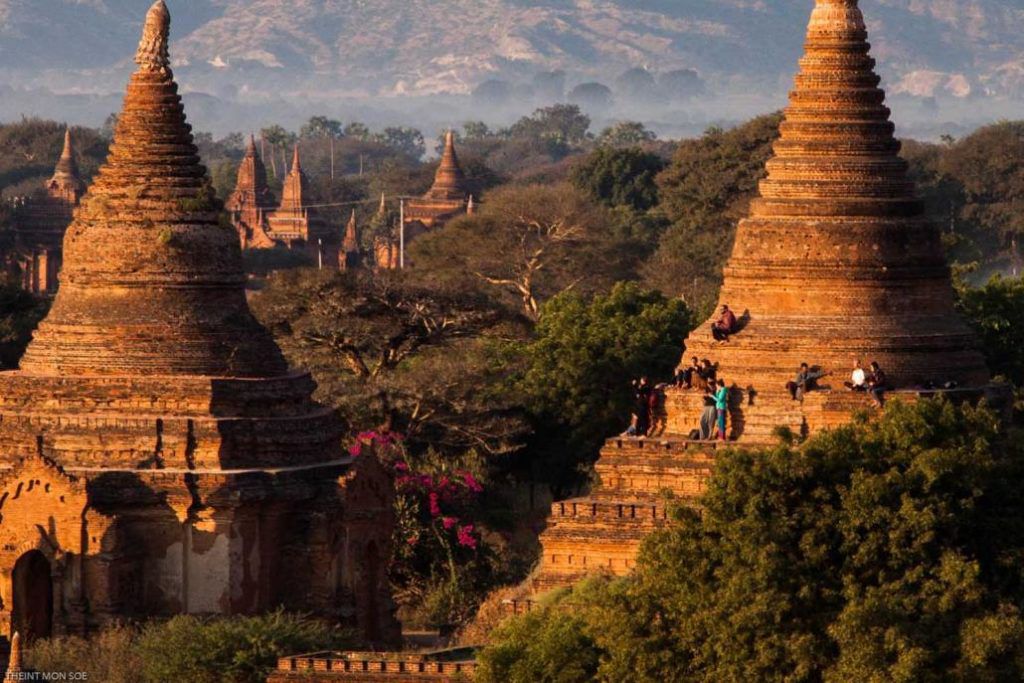 Tourists take photos of sunset from the top of Bulethi in late January, despite the authorities imposing a ban on climbing the pagoda following a 6.8 magnitude earthquake in August 2016. (Theint Mon Soe — J | Frontier)
The Department of Archaeology and National Museums (Bagan) came to final decision to ban climbing on the ancient pagodas and temples which are aged around one thousand years and it'll also reduce your chance of observed the view that so many others bloggers listed.
"Bymid-20177 and 2018, three manmade earthen hills have been established as sites for travelers to admire the beauty of Bagan's scenery at sunset and dawn and there will be seven more additions to these three" according to an official of Nuaung U District General Administration Department.
Sens Asia Travel would like to update you with some of the accessible spots for watching Sunset in Bagan as follows:
1.MAKE YOUR OWN FINDING TEMPLE
For a free travelers, you will sure be wandering with your E-bike around, there are many quiet temples nearby famous and big ones. Mark one with great nature surrounding, a decent height that allows you to access, having some nice shape temples between the one you chose and the sunset and return in the afternoon/ morning. It'll be yours to soak in the quietness and the sunset view for your own.
Temple should have open staircases after 5PM many temples will be looked up their main doors.
Just make sure you pick a temple not too far from the main road and not too hideaway, after sunset it could getting dark fairly quick and you do not want to get lost if you are not with a tour guide.
Here is a list of temples in Bagan and their age, be respect the Ancient temple and pick new structure to gain your viewpoint.
Sens Asia wants to make some recommendations as below base on Safety (so we remove Bulethi), Temple protection and the great view. Most of them have open staircase:
Shwe Leik Too: This is not far off the Old Bagan – Nyang U road. Nice sunset views
Thitsarwadi: It offers a panorama of the surrounding temple-dotted plain, the good thing is it not frequented by the crowds, the not so good it is not very well kept so mind your own step.
Pagoda 446, located in the middle of nowhere and not easy to find but it listed on google map. The platform is large and safe for you. Make special notice to leave before it turns too dark.
Lau Ka Ou Shang: Get this great view of the famous Sweshandaw & Dhammayan temple near Lau Ka Ou Shang temple.
@Wanderlustmushroom Feb 2018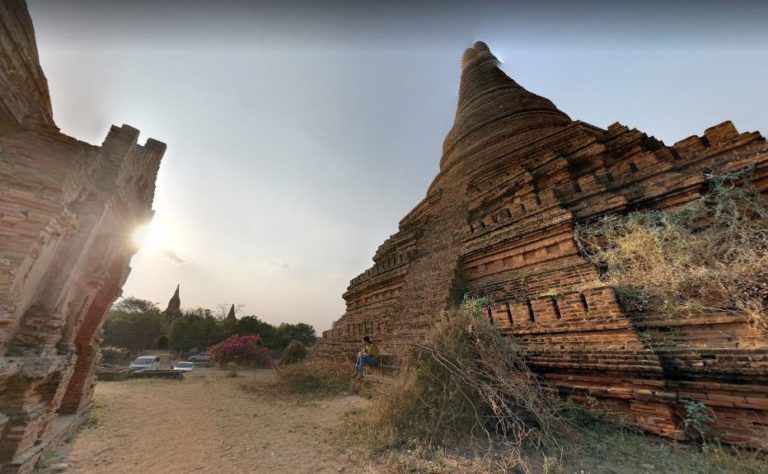 2. MAN MADE VIEWPOINTS:
Ko Mauk Lake & Oh Htein Kone (near Sulamani Temple) the two man-made hills have similar size, built in 17 feet in height and 180 in length with a capacity of 360 viewers each.
Nyaung Lat Phat Kan hill: a capacity of 1000 viewers, the viewing place is situated at the southeast of Sulamani pagoda. It is 400 feet in length, 23 feet high and 25 feet wide.
Not as fancy as a temple climb up but you will help Bagan to preserve its ancient temples and keep it protected for next generation to admired.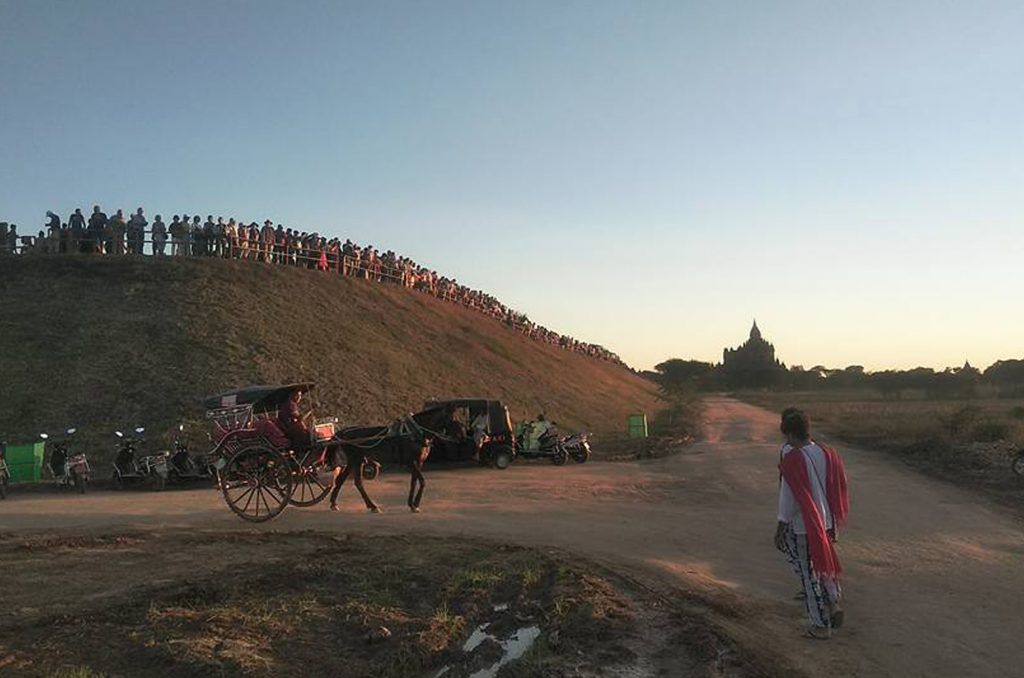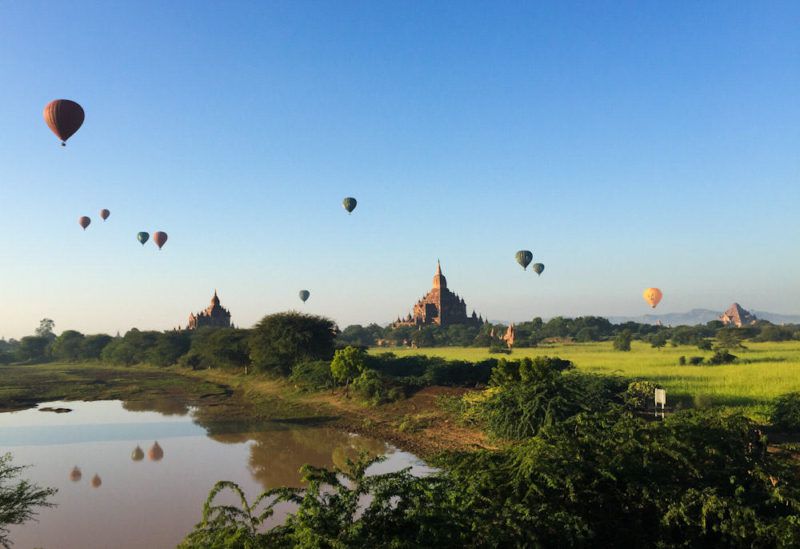 How to find them: Plz check out Bagan Lakes from google map.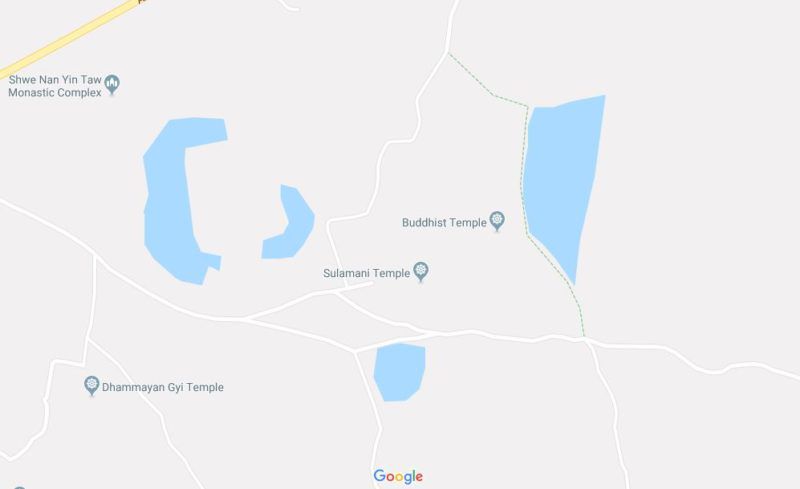 3. FROM A HOTAIR BALLOON
If you travel in a good budget then do not hesitate to make a 360-degree view of Bagan sunset/ Sunrise from the hot air balloon. It's absolutely wonderful experience from the beginning to an end.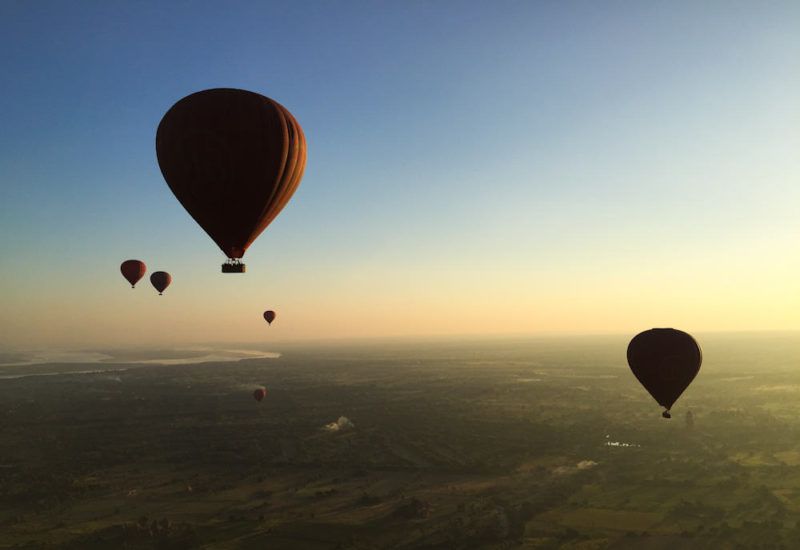 Balloons over Bagan – 330 to 400 dollars
Oriental Ballooning – 395 dollars
Golden Eagle Ballooning – 320 to 380 dollars
4. FROM ONE OF MANY OLD BAGAN HOTEL AT THE RIVER BANK
Bagan River Hotel is situated in Old Bagan, on the banks of the Irrawaddy River will give you just a tranquil and relaxing sunset time. Forget about all the temple silhouettes and watch the sun go down behind rolling hills on the other side of the river, relax in a deck chair with a glass of wine.
Hope you will enjoy Bagan as I always do and hope your sun chasing is rewarded with a precious moment that you will remember it for long.
By Sarah, Feb 2018
Find out more about Myanmar click here