Sens Asia Team in Sapa, A Very Christmas Trip
How is your 2018? To be honest, the past year with Sens Asia Travel team was restless. We work, we fight, we strive to develop and deliver quality products that would surpass our dreams. One day, the members looked up then realized something important, something gone missing: Our time together. On the very first days of December, the whole team decided to cut off pieces of daily work and joined the long-await relaxing trip to the Northern part of Vietnam, Sapa, here we go.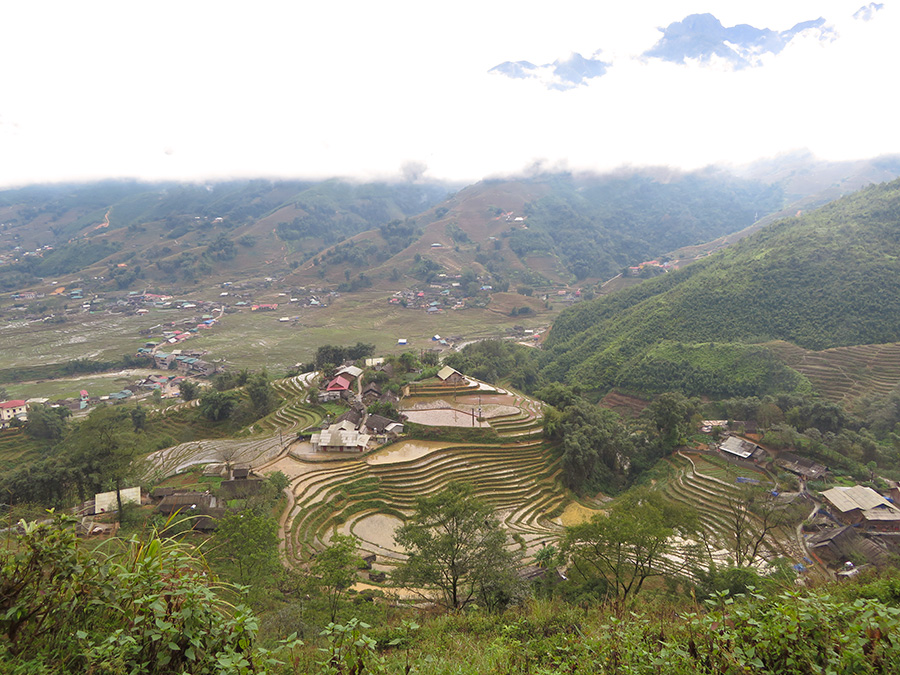 We were somehow amazed, relieved and happy with the sudden upcoming journey that has been partly forgotten. The calm sun, clear sky, puffy clouds and chilling atmosphere were all in our imagination. Yet, life, especifically Mr. Weather treated us differently, humorously, plus, surprisingly. All three days coming to Sapa, our team had endured with the massive bad weather travel pack, the not-at-all silver lining twilight, heavy down pours from 9 to 5, thrilling wind and sudden temperature drops at night.
What odds? None of us stay still for the whole trip even though we have the lazy-cat blood running through our veins. Crazily and freely, we were eating like hungry ghosts, jumping and singing in the middle of nowhere, taking weird photos at creepiest backgrounds and having our lovely moments.
Nam Cang, the Red Dzao and dearest memories
Nam Cang "found" us, the lost sheep with a bunch of bags, backpacks, food packages midst evening, while sun had set long over the mountain. Our arrival was tough due to carsick. Half of our team nearly collapsed after 5-hour of driving and crossing rockiest bends. After dinner, we expected a private wrap-up at hotel room, but everyone chose to stay over, chit-chat and have tea-snack in the community room. It was fun, watching the dim light fell asleep, hearing the sound of raging water echoed from the stream nearby and staring at the silky dark forest scene behind the window. What to come tomorrow when rain was this thick, what if the sun would not rise, no one cared anymore. 
Our first morning in Nam Cang was cool and breezy with marvelous scents from the outdoor greens, kitchen buttered pancakes and warm coffee. After breakfast, we took off to visit local houses nearby. The most fascinating feature amongst all surprises that we got here must have been the Vietnamese "U-Being Bridge" in Ecolodge homestay. Made of teak woods and construction steels, the bridge greatly resembles minority culture and architecture as connecting lives between rocky narrow waterfalls.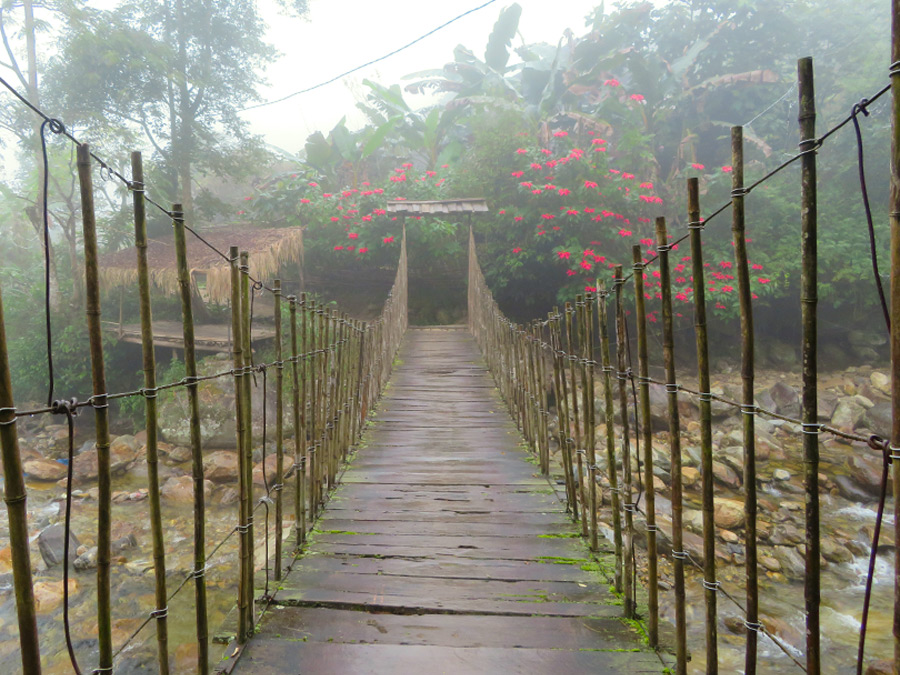 The trekking started right after selfie session in-between the house and bridge. Under the mist and slight rain, we hardly saw anything but a layer of rice terraces sleeping tight on both road sides. Different from the magnificent golden glaze ripe season in September – October, December embraces Nam Cang in a collected, tranquil, mysterious beauty. We hardly heard any sound from nature, except for our rare talking voices, hulking footsteps and water drops from earlier rains.
The calls from villagers were what wakened our souls. Friendly and cheerfully, locals from hidden stilt houses waved and said "Hi" to us. They realized our lonely wander, then, like their most longing cherished friends, they invited all to the place and have some tea.
We stopped by at least three Red Dzao's homes, watching them fill up the daily basket with herbs and spices, observing the women meticulously hang bunch of harvested corns to the front-yard ceiling or embroider traditional clothes faster than any of us sewing buttons to our clothes, playing with little kids who could not speak Vietnamese fluently yet understood so many compliments and instructions by body language only, drinking tea next to the eldest men in the households.
At the end of day-2 morning, we stopped by a silversmith's "shop", seeking the plated jewelry pieces that have becoming a pleasant obsession for our team ladies. The shopping was an irregular trade as they gently treated by local fruits, amazing stories regarding the Dzao silver-made historical timeline and good jokes about other women's enthusiasm for folk goods.
We found really good stuffs at his house, with more than reasonable price and quality. The making as well as patterns were purely based on traditional carving techniques, plus, daily wearable ornaments in Northern many Northern areas.
45km from Sapa town, life in Nam Cang was so much simpler and dearer to all our team.
Hidden treasures of Ta Van
Good bye Nam Cang. Continuing second travelling day, we spread our fiercest wings against the worst carsick state lingering from last night, headed to Ta Van village. As its name the rustic hidden treasure of Sapa, Ta Van wowed visitors by stunning nature properties that come one after another, a more crowded place than secret gardens in Nam Cang but less visible than the tourist trails of Sapa.
Our first check-list for Sapa ticked the Phơ-ri homestay. Nice, neat and full of joy, those words could truly describe our place. Although the temperature for 2 days here remained 10oC, Phơ-ri brought us fantastic warmth and care for winter. The decors marked up with weaved and embroidered accessories, from table cloth, window curtain to personal blanket or bedroom pillows. Kitchenware was gorgeous, all in ceramics, skillfully drawn by birds and animals patterns, which totally covered our desire for using them at once. If the weather was more inconvenient, we would have been spent all of our time staying in this second home, running around the house, cooking and drinking tea 24/7.
"Treasure within treasure, amazing"
Le, Sens Asia Team
Trekking Ta Van has really lightened up our moods. The energizing 4km counter from current location to Lao Chai was rough, tacky and filled with sudden merry as we discovered some charming handicraft shops as second check-list.
Brocade items such as shoulder bags, aprons, belts, dresses, even coasters were crafted by hands, displaying various symbols with closest dedication to Giay people's lifestyle.
Going up, it seemed we could easily reach the humid, cold, airy veil of fog within the reach of an arm. However, behind this whiteout curtain, we could spot fascinating charms offered by Ta Van, the milky sky sparkling in mere-second with revealed light beams from the West, bamboo forests dancing to playful noon gale, scenic views of roadside rocky corner reflecting highland features, ravishing ravines echoing swig sounds. How would you find all of these in another time of the year? An imperfect timing was able to perfect travel concept.
Our ending page was significantly written by a time by the traditional Red Dzao bath and sturgeon hotpot in the evening.
Rather than a company retreat, we had the trip finding not only hidden treasures of Sapa but also a very captivating holiday to remember. Merry Christmas and Happy New Year!