3 Things You Should Not Miss about Tet in Hanoi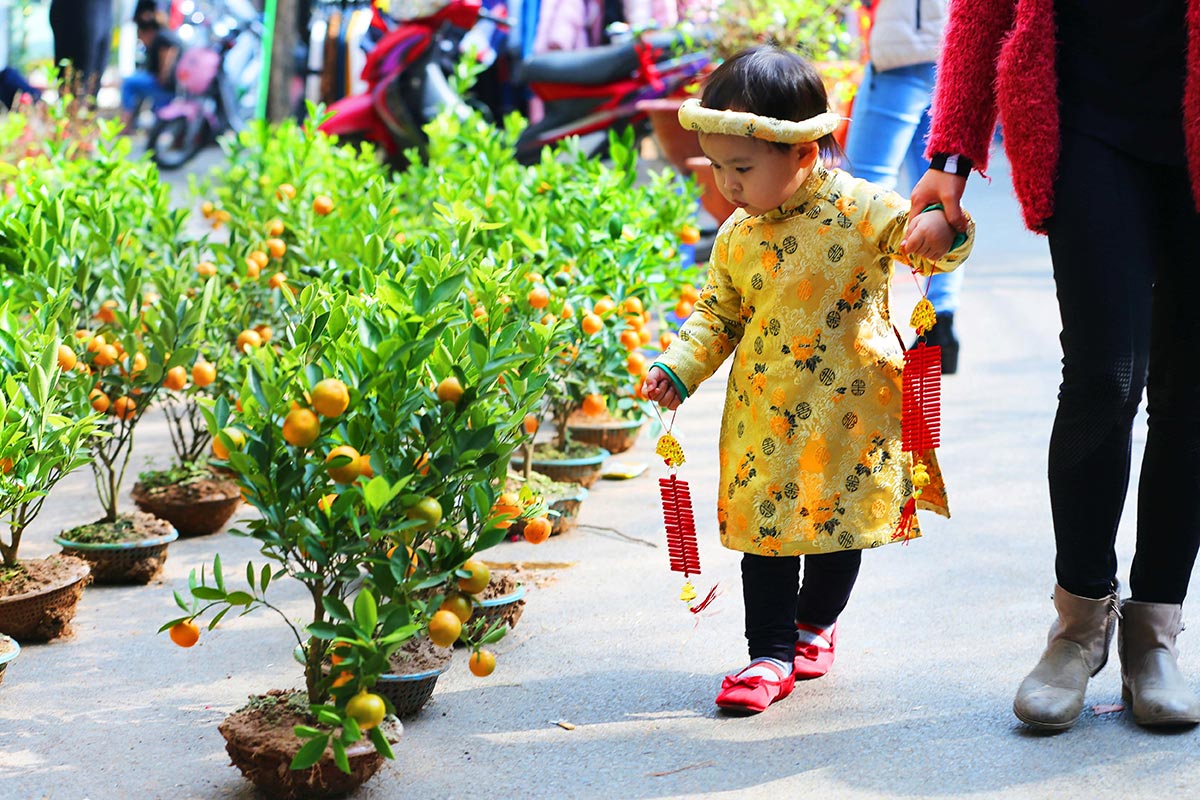 As the annual biggest national holiday is fast approaching, Sens Asia Travel would like to show you the true Tet in Hanoi, as a heart-touching, gorgeous, and really special occasion not only for locals but also visitors coming here during January – February.
FLOWER MARKET IN HANG LUOC STREET
Spring has come, flowers have to bloom. Few weeks before Tet, the 500-year-old seasonal flower market in Hang Luoc Street maintains its fascinating culture every year by a grand reunion of tree and flowers sellers from the North. Ideal, rendezvous and bewitching, this spot holds nostalgic feelings for all who come to visit the market. Hundred types of trees and plants compete, thousands of branches and pots get new homes daily. Hanoian treasure the lifestyle, where there is a great emphasis of love and tradition to bring family members together in one holiday.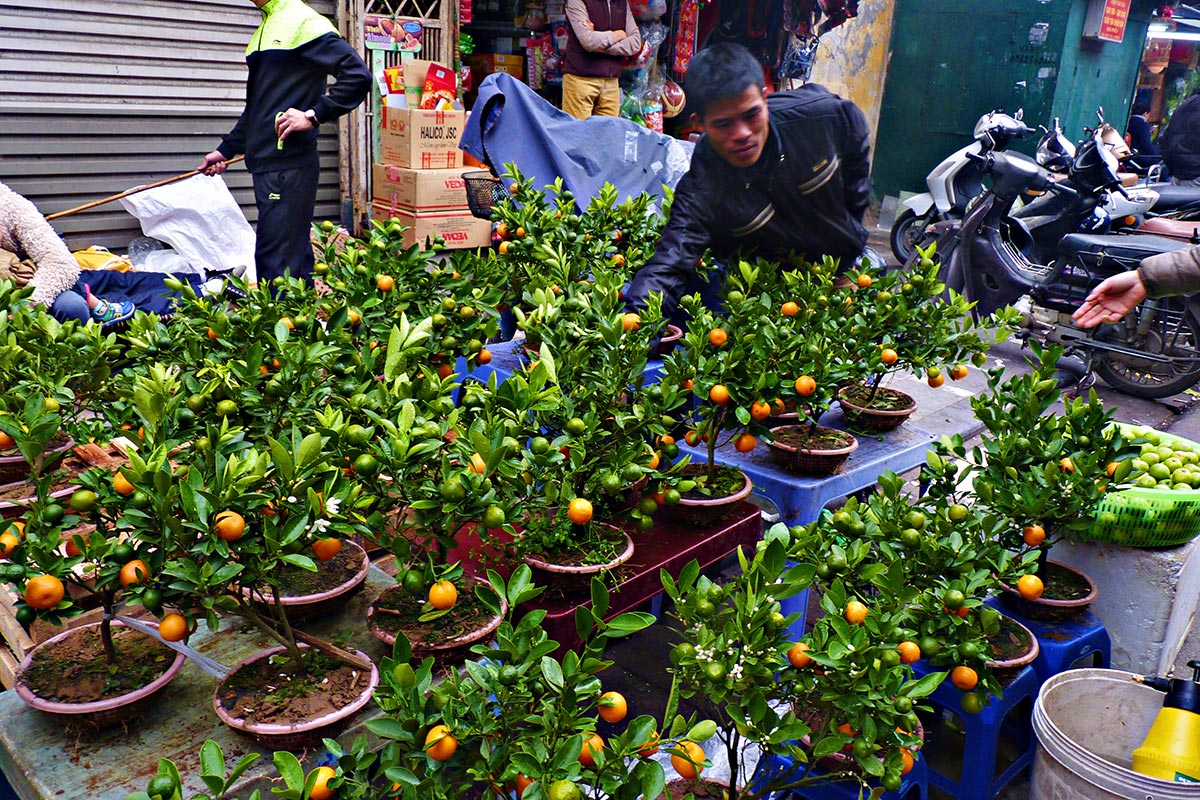 Kumquat tree to cast evil spirits away and to bring fruitful achievements to the owners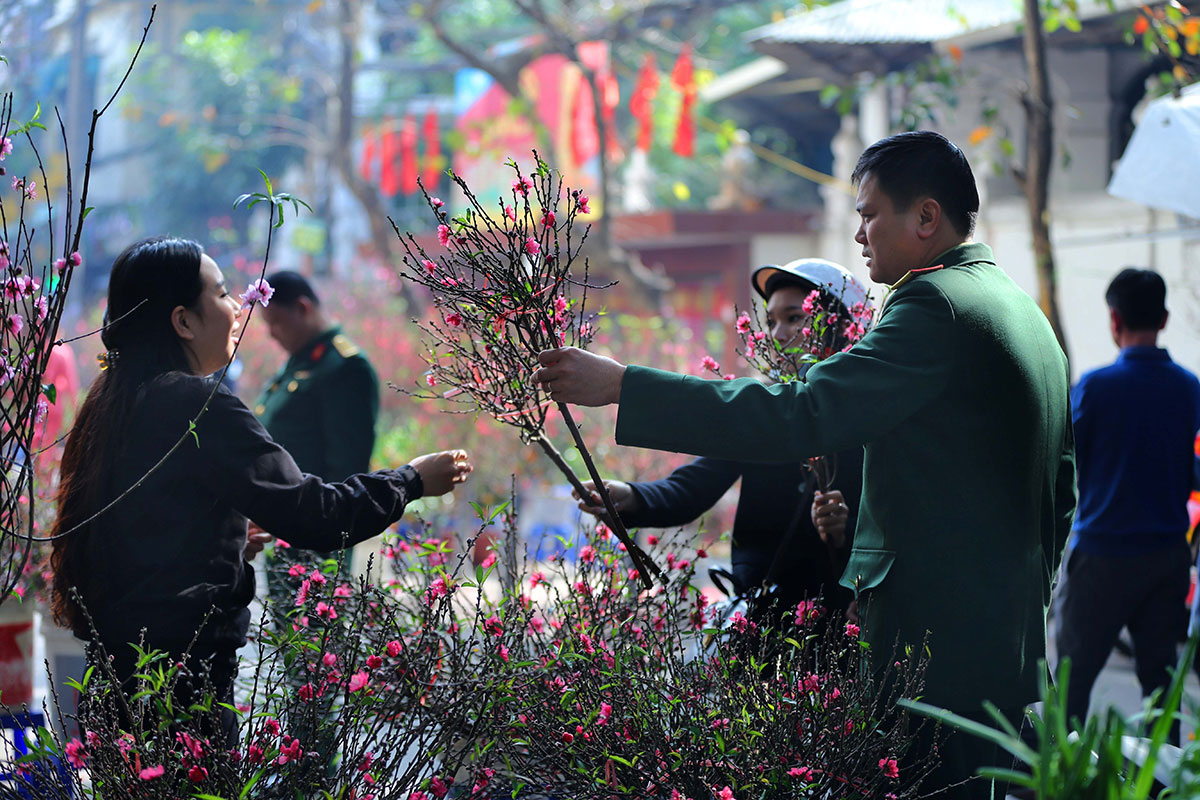 Peach blossoms with different figures represent different meanings of life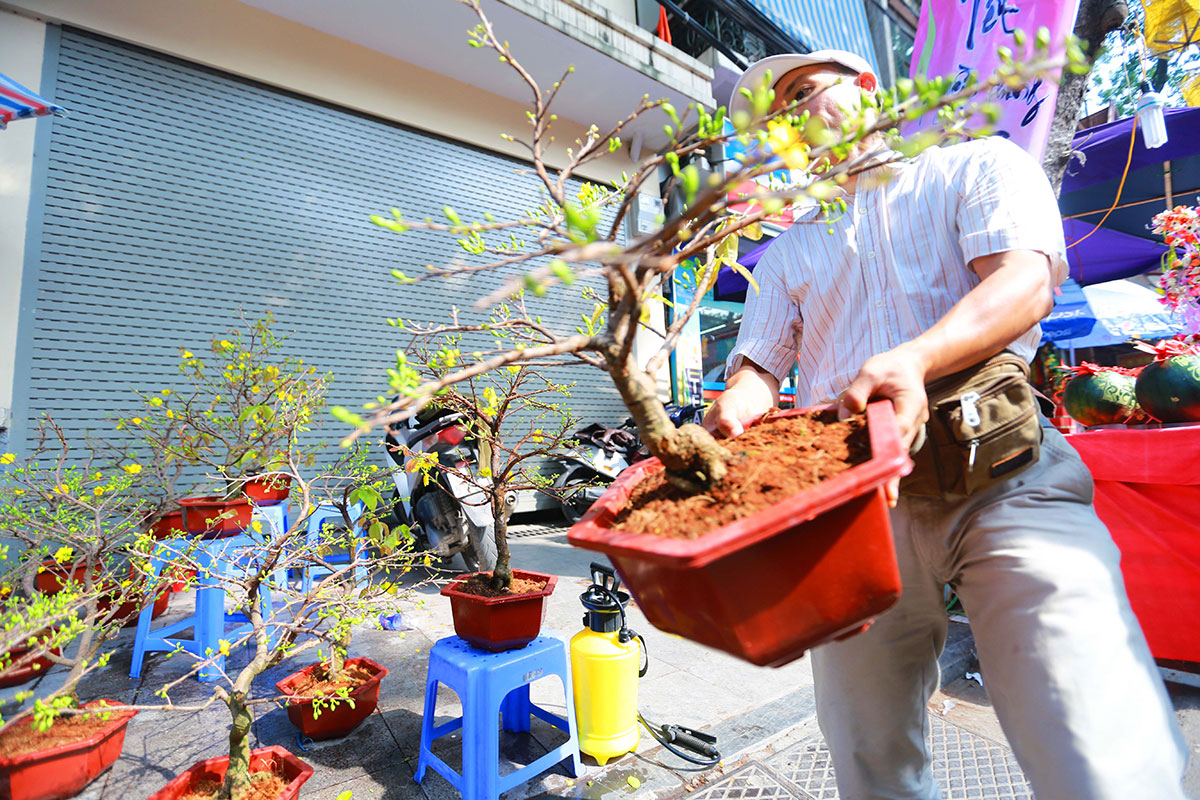 Not only Hanoian's traditional kumquat and peach blossoms, many other gorgeous flowers and trees from many regions of the country, even exported ones are sold here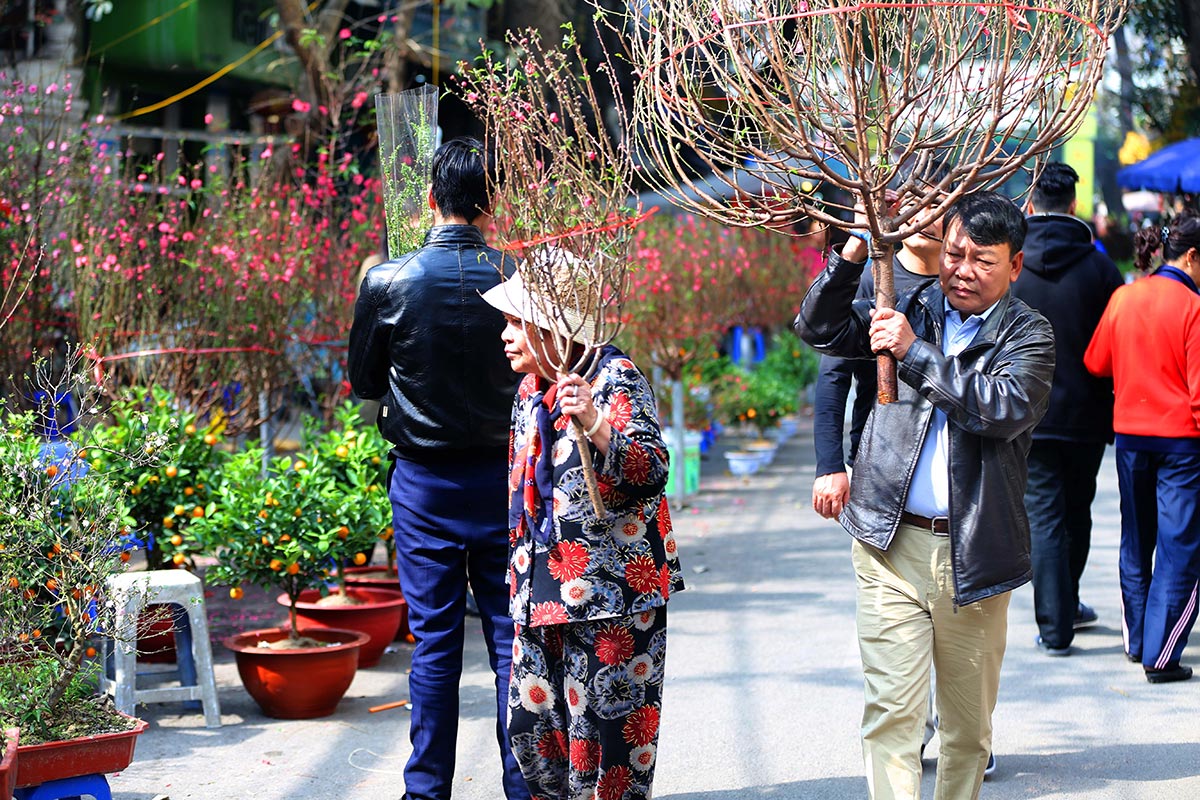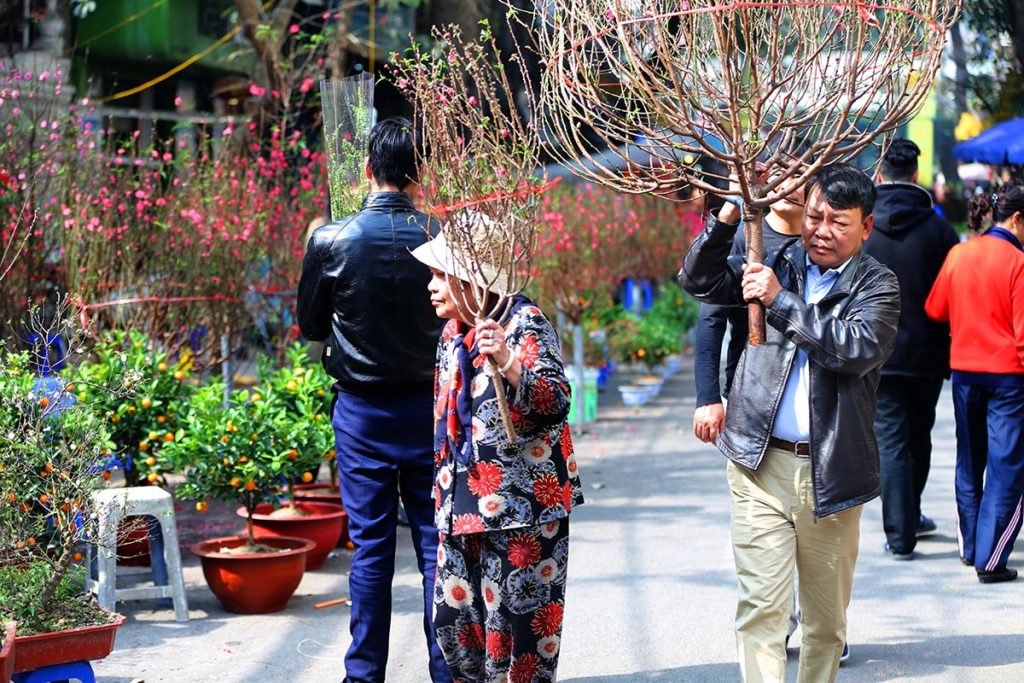 The flower market has long been an inspiring part in Hanoi's age-old pictures as many generations gather here not only to sell, buy but also pass on the wonderful Tet spirit
Location: Hang Luoc Street to part of Hang Can Street – Old Quarter, Hoan Kiem, Hanoi
Opening Hours: 8.00 AM – 9.00 PM, from January 20 annually according to Lunar Calendar
Travel Tips:
The 4 streets Hang Luoc, Hang Khoai, Hang Giay and part of Hang Can will be blocked during day-time for the market so please ask the driver for specific ways around if you move around by taxi, bus or private car
Visit the flower market with light luggage as the traffic jam here is over expectation even if it is not rush hours. You would not want to carry 10kg of belongings around the narrow streets and get stuck at somewhere over the human ocean
Bargain is a common thing in the flower market, even for a set of red envelope so be assured to ask for the price before buying or advise your guide upon the gifts you intend to take home
Come during daylight to take really photogenic photos with the flowers and ask for the sellers' permission if you intend to stay long with their trees/flowers
LUCKY RED ORNAMENTS IN HANG MA STREET
Hang Ma Street is renowned as the valley of home decoration. Months before Tet, the street is dyed with a brilliant red color as sellers decorate their stores under the lucky-go-merry of upcoming Lunar New Year. Beautiful ornaments, traditional tassels, sparkling calligraphies, faux flowers and a garden of red lanterns are hung outside, creating fantastic orders for the stalls. Hang Ma Street is just 300 meters from the Flower Market in Hang Luoc; hence, after half-day seeking the perfect tree for New Year in Hang Luoc Street, families, friends and couples immediately head towards the ornament valley, dressing up with well-fitted "ao dai" and take a lot of pictures with the fantastic red theme.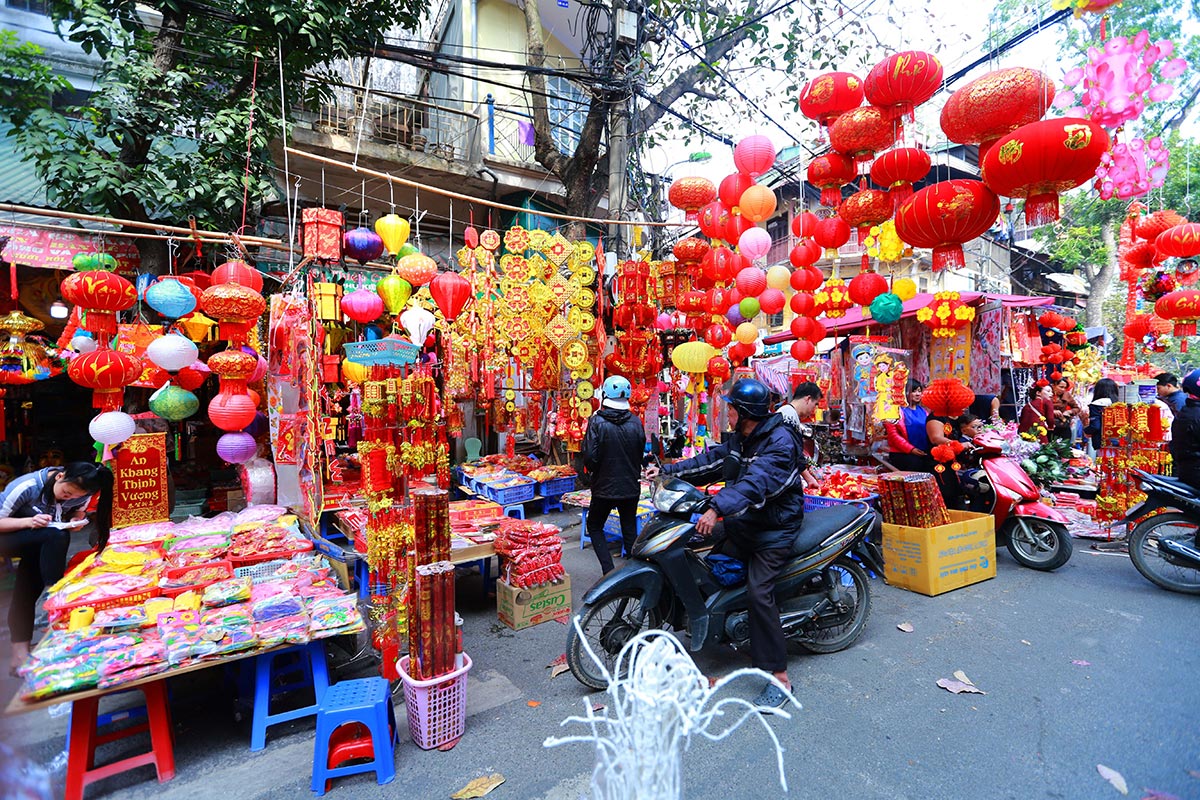 The trading activities in Hang Ma Street do cause a bit of traffic jam. Please be patient and enjoy the stunning decorated scenes
Antiques are also displayed during these days. You can actually find really good ones with reasonable prices in this age-old sea
Location: Hang Ma Street, near Dong Xuan Market and Hang Luoc Flower Market – Old Quarter, Hoan Kiem, Hanoi
Opening Hours: 8.00 AM – 9.00 PM, from January 20 annually according to Lunar Calendar
Travel Tips:
The sellers do sell items separately but for most reasonable price, consider bring home more than one decoration item
The shops here almost look exactly the same with familiar price so remember where you intend to shop for later comeback or just buy from the moment you want
Some items are for ancestors' worshipping so ask the tour guide or sellers the particular purpose of sparkling items (especially the golden plated lotus ones and eye-catching halo lamp)
If you fall for crafts, the antique stalls might amaze you with some awing pieces, even from the 90s
AND, TRADITIONAL DISHES FOR FAMILY REUNION
In Vietnam, people often say "an Tet" which is literally translated to 'eating Tet' as the holiday is so important that the whole family, from women to men, from adults to children will join hands to cook up a generous feast, with many traditional Tet dishes on offerings.
If you are lucky enough to be invited to join a local family for a Tet meal, it would be a lifetime experience for both your stomach and travel insight!
From chicken to pork to fried spring rolls and noodles, there will be a lot to taste. Check out our 5 ultimate food for the day below:
5 Ultimate (Traditional) Foods for Tet Holiday
We wish you a fantastic season and may all the best will come to you regarding this Lunar New Year!
–
PHOTO CREDIT: vietnammoi, zing.vn