10 Crazy Ideas to Spend your Valentine's Day in Vietnam
Have a leisurely hike on top of Ma Pi Leng Pass (Ha Giang) – The Ancient rock path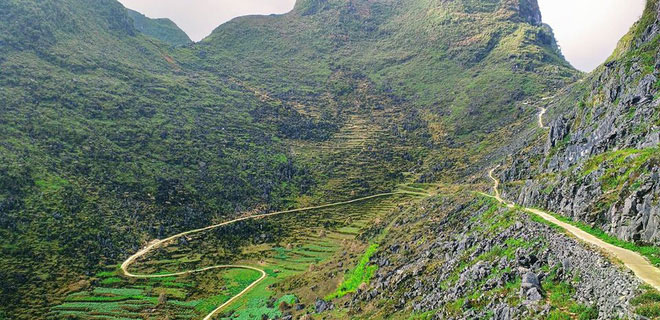 2km from Dong Van Plateau, Ma Pi Leng Pass (The Bridge of Horse's Nose) is considered one of the most majestic destinations in Vietnam, even to experienced adventurers. Riding on this pass crossing Ha Giang Province, you will definitely be amazed by the immense scenery: winding and narrow roads with one side is the epic limestone mountain, the other side borders a wide space of the sky and endless horizon. For couples, Ma Pi Leng and Ha Giang are refreshing, out-of-mind and challenging love loop to spend off your holiday, plus, to take your safe romance into wilder and more memorable level!
Sens Asia suggests an off-road trip herein Ma Pi Leng, of course, with most secure gear-up for the both of you as you will see the thrilling part of Vietnam nature and local life. One extra note for you and your partner: Visit the ancient cliff white cliff of Ha Giang. Legend said that there were two married people living in the valley. One day, the wife got sick and nearly lost her eyesight. To cure his loved one, the husband risked his life climbing on the bristly ridges of the mountain, where a Fairy from Great Heaven lived to save some special herbs. Feeling touched towards the pure love of the husband for his wife, the Fairy let him go through the obstacles easily and come back home with the herbs. From the ridges once the husband stepped on, there were 'tears' falling down, which belongs to the Fairy. She may have been crying for the two loving villagers. Visitors trekking 10km to the ancient cliff, especially couples, can receive the wonderful blessing from the Fairy.
Plant a tree together in Khau Pha Valley (Mu Cang Chai)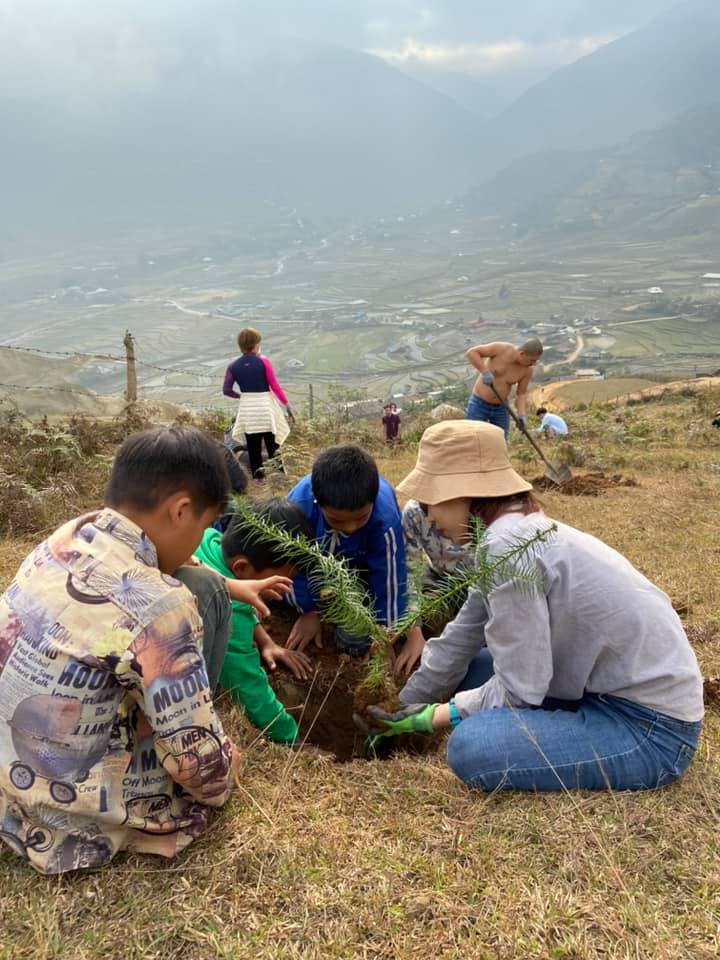 If you need a dose of nature and favor the green travel, let's head to Khau Pha, Mu Cang Chai instead of crowded Sapa, Lao Cai. Khau Pha is a lesser-known land situated in North-Western Vietnam, where friendly minority groups as H'mong people live and maintain their stunning traditional customs and mountainous lifestyle. For couples, Khau Pha is a quiet, yet fascinating hideout as the tourism population only reaches small-scale. In contrast, the landscapes as well as locals pop out significantly, easily satisfy any expectation of highland and hill tribe culture: spectacular rice terraces and plantations covering the horizon, sheer and shining hiking trails with zigzag valley at slower pace, wooden stilt houses on flattened earth, vivid traditional outfits including tunics, hats, embroidered pieces, large accessories and bright colored waistbands.
The outdoor activities will bring up the sweetest little joy for you and your beloved one. You can trek through the epic roads to Hoang Lien Son mountains, crossover Khau Pha Pass to see the 'heavenly well' (border between land and sky overlooking Khau Pha), stay warm and cozy at local house to cook and join them for a home hosted meal, learn the tricky techniques making craft from elder villagers and especially, together, plant your tree to spread the meaningful message of keeping the greens for Khau Pha community. That way, you two can cultivate your love through time. Khau Pha friends will help you take care of the special tree and welcome you back one day.
Say 'I LOVE YOU' on a seaplane (Quang Ninh)
If you are seeking an echoing way of confessing/ proposing, get on a Halong Bay seaplane and shout your heart out! An up-in-the-air journey from Tuan Chau Marina can be affordable, fun and fascinating (around US $200/ person for a 25-minute flight). Couples or married travelers who want to add extra spices for your personal romance, go private to soak up the sky and explore the breath-taking scenery of Halong Bay from bird eye view of prominent islands: Dau Be, Cong Do or Bo Hon. You can see more epic landscapes of Ti Top Island, Sung Sot Cave, Cua Van Fishing Village and so on. Also, you can combine the plane and cruise trip together to join a perfect dinner at the beach, under the starry night sky and nearby calming waves.
Seaplane services in Halong usually take off from Tuan Chau Port and return to first station after finishing the itinerary around the islands of Halong Bay. There are normally three flights per day, departing at 10.30 AM, 2.00 PM, and 2.40 PM. Depending on time arriving in Tuan Chau and the time of flight, travelers can have lunch before or after the seaplane tours. Travelers should present early at the airport, as the counter will be closed 25 minutes before the departure time. The maximum weight of baggage is 20kg. On holidays, the fare of seaplane will be increased more. Travelers can change departure time, but depending on the available seats.
Charter a whole luxury private cruise (Halong Bay)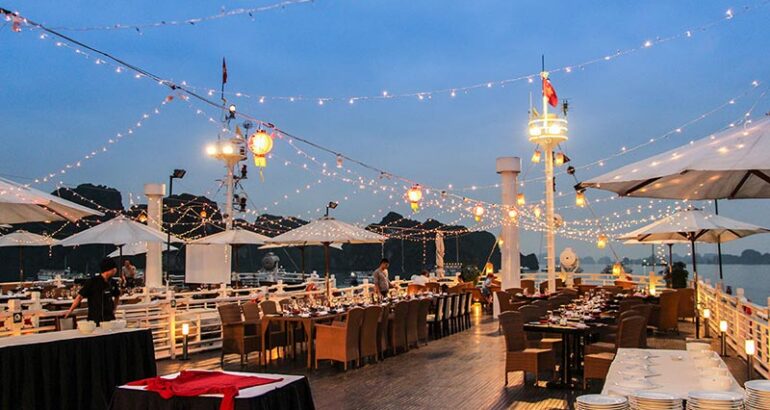 Private cruise is an ideal option for old-fashion romance. Most cruises in Halong Bay come in 3 classes: Deluxe, Luxury and Superior, from US $400 per night and offer guests with convenient services of dining, private tour program, guides and even private itinerary. Those who are looking for decent intimacy and exclusive leisure, charter a private cruise (1-cabin cruise available) might help you fire up the love spark lying lazily under the travel theme.
Many honeymooners choose Halong Bay cruise trip because the journey includes everything you can do for a couple refreshment: small celebration onboard or on the beach, sightseeing and Instagramming all day to show the world you two are falling in love once again in a far place, couple workout by cycling around the local village, couple suntan with magnificent time under the brilliant sun.
Have lunch in a clam hut (Nam Dinh)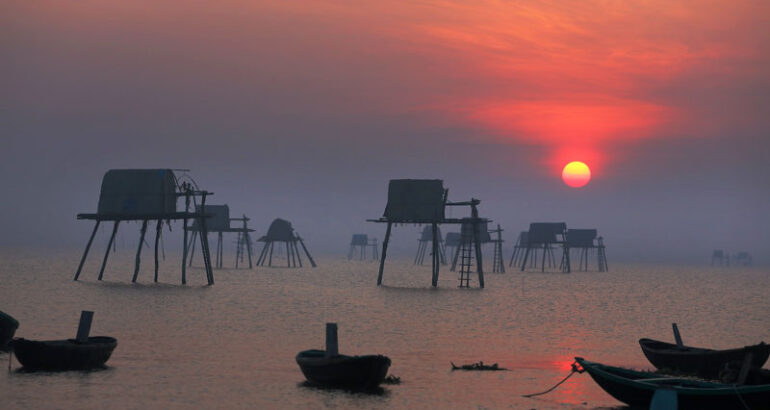 Located in the heart of Red River Delta, Nam Dinh rises notably as one of Vietnam's best second cities and unique travel destinations. Being the second capital during 13th century, the land originates utmost sophisticated Northern cuisine and lifestyle, embracing countryside characteristics with farming, garden, wooden houses, eye-catching sights of epic mountains and salt fields. Visiting Nam Dinh, couples can freely enjoy your relaxing getaway, staying with enthusiastic locals at a hosted house and learning about life around the Red River.
Although Nam Dinh has been a great developing escalator, the place is lesser-known, peaceful and full of surprise, especially towards nature lovers. Besides the astonishing foodie hubs around day markets and authentic local experience, you and your partner can cruise further to Xuan Thuy National Park – a part Delta World Biosphere Heritage Site recognized by UNESCO since 2004 and a bewitching bird migratory haven by local boat, then reaching the magnetic view of coastal line. The highlight of this loving journey is having a special lunch on a clam hut with delicious seafood.
If you need a cultural pill to wrap up the trip, do not forget to stop by famous traditional villages in the area, the Trumpet-Making Brass Village, Vi Khe Bonsai Village or ancient Phao Pham Cathedral. There is a lot of work for the hands!
Surprise her/him with a glass of wine gazing up the magnificent sunset of Chuon Lagoon (Hue)
You may have heard of Hue, the ancient city with royal tombs, spiritual buildings, hundred-year-old pagodas or Thuan An Beach, but not many travelers recognize Chuon Lagoon. About 6km from Hue city center, Chuon Lagoon attracts visitors by its wild, bestowed beauty of a peaceful sun-kissed land, four sides embraced by fresh water. The destination looks even more captivating in early morning and late afternoon with outstanding views, colorful clouds and fishing boat – bamboo fence – floating house maze.
Witness the magical sunset and sunrise with your beloved one at Chuon Lagoon, drinking up your delightful glass of wine – This is a timeless way to tighten your relationship with her/him as the sun has forever been a perfect testimony for so many love stories.
You will taste the colorful Central-style dishes like grilled seafood, 'banh beo', 'banh nam', 'loc canh' (savory rice cakes with different fillings and dipping sauce), 'banh khoai' (Hue savory pancake) and homemade traditional whiskey. The place offers fantastic scenery of floating lifestyle, with every activity revolving around fishing, floating markets and stilt houses among the calm water. You and your partner will have a great chance meeting up the friendly Hue people, be fishermen for half-day, learn the rowing techniques, visit lesser-known architecture embracing another side of Hue and challenge yourselves with unique workshops making sweets ('banh tet' for example).
 Dine on a bamboo raft (Hoi An)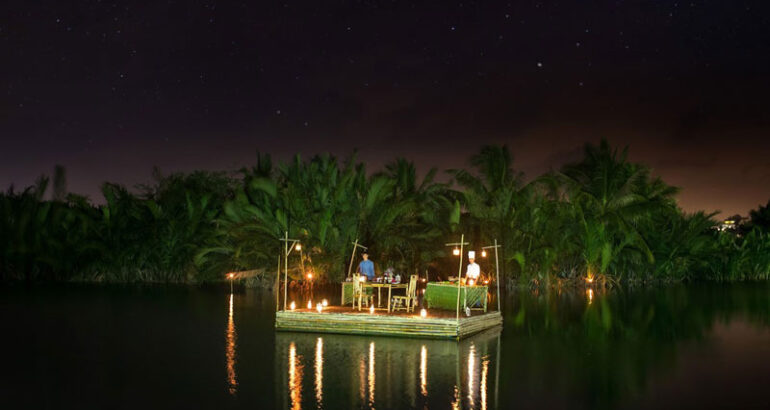 Away from the hustle bustle city life, you can take your trip further to Cam Thanh Village – a rural town situated in the Southeast of Hoi An. Couples often cycle from the town center to there, with only 5 km and 30-minute ride. In the evening, you two will have a completely private, quiet and sweet dinner on a bamboo raft, slowly floating along Thu Bon River. The menu is varied, including daily fresh seafood catch around the area, garden vegetables collected by lovely farmers and BBQ set with wine to light up lovey-dovey mood. 
Besides the relaxing dinner, you can also take part in half-day leisure experiences, for instance, joyful net fishing with local fishermen, bamboo basket boat balancing challenge, gardening in the eco-village or traditional folk games (tug of war, breaking the pot, etc).
Explore the timeless cave Phong Nha – Ke Bang (Quang Binh)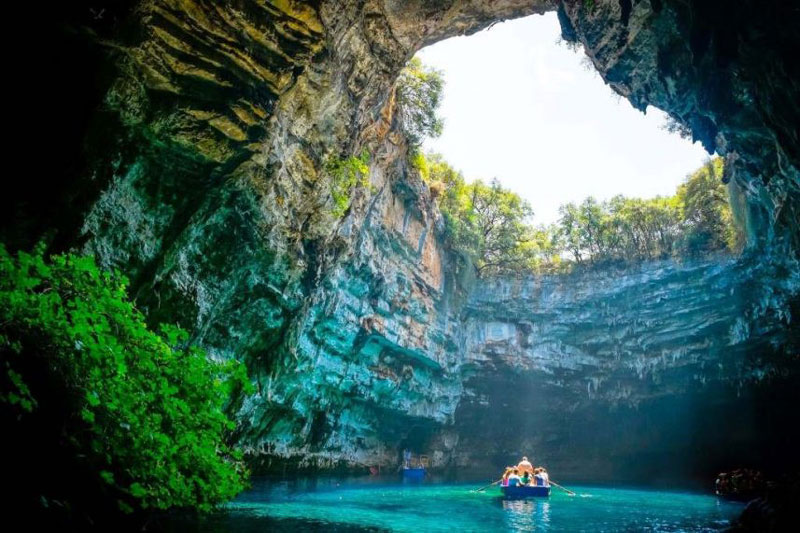 It took millions of years for the world's largest cave system, Phong Nha to be formed as it takes decades for love to be shined. For lovers and honeymooners who love a touch of adventure in your trip, Phong Nha – Ke Bang should not be missed! The ancient karsts hidden behind epic Son River, clashing with tropical jungles, otherworldly passageways and underground river clustering the main flow – Every bit of Phong Nha landscapes make it memorable, worth-visit and thrilling even though you do not need to climb up the top of a mountain or run through a vast stream falling down from thousand meters.
Kayaking, hiking and cruising are three keywords to conquer Phong Nha land as you will move a lot, inhaling fresh breezy air of the natural world. Also, three must-see sights for you and your partner: En Cave, Pygmy Cave, Phong Nha and Paradise Cave.
Crawl through Cu Chi Tunnel (Saigon)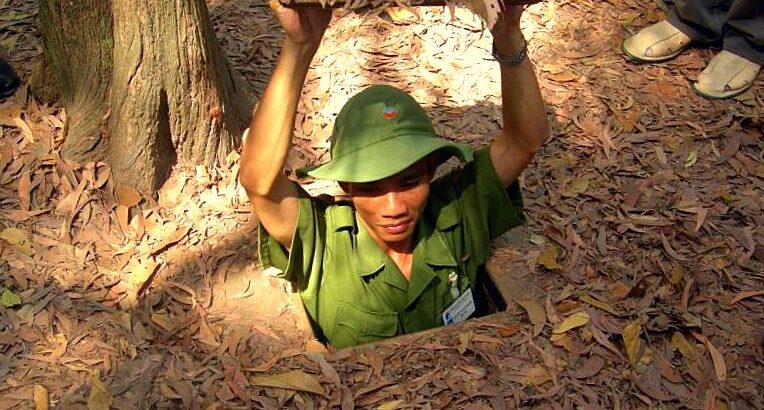 Located in the outskirts of Ho Chi Minh City, Cu Chi Tunnels is classified as one of the strangest destinations in Southeast Asia and manmade structures in the world, with 200km long tunnel system and numerous war evidences from the 1970s. During the American War, the tunnels were a huge strategic importance to the Viet Cong fighting troops. Not only was it home for thousands of Viet Cong guerrillas, but also a complicated pace for trenches, bunkers, booby traps, bomb shelters, and an amazing air ventilation system. Soldiers cooked, ate, slept, worked, and even went to school in these tunnels as conflict raged above. Believe it or not, there were hospitals, theatres, schools, kitchens, all built into this extraordinary tunnel system. For history lovers, the place has become an informative war museum and historical relic, which earns flux of visitors each year.
Participating in Cu Chi experience, you and your partner will feel a bad romance, spending daylight time in the cramped and narrow space underground at first and crawl through bomb impressions whose deep crevices. The activity is a soft-core adventure and reminder of being together, to overcome all hardship in life, even at the darkest time. Many travelers admit they feel more alive and appreciate their lives after staying a few hours in the tunnel!
Blow her/his mind by Mekong Delta food (Ben Tre – Chau Doc)
Located in the South-West of Vietnam, Mekong Delta amazingly reflects best of Southeast Asian floating culture: enchanting markets on water surface, cozy garden houses, riverside traditional restaurants and more.
Many couples travelling with Sens Asia Travel admit that what stands out the most from their holiday vacation in the area is actually Mekong food as it actually meet all the hard-core qualities for watery region's specialty: balanced (in flavor and presentation), memorable (sweet and savory flavor popup) as well as good for health (Southern locals use lots of herbs for their dishes). During the Mekong Delta food tour, you and your partners will fill up your tummy (then heart) with aesthetic culinary combining Earth and Water essences based on natural ingredients, for example, fresh seafood catch from Mekong River, garden vegetables and tropical fruits at top standard of diversity, and of course, healthiness.
The followings are some unique Mekong Delta dishes to share with your beloved:
Fried elephant-ear fish
Goby fish hotpot
'Hu tieu' (noodle soup)
'Banh xeo' (Vietnamese pancake)
'Banh la dua' (coconut leaf cake)
'Banh khot' (khot cake)