Home-hosted Meal in Hanoi with Local Family – Northern Vietnam Journey
Hanoi, the capital of Vietnam and the country's second largest city, features a unique blend of the East and West cultures with a touch of French influence. A rich history and strong culture aside, food is also at the heart of this thousand-year-old city. Unlike Ho Chi Minh city where the cuisine has many foreign influences, the gastronomy scene in Hanoi follows closely to the traditional Vietnamese culture.
Local-hosted Dinner at Hanoi Old Quarter
When it comes to having a taste of how locals eat, the closest you can possibly get to an authentic experience is having a home-cooked meal in the home of a local. And that was the very thing we did when our guide brought us to Hanoi's Old Quarter.
Located on Hang Bong street, the home still retains its original structure. Trading width for height and depth, the home is part of unique "tube houses" – a common architecture structure in Hanoi.  Up till today, seven generations of the family have lived in that same home. The couple host Mr Dung and Ms Quy are retirees who are eager to connect travellers beyond the façade of Hanoi as a tourist location.
We were greeted with warm and wide smiles spread across the families' faces as we sat down to engage in a conversation over some lotus tea and local snacks. I did not understand a word of Vietnamese but luckily Sens Asia Travel's representative was there to help. From the history of the ancient home and their ancestors to the lotus tea preparation, Mr Dung and Ms Quy were generous in sharing their knowledge with us. Their generosity extended to the dinner where they prepared a feast of comforting home-cooked Vietnamese classics. Laughter and chatters filled up the dining area as we dug into the sumptuous dinner prepared by the hosts.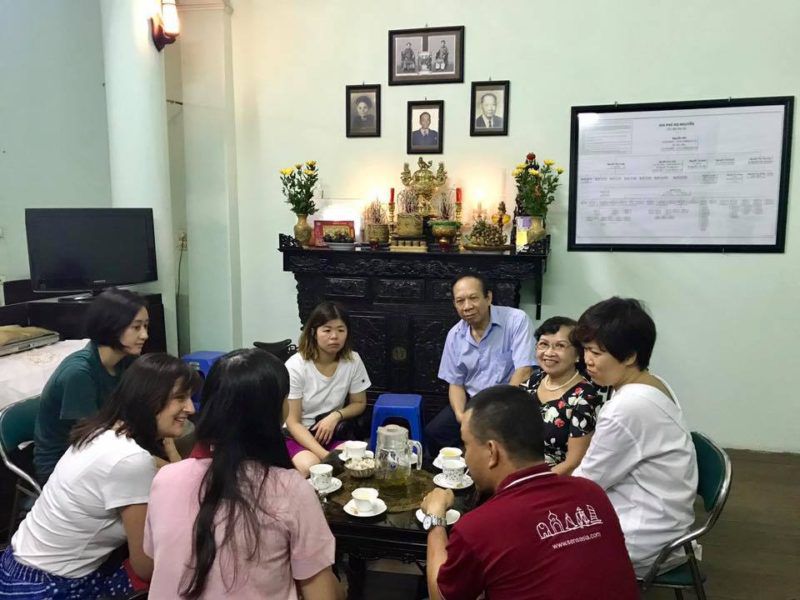 Regarded as the national flower of Vietnam, the lotus flower holds a special position in Vietnamese hearts and culinary culture. Among the many lotus dishes in Vietnam, the hosts prepared the Steamed Lotus Fried Rice (Cơm hấp lá sen) and Lotus Seed Pudding with Logan (Chè Sen Long Nhãn). I could not stop filling my bowl with scoops of the Steamed Lotus Fried Rice. Wrapped and steamed in lotus leaf, the flavours of the jasmine rice, lotus seeds and assorted vegetables blended in perfect harmony to create an addictive and aromatic dish.
As proud grandparents, the hosts also arranged for their musically talented granddaughter to perform beautiful melodies on her "Gu Zheng" (Chinese: 古箏) and harmonica.  Her elegant live performance created the perfect after-dinner atmosphere and ended the night on a beautiful note.
Feeling tempted? Check out our inspiring journey to Northern Vietnam with special local experiences.
Author: YI XUAN PHUA
As Featured on