Eat Like a Local Around Hanoi Old Quarter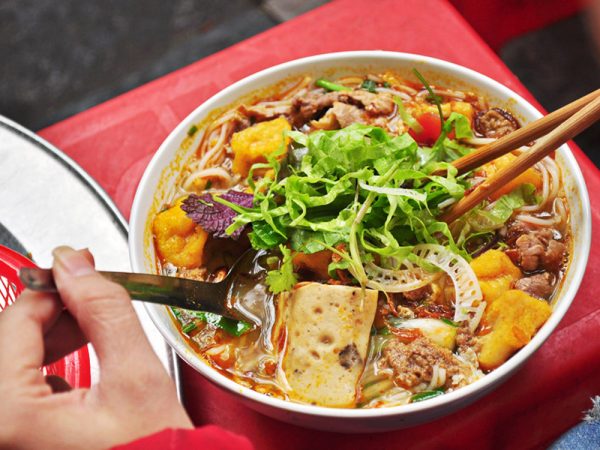 Hanoi Old Quarter food is said to be an art from cooking to enjoying stage, and the best portrait of Northern Vietnam tastes. As time goes by, Hanoi Old Quarter becomes a place where both locals and travelers choose to enjoy the best and most varied of Hanoi cuisines from big restaurants to street food stalls. When it comes to the local dishes, the finest ones are usually served at unexpectedly small shops, just open-air joints and mostly filled with locals.
Let's follow our food tour around the Old Quarter and explore what it really means to eat like a local and enjoy the best Hanoi Old Quarter Food.
NOODLE SOUP – PHO
It has always been said, "Don't say you have been to Hanoi if you haven't try Pho". Indeed, Pho is one of the most favorites for tourists when it comes to Hanoi cuisines. Made of rice noodles in the mixture with beef, broth, seasoning with a large bunch of crunchy spring onions and freshly chopped cilantro on top, the scent becomes irresistible even for people just passing by.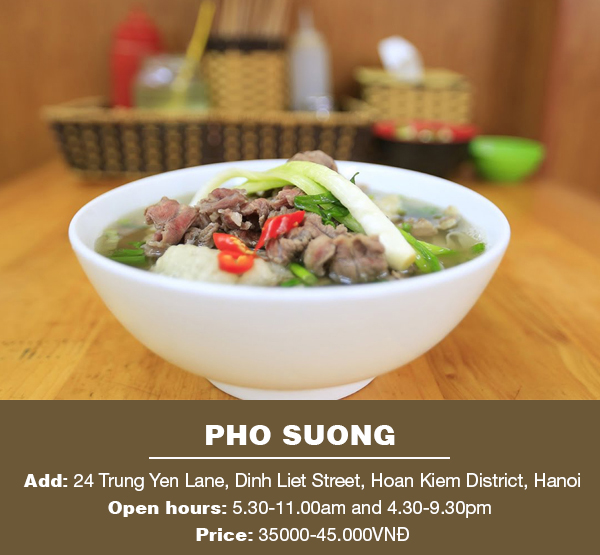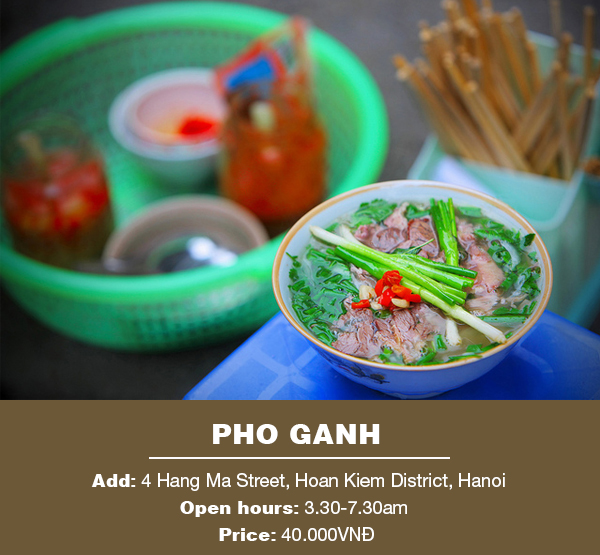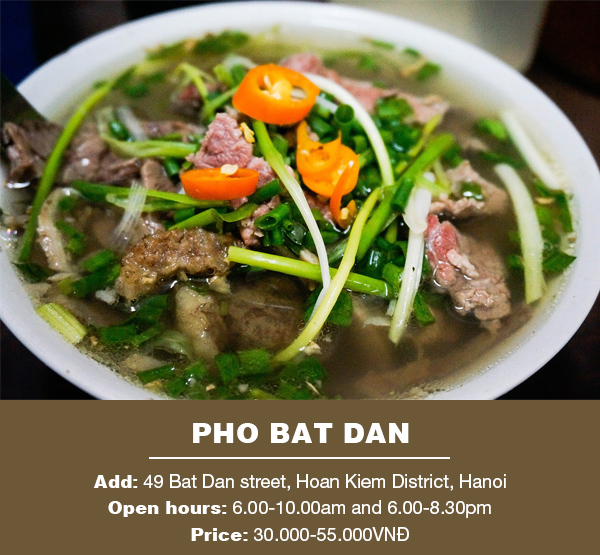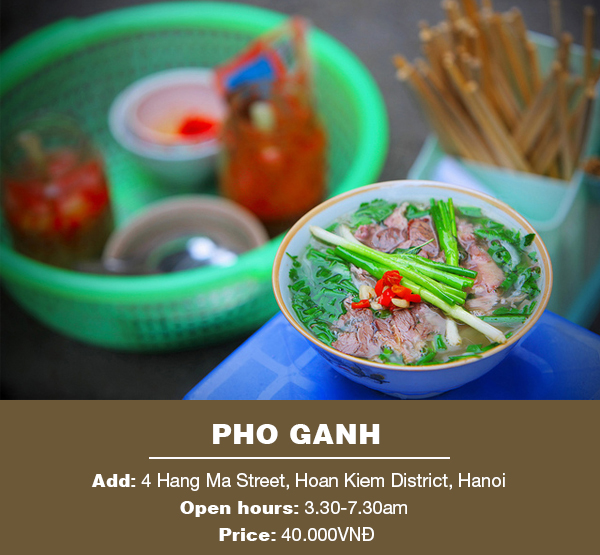 Where to eat the best 'Pho' in Hanoi Old Quarter?
Sướng means satisfaction, the store promises to bring along the highest satisfaction to their guests by enjoying the best Vietnamese Pho in the most 'Hanoian' way.
Located in the Old Quarter streets, this over-70-year-old restaurant is the most tempting spot since you can always come across the queue of locals lining up for the aromatic dish.
For the early birds or supper night owls, this special vendor store is for you. Pho Ganh opens at 3am every morning and has always been crowded for the last 30 years.
SANDWICH – BANH MI
If you travel to Vietnam, you will not want to miss Banh mi ( Vietnamese baguette ). Banh mi Hanoi is made in various ways with many kinds of ingredients such as bacon, sausage, pork, grilled beef… together with the appealing scent of fresh herbs, special sauces, and warm crunchy baguettes.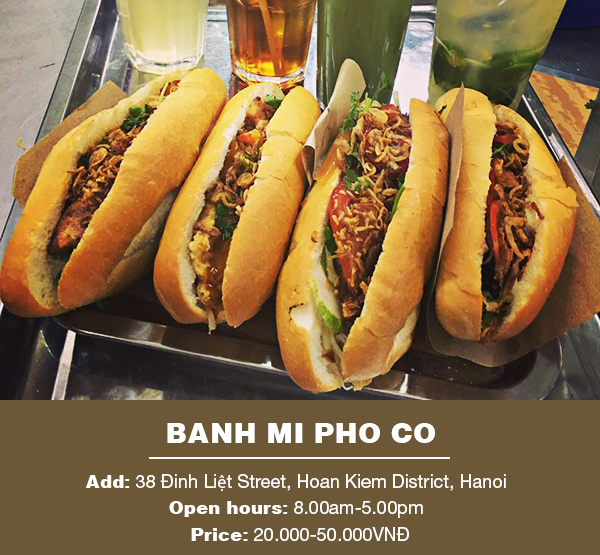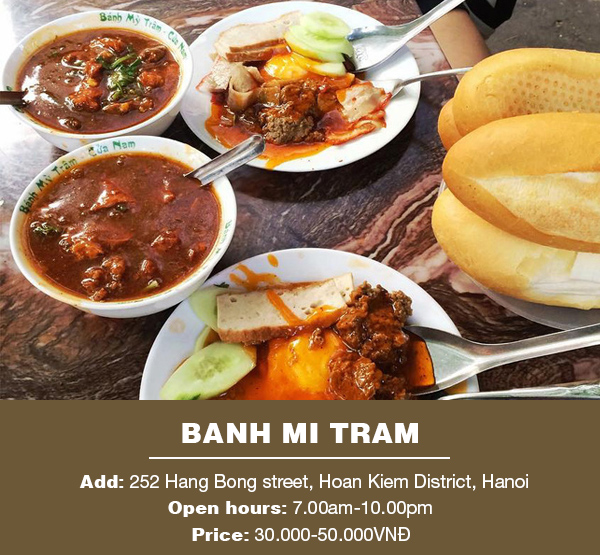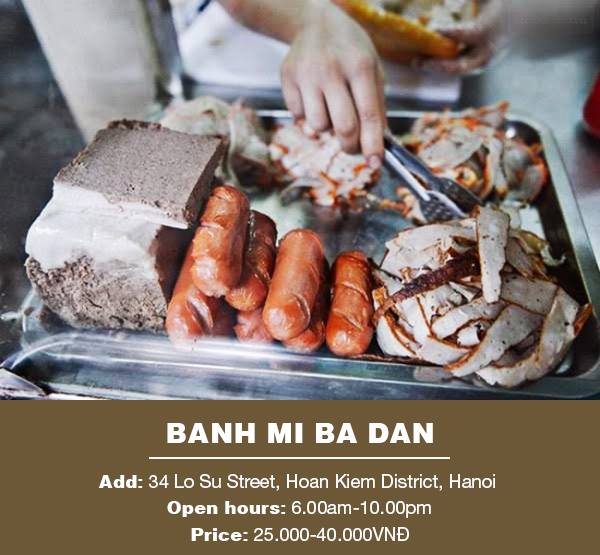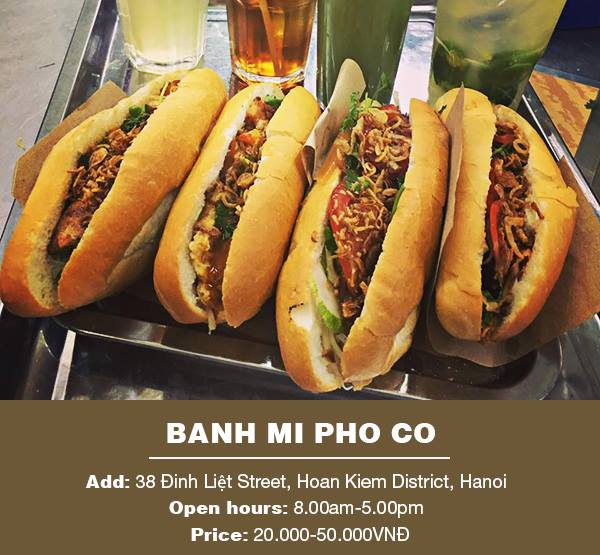 Recommended places to eat 'Banh mi' around the Old Quarter
Banh mi Tram will wake up your appetite with its amazing meat sauce and delightful mixture of ingredients. As you enjoy this popular Vietnamese street food, sit on a small stool on the street and watch the local life unfolding around you.
With a touch of French influence combined with Vietnamese ingredients, Banh mi Ba Dan is famous for its signature traditional scent of Banh mi with Pate, steam BBQ pork, pickles…
Banh mì Pho co is a suitable place for those who are looking for a wide range of choices. Coming to this restaurant in Hanoi Old Quarter, you can choose to take away or enjoy Banh mi on a hot sauce pan filled with many appealing ingredients.
VERMICELLI – BUN
In Vietnamese, traditional Vietnamese food  "bun" refers to rice vermicelli, basically Asian spaghetti. For the fan of noodles or vermicelli, Hanoi is paradise for you. Vermicelli can be eaten with fish sauce or tomato broth, snails or grilled meats, eggs…It's variable and seductive as jazz, with endless combinations that make the taste new every time.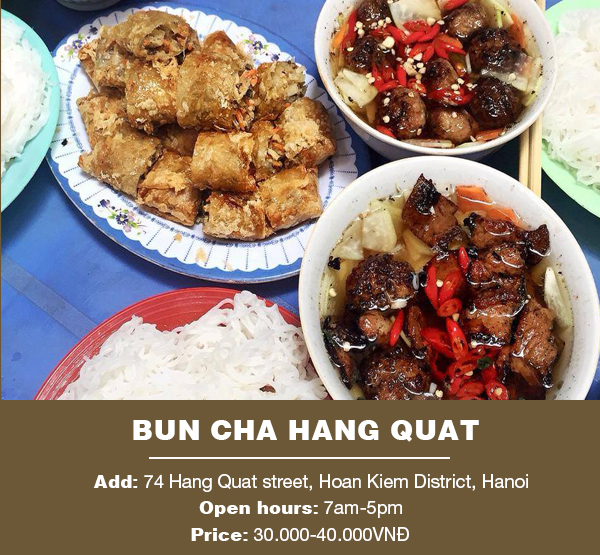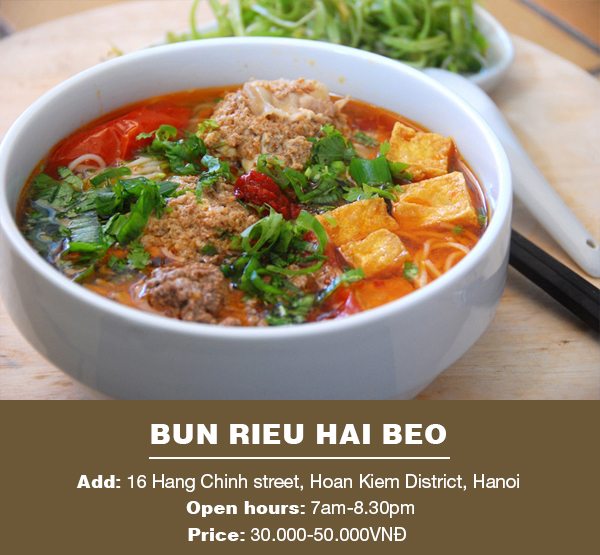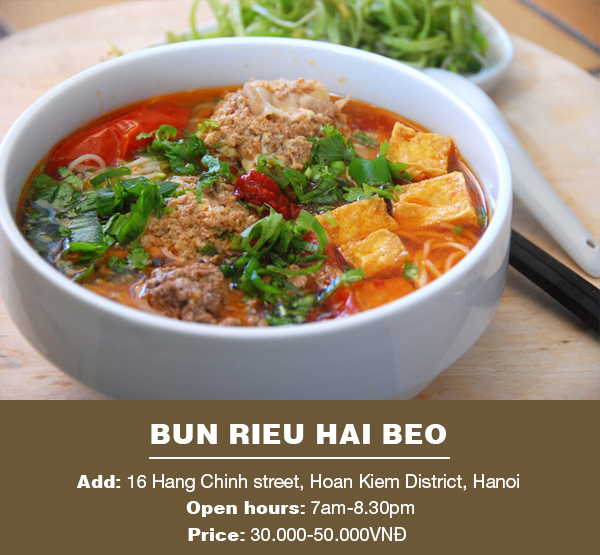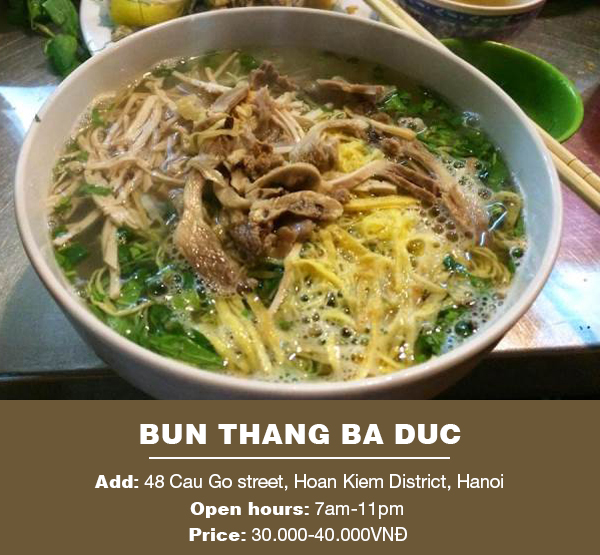 Suggested restaurants to eat 'Bun' in Hanoi
Bun Thang is the best portrait of Hanoi's characteristics: simple, yet exquisite. It is made from more than 20 materials including fried egg, chicken's breast, pork-pie, shrimp, ham, mushroom… and requires a skillful and careful hand in cooking. A great portion offered by this vendor is not only tasty but also well-decorated,  the soup has to be pure, slightly sweet but not too greasy.
Hanoi is the home of Bun Cha. Bun Cha is served with grilled pork, separate rice noodle and a side dish of sweet dipping sauce. What makes the dish in this restaurant special is that the technique of grilling pork with charcoal without any oil which makes the meat less greasy but still maintain the appealing taste.
"Bun Rieu" is a kind of noodle soup with blue crabs from rivers and lakes. The key protein component to this dish is the crab meat mixture with the typical and attractive color of tomatoes broth and fried onions. Hai Beo restaurant is a popular favorite for both locals and travelers thanks to the generosity of the chef when he brings out the big colorful bowl of "Bun Rieu" with a very reasonable price.
Those are the some of the must-try Hanoi Old Quarter food. And there are many more local dishes waiting to awaken your taste buds around this small and busy quarter in the heart of Vietnam. Stay tuned for further guide from our local experts on eating & drinking around the Old Quarter and best things you can try in Hanoi.
List suggestion by Sens Asia Travel food expert: Ms. Linh Do
Photo credit: Internet