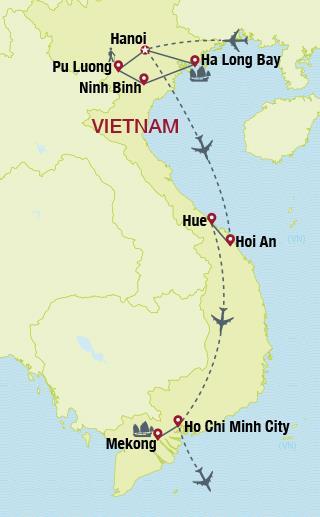 Take the time to meet and observe different minority people in the highlands away from the hustle and bustle of the big cities. Get to stay in a variety of accommodation options from eco-lodges, village homes, Halong Bay wooden junk and modern in-style hotels.
Learn more about food production of various types across Vietnam and sample some of the cuisine that has made this country a gastronomic Mecca. Get to experience three remarkable, iconic destinations from 3 different regions that make Vietnam such an interesting place to visit, on the North: Halong Bay, Central Highlands and The Mekong Delta.
Book this tour under Green Friday Deal this November 2019 ( and travel anytime in 2020) you will plant 2 fruit trees in Vietnam to offset carbon from your traveling and provide fruits for the local in the future.
Highlights
Delve into the 36 streets of 36 trades in Hanoi's old quarters
Enjoy the fresh air and admire the natural beauty of Hoa Binh Nature Reserve
Explore the Ninh Binh Krast mountain by boat
Cruise through the unique Karst bay in Halong
Watch the traditional fishing activities of Tam Giang Lagoon
Feel the charm of ancient Hoi An on foot
Experience with local farming and fishing communities in Hoi An
Experience Saigon nightlife from the back of a vintage Vespa scooter
Explore the maze of small cannels in the Mekong Delta
Show program in details Show brief program
Driver and guide welcome you at the airport and drive you to your hotel in the city center. You drop the luggage, refresh and get ready for our first foray into Hanoi's bubbling atmosphere.
You walk around the 36 streets of the Old Quarter, pass by the big Dong Xuan covered market, witness the crafting and trading activities around each street's speciality, visit temples and communal houses to finally reach Hoan Kiem Lake.
Around noon, the guide takes you to discover some local street food. Several options available, you'll choose. Back at the hotel after lunch, end of the day at leisure.
Meals: Lunch
Accommodation: MK Premier Boutique Hotel – Luxury Room
Note:
Fun fact: Ask your guide to take you eat a bun cha on Dao Duy Tu street. It is THE specialty of Hanoi's gastronomy. Flame-grilled pork served with rice noodles in a nuoc mam-based sauce. It is delicious and you can also try the "tra chanh", lemon green tea, nearby.
day 2
HANOI HIGHLIGHTS AND THE AUTHENTIC LOCAL LIFE
The guide meets you at 9 am. Start your day with a visit to Temple of Literature, a little architectural gem, the first university of Vietnam and a temple devoted to Confucius. You then walk north to reach the Ho Chi Minh complex and visit the gardens of the Presidential Palace, the one-pillar pagoda and the house on stilts where Ho Chi Minh lived out the last days of his life.
Done with the classics, let's see Hanoi like locals do.
For lunch, you go to Truc Bach Peninsula to eat the specialty of the neighborhood: the "pho cuon" and "pho xao". There is a choice of several dishes based on pho noodles, sautéed beef, and fresh herbs.
You then hop on a small electric cart to ride around the largest lake of the city. The journey takes about 1 hour over 18 kilometers to see a different Hanoi with a stop en-route at one of the oldest wooden pagodas in town.
Leg stretching walks throughout Ngoc Ha Village lead you through a maze of narrow alleys with a market, schools and shops everywhere. Stop at the B52 Lake where you can still see the aircraft shoot down during American war.
You exit the labyrinth and spend the afternoon with a slice of real Hanoian daily life: a cool beer and some fresh peanuts at a popular "bia hoi" – aka draft beer. Here people gather after work to enjoy a draught beer in a relaxed atmosphere. You drive back to the hotel, end of the day at leisure.
Meals: Breakfast, Lunch
Accommodation: MK Premier Boutique Hotel – Luxury Room
Note:
Fun fact: Chuc Suc Khoe (pronounced choop sook kway) is the wish of good health people make to one another when drinking alcohol. In Vietnam we must have a toast together everytime we take a sip of the beverage.
day 3
HANOI – HOA BINH – ORIGINAL MOUNTAIN VILLAGE
Depart the hotel at 7am and head to a mountainous area of Hoa Binh province. You drive up a pass and reach, at its top, the entrance of an almost unknown Muong Village. If road conditions are good, the car can access the village, otherwise, you slowly descend into the valley and reach the first plateau. The scenery is beautiful, terraced rice-fields with mountains covered in jungle as a backdrop. Then it is a walk on a single trail, passing a high waterfall and winding along the river and its natural pools.
You will reach your accommodation which is a traditional house on stilt, overlooking cascades and natural pools. You are hosted by a family of Muong ethnic people, given a warm welcome with easy time until dinner.
Sustainability guidelines: Several mountain villages in Vietnam have been endangered by the upsurge of tourism, meanwhile we have searched and developed products such as Ngoc Son Ngo Luong to introduce you to the original culture of really authentic villages. Our mission is to promote but maintain and we cannot do this without your good and active collaboration. So please kindly follow the guidelines below to maintain the beauty of the area untouched during your trip there.
Culture guide line:
Please respect the local culture by observing it and taking the different gently.
Please do not give kids candy/ toys/money directly, especially on the road. Stationary and book are preferred. Please leave gifts to local schools or to the leader of the community.
No direct tipping, although you can buy local products to support the community.
Do not pay more than you are asked for
Please respect the environment and do not litter on the way.
Purchasing products from wild animal is not recommended.
Meals: Breakfast, Lunch, Dinner
Accommodation: Suoi Mu Lodge – Homestay
day 4
HOA BINH – NINH BINH
After breakfast there will still be plenty of time to enjoy the cascades or go for a walk across the village or farther into the valley. At 11am, you will hop on moto-taxis (or get on the car if the car can access) and ride back to the entrance of the nature reserve.
You have lunch at a local restaurant before driving to the Ninh Binh region, the so-called inland Halong Bay.
After arriving in Ninh Binh, you will have a visit to Trang An, a karst landscape with shallow rice fields and several beautiful long grottos.
Next is Hoa Lu, Vietnam's capital under the Dinh and Early Le Dynasties in the 10th and 11th centuries. From here, cycle along the village road to Tam Coc and Thai Vi Temple, built during the Tran Dynasty in the 13th century and used for worship by four generations of Tran kings. Returning to the main road, your vehicle will be waiting to transfer you to your hotel in Ninh Binh.
Recommend: If you travel by May or early June, we would recommend to visit Tam Coc – Bich Dong instead which is the best time to see the rice fields while rowing boat.
Meals: Breakfast, Lunch
Accommodation: Tam Coc Garden Resort – Deluxe Room
Note:
Recommend: If you travel by May or early June, we would recommend visiting Tam Coc – Bich Dong instead which is the best time to see the rice fields from your rowing boat.
Fun fact: For dinner, order goat meat at the lodge or in a restaurant of the center town. This is the specialty of the region.
day 5
NINH BINH – HALONG BAY
Early wake up, early breakfast, and early departure to Halong. You drive across the Red River Delta and reach the pier a little before noon.
You embark on a beautifully crafted wooden junk for an overnight cruise in the leagendary seascape of Halong Bay. Once on board, you are served a delicious seafood-based buffet lunch, while the limestone rocks are set the décor.
In the afternoon, you reach a less traveled area and will devote ourselves to relaxation, swimming and kayaking. The program is not fixed and depends on the time of the year and weather, but there might be some sandy beaches on the menu. We end the day on the sundeck watching the sun set. It is time for an aperitif or to attend a cooking demonstration before dinner. Overnight in a comfortable private cabin with en-suite bathroom.
Meals: Breakfast, Lunch, Dinner
Accommodation: Bhaya Classic Cruise – Deluxe Room
Note:
Fun fact: The Vietnamese term for Halong bay is "Vinh Ha Long", refers to Halong Archipelago that stretches from Quan Lan Island on the north to Cat Ba Island on the south. This is a large geological relief formed over 300 million years ago.
day 6
HALONG BAY – HANOI – HOI AN
While cruising back to the pier, brunch is served as you get closer to disembarkation. An early Tai Chi session is on offer, and coffee and tea are served for the early birds wishing to see the beautiful lights of sunrise. You have the chance to visit a grotto before starting our way back to the coast. Disembark and drive straight to Hanoi's airport to catch a flight to Hoi An. Arriving in Da Nang, your guide and driver will meet you and continue with a short drive to Hoi An.
Check-in to a centrally-located hotel. Evening free at leisure.
Meals: Brunch
Accommodation: Vinh Hung Riverside Resort – Superior Garden View Room
Note:
Fun fact: For a perfect evening in Hoi An, have some local food around the old quarter. Then visit the night market located on An Hoi Islet, across the Thu Bon River at the western edge of Bach Dang Street.
day 7
HOI AN ANCIENT TOWN - BOAT TRIP AND CYCLING TO THE SUBURB
The guide picks you up at 8:00 am at the hotel. You start with a short orientation walk around the old quarter to learn more about the architecture and different monuments of the ancient port town.
You get on a traditional long tail boat and start our journey on the waterways of the region. You glide along the Thu Bon River and reach the Cam Thanh mangroves. The canals decorated by coconut trees make you feel like cruising through Mekong Delta. You set foot on land and visit the workshop of probably the most skillful bamboo craftsman of the entire region. Hop on a bamboo electric cart to reach the house of our boatman who is hosting us for lunch.
In the afternoon, you cycle on the small rural pathways of the Cam Thanh Peninsula. About an hour ride, you reach Tra Que Organic Village made famous across the country for its tasty herb. You will be welcomed by a farmer who will take us around and introduce the different plants.
Drive back to hotel. 
Meals: Breakfast, Lunch
Accommodation: Vinh Hung Riverside Resort – Superior Garden View Room
Note:
Fun fact: For the beach, head to An Bang, about 4km north of the town following Hai Ba Trung Street. You'll find several restaurants and bars to chill out on the beach in a very relaxed atmosphere. Look for the H'mong Sisters Restaurant, or the Deck our favorite choices for their good food and less crowded atmosphere.
day 8
HOI AN - HUE – DAM CHUON LAGOON
Free at leisure before you check out by noon.
Then, your driver will pick you up, drive through Da Nang and up the Hai Van Pass to reach Lang Co Bay.
Upon arrival in Hue, check in your hotel.
Later this afternoon, take a 12-km drive along the impressive road of tombs to the Chuon Lagoon. You will meet another Hue community, the fishermen of the lagoon. Joining them on a boat as they will show us their particular fishing techniques. The lagoon is large and provides a daily supply of seafood to the whole village. Time to enjoy the magnificent sunset over the lagoon and help local people do fishing if you want. Come back to a local restaurant and enjoy the fresh seafood-based dinner under the purple sunset.
Come back to the city.
Meals: Breakfast, Dinner
Accommodation: Hue Ecolodge – Homestay
Note:
Fun fact: The Hai Van Pass is a real climatic barrier in this region of Vietnam protecting the Southern side from cold winds coming from the North during winter. It was also a natural frontier between the two kingdoms of Champa and Dai Viet back into 7th century.
Start your rather zen morning by visiting Tu Hieu pagoda and Emperor Tu Duc's tomb, the idea of the living and the life after death are well transform into the 2 places architect and layout.
You then veer off the common path for an easy cycle around the village of the Mandarins. You discover centuries-old houses set in beautiful orchard-gardens. You meet the Mandarins' descendants and have lunch at a local house.
You then transfer to the airport to catch a flight to Saigon. On arrival, you are welcomed and transferred to your city center hotel.
Activate your exploration mode and enjoy your free time this afternoon walking the street of Saigon. Mac Thi Buoi road and Nguyen Hue Walking street are great area for dinner, grab a great coffee and see life goes by.
Meals: Breakfast, Lunch
Accommodation: Silverland Yen Hotel – Premier Deluxe room
Note:
Fun fact: If your are not in a backpackers district mood, try the The Raffinery on Hai Ba Trung street. This is an old opium factory transformed into a food court with nice eateries and bistros of different styles around a common yard.
Coffee workshop on 27 Ngo Duc Ke is a wonderful place to claim your cup of best organic coffee in Vietnam
day 10
SAIGON – MEKONG DELTA
The program will start with a visit at Vinh Long market in town. This is a great time for getting into local life and taking lively pictures of tropical yields, vendor boats or marine species.
Then, our Mekong Travel boat will take you downstream the Mekong River, seeing floating cages for farming fish and stop by the brick kilns where you can see how the local people create beautiful potteries from clay. Next, you will join a local workshop on how to make rice paper, coconut candy, pop-rice, etc. Take a break by having a cup of hot tea with some sweets.
Before lunch, you will take a walk, heading to the orchard and antique house of Ut Trinh family. They will greet you with some local fruits, best tea in town and perform the Vietnam Southwestern traditional music. Optional lunch will be served here.
In the afternoon, you can choose to cycle along the village paths, observing local life and magnificent scenic views. Then, let's head back to the boat, continuing your trip along one of the longest flow in the world, Mekong River. While cruising, you will reach the Tan Phong Island and pass by Cai Be floating market.
You will rest in Cai Be town and stay overnight at Mekong Riverside Resort.
Meals: Breakfast, Lunch
Accommodation: Mekong Riverside resort – Garden view room
Note:
Fun fact: The Mekong Delta generates nearly half of Vietnam's rice production. People also cultivate fruit such as coconut, mango, banana, orange and pineapple. This is the most important agricultural region of the country.
day 11
MEKONG DELTA – SAIGON - DEPARTURE
After breakfast, you will transfer back to Saigon. If you have a flight to catch in the evening, let's join the half-day walking tour discovering the city to spend the afternoon.
Our walking tour following the Graham Greene's Trail takes us on a journey from colonial to modern Saigon. Built between 1877 and 1883, Saigon's Neo-Romanesque Notre Dame Cathedral is a major centre of Catholicism in modern Vietnam, and one of the city's major landmarks. The Saigon Post Office, a classic French colonial structure, is still a functioning post office today and features huge ceilings, a giant portrait of Uncle Ho, and many beautiful details. Continue along the former Rue Catinat passing the Hotel Continental – famous from the 'Quiet American' novel and film. Built in 1897 with the original design by French architect Ferret Eugene, the Municipal Theatre was restored and renewed to celebrate the 300th anniversary of Saigon in 1998. Our final stop is at Caravelle Hotel. This hotel and its bar were home to many foreign reporters and secret agents during the Vietnam War. You will head up to its rooftop bar to try one of Saigon's many local beers and enjoy a panoramic view of the city.
After that you will transfer to the airport for your flight.
Meals: Breakfast, Lunch
Tour Price Includes:
07 nights' shared accommodation in twin/double room with daily breakfast (check in and check out around noontime)
01 Night at lodge by riverside in Mekong
01 Night at Suoi Mu Ecolodge
02 Days/1Night cruise on boat in Ha Long Bay (shared cabin on shared boat)
10 lunches, 4 dinners
All transfers with air-con vehicles and the mentioned boats
English speaking guide
All entrance fees as program
02 bottles of mineral water per person per day on bus on days of transfer and sightseeing only
Tour Price Excludes:
International airfares
USD 114 per ticket Hanoi – Da nang on Day 6
USD 114 per ticket Hue – Saigon on Day 9
Food & Beverages (other than mentioned in the program)
Visa to Vietnam
Early check in or late check out
Optional excursions and activities
Additional transfer required due to any emergency situation
Personal expenses (Phone calls, laundry, beverages…)
All not mentioned above