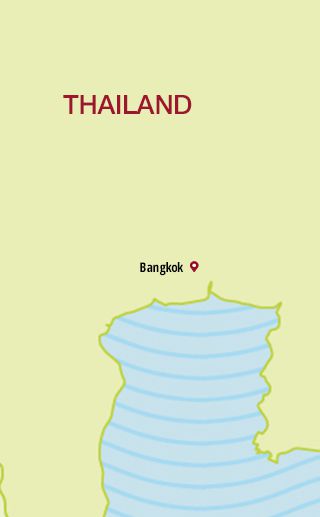 Have you ever been living without vision or without track of your sight?
The blackout world is not as frightening as you think. Join our exciting experiential activities during daylight to understand more about the life of blind and vision impaired community. Follow the unseeing folds upon daily routines and trust your inner senses while participating in basic how-to lessons. Afterwards, reward yourself with a sensory massage treatment from special therapists, who own that wonderful technique from inner energy and mind perception.
Highlights
Join the Dialogue in the Dark exhibition
Experience the world without your vision for some hours
Chit-chat, go shopping and enjoy snacks with the blind community
Visit Perception Blind Massage for a mind and body treatment
Get to know the life and unique technique of the special therapists
Show program in details Show brief program
day 1
BANGKOK: SWITCH ON YOUR SENSES
Have a leisure morning before meeting your tour guide at the hotel.
Hop in the local public transportation like a citizen, your first stop is a unique exhibition named Dialogue in the Dark. Here, whether you close your eyes or wise, all your senses would be switched on as everything is completely blackout. Your will start the workshop by an introduction lesson: Learn how to use walking cane in the dark. The guide, one with vision loss will lead you through the exhibition and help you motivate the inner sense perceptive. This one-hour experience is well-designed to offer an insight into the lives of blind people live, provide community with most valuable access of sightless experiences and change the pessimistic mindset upon human's disability. During the simulation, you would visit nearby market, play games in the living room, enjoy some snacks and drinks or join a tuk-tuk taxi to go around.
After the exhibition, the guide will take you to Perception Blind Massage and bid you a goodbye. For one hour, relax your mind and body at peace. The place was opened lately, aiming at introducing new massage concept to Bangkok city while providing positive employment for the blind or visually impaired therapists. The therapists at this shop will demonstrate their unique talent for physical therapy as they can focus on their sense of touch in a way that many cannot. Joining this wellness treatment, you will also support the blind with meaningful work vacancy and raise amazing awareness for the travel society.
At the end, you will return to the hotel by public transportation.
Tour Price Includes:
All activities as mentioned in the program
Private English speaking guide
Local guide for the exhibition
Local transportation to the exhibition and massage shop
All entrance fees and massage fee
02 bottles of mineral water per person on tour
Tour Price Excludes:
Transportation back to the hotel
Other food and drinks (other than mentioned in the program)
Optional excursions and activities
Items of personal nature (phone calls, beverages and drinks, laundry, expenses, etc)