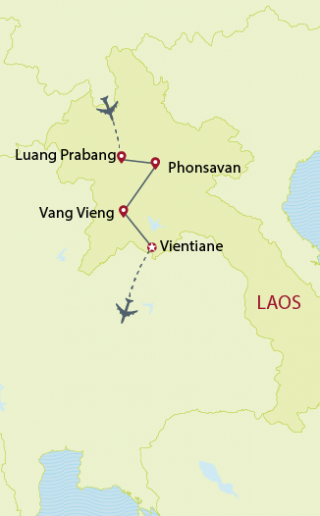 Within 5 days, you may have a chance to fully explore the Plain of Jars and Vang Vieng wonder, from a remarkable depth of history to its amazing culture.
For generations, people reckon Plain of Jars not only as a megalithic archaeological site but also a mythical destination with various untold stories behind. As of your journey may conclude, you would see a land beyond words or comparison in the scattered landscape Xieng Khouang plateau, at lower foothill central surroundings or in the middle of upland valleys.
After the scenic discovery, you will head down to Vang Vieng, the famous picturesque town nested by the Nam Song River, covered by the Limestone Moutain. Herein, you may take a break by letting your hair down, reading a book until sunset and sipping Laos beer.
Show program in details Show brief program
day 1
LUANG PRABANG – PHONSAVAN, XIENG KHOUANG
Early departure for a drive through spectacular sceneries to Xieng Khouang Province, the home of the Plain of Jars.  There are many stunning photo opportunities along the way and a couple of stops to explore hill tribe villages.
After checking in at your hotel, there will be time to visit the MAG Centre or chill out over a drink at the hotel.
Meals: Lunch, Dinner
Accommodation: Anoulack Khen Lao Hotel – VIP Room
Note:
In case you arrive in Vientiane, we can do this tour vice versa starts with Vang Vieng and ends in Luang Prabang.
If you decided to flight to Phonsavan, please let us know so we can customize it for you
day 2
PHONSAVAN - PLAIN OF JARS
After breakfast, we explore the Plain of Jars by visiting Sites 1, 2 & 3, as well as taking a short walk to visit Tai Dam and Lao Leum villages along the way.
The Plain of Jars combines ancient and contemporary history with insights into Phuan, Hmong, Khmu and Tai Dam culture. Nature encounters are easily accessible off the beaten track.
Unlike Ancient Greece or the First Emperor of China that date from around the same time very little is known about the civilization that created The Plain of Jars. More recently the area suffered badly due to heavy bombardment by the Americans during the Vietnam War. The locals have found imaginative ways to rebuild their lives and surroundings, sometimes using the remnants as part of their daily life; bomb fragments became spoons, and a distinct Xieng Khouang style of architecture created incorporating shells as building material & décor for houses. By visting the jar sites and local villages, you will gather a complete story of history and local life of this land.
After lunch, continue to an ancient capital of Muang Khoun , once the royal seat of the minor kingdom Xieng Khouang, renowned in the sixteenth century for its 62 opulent stupas, whose sides were said to be covered in treasure. However the tough history of war leave this land abandoned and washed out almost all of its glories, temples, statues. All remain is an elegant Buddha image towering over ruined columns off brick.
You will visit another Hmong village before return to your Hotel.
Meals: Lunch, Dinner
Accommodation: Anoulack Khen Lao Hotel – VIP Room
day 3
PHONSAVAN - VANG VIENG
Today before heading to Vang Vieng, we visit the interesting Phonsavan Central Market, a fascinating place that make your eyes wide open to see what are consider to be main ingredient of  local people kitchen. Beside familiar herbs and meat, you will find bamboo rat, porcupine, winged critters, snake, crickets or other bugs.
The day-to-day senses in the Phonsavan morning market present the sights, smells, and tastes of Lao life on full display. The market serves local communities for miles around, so it reflects the whole culture of Xieng Khouang province.
Continue drive to Vang Vieng. Estimated arrival at mid-afternoon.  
After checking in at your hotel, self-exploration the town /or/ relax at the hotel and enjoy the stunning views as the sun sets behind the limestone karst mountains across the river.
Meals: Breakfast, Lunch
Accommodation: Silver Naga Hotel – Deluxe Room
day 4
VANG VIENG – EXPLORE
After breakfast, we visit the famous caves of Tham Jang, which were once used by local people as a hideout from Chinese invaders, then cross the river to Ban HuaiNgai, where you can wander through the village and observe the locals in their daily life. 
At the Organic Farm you will have the opportunity to visit goats, pigs and other wildlife, observe mud brick making and sample roasted goat cheese and mulberry wine.
After lunch, we drive out passing the small village to Blue Lagoon and Phu Kham Cave, where you will have a nice swimming and if you wish to do a hiking trail steep up 200 meters to Phu Kham Cave. Return to your hotel in the afternoon with free time.
Meals: Breakfast, Lunch
Accommodation: Silver Naga Hotel – Deluxe Room
DAY 5
VANG VIENG – VIENTIANE
This morning, enjoy 1-hour cruise on the Nam Song River by traditional long boat. you will enjoy the fresh air with beautiful riverside views and also seeing the daily life of the local especially, fisherman.
Return to your hotel, take sometimes relaxing and preparing your pack for checking out.
Say goodbye to your Luang Prabang guide and driver then meet with your driver for your next travel southward Vientiane, the capital city of Laos.
The driver will drop you off at Vientiane Airport or Hotel up to your request.
Meals: Breakfast
Tour Price Includes:
4 nights shared accommodation in twin/double room (check in and check out around noontime).
Transfer from Luang Prabang to Phonsavan – Vang Vieng and end in Vientiane. All transfers and transportation with air-conditioned vehicles.
Local English speaking guide: 1 guide Luang Prabang – Xiengkhouang – Vangvieng
All entrance fees as indicated in the program
Meals: daily breakfast at the hotel, 4 lunches, 2 dinners.
02 bottles of mineral water per person (for days with transfer and organized sightseeing)
Tour Price Excludes:
Airfares (international and domestic)
Meals & drinks (other than mentioned in the program)
Guide from Vang Vieng to Vientiane (could be arrange at US $50/group)
Tips for tour guides and drivers
Travel insurances
Optional excursions and activities
Additional transfer required due to any emergency situation
Items of a personal nature (phone calls, laundry, beverages…)
Peak season surcharges (if any) 
All services not clearly indicated as 'Included'