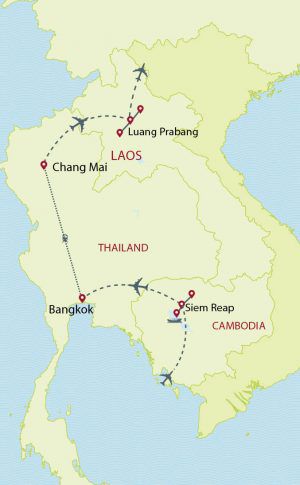 This ambitious 11-day trip will bring you to four major attractions in Southeast Asia: Siem Reap (Cambodia), Bangkok and Chiang Mai (Thailand) and Luang Prabang (Laos). They are famous on traveler's bucket list for a reason, as each one is bustling and bursting with culture, boasting incredible sights and food that will blow your mind.
You'll begin your Asian experience with four days in Siem Reap where you'll stand before the largest religious monument in the world – the famed Angkor Wat, visit local markets, explore Banteay Srei (known as the women's citadel), see the sunset over Angkor Archaeological park and visit Kompong Kleang, the floating village.
On day five you'll spend the day exploring Bangkok. Prepare to be in awe of Wat Pho, Bangkok's oldest and largest temple and the Grand Complex.
After exploring Bangkok, you'll skip over to the beautiful Chiang Mai in northern Thailand for three days to get a taste of local life. There you'll head to the riverfront Warorot market, sample tasty street food and conquer incredible view from Doi Suthep at the summit of a 5,000-foot-high mountain.
In Luang Prabang you'll get to take in the incredible panoramic views of the city from Mount Phousi, explore museums, the Pak Ou Caves, a tropical Mekong garden and see the breathtaking Khuang Si Waterfalls.
You'll finish this trip with a well-rounded impression of Asia which will only leave you craving more adventures on this incredible continent.
Show program in details Show brief program
Arrive in Siem Reap, your guide and transfer to your hotel. Free at your leisure for the rest of the day to enjoy Siem Reap.
Meals: Nil
Accommodation: The Aviary Hotel – Tailorbird Standard Room
day 2
SIEM REAP - ANGKOR WAT – GREAT ANGKOR THOM – TA PROHM
Begin your day to explore the famed Angkor Wat Temple. The largest and best preserved among the many temples in the area, Angkor Wat is the highlight of most all Cambodia holiday packages, and the experience of walking its sacred grounds is not to be forgotten.
Afternoon you will enter the South Gate of Angkor Thom, then view the massive stone faces on the towers of the Bayon. Continue to Ta Prohm which has been left just as it was when rediscovered: a photogenic and atmospheric maze of jungle growing up through temple ruins.
You will enjoy the first dinner in Siem Reap in a stylish contemporary restaurant with the set menu from elegance décor dishes including the best of Cambodian flavors. The Apsara dance show is one of the more sophisticated on offer and is an affordable way to get a cultural fix in Siem Reap.
Optional Evening (subjects to additional surcharge) Enjoy PHARE circus in the evening. The Cambodian Circus has long been famous for their performances, and this NGO teaching street kids to become circus artists is a regular at international circus conventions worldwide. Enjoy their interpretations of modern life and issues in Cambodian society.
Meals: Breakfast, Lunch, Dinner with Apsara Dance show
Accommodation: The Aviary Hotel – Tailorbird Standard Room 
day 3
SIEM REAP LOCAL TOUCH – ANGKOR MUSEUM - BANTAEY SREI – SUNSET VIEW
After breakfast you will transfer to the local market of Siem Reap. The local market is full of fresh fish, meat, vegetables and fruit; here you can observe traditional ways of life and meet many friendly local people.
Continue to visit the Angkor National Museum, this world class museum introducing the profound cultural landmarks of Siem Reap spreads over 20,000 sq.m and reveals the legends of the Golden Era of the Khmer empire. The museum is a landmark providing complete facilities and recreation services for both tourists and the local community.
Enjoy lunch time at a unique community-based tourism site that offers a genuine surrounding and the chance to immerse you into the real atmosphere of Cambodia's countryside.
After lunch, explore Banteay Srei (known as the Women citadel), a smaller temple which nevertheless stands out for its ornate red sandstone design.
On the way back, stop to visit the Butterfly Garden where you can see and touch to thousand butterflies. This was started to help the ecology and stimulate the local people to think about the environment and hence creating work opportunity. You can walk in the enclosure, and you can see how the process starts with a caterpillar. This place offers a slice of peace and tranquillity between temple visits. It is fun to learn the names of the species that we'd been seeing on our hikes around the temples. You are able to sit for a short while after the tour, just enjoy the environment and a cool drink surrounded by the butterflies.
Finally, find what may be the most memorable image of your trip to Cambodia at Pre Rup, with a spectacular sunset view over the Angkor Archaeological Park.
The last dinner in Siem Reap is well served at a fusion themed contemporary restaurant for the whole group. The restaurant has a trendy garden lounge bar where you can unwind while listening to selected music, after dinner and hangout for the last night here.
Meals: Breakfast, Lunch, Dinner
Accommodation: The Aviary Hotel – Tailorbird Standard Room 
day 4
SIEM REAP - TONLE SAP LAKE. FLIGHT TO BANGKOK
After breakfast and check-out, you will head out to Kompong Kleang "floating village", which is, in fact, a stilt house settlement of over 20,000 people where structures can tower up to ten meters above the water. Greeted by waves of the friendly locals, here you can glimpse Cambodia's countryside culture and traditional family lifestyle.
Back to Siem Reap for lunch. Free at your own leisure until the transfer to the airport for your onward flight to Bangkok.
Upon arrival at the airport, you will be met and transferred to hotel for check in. Today you are free to explore the city in your own way.
We would recommend you to explore the night life and shopping areas which are located in every nook and corner of Bangkok.
Meals: Breakfast, Lunch
Accommodation: Nouvo City Hotel – Superior Classic Room 
day 5
BANGKOK CITY – KLONG (CANALS) TOUR – CHIANG MAI BY NIGHT TRAIN
After breakfast, the first stop is Wat Pho – Bangkok's oldest and largest temple. As you arrive early you can listen to the morning chants of the monks. In this temple, a huge statue of reclining Buddha is enshrined. Next,we see the Grand Complex which also encompasses Wat Phra Kaeo, one of Thailand's most revered shrines, housing the statue of Emerald Buddha made from jade.
We stop for lunch at a local Thai Restaurant. Here you can savour various aromatic and delectable Thai delicacies. The restaurant is located next to the river where you can enjoy the river view, old town city part and authentic Thai food/seafood at the same time.
Transfer to the Tha Chang pier where you will board a classic longtail boat for a nice introductionary trip of Bangkok's other side! You get a great impression in about 1 hour as much of the city life revolves around the river and its network of 'klongs' (canals). In some ways it is a trip through the past where you'll see wooden houses on stilts, local folks doing their laundry/washing up/taking a bath in the klong, monitor lizards suddenly swimming by, and lots of other fascinating sights.
In the afternoon you are transferred for the overnight train journey to Chiang Mai. Overnight in the night train to Chiang Mai.
Meals: Breakfast, Lunch
Accommodation: 1st Class Overnight train from Bangkok to Chiang Mai
Train No. 9: Time: 18:10 – 07:15
day 6
CHIANG MAI LOCAL LIFE DISCOVERY
On arrival, you are met and taken to the hotel (check-in time around noon). Head out with your guide to explore the riverfront Warorot Market, which is a combination of colorful flowers, pungent spices and friendly but bustling crowds. You will also stroll the alley next to the market, filled with textiles, hill tribe clothes, silks, hats and beads.
At the market, we also stop for street food lunch here with a great range of Thai food for you to choose from such as noodle (There are many different kinds of noodle for you to choose from as well), Rice with steamed chicken, or northern food style which you can not find in Bangkok). The street food in Thailand is famous for its taste yet very cheap.
From the market take a Samlor, or rickshaw ride along Thapae Road, down through the city wall, passing residential and important government buildings around the city and return to the hotel.
Rest of the day is at leisure.
Meals: Breakfast, Lunch
Accommodation: Ban Thai Village – Superior Room 
day 7
CHIANG MAI CITY TOUR
Today after breakfast, visit some important and revered temples.
First is Wat Phra Singh (Lion God) which is an important temple and major monastery, housing 700 monks who often approach tourists to practice their English. Visit Wat U Mong, a forest monastery where if you are lucky, you will have the chance to watch monks feeding deer.
Continue to what is probably Chiang Mai's most famous landmark: Wat Phrathat Doi Suthep. The temple is located at the summit of 5,000-foot-high Doi Suthep Mountain. You can get your adrenalin pumping by climbing 300 steps or, take the cable tram. On clear days there are amazing views of valley.
After the tour at Wat Doi Suthep, we stop for a nice local restaurant, the restaurant is surrounded by nature with the view of Huay Kaew waterfall. This restaurant is famous for its homemade menu which they make everything themselves even the curry paste. You will get to enjoy the food and cool down from the heat with the chilly air from the nature.
Rest of the day is free at leisure until dinner time when you will meet with the guide at the lobby and head to Khum Khantoke for traditional Northern style dinner with the Lanna show.
Meals: Breakfast, Lunch, Dinner
Accommodation: Ban Thai Village – Superior Room 
day 8
CHIANG MAI – FLY TO LUANG PRABANG
After breakfast it is time for you to bid adieu to Chiang Mai, transfer to the airport for your flight to next destination – Luang Prabang.
Welcome to Luang Prabang, Laos. Your guide and driver will meet you at the airport for transfer to your hotel where you are free at leisure to refresh.
Meals: Breakfast
Accommodation: Sala Prabang Hotel – Classic Room
day 9
LUANG PRABANG – EXPLORE ANCIENT TOWN & ART
This morning starts your day and climb the 328 steps up Mount Phousi, which dominates the Luang Prabang skyline and offers a panorama over the city and spectacular views.
Visit the National Museum located in the former Royal Palace, where you can view treasures of Laos' royal past, as well as the Prabang, a sacred Buddha image which gives the town its name. Continue to Wat Mai and continue walk to visit the Traditional Arts and Ethnology Centre. Showing you more about Laos' Ethnic group especially, minorities around the country.
Lunch and refreshing time before we continue with the afternoon sightseeing.
In the afternoon, Visit the meditation exhibition at the tipping point of the peninsula, continue to visit Wat Xieng Thong, Luang Prabang largest temple known for its expansive Tree of Life mural telling the story of Buddhism.
Depend on the water level, walk your way down to Mekong river sand bank to amaze the beautiful sunset and enjoy some quiet time as the day break away.
Tonight, dinner at Son Phao restaurant and see the Laos traditional dance.
Meals: Breakfast, Lunch, Dinner
Accommodation: Sala Prabang Hotel – Classic Room 
day 10
LUANG PRABANG – KHUANG SI WATERFALL
Option (subjects to additional surcharge): Rise early to join the locals lining up to offer food to the Buddhist monks walking back from morning prayers.
Start your day with a visit to the morning market where all the vendors from surrounding village gather to sell their products from the garden. Later have a bowl of noodle and a cup of local coffee before going to the fall.
Then drive out into the countryside to reach Khuang Si Waterfalls, a tiered fall in a lush forest setting where you can take a cooling swim or simply relax and enjoy the scenery.
Return way to Luang Prabang make a stop at Ock Pop Tok, set in a tropical Mekong garden it opens doors to learning about Lao textiles and crafts. Bringing alive our concept of east meets west, the center is a place where you can meet silk weavers, craft artisans and silkworms.
Come back and enjoy your free afternoon at leisure to discover the town.
Meals: Breakfast, Picnic Lunch by the fall
Accommodation: Sala Prabang Hotel – Classic Room
day 11
LUANG PRABANG – PAK OU CAVE DEPARTURE
After breakfast, aboard a boat and head up-river to visit the Pak Ou Caves, a popular pilgrimage site with thousands of Buddha images. From your boat, watch local fishermen in their work, and on your return trip stop by a riverside village to chat with the locals and see what life is like here.
Afternoon, transfer to airport for your flight departure.
Meals: Breakfast, Lunch
Tour Price Includes:
09 nights' accommodation in twin or double room with daily breakfast (check in and check out around noontime)
01 night on First class train Bangkok – Chiang Mai
All meals included at "Eat well" standard
All transfers with air-con vehicles
Local English speaking guide
All entrance fees as program
Meals (Breakfast, Lunch and Dinner) as indicated in the program
02 bottles of mineral water per person per day on bus on days of transfer and sightseeing only
Complimentary visa letter to Vietnam (applied for some specific citizens from US, AUS, HKG,… )
Regional airfares Siem Reap – Bangkok; Chiang Mai – Luang prabang (if you choose Package with regional airfares)
Tour Price Excludes:
International airfares
Regional airfares (if you choose Package without regional airfares)
Single supplement
Visa stamping fee to Thailand, Laos, Cambodia (if visa is required)
Pre and post arrangements (transfer, tour, accommodation and other services)
Meals (other than mentioned in the program)
Mineral water beyond that supplied
Tipping Etiquete for tour guides and drivers which is an entirely personal gesture however we recommend you allow US$ 3 – US$ 6 per day per traveller)
Early check in or late check out
Insurances
Optional excursions and activities
Additional transfer required due to any emergency situation
Items of a personal nature (Phone calls, laundry, beverages…)
All not mentioned above
Availability
Select departure date
23 Aug 2018
from Siem Reap
02 Sep 2018
to Luang Prabang
BOOK NOW
hold for 48H obligation-free
06 Sep 2018
from Siem Reap
16 Sep 2018
to Luang Prabang
BOOK NOW
hold for 48H obligation-free
20 Sep 2018
from Siem Reap
30 Sep 2018
to Luang Prabang
BOOK NOW
hold for 48H obligation-free
04 Oct 2018
from Siem Reap
14 Oct 2018
to Luang Prabang
BOOK NOW
hold for 48H obligation-free
18 Oct 2018
from Siem Reap
28 Oct 2018
to Luang Prabang
BOOK NOW
hold for 48H obligation-free
01 Nov 2018
from Siem Reap
11 Nov 2018
to Luang Prabang
BOOK NOW
hold for 48H obligation-free
15 Nov 2018
from Siem Reap
25 Nov 2018
to Luang Prabang
BOOK NOW
hold for 48H obligation-free
29 Nov 2018
from Siem Reap
09 Dec 2018
to Luang Prabang
BOOK NOW
hold for 48H obligation-free
13 Dec 2018
from Siem Reap
23 Dec 2018
to Luang Prabang
BOOK NOW
hold for 48H obligation-free