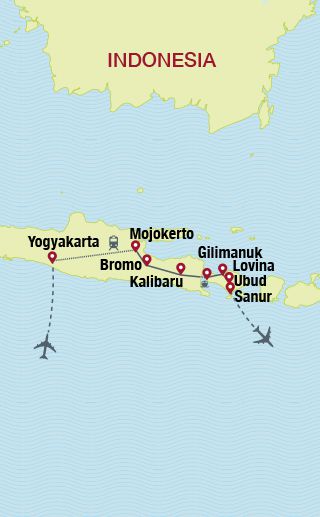 The Indonesian islands of Java and Bali are internationally renowned for their history, vastly different cultures and beauty which will excite the senses and leave indelible memories. During this exhilarating journey, you peer inside an active volcano, travel Java by train, car and finally ferry crossing to Bali. Here, we see magnificent temples, completed with ornate stone carving, decorations and artworks, ones carved out of the rock itself. Then, continue the journey to Ubud where you can go rafting or cycling through the countryside renowned for its beauty, and finally, the beautiful journey ends on the coast to enjoy the famous Balinese beaches at genteel Sanur. 
Highlights
Explore some magnificent temples in Yogyakarta, including the biggest Buddhist sanctuary on Earth
Travel by train through Java, with rice fields, stunning valleys and picturesque villages passing by
Enjoy the glorious sunrise over East Java from Bromo peak
Explore the remarkable beauty of Bromo volcanic on Jeep
Ferry crossing between Java and Bali
Admire the stunning volcanic scenery of central Bali
Cycle through the beautiful Ubud countryside
Relax on the pristine beaches of Bali
Show program in details Show brief program
Upon arrival at Jogjakarta airport you are picked up and transferred to your hotel. The rest of the day is free for you to relax at your leisure.
Meals: Nil
Accommodation: There are 3 hotel ranges for your selection, please scroll down.
day 2
YOGYAKARTA - SOUNDS AND SCENTS OF THE VIBRANT CITY
Today, you will experience the sights, sounds and scents of the vibrant Jogyakarta. A trip in a local becak (cycle rickshaw) around the city centre is included. After lunch, you continue to explore the famous Prambanan Temple. Then, return to your hotel in the late afternoon.
Yogyakarta City Tour (Kraton, Taman Sari, Kota Gede)
Explore the sights and sounds of Yogyakarta. The city calls itself the vanguard of Javanese culture. The venerable Sultan`s palace is the centerpiece. Located tight in the center of town, it is treated with respect by the people of Yogya. Surrounded by white-clad houses and quiet lanes, there is hardly any traffic in this part of town where becaks rule! Taman Sari, as it is called by the locals, is the former pleasure dome of the Sultans. It features well-restored subterranean passage ways, secret chambers and decorative ponds.
The city streets are lined with silver factories, ranging from modest family enterprises to real superstores. What they have in common though, are the skilled hands of mostly older men, producing wonderful home ware and exquisite jewelry. These days, the fine art of batik is produced at family compounds in villages surrounding the city. There are very few galleries left in town where the canting and cap are still handled with great care.
Prambanan
Near the royal city of Yogyakarta, the temple gardens of Prambanan were once dedicated to kings who considered themselves Gods. The centrally located Shiva Temple overlooks a series of smaller shrines, plus an open-air museum of Hindu-Javanese antiquities. This marvelous temple garden features prime examples of powerful Buddhist and Hindu kingdoms, who ruled much of Sumatra and Java in the 7th and 8th century AD.
Meals: Breakfast, Lunch
Accommodation: There are 3 hotel ranges for your selection, please scroll down.
day 3
BIGGEST BUDDHIST SANCTUARY ON EARTH
This morning, you will discover the remarkable Borobudur Temple, the biggest Buddhist sanctuary on Earth. Then in the afternoon, return to your hotel for some rest time. The rest of the day will be free at your own leisure.
Borobudur Temple
Borobudur Temple, a well-known Buddhist landmark, lies a leisurely one hour drive out of Yogyakarta. It is one of the biggest and most impressive monuments ever erected by mankind, unobtrusively blending in with the splendid background of the Menoreh mountain range. The terraced temple tells of the life and times of the Lord Buddha in well over 1,500 expressive reliefs. The renovation, finished in the early eighties, sublimely reflects the will of man to preserve the past. Once enshrined by jungle, it took more than ten years and great effort to renovate the monument. Now it represents one of the finest examples of Buddhist architecture.
Meals: Breakfast, Lunch
Accommodation: There are 3 hotel ranges for your selection, please scroll down.
day 4
MOJOKERTO - BROMO – TRAVELING BY TRAIN IN JAVA
Early morning, you will transfer to the train station for your trip to Mojokerto in East Java.
Upon arrival at the Mojokerto station, meet your guide and proceed to East Java's countryside. Drive in the direction of Bromo, one of the most accessible volcanic locations in the world and a scene of remarkable beauty. Reach your hotel in Bromo late afternoon, check in and rest.
Your train journey in Java
Traveling by train in Java is a highly authentic experience and a true highlight of any Indonesian trip. With rice fields, stunning valleys and picturesque villages passing by, you are taken ever deeper into the countryside while enjoying the comfort of an air-conditioned train. During the occasional stops, vendors will offer local goods such as cigarettes and candies to the fortunate travelers on board!
Meals: Breakfast, Lunch
Accommodation: There are 3 hotel ranges for your selection, please scroll down.
Note:
Your train schedule is from Jogyakarta to Mojokerto by Train Sancaka Pagia, time 06.55 am – 10.55 am (subject to change)
day 5
BROMO - KALIBARU – GLORIOUS SUNRISE OVER EAST JAVA
Refreshingly wake up at 3:00am for a change, have a cup of coffee or tea then travel to a point from where a magnificent sunrise can be observed.
From Bromo peak, you will have stunning views over the Semeru massif, covering a large part of East Java. This is the heartland of the Tenggerese, a tough mountain people, clinging to ancient pre-Islamic beliefs.
Then, you return to the hotel for breakfast before continue on the trip driving along the borders of the Semeru massif to Kalibaru. Check in to your hotel in Kalibaru and spend the rest of the day relax.
Sunrise from Bromo peak
After a very early morning wake-up call, you will start your trip to Mount Bromo, which the locals consider to be sacred. After a short but steep jeep ride, you arrive at the view point just in time to take in a glorious sunrise. Only when the first rays of dawn appear do you realize the splendor of Mother Nature. A wide, rolling sea of sand is enclosed by perpendicular walls a few hundred meters high. In a shimmering distance, you can see some of the highest mountain tops of Java. Then, you drive into the huge caldera, across wide open terrain. At the base of Mount Bromo, you have to climb a few stairs for an awesome look into the crater of an active volcano.
Meals: Breakfast, Lunch
Accommodation: There are 3 hotel ranges for your selection, please scroll down.
day 6
KALIBARU - LOVINA – THE UNTOUCHABLE LOCAL FARMS
In the morning, you will go on a mini plantation tour through a 13 hectares plantation garden at Margo Utomo Agro Resort. See with your own eyes varieties of spices such as nutmeg, pepper, cinnamon, cocoa, coffee and coconut. Walk through the village where you could observe some local activities such as soya-cake production and the traditional processing of palm tree liquid into coconut sugar.
After lunch, you continue east, passing Banyuwangi, and enjoy a drive on the last leg of the fabulous East Java stretch. We cross the narrow Java Strait by ferry and reach Gilimanuk, Bali. From Gilimanuk, we drive along the northern coastal of Bali, to Lovina. Check in to your hotel in Lovina, then spend the rest of the day at leisure.
Mini Plantation Kalibaru
Kalibaru is a small village in Banyuwangi, East Java. Surrounded by the beautiful scenery of Raung Mountain at an altitude of 428mtr above sea level, the temperature is more pleasant than the low lands. The Mini Plantation tour is a walk through a 13 hectare plantation garden at Margo Utomo Agro Resort, with varieties of spices such as nutmeg, pepper, cinnamon, cocoa, coffee and coconut. You discover the extraordinary traditional process of turning palm tree liquid into palm sugar. There is also a small dairy to visit.
Ferry crossing between Java and Bali
Gilimanuk is a small but heavily used transit point between Bali and Java, a mere 3 km across the Bali Strait. Ferries efficiently shuttle back and forth between Bali and Ketapang on the other side on Java. Culturally, there are tremendous differences between both islands. Gilimanuk has a giant candi bentar or typical split Balinese temple gate), while on the Ketapang side, a huge green dome of a mosque welcomes new arrivals in java.
Meals: Breakfast, Lunch
Accommodation: There are 3 hotel ranges for your selection, please scroll down.
day 7
LOVINA – UBUD WHERE ROMANCE AND SANCTUARY HARMONIZE
After breakfast, depart for Ubud. Your day starts with a visit to Pura Beji Sangsit followed by Penelokan Kintamani. Lunch will be served at local restaurant. Then, you proceed to Gunung Kawi and Tirta Emput before arriving at your hotel in Ubud.
Pura Beji Sangsit
Pura Beji is a Subak temple, dedicated to the spirits that guard the Subak, and deals with all things related to irrigation and water distribution. It was built in the 15th century on the site of a well and fashioned from pink sandstone, highly unusual in an area where every other temple is built of grey volcanic rock.
Dedicated to Dewi Sri, the rice goddess, it`s justly famous for the sheer exuberance of its carvings. The front wall of the temple shows the rewards that await the godly in heaven and the punishments awaiting the evil in hell. With its courtyards of clipped grass and old frangipani trees, it is a tranquil and refreshing place. The principal shrines have staircases and turrets, and one gets feeling here that worship has something to do with the sheer pleasure of building things.
Penelokan, Kintamani
Penelokan is perched on the edge of the crater of Mt Batur, and its name means `place to look`. You will enjoy breathtaking views over the volcano and the lake. Mount Batur is actually a small volcano set in the heart of a huge crater 14km in diameter. Adjacent to the volcano is the large crescent-shaped Batur Lake, surrounded by the high walls of the crater rim. The sheer size of the crater conjures up images of the massive eruption of the original Mount Batur that occurred tens of thousands years ago.
The volcano is still active today and Balinese still talk of the great eruption of 1917. It is thought thousands of lives were lost and hundreds of temples destroyed in "the year the world shook".
Gunung Kawi
Gunung Kawi refers to a site of a series of 11th century tombs cut from the rock face. To reach it, you have to walk down a steep flight of 300 steps, through a massive rock-hewn archway, to the sacred Pakrisan River. It is an impressive spot, enshrined in a lush valley. There are many theories about the origins and function of the Gunung Kawi tombs or candi, and they are also considered sacred temples. Most probably they were erected as memorials to kings from a long lost era – possibly the 11th century – and their queens.
Before crossing the river, turn sharp left for the Queens` Tombs, a series of four huge, square-tiered reliefs, chiseled from the riverside cliff face to resemble temple facades.
After crossing the river, you enter the Gunung Kawi Temple complex, which contains an unusual cloister, complete with courtyard, rooms and cells, all entirely cut from the ravine rock wall. This was probably built for the holy men who looked after the five royal tombs at the back of the temple complex. These are in better condition than the Queens` Tombs, and you can see the false doors and facades quite clearly defined.
Tirta Empul
Most Balinese make regular pilgrimages to Tirta Empul. They come to cleanse themselves spiritually and to cure their physical ailments by bathing in the holy springs, which have been considered sacred in Bali since the tenth century. The shallow red-brick pools are sunk into the ground near the outer courtyard of a temple and fed by water from the springs in the inner sanctuary. Men, women and priests each have their own segregated sections in which to immerse themselves, though most modern devotees just splash their faces and smile for the camera.
Meals: Breakfast, Lunch
Accommodation: There are 3 hotel ranges for your selection, please scroll down.
day 8
UBUD - FREE AT LEISURE
Today is a free day for you to leisurely explore Ubud at your own time and pace. 
Meals: Breakfast
Accommodation: There are 3 hotel ranges for your selection, please scroll down.
day 9
UBUD ACTIVE DAY – MOUNTAIN BIKE OR RAFTING
Start a very active day in Ubud with choice of either white water rafting or cycling excursion, which you will join an international group with other travelers. You will be picked up from the hotel lobby between 08.45 – 09.15 am.
Lunch will be served after the rafting or cycling excursion. Then, return to the hotel in the afternoon and spend the rest of the day at your leisure.
White Water Rafting
In the vicinity of Ubud, you have a chance to do exciting but safe river rafting. During this excursion you will experience Bali from another angle. After being introduced to the secrets of river rafting, and under the experienced guidance of a Balinese `captain`, you float down river through some of the most spectacular landscapes on the island. Occasionally, you may meet a local farmer and see how beautiful and meticulously offerings are placed on small shrines, honoring the omnipresent Goddess of Rice and the Spirits of the Water. The river descent is a pleasant and sometimes exhilarating way to look at beautiful Balinese landscapes.
Ubud Cycling (Sobek)
This is the best way to see some of the famous Ubud rice fields and village life. The trip leaves from Baung Village to Nyuh Kuning Village. It is a very safe ride with little traffic, perfect for those without cycling experience. All of Sobek's guides come from the surrounding regions and are trained to entertain and educate by sharing a broad depth of knowledge in Balinese culture and lifestyle. If you only do one tour while staying in Bali, this is the one. A day packed with interest, education and fun!
Meals: Breakfast, Lunch
Accommodation: There are 3 hotel ranges for your selection, please scroll down.
Note:
For Rafting excursion, please bring hat, sunscreen, change of clothing, (swimmers/board-shorts/sun-shirts recommended), sport shoes/sandals.
day 10
UBUD - EXPLORE THE MYSTERIOUS TANAH LOT - SANUR
After breakfast, you will depart for Sanur. You will visit Monkey Forest in Sangeh, and then Taman Ayun Temple in Mengwi. Proceed to your hotel in South Bali and on the way, visit Tanah Lot Temple.
Sangeh Monkey Forest
Sangeh Monkey Forest near the village of Sangeh, in southwestern Bali, has six hectares of forestland with giant nutmeg trees. The main attractions here are the hordes of Balinese monkeys inhabiting both the trees and the temple, Pura Bukit Sari, in the heart of the forest. The monkeys are believed to be sacred and indeed will approach anyone paying respects at the temple. They have a special status in Hindu religion, and a number of other temples in Bali also boast a resident monkey population. They are respected by devotees and fed and photographed by tourists.
Taman Ayun Temple
Located in Mengwi, the 17th century royal temple sheds a magnificent light on the principles of traditional Balinese temple architecture. Very few temples were constructed along such `ideal` lines. Three terraces blend harmoniously into one another, each representing different worlds, dedicated to the Negative and Positive Forces in the universe and the relationship between both.
Candi Bentars, the typical Balinese split temple gates, separate them from one another. The complex is surrounded by a beautiful pond, adding to its elegance. The last and highest court, dedicated to the Gods, is only accessible to Hindus. Walking around, you have an excellent view on the meru`s with their uneven roofs, a quintessential element of Balinese architecture.
Tanah Lot Temple
The famous sea-side temple of Tanah Lot has been defying the Indian Ocean for centuries. It was built to commemorate the spread of Hinduism from Java to Bali many centuries ago. Sitting on an eroded rocky outcrop between the sea and the beach, it is quite a sight. The temple, consisting of several shrines protected by poisonous black snakes, is fairly modest but as the tide rushes in and the islet becomes completely surrounded by water, it becomes a mysterious spot.
Meals: Breakfast, Lunch
Accommodation: There are 3 hotel ranges for your selection, please scroll down.
day 11
SANUR – RETREAT ON THE PARADISIAL BEACH
Today is a free day for you to leisurely enjoy some of the best beaches in Bali at your own time and pace. 
Meals: Breakfast
Accommodation: There are 3 hotel ranges for your selection, please scroll down.
The day is free at your leisure until it is time to transfer to the airport for your flight home or to your next destination. 
Meals: Breakfast
Cities

Comfort

Superior

Deluxe

Yogyakarta

Puri Artha Hotel

Superior Room

The Phoenix Hotel

Superior Heritage Room

Hyatt Regency Yogyakarta

Garden View Room

East Java

Lava View Lodge

Bungalow Double Room

Bromo Cottages

Superior Room

Jiwa Jawa Resort Bromo

Deluxe Room

Kalibaru

Margo Utomo Agro Resort

Standard Cottage Room

Margo Utomo Agro Resort

Standard Cottage Room

Margo Utomo Hill View Resort

Deluxe Resort

Lovina

Aneka Lovina Villas & Spa

Superior Building

Puri Bagus Lovina

Superior Garden View Room

The Lovina Bali

Beach Suite

Ubud

Hotel Tjampuhan & Spa

Superior Agung Room

Wapa Di Ume

Lanai Room

Komaneka Bisma

Bisma Suite

Sanur

Parigata Resort & Spa

Superior Room

Griya Santrian

Deluxe Room

Fairmont Sanur Beach Bali

Deluxe Garden View Suite Room
Tour Price Includes:
11 nights' shared accommodation in twin/double room (check in and check out around noontime)
Entrance fees, parking fees and customary donations throughout the course of the program
Local English speaking guide (for days with private tours or excursions)
All transfers with air-conditioned vehicles
Meals (11 breakfasts, 8 lunches)
Jeep during Bromo excursion
Local ferry Ketapang Harbor – Gilimanuk harbor
Join-in Cycling or Rafting excursion based on international group
Train ticket Jogjakarta – Mojokerto, Executive class
Tour Price Excludes:
Drinks and Mineral water beyond that supplied
Travel Insurances
Visa to Indonesia
Tips for tour guides and drivers
Guide/vehicle during days or periods of time marked as '(at) leisure/free' in the attached itinerary.
Early check in or late check out
Optional excursions and activities
Additional transfer required due to any emergency situation
Items of a personal nature (Phone calls, laundry, beverages…)
Peak season surcharges (if any)
All services not clearly noted as 'Included'