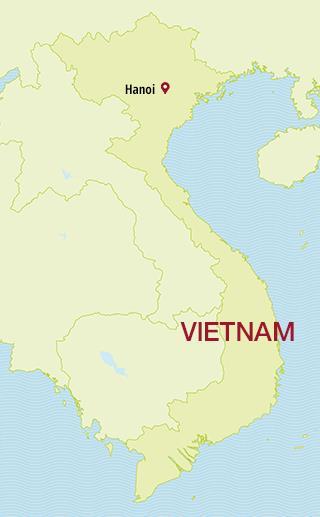 Today we'd love to bring you closer to the rural life of Hanoi's suburbs and meet the different faces of the local people, local artist and also expats living in Hanoi.
You will meet the Chi brothers, a clay art artist who will share their family's history, their points of view on ceramic art and guide you through making a pottery product in the traditional way. You are free to create your artwork as unique as your imagination can be. Once having set foot to their garden workshop, you will find it hard to resist the desire to create a small item which can make flowers shine brighter and coffee taste richer.
Show program in details Show brief program
full day
HANOI RAILWAY & CLAY ART
Wake up early and inspire your day with a 25-minute train ride over the historical Long Bien Bridge to reach the outskirts of Hanoi. The Long Bien Bridge is considered as the Old Story Teller of the city, who has been standing since the early days of last century and has witnessed all of the love and tears, from the times of bombing to the peaceful life today.
Arriving at a small suburb station, you take a short stroll around the village to explore the lively local morning market before reaching Gom Chi's workshop. You will be welcomed by our friendly Gom Chi host in the green garden, drink a cup of local tea and learn about the history, the artistic point of view and style of Gom Chi. Next, the artists will guide you on how to make the products step-by-step. Touch the fresh wet clay, feel it move under your hands and make your own creation, a piece of art or a cup for your morning coffee… After the workshop it's time to relax and say goodbye to the host.
For those who love fine art, you can take a short walk to visit the studio of an abstract painter whose paintings are being sought after by collectors worldwide. 
Come back to Hanoi for lunch, but before make it to Hanoi, stop at its suburb and having a Pizza lunch in a green garden by the Red river. Meet the owners of the place and have some leisure talk about the garden story.
After lunch, it's time to come back to your Hotel for some rest.
Tour Price Includes:
Train tickets from Hanoi to Yen Vien station
Transfer back to hotel by private car
English speaking guide
Making pottery workshop
Meal (Lunch) as indicated in the program
Entrance fees as mentioned on tour
02 bottles of mineral water per person per day 
Tour Price Excludes:
Airfares (international and domestic)
Meals (other than mentioned in the program)
Drinks 
Visa to Vietnam
Mineral water beyond that supplied
Tips
Insurances
Optional excursions and activities
Additional transfer required due to any emergency situation
Items of a personal nature (Phone calls, laundry, beverages…)
Peak season surcharges if any
All not mentioned above