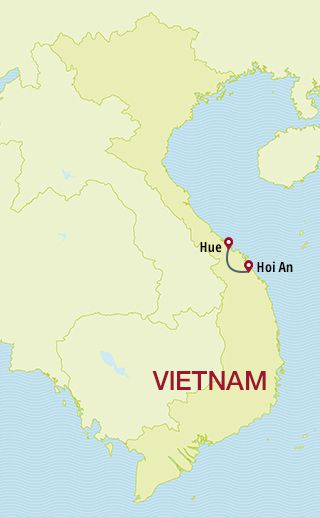 Feel the original Central Vietnam in the "off the beaten track" way; that is what this tour is all about. The tour design allows you to not only see the major highlights – The citadel and most important temples/pagoda in Hue, the ancient town Hoi An – but also to experience the hidden features that make this region so charming. You will see and hear about the curious stories of historical vestiges, as well as the sweet sound of nature while enjoying the countryside and the lagoon. You will savour and flavour a variety of Vietnamese cuisines, not least your own dishes created during a cooking class. You will not only see the sights, but will get involved and touch the soils and waters of this country, while learning to make traditional handicraft and to be a fisher in Hue. Beyond that, by choosing this trip you are giving back to the people by supporting the "Healing the wounded hearts" projects. Touch and be touched by the country, the people and all that is Vietnam, and this tour will touch your sixth sense, your heart.
Highlights
Take in the romantic lantern-lit atmosphere of ancient Hoi An
Explore the historical Imperial Citadel in Hue
Sunset dinner at the romantic Lagoon
Enjoy a cooking class and a traditional meal in Hoi An
Draw in the essence of Hue cruising on the Pefume River
Making traditional products at local house
Support the local project "Healing the wounded hearts" in Hue
Strolling around and explore the rural life in Hue and Hoi An
Show program in details Show brief program
Welcome to Hue, the former capital was the seat of power under Vietnam's last royal family, the Nguyen Dynasty. Take a deep breath and look around to collect some first impressions; clear your senses so you will be ready to take in the new. 
Meals: Nil
Accommodation: There are 3 hotel ranges for your selection, please scroll down
day 2
HUE – IMPERIAL CITADEL – THIEN MU PAGODA – THUY BIEU VILLAGE
Start your journey with the visit of The Imperial City, the remnant of a vast citadel. Here you can see the ravages of time and war on what was the carefully designed capital of the Nguyen Dynasty. Next is Thien Mu Pagoda. This 7-storey octagonal tower is a symbol of Hue, here the guide of Sens Asia will explain you the reason why Thien Mu is one of the most important pagoda of Vietnam. Behind the pagoda are peaceful gardens and, somewhat incongruously, the old Austin car which transported Thich Quang Duc to Saigon in 1963 for his self-immolation.
Later on, you take a boat ride up the romantic Perfume River to reach to the quite Thuy Bieu village – famous for growing Thanh Tra fruit (a kind of small pomelo). You will visit many garden houses, a unique feature of the Hue countryside, and enjoy relaxed walking and biking around the village. Visit an old communal house, pass by several ancient ancestral temples and chat with local people. Visit an incense making family and discover the daily life of locals, who working strenuously but with joy and enthusiasm. You can join them in gardening, or simply drinking tea.
Late afternoon transfer back to hotel for refreshing. 
Meals: Breakfast
Accommodation: There are 3 hotel ranges for your selection, please scroll down
day 3
HUE – MINH MANG'S TOMB – HANDICRAFT MAKING – CHUON LAGOON
After breakfast, take an easy walking through peaceful streets of Hue until you reach the unique souvenir shop with a strange names "Healing the wounded hearts". This is is a project of the nonprofit SPIRAL Foundation in cooperation with the Office of Genetic Counseling and Disabled Children, Hue College of Medicine and Pharmacy. It is a shop that sells handmade items from recycled materials by disabled artisans, the incomes are used to pay salaries and health insurance for the disabled employees and fund heart surgeries for poor children in the Hue. You will have a chance to learn to communicate with dumb and deaf children by signs, they will teach you how to make a handmade items from recycle materials and after all, you can take it home as the most beautiful gift of all your trips.
Take a cub of fine tea and say goodbye to beautiful people. You will transfer to the far away Minh Mang tomb, renowned for its period architectural design, which fits harmoniously into the surrounding landscape. You will enter the compound through the outer wall featuring a triple gate, cross the Salutation Court flanked with statues of attendants, and then pass by lakes, pavilions and gardens before reaching the burial mound itself. Because of its long distance from Hue city, the place receives less tourists and makes you feel very peaceful inside.
Back to the city for lunch, if time permit, visit the only-in-Vietnam Royal arena names Ho Quyen. This is the only Royal Arena in Asia where fights between tigers and elephants were organized during the Nguyen Dynasty. A visit to the Elephant Shrine will tell you about the legends of the honored Elephants.
Afternoon full of fun with the traditional bamboo-paper making class. Come to Truc Chi Garden, you can enjoy learning how to make a gift, a love, and the amusement with the unique present made by yourself to your dearests. Experience with Truc Chi will be one of the most sweetly memorable moments of your travelling in the Imperial city land of Hue.
After a couple of hours challenging your clever hands, take a 12-km drive along the impressive road of tombs to the Chuon Lagoon. You will meet another Hue community, the fishermen of the lagoon. Joining them on a boat as they will show us their particular fishing techniques. The lagoon is large and provides a daily supply of seafood to the whole village. Time to enjoy the magnificent sunset over the lagoon and help local people do fishing if you want. Come back to a local restaurant and enjoy the fresh seafood-based dinner under the purple sunset.
Come back to the city.
Meals: Breakfast
Accommodation: There are 3 hotel ranges for your selection, please scroll down
day 4
HUE – HOI AN – EXPLORE THE ANCIENT STREETS
Leaving Hue after breakfast, you head out to Hoi An. The route south from Hue hugs the coast before climbing Hai Van Pass. Stop to admire stunning views over Lang Co Beach and Da Nang City and continue along My Khe Beach to Hoi An.
The old town, a UNESCO world heritage site, reflects the beauty of former times when Japanese and Chinese traders settled here. Follow the Vietnamese and burn some incense at the temple for your ancestors, and visit the many cultural highlights like the only roofed Japanese bridge outside of Japan. Colorful lanterns and floating candles illuminate the night scene creating an incomparably romantic atmosphere. For your part, you will visit a local workshop and build your very own traditional lantern.
Meal: Breakfast
Accommodation: There are 3 hotel ranges for your selection, please scroll down
day 5
HOI AN – COOKING CLASS IN TRA QUE VILLAGE
Not only famous for its authentic ancient town, Hoi An also attracts visitors thanks to a longstanding culinary art. Today cooking class will guide you through a cuisine journey where you learn how to create the most delicious traditional dishes. It will be even more perfect as everything is taking place in an absolutely rural space like Tra Que village.
Breakfast and you start the day with a visit to Hoi An's colorful market and experience the amazing sights, sounds and aromas which fill the area. Take the opportunity to interact with the merchants as you purchase the ingredients you will use in the cooking lesson. Then cycle to a local farm in Tra Que Village which is well-known for supplying many restaurants and hotels in Hoi An area with fresh herbs and vegetables. Put your cooking ability into action and lunch is served with what you have prepared. Return to your hotel after lunch and free time to explore Hoi An on your own.
Meals: Breakfast, Lunch
Accommodation: There are 3 hotel ranges for your selection, please scroll down
Breakfast and morning is free at leisure to enjoy the beach or shopping in Hoi An – a paradise for custom made silk, fashionable clothing and accessories.
This afternoon you will leave Hoi An for your next destination. 
Meals: Breakfast
Cities

Comfort

Superior

Deluxe

Hue

Cherish Hotel

City View Deluxe Room

Eldora Hotel

Deluxe City View Room

Pilgrimage Village Resort & Spa

Deluxe Room

Hoi An

Hoi An Silk Boutique Hotel

Run of House Room

Vinh Hung Riverisde Resort

Superior Garden View Room

Almanity Hoi An Hotel

My Mind-Town Room
Tour Price Includes:
05 nights' shared accommodation in twin/double room with daily breakfast (check in and check out around noontime)
All transfers with air-con vehicles
English speaking guide
Entrance fees as mentioned on tour
5 Breakfasts, 3 Lunchs, 1 dinner
02 bottles of mineral water per person per day on bus on days of transfer and sightseeing only
Tour Price Excludes:
Airfares (international and domestic)
Meals (other than mentioned in the program)
Drinks
Visa to Vietnam
Mineral water beyond that supplied
Tips
Early check in or late check out
Insurances
Optional excursions and activities
Additional transfer required due to any emergency situation
Items of a personal nature (Phone calls, laundry, beverages…)
Peak season surcharges if any
All not mentioned above