Traditional Incense Making – Hue, Vietnam
Thinking about Hue Imperial City, one of the first things that appear in people's mind is the warm and deep aroma of burned incense sticks. Being the home of a large number of temples than any other regions in the country, Hue is the spiritual center of Vietnam and thus, incense making has long been an important craft of the city. A day to discover incense making job will provide new insights that, without doubt, you can never experience back home.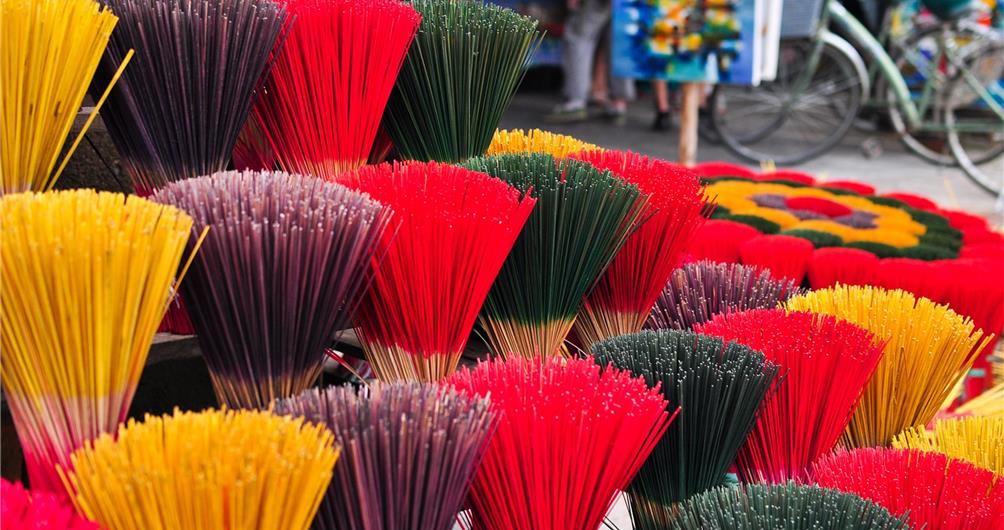 Hue Incense Village
Lit a stick of incense on the altar in special occasions has long been an indispensable cultural and religious activity of Vietnamese people. That is also the reason why the traditional craft of making incense is still alive until today despite many hardships. 
Thuy Xuan village, located near the tomb of Tu Duc, is a quite famous incense-making village among locals and tourists alike. For centuries, families here have been making incense for the whole nation.
Unique tradditional techniques
Their incense sticks come under different aromas, including sandalwood, cinnamon and pine and various colors including red, yellow, purple or green. To make incense, people cover a small stick of bamboo that has been dyed and dried with a mix of scented powder.
Visiting the village, you can easily encounter large bunches of bamboo sticks being dried in the sun. From afar, they look like blossoming flowers. Try to make you own incense stick with the guidance of local artisans and talk to them to learn more about their beliefs and religion. The experience you receive will be as pleasant as the scent of burned incense.