Travel Guide: Vegetarian food in Hue Vietnam – Best Places to Eat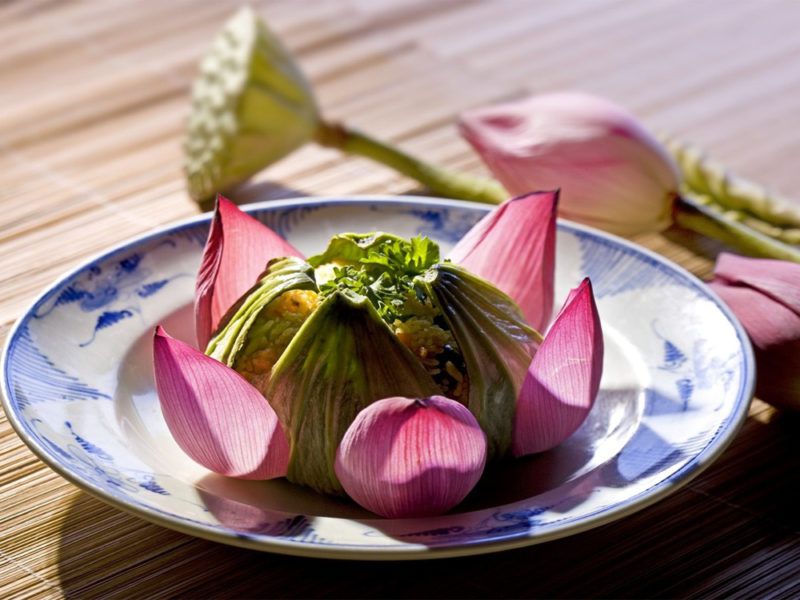 Hue's special delicacy
Traditional vegetarian food in Hue is known as the culmination of Vietnamese culinary art besides its unique royal cuisine.
Vegetarianism in Hue started about a thousand years ago in Ly dynasty (1128 AD) but about 300 years ago, it became popular in Hue since Lord Nguyen Phuc Chu who also lived in Hue. In the time, all his royal families were vegans or vegans in periods.
Gradually, vegetarianism had grown strongly in both popular class and the nobility. When the lineal descendant of Lord Nguyen Phuc Chu was king, Hue became the last capital of Vietnam in feudal time. That time, vegetarianism was so important that the king even built a large construction for his vegetarianism in Nam Giao Esplanade – a sacred place to worship the Heaven and the Earth.
In popular class, most of the women in Hue can cook a vegetarian meal. With very simple ingredients such as green banana, wheat flour, squash, and green bean, after being added some Vietnamese spices, magically, many delicious dishes are created. The ingredients are also balanced to be really healthy. Without being announced, people can hardly realize that they are eating vegetarian foods.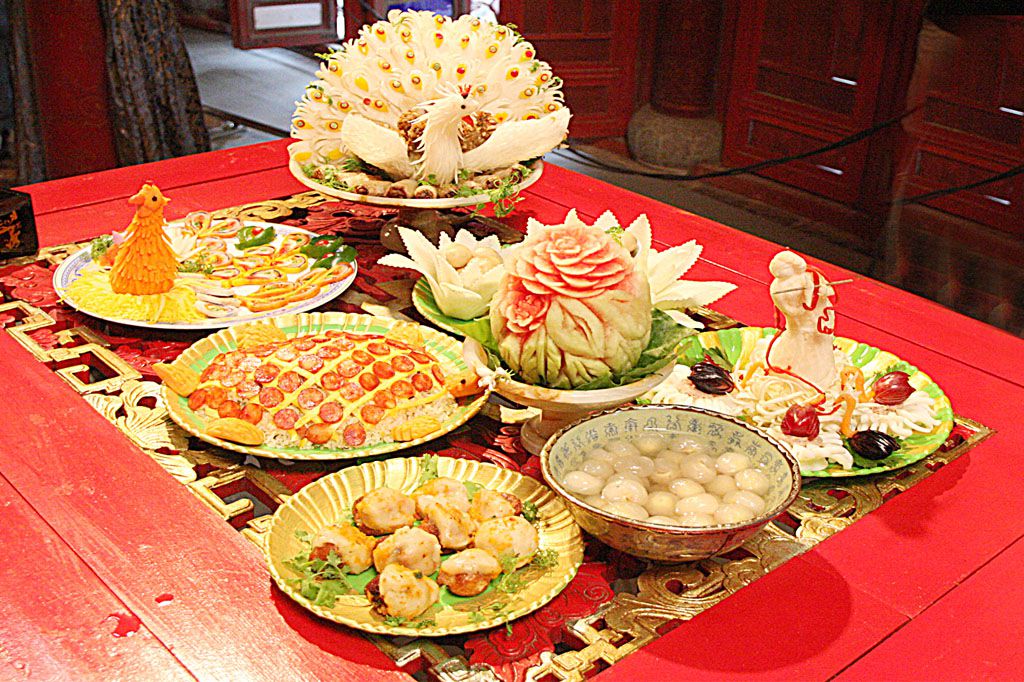 Vegetarian food in Hue
The vegetarian cuisine there is so diverse that people there can make a vegetarian dish like almost of meat kinds such as fish, chicken, pork, and beef. Moreover, dishes sometimes are decorated beautifully like the masterpiece such as the image of dragon and phoenix.
For that reason, time to made vegetarian dishes often at least doubles the time to cook ordinary food. Tasting the food, we can see the delicacy of Hue cuisine. Scrutinizing the food, we can realize the creativity of the people there.
Nowadays, vegetarian food is so popular that there are some vegetarian food streets in Hue but they are opened on the first day and the fifteenth day of each month in lunar calendar. On these days, visiting any pagoda in Hue, visitors will be invited to enjoin the vegetarian food in the pagodas. They also can find vegetarian food easily in local vegetarian restaurants or even expensive vegetarian in a foreign vegetarian restaurant.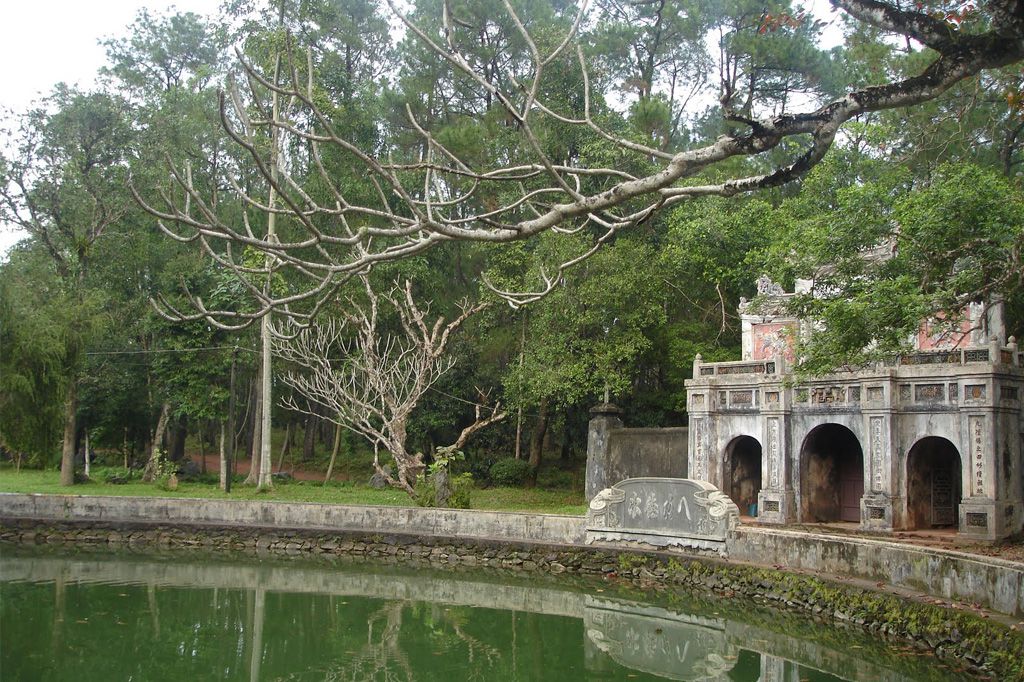 Tu Hieu pagoda
Recommendation – Where to Eat Vegetarian Food in Hue, Vietnam
As above mention, there are three main kinds of vegetarian food in Hue, which are in royal style, popular style, and Buddhism style.
If you want to enjoy vegetarian food in royal style, Tinh Gia Vien on 7K/28 Le Thanh Ton street is a restaurant for you. The owner of the restaurant is a descendant of Nguyen Dynasty and location of the restaurant used to be the special land for important people that the king requested them to live near him for urgent missions. Owner of the restaurants served food for EU Senators and representatives from Vatican. The restaurant can serve both vegetarians and meat-eaters.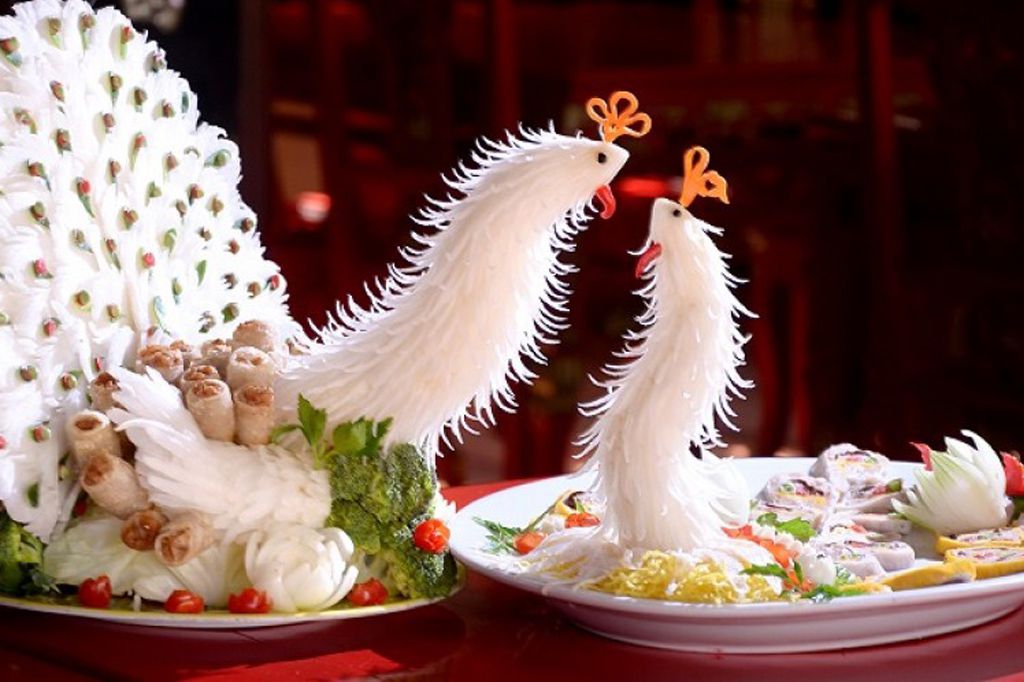 Vegetarian food in Tinh Gia Vien Restaurant
With tourists looking for vegetarian foods loved by the popular class, Lien Hoa Thu Quan on No.3 Le Quy Don street and Thanh Lieu on No.50 Nguyen Cong Tru street are good places for you. Compared to Lien Hoa Thu Quan, Thanh Lieu is a smaller place and located in a small lane. Luckily, both of them are available on Google Map. Dishes in the both restaurants are not expensive and always attract many customers.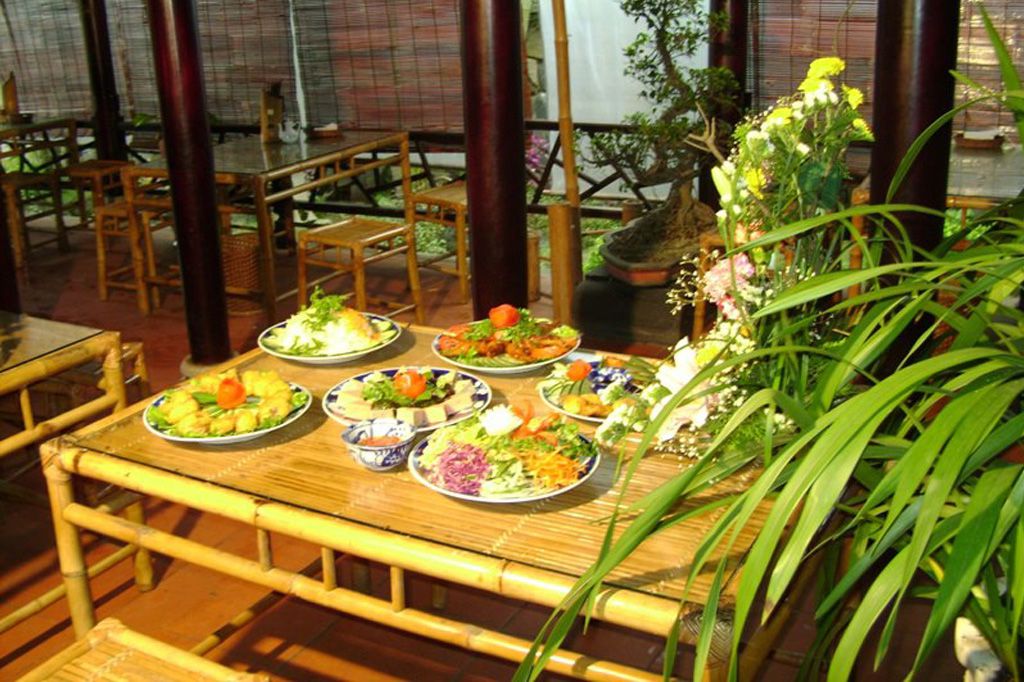 Lien Hoa Thu Quan
Lastly, enjoying vegetarian food in Hue pagodas is an expectation of not only international tourists but also domestic ones. To be invited to enjoy vegetarian food in Hue pagodas, usually during lunch time, tourists should visit the pagoda in the first or the fifteenth day in the lunar/ Chinese calendar. Besides, the pagoda is a sacred place of Hue people in specific and Buddhism countries in general (Vietnam, Thailand, Cambodia, Myanmar, Laos, etc.), thus, respectful behaviors and dress code are important. Your clothes need to be polite and covering your shoulders and legs.