Vietnam Travel Information
Vietnam is a country of startling contrasts: a feast for all the senses. This is where the staggering natural beauty is matched by the bright colours of the minority groups in Sa Pa and Mai Chau. It is where the peaceful countryside getaways contradict the never-ending buzz of the dynamic cities like Da Nang and Ho Chi Minh City. The scents are vibrant too, from incense-making villages in Hue to inspired cooking classes. The cuisine is undoubtedly one of the most sophisticated in the continent.
The different destinations within Vietnam have become world-famous for their historical significance and visual intrigue. The urban environments, from the charm of Hoi An to the elegance of Hanoi, are something truly unique, a true blend of East and West. The natural beauty, from the visual intensity of the Mekong Delta to the poetic Halong Bay, are simply breathtaking. The history will engross you, from the checkered story of Ho Chi Minh City, to the underground lives that took place at Cu Chi and the DMZ.
A trip to Vietnam leaves a lasting impression that is unique to each individual visitor. Come and see what this country has in store for you and discover your own personal Vietnam.
No more tedious planning!
POPULAR HOLIDAYS TO VIETNAM
Take a look at some of the best tour itineraries for traveling in Vietnam - all highly recommended by our travelers.
VIETNAM WEATHER & WHEN TO GO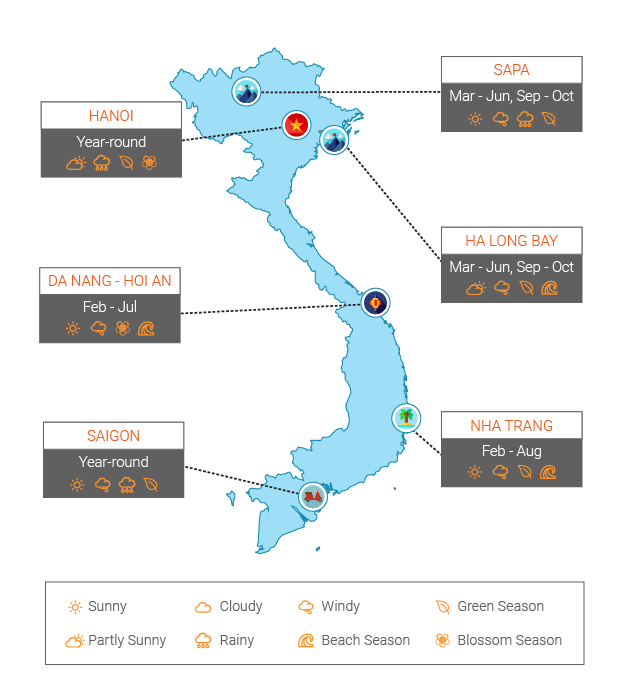 NORTHERN (Sapa, Hanoi, Halong Bay)
Spring (Mar – May): This is a wonderful time for sightseeing with clear sky and breezy atmospheres. Temperature ranges from 20 – 25oC with sudden rain at times.
Summer (Jun – Sep): Temperature sometimes peaks at ~40oC, followed by high humidity. During day and midnights, there are infrequent, short, pouring rains.
Fall (Oct – Nov): The weather remains dry and pleasant with low humidity and average temperature (around 25oC). At season end, monsoon usually comes with pouring rains.
Winter (Dec – Feb): The season starts with freezing rainfalls. The temperature drops remarkably, from 5 – 15oC in just few days.
CENTRAL (Hue, Da Nang, Hoian)
Rain season (Jun – Feb): The temperature remains at around 30oC in both wet and dry seasons. During the time, the weather is unstable, followed by thunder storms or peak temperature.
Dry season (Jan – May): The weather seems pleasant with dry wind and little rain. After sunset, the temperature might drop a bit, leaving a cool and breezy atmosphere.
SOUTHERN (Saigon, Mekong Delta)
Rain season (Jul – Sep): The heat covers rain season in Southern areas, followed by heavy rains and high humidity, especially during daytime.
Dry season (Oct – Jun): The dry season of Southern regions lasts longer than Central ones. The temperature remains between 25 – 30oC with sunny long, dry days.
The most frequently asked questions about traveling in Vietnam & useful guide for planning your trip.
Do I need a visa to visit Vietnam? If yes, how should I apply?
The exemption of visa entry to Vietnam (ranging from 14 to 30 days) allows visitors from foreign countries to apply for a tourist visa either in person at a Vietnamese embassy/ consulate or online through Vietnam's new E-visa system.
If you are unable to reach a Vietnamese embassy/consulate or have any difficulties regarding visa matters, please contact us for further details. We also support in providing guests with Letter of Approval before travelling.
All travelers can visit Phu Quoc Island for 30 days without a visa to Vietnam if only they book a direct flight to Phu Quoc (not via any transits at other domestic airports).
Which accommodations in Vietnam are recommended by Sens?
Since the hotel categories based on star-rating are different in regions, we recommend our guests choosing hotels in accordance to ground experiences.
Luxury 5* – 6*: Luxury hotels/ resorts in Vietnam are composed with finest dining experiences, spacious room and warm hospitality. Many high-end international merchandises, Sofitel, Park Hyatt, Six Senses, Anam, Four Seasons, Intercontinental. Banyan Tree, have been currently presented around the country. However, instead of trendy brands, Sens Asia Travel chooses the accommodations, ranging from US $300 – $5,000 followed guests' personal style.
Deluxe 4*: Normally, the price range for this standard ranges from US $80 – $100 and with excellent values and advanced comforts. To archive 4*, hotels will request to have a swimming pool which is an advantage for travelers in Asian summer or new to humid tropical weather. This standard is matching for family travel since they have connecting rooms that normally not available for lower standard. Sens Asia Travel chooses the stays based on guests' location, compatible facility and good values.
Superior/Boutique 3*: The facilities of 3* hotels in Vietnam, ranging from US $50 – $70 are able to meet visitors' basic needs or short trips, standard comforts and primary rooms. Although this type of accommodations is lesser in commodity values, Sens Asia aims at the 3* boutique line, followed by personal experiences and outstanding services in comparison to price range.
Homestay: In Vietnam, there are 2 types of homestay, the local host in Northern mountainous areas, a real stay under the same roof and shared meal with a local family. Otherwise, it is a simple set of houses built in local style for under US $50 rental and managed by the local families. You still have a chance to observe their lifestyle, taste local food prepared by your host. As many guests feel uncomfortable with the homestay options, Sens Asia Travel only work with homestays which can provide private space, Western toilet and bathroom standard.
Which transportations can be used for my Vietnam trip?
Short trips (≤ 300km): You can take a coach, shuttle bus (Hanoi – Halong shuttle bus) or private car with driver. For short distance scenic train ride, the suggested routes are: Hanoi – Sapa night train; Hanoi – Ninh Binh or Hai Phong; Hue to Da Nang and Ho Chi Minh City to Phan Thiet.  Please contact our journey planner for more details.

Long roads (> 300km): We recommend you to either take a train or plane (Vietnam Airlines, Vietjet Air Jestar) depending on the duration of your travel and health status. We do not suggest Hanoi – Saigon route due to long and tiresome ride. The best routes to experience Vietnamese train are Hanoi – Dong Hoi (where you can visit Quang Binh and the famous Son Dong cave) or Hanoi – Hue/ Da Nang.

Local transports: Buses are quite convenient in big cities of Vietnam as you can easily keep track with google map and help to offset carbon during travel. From the airport, high quality bus No.86 will take you to Hanoi's Old-Quater or vice versa for a low price. Taxi and Grab cars are preferable with reasonable price; we recommend Mai Linh Taxi (the Green cabs) through-out Vietnam, Hanoi Taxi & CP Taxi in Hanoi; Vinasun in Saigon. Unlike other neigbouring countries, Grabcar is widely accepted and under no restriction to pick you up at airport or from hotels. Motorbike rental is not suggested, if you want to experience sitting on the back of a motorbike, Grabbike is available or you can find a traditional "xe om" at any street corners.
Is there anything I should take note on Vietnamese food & drink?
 You should be ready to embrace a wonderful cuisine of Vietnam, famous for its rich flavor, fresh and balancing.
Fish sauce is widely used as a main ingredients of any dishes here especially in the North, in the South you will find more soy sauce then. Do not afraid trying to deep your spring rolls or steam dishes into the fish sauce, it may taste lighter than it smells, if it's too strong for you you can ask restaurant to replace by the lime and salt. Other common ingredients in Vietnamese cooking include black pepper, hot chili, ginger, coconut milk, lime, lemongrass, tamarind and cane sugar, supplemented by asparagus and potatoes, courtesy of the French influence.
As in many countries in Asian, people tend to eat in "family style", sharing dishes. Each person has a plate or bowl with rice, then shares the bowls of food set midst table.
Green tea is the most common drink, and is offered as a courtesy to guests or visitors. The two most popular local beers are Beer "hoi" (airy beer), Hanoi Beer and Saigon Export but imported beers are available, at roughly double the price. Vietnam produces varieties of rice wine, known as "ruou". Often, bottles of "ruou" contain pickled snakes, rare flowers or herbal roots, which are thought to impart health-giving elements.
Craft beer is the latest trend in Vietnam since 2017 as nowadays you can find many good local craft beer places to enjoy the wonderful beer-tasting and local flavors.
What are the healthcare practices for Vietnam travel?
If any serious health problem arises, you will be immediately taken to the nearest international hospital for immediate examination and treatment. Big cities such as Hanoi and Ho Chi Minh City have very good private and state-owned hospitals and clinics. International SOS, Viet Phap hospital and Family Medical Practice are highly recommended. In rural areas, if you are on tours with us, the guide may support you to a local hospital and request emergency transportation to the nearest international hospital.

Vietnam is a tropical country, which entails many kinds of dangerous bacteria and insects. Mosquito repellents are essential. Malaria is uncommon and only found in some isolated locations in the central highlands, but Dengue Fever is widespread, particularly during the rainy season and is spread by a daytime mosquito. Please follow your doctor advicesto apply appropriate vaccines pre-trip.
What are the safety notes for my trip to Vietnam?
Vietnam is generally a safe place for tourists and pickpocketing is reported to be decreasing significantly. However, in the worst case, you should try to contact the police officers or report to your embassy in Vietnam for advanced support.

You should leave valuables or passports locked-up in the hotel, bring an essential amount of cash with you only, do not expose your jewelry while crossing streets, remember to stand in one place while taking phone calls.

Emergency contact numbers: Police (113) – Fire (114) – Ambulance (115).
Are there any Vietnam's local customs I should be aware of?
DOs:
Keep a cool head and remain polite.
Drink enough water during tours, especially summer.
Expose less skin when visiting temples or historical sites.
Keep your cash, credit cards, airline tickets and  valuables in safe place.
DON'Ts:
Wear a lot of jewelry or take a bag with valuables.
Dress inappropriately when visiting pagodas or temples.
Cross the crowded streets with hesitation or sudden run.
Buy things before checking and agreeing with their prices.
Why should I choose Sens Asia to help plan my Vietnam trip?
Sens Asia Travel provides travelers with advanced, licensed tour services and curated options for accommodations as well as tour activities, which are regularly inspected & verified by our local experts.

We have our representative offices in Asia (Vietnam, Myanmar, Laos) as well as in European (Germany) which allow our team to coordinate well on the ground and react quickly if there should be any problems.

We have 100% positive feedback rate from customers since the day of launching. In addition, we have been featured on various trusted media platforms and publications.
Why shouldn't I book all services for Vietnam trip on my own?
As we get favorable rates from hotels and accommodation partners, the total cost you pay will be more reasonable or just marginally a bit more expensive than if you booked directly yourself.

We have supportive local journey planners, who have been living or traveling extensively throughout Southeast Asia regions as they may help you create your own trip to match your schedule & choices of activities, accommodations and pace.
What happens after I submit the inquiry for my Vietnam trip?
A journey planner will work with all the details you provide and create the best options to suit what you are looking for. Within 24 to 48 working hours, you will receive details for travel itinerary options and quotation. These suggestions can be tweaked and changed until you are fully satisfied.

Upon confirmation, you will only need to make a deposit payment of 30% of the total trip cost for your journey planner to start making reservation of hotels, tour guides & other services.

A personal journey planner will take care of all the details for you from the start of creating the trip until your vacation is finished and you are safely back home.